An Art-Filled Hotel Inside a Former Wall Street Trading Hub – The New York Times
Plus: a Brooklyn design destination, a new Niki de Saint Phalle biography and more recommendations from T Magazine.
Welcome to the T List, a newsletter from the editors of T Magazine. Each week, we share things we're eating, wearing, listening to or coveting now. Sign up here to find us in your inbox every Wednesday. And you can always reach us at tlist@nytimes.com.
---
visit this
A New York Hotel Showcasing Australian Aboriginal Art
In the late 18th century, the Tontine Building, on Manhattan's Wall Street, was a tavern and coffeehouse — and the site of the New York Stock Exchange. Next month, the onetime trading center will reopen as the Wall Street Hotel, a 180-room boutique whose current owners, the Paspaleys, an Australian pearl production family, hope to make it more of a cultural hub. When it came to choosing art for the hotel, they partnered with the APY Art Centre Collective, an Indigenous-led organization dedicated to promoting Australian Aboriginal art. Examples of commissioned works — among them prints of paintings inspired by constellations by Matjangka Norris and layered land- and dreamscapes by Betty Muffler, who favors black and red ocher — appear throughout. After taking a self-guided tour, guests can have a cappuccino or cocktail in the all-day lounge, which is appointed with plush velvet seating, or explore the Financial District by complimentary Vélosophy bike. Rooms from $499, thewallsthotel.com.
---
Covet This
A Milliner's Collaboration With a Texan Bootmaker
The Los Angeles milliner Nick Fouquet was researching cowboy boots and pondering an expansion into footwear when he received a call from Lucchese, the revered Texas boot brand founded in 1883, about collaborating. "It was very serendipitous — a sign," says Fouquet, who created headpieces for fashion houses Givenchy and Rochas before launching his own line a decade ago. And the partnership made sense: Both brands champion homegrown craftsmanship while aiming to update the idea of Americana. "There are an enormous number of similarities in the anatomy and construction, too. We have band blocks; they have lasts," says Fouquet, who visited Lucchese's archives in El Paso and saw lasts made for John Wayne, Gregory Peck and Jane Russell. In the end, the labels gave some classic Lucchese models a '70s spin, coming up with eight new styles including stacked-heel boots in topstitched leather and tonal suede and snappy two-tone loafers, as well as a handful of printed silk neckerchiefs and (of course) cowboy-inspired hats. And yet, Fouquet promises, "the pieces will be as much at home on the streets of Paris as on a ranch." Accessories from $240; footwear from $895, nickfouquet.com and lucchese.com.
---
read This
A Peek Into the Colorful Mind of Niki de Saint Phalle
Nicole Rudick's illustrated biography of nouveau réalisme artist Niki de Saint Phalle, "What Is Now Known Was Once Only Imagined," takes its title from a (perhaps intentionally) misquoted snippet of William Blake's "The Marriage of Heaven and Hell" (1790) that appears in one of Saint Phalle's typically rococo doodles. The line is also the perfect tag for the provocateur's particular brand of 20th-century aestheticism. "I would spend my life questioning," she wrote in a 1992 note addressed to her dead mother. "I would fall in love with the question mark." Such voracious curiosity led to her various autodidactic pursuits as a painter, draftsperson, sculptor — she is probably best known for her Gaudí-inspired installation, "The Tarot Garden," in Pescia Fiorentina, Tuscany — writer, filmmaker, gardener and perfumer. In her subtitle, Rudick (who has contributed to T) refers to the book as "an (auto)biography," as it is comprised almost entirely of hundreds of Saint Phalle's colorful sketches and a trove of her letters, essays and marginalia, in which the artist rhapsodizes on, among other things, adolescent love (she met her future husband, the writer Harry Mathews, at age 11), mental illness and the harlequin fantasies that pervaded her daily life. The result is an intimate scrapbook of the life of one of the century's most inventive artists. $45, sigliopress.com.
---
see this
A New Gallery on the Upper East Side
Having cut her teeth at such influential galleries as Paula Cooper and Paul Kasmin, Polina Berlin is now opening her own, on Manhattan's Upper East Side. With a leafy backyard garden and abundant natural light, the 2,000-square-foot space, once the parlor floor of a townhouse, retains its homey feel. And this is fitting since Berlin hopes the gallery will foster close bonds. "The artists in Paula's program have such admiration for each other and push each other to ignite new ideas," says Berlin. "It would be very satisfying to have that happen in my space." The gallery's inaugural show, titled "Emotional Intelligence" and opening next week, features various riffs on kinship. It includes work by 10 artists, including a painting of three semiabstract nudes by Loie Hollowell and another of a figure holding an umbrella that reads "God is Gorgeous" by Shannon Cartier Lucy. Berlin sees the show as a kind of mission statement. "These artists are so sensitive to how people are treated," she says. "And if I can in some modest way make the art world better for the people I work with, then I feel the accountability to do that." "Emotional Intelligence" runs from Feb. 22 to March 26, polinaberlingallery.com.
---
Buy This
A Destination for Weekend Home Projects
When it comes to sourcing supplies for small home projects — retiling a backsplash, say, or papering a single wall — it can feel like your options are either Home Depot (practical but not necessarily inspiring) or a brand's showroom (obscure pricing, too many choices). It's partly for this reason that Sarah Zames and Colin Stief, of the Brooklyn-based design studio General Assembly, are opening their first store, Assembly Line, in Boerum Hill this week. The warm, light-flooded space is laid out like a home, with inviting living and dining areas, and filled with furniture and fixtures by designers whom Zames and Stief admire — upholstered oak stools by Vonnegut/Kraft, elegant chrome cabinet knobs by Fort Standard Objects — as well as a tightly edited selection of materials for renovations, which includes Calico wallpapers printed with a range of nature-inspired motifs, glossy zellige tiles from Clé and lime wash paints from Bauwerk. Unlike in many showrooms, every item in the store is clearly priced, and Zames and Stief are available for consultations by appointment. A DIYer might easily come in to look at an Elitis fabric sample but leave with a new bedside lamp — like the great options, with globby, hand-formed stone bases, by the Brooklyn maker Hannah Bigeleisen — or a plan to reimagine an entire room. 373 Atlantic Avenue, assemblyline.co.
---
From T's Instagram
This Season, Dramatic Duality Reigns
Your hand-me-down art can be loved again: Art Attic is back – CambridgeToday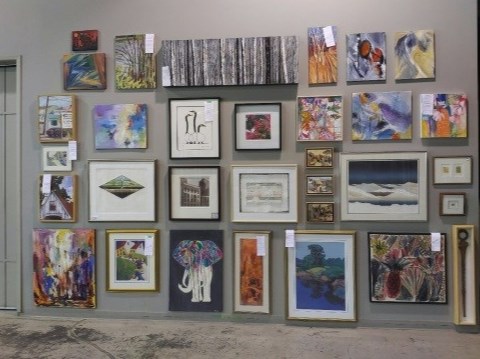 Is there something sitting in your closet collecting dust? The Cambridge Art Attic will take it.
The Cambridge Art Attic Silent Auction is back and looking for donations of art and home décor. As the Cambridge Art Guild's largest annual fundraiser, the event supports the Cambridge Centre for the Arts (CCA).
The 11th annual Art Attic Silent Auction will be held at the Cambridge Centre for the Arts on June 16, from 9 a.m.- 8 p.m., June 17, from 9 a.m.- 9 p.m. and June 18 from 9 a.m. – 1 p.m.
The Art Attic is accepting donations of art including prints, originals, and home décor, all priced to sell.
Visitors will have an opportunity to bid on and purchase art donated by local artists and the community.
The Cambridge Art Attic, an initiative of the Cambridge Arts Guild, is the primary fundraiser that supports the city's art scene.
"We are so excited to see the silent auction return this year," said Lori Bennett, chair of the Cambidge Art Attic.
"This is our major fundraiser that allows us to support our programs and events. Art Attic allows people to donate their previously loved art that they no longer use or have space for, and they know that someone else will love that piece of art again."
Art can be dropped off at 60 Dickson St. For hours visit here.
And for those doing some spring cleaning or decorating and have some art to donate, the Art Attic also accepts pieces year-round.
"We get some items and we think, this doesn't have much value, and then you find out it's an antique piece. Someone will come in and get really excited about it," Bennett said.
Proceeds from the Art Attic Silent Auction will support the Cambridge Arts Guild with local art initiatives including Cookies and Kids Theatre, Cambridge Studio Tour, the Juried Art Show, Artist in Residence, and Christmas in Cambridge. .
The Cambridge Centre for the Arts provides quality arts programming through classes, workshops, an art gallery, special events, and an artist in residence program.
The CCA is a municipally operated community arts centre that enriches and engages area residents, artists and organizations through quality artistic experiences and opportunities that stimulate, promote, and support the arts in Cambridge.
The CCA encourages participation and inspires an appreciation for the arts.
"Art speaks to people," Bennett said.
"You see people's faces light up at the auction when they see that special something that speaks to them. They can give it new life and enjoy it for years to come. It's a win win for everyone."
For more information, visit the Art Attic Facebook page. The Arts Guild is also looking for new volunteers or to help with the silent auction. To volunteer, contact Wanda Schaefer at 519-623-1340 ext. 4491.
For more information, visit here.
Goddesses, she-devils and a tangle with textiles – the week in art – The Guardian
Art Beat: Have you visited the halls of healing arts at the hospital? – Coast Reporter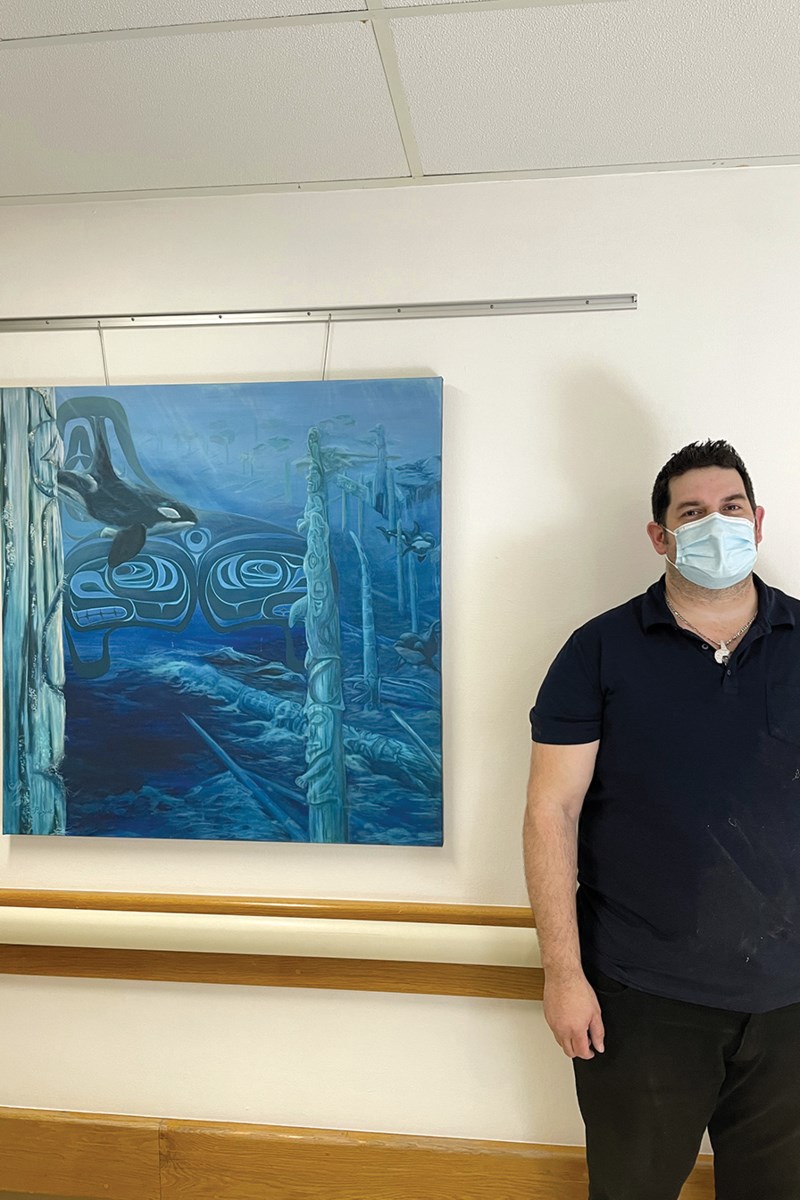 The Sechelt Hospital Foundation has welcomed Levi Purjue, an artist who contributed to the Art of Healing fundraising event, for its May rotating gallery at Sechelt Hospital.
Located between the lab and physiotherapy offices, select works of art are available each month for sale to the general public or hospital staff.
Further down the hall, visitors will find more of Levi's works on display.
Funds from the Art of Healing event helped to purchase a new X-ray for Sechelt Hospital's Medical Imaging Department.
Nature of Grief artist talk at GPAG May 28
The public is invited to learn more about Amberlie Perkin's work in her The Nature of Grief exhibition at the Gibsons Public Art Gallery. Perkin will be providing an artist talk on Saturday, May 28 at 2 p.m.
Amberlie is an interdisciplinary artist whose diverse practice includes sculpture, installation, printmaking, and painting.
With interests in the interplay of grief and ecology, nature and the body, Perkin's creative process evokes "the materiality of mourning" using grief and loss as lively material with which to build new forms while formalizing the presence of absence.
More information is online at gpag.ca
Suncoast Phoenix Community Choir concerts May 28 and 30
The Suncoast Phoenix Community Choir will present an eclectic mix of choral music for all ages on Friday, May 28 (7 p.m.) and Sunday, May 30 (3 p.m.).
The Friday concert takes place at St. Hilda's Anglican Church in Sechelt.
The Sunday matinee will be at Calvary Baptist Church in Gibsons.
The choir's website has more information: suncoastphoenixchoir.ca.
The Peanut Butter Jam at the Roberts Creek Legion May 28
Roger Camp and fellow rockers Slightly Twisted & Friends will present The Peanut Butter Jam at the Roberts Creek Legion on May 28. It's the group's first time performing at the venue since 2020.
Camp's friend and fellow Canadian classic rocker Al Harlow will make an appearance.
As is customary with Peanut Butter Jam events, cash donations will benefit the local food bank.
The show starts at 8 p.m. on May 28.
Coast Fiddler Camp coming in July
The Sunshine Coast Fiddlers are offering a Coast Fiddler Camp, to take place July 18 through 20 at Davis Bay Community Hall. Instructors will include JJ Guy, Gordon Stobbe, Geoff Horrocks, Trish Horrocks and Jennie Bice.
Advance registration is required and is open now. For more information about the Coast Fiddlers and how to join, email csfandbttb@gmail.com.