An investment in research excellence: Get to know Dal's five new Canada Research Chairs – Dal News
Five scholars from Dalhousie were announced this week as part of the newest cohort of Canada Research Chairs (CRCs).
Established 20 years ago, the Canada Research Chairs program continues to provide opportunities for researchers to excel in their fields and build teams of experts at Canadian institutions. The announcement made on Wednesday December 16, 2020, included 259 new and renewed CRCs.
"We are very proud of our Canada Research Chairs," says Dr. Alice Aiken, Vice President Research and Innovation at Dalhousie. "With projects focused on creating renewable energy materials, making our ocean more sustainable, and the examination of work, economy and development in rural Atlantic Canada, these talented researchers are helping to make our province, country and world a better place."
The Canada Foundation for Innovation (CFI) also made an important investment towards these Chairs through the John R. Evans Leaders Fund (JELF). This includes more than $14 million to 58 Canada Research Chairs at 27 universities for the cutting-edge equipment they need to carry out their important work. At Dalhousie, the four new CRCs will receive just over $1 million from CFI.
Meet Dalhousie's newest Canada Research Chairs:


Alison Thompson, Faculty of Science
Tier 1 Canada Research Chair in Pyrrole Chemistry for Chemical Biology and Energy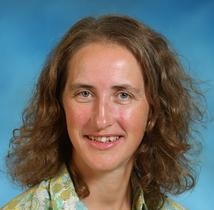 Pyrrole is an attractive component of materials used in studying and treating disease and in the use of light to generate responses that report sensing or enable storage/delivery of energy. Dr. Thompson's research includes the development of sensors to monitor glucose levels in humans, or air-stable enzymes involved in biosynthesis and of materials for redox-flow batteries. It includes generating fundamental knowledge of (poly) pyrroles that emit light from the red into the infrared. Underpinning all of these is the development of practical synthesis of molecules incorporating pyrroles, syntheses which are robust, economical and tolerant of a wide variety of substituents.
Ghada Koleilat, Faculty of Engineering
Tier 2 Canada Research Chair in Advanced Materials for Energy Application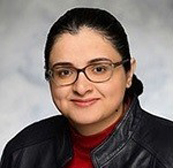 Advanced material innovations are needed to develop immediately deployable versatile breakthroughs in renewable energy research. Solution-processed based photovoltaics offer the promise of sustainable and scalable energy conversion at a fraction of the cost of traditional single-crystal photovoltaics. In addition, solution-processed solar cells are prime candidates for facile integration in flexible and even stretchable systems. Dr. Koleilat's research program is focused on:
Rational Molecular Design based on advanced material innovations

Scalable Deposition of Highly Oriented Crystal Structures resulting in efficient solar cell designs

Engineering Mechanically Compliant Solar Converters that can be integrated in wearable electronics and more.
Ruth Musgrave, Faculty of Science
Tier 2 Canada Research Chair in Physical Oceanography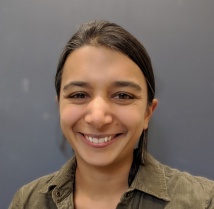 By investigating the physics behind ocean mixing, Dr. Musgrave's research will address a key uncertainty in the field of numerical climate modeling and prediction.
The spatial and temporal distribution of ocean mixing is mostly determined by the dissipation of internal waves, yet their energy pathways from generation through dissipation are not fully understood. Dr. Musgrave will study internal wave environments at several dynamically distinct locations in the Pacific, Atlantic and Southern Oceans to determine these energy pathways, with results that can be generalized to the global ocean and used to improve our ability to predict future climate states.
Ali Nasiri, Faculty of Engineering
Tier 2 Canada Research Chair in Ocean Engineering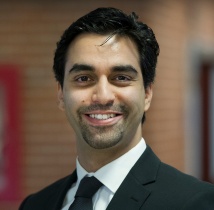 The goal of Dr. Nasiri's research is to realize the full potential of state-of-the-art wire arc additive manufacturing (WAAM) technology to fabricate large-scale components from stainless steel and corrosion-resistant alloys, with tailored properties at drastically reduced production time and cost for marine and offshore applications. Through ground-breaking research and commercialization, the objectives of this program are to:

Develop a versatile robotic WAAM-platform capable of manufacturing large-scale engineering components with controlled microstructure and mechanical properties

Understand the corrosion performance of the fabricated parts in harsh marine environments

Advance WAAM technology for hybrid manufacturing and additive repairs

Rita Orji, Faculty of Computer Science

Tier 2 Canada Research Chair in Persuasive Technology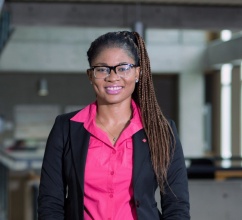 Persuasive technologies are purposefully designed to motivate people toward behaviours that benefit them—such as exercising, eating healthy foods, saving energy or dealing with depression. However, to be really effective, these technologies need to be personalized.
Dr. Orji is leveraging the increasing integration and penetration of technologies (such as mobile phones) into our lives to design personalized persuasive technologies that can empower and motivate people to achieve their goals. Ultimately, she and her research team aim to improve the lives of Canadians—particularly at-risk Canadian youths and under-served populations—by focusing on areas like safety, security and health and wellness.
Renewed Research Chairs
In addition to the new Chairs listed above, five of Dal's existing CRCs were renewed.
Megan Bailey, Faculty of Science
Tier 2 Canada Research Chair in Integrated Ocean and Coastal Governance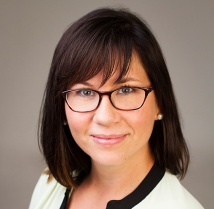 Dr. Bailey's research works to define and study seafood sovereignty, which can be referred to as the right of peoples to define and control their seafood systems in culturally appropriate, ecologically sustainable, and socially just ways, be that as it relates to fish and seafood production or consumption. She contributes to seafood sovereignty as it pertains to the sustainable seafood movement and to Inuit Nunangat. Dr. Bailey's goal is to contribute to equitable opportunities and outcomes as they pertain to our use of marine resources.
David Barclay, Faculty of Science
Tier 2 Canada Research Chair in Ocean Technology Systems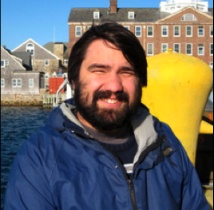 The world's oceans are vast, remote, and physically harsh. These qualities mean it is challenging to measure ocean properties, biological activity, and the impacts of humans on oceans. Through measurements and modelling of ocean noise, methods for using the noise itself as a sensing tool can be developed, allowing the observation of important physical processes and properties of the ocean, surface, and seabed. Better relating these mechanisms to the level and directionality of ocean noise provides a means to predict the ocean soundscape in time, space, and frequency, and improves our ability to monitor human and marine animal underwater activity.
Erin Bertrand, Faculty of Science

Tier 2 Canada Research Chair in Marine Microbial Proteomics
M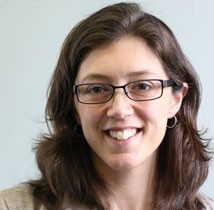 arine microbes form the base of marine food webs and play critical roles in the ocean's response to climate change. Despite this, many unanswered questions about what controls activity of marine microbes remain. Dr. Bertrand's research is developing new ways to measure and predict microbial activity in the ocean. These new measures and predictions will improve our understanding of what controls marine microbial activity and how that may change in the future ocean. In particular, this research is making significant progress towards understanding microbial relationships in the ocean, especially those that involve sharing and competing for scarce resources.
Karen Foster, Department of Sociology and Social Anthropology
Tier 2 Canada Research Chair in Sustainable Rural Futures for Atlantic Canada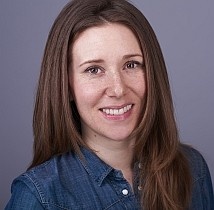 Dr. Foster's research program focuses on work, economy and development in rural Atlantic Canada, with an eye to understanding changing livelihoods, regional economic and development policy, shifting social inequalities, and intergenerational relationships. Supported by her CFI-funded Rural Futures Research Centre, this research has two overarching aims. The first is to gather and analyse data to help Atlantic Canadians understand themselves and to contribute to policy discussions about the region. The second is to bring Atlantic-focused research in conversation with international scholarly work on rural sustainability and development. Specific studies carried out under this umbrella include examinations of occupational succession in rural businesses, import replacement, rural housing stock and needs, and the gig and informal economy in rural areas.
Pedram Sadeghian, Faculty of Engineering

Tier 2 Canada Research Chair in Sustainable Infrastructure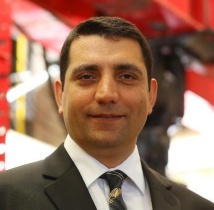 Dr. Sadeghian is exploring sustainable solutions that can be applied to different features of our infrastructure. He and his research team are using advanced materials and innovative structural systems (such as fiber-reinforced polymer composites) to rehabilitate existing infrastructure and build new infrastructure that will offer longer and better service along with less environmental impact. Dr. Sadeghian believes it is vital to Canada's economy that cost-effective, durable materials and innovative structural systems be explored to ensure that any new infrastructure we build offers superior performance and durability. His research is supporting this goal while also working to extend the useful lives of existing infrastructure components so they can maintain their service levels and support new developments.
For more information on the Canada Research Chairs program, visit the CRC website.
MMJ Group to broaden investment portfolio beyond cannabis sector – Proactive Investors USA & Canada
MMJ Group Holdings Ltd (ASX:MMJ) OTCMKTS:MMJFF) (FRA:2P9) will broaden its existing investment mandate to include strategic investments in sectors outside cannabis as approved at the company's annual general meeting held in November 2020.
These sectors include, but are not limited to natural resources, pharmaceuticals and software services technology, which will comprise no more than 25% of MMJ's total consolidated assets at the time the investments are made.
Increased flexibility to create growth
The diversification provides MMJ with increased flexibility to create growth and greater returns for shareholders and thereby allows MMJ to lower its investment risk and reduce the impact of market volatility from the cannabis sector to ultimately benefit shareholders.
This month, the investment manager of MMJ's investments, Embark Ventures Inc, changed its name to Parallax Ventures Inc.
Parallax has been engaged by MMJ in this role assets since June 1, 2019. There have been no other changes to personnel or operations of Parallax.
Under the amended investment manager agreement, Parallax continues to be responsible for the identification, transacting and review of possible investment opportunities in the cannabis and now the non-cannabis sector.
Portfolio of investments
MMJ owns a portfolio of minority investments and was initially established to seek investments across the full range of emerging cannabis-related sectors including healthcare, technology, infrastructure, logistics, processing, cultivation, equipment, and retail.
VIISA Hold Virtual Investment Day For The First Time – Yahoo Finance
HO CHI MINH CITY, Vietnam, Jan. 18, 2021 /PRNewswire/ — On 7 January 2021, VIISA organized Investment Day Batch 8 on its online platform, attracting more than 80 investors as well as corporations and startup community builders. This invite-only event also marked a new milestone for tech-startups Batch 8 in their 4-month journey with VIISA.
Taking place online for the first time, Investment Day Batch 8 solves the problem of geographical distance as well as difficulties in the global context of the COVID-19 pandemic, providing opportunities for startups and investors to share and exchange the latest updates about startup ideas. The event was divided into 2 sessions: live-streamed pitching shows from startups and networking activities between founders and investors with separate rooms for each startup team.
Opening the event, Mr. Vo Tran Dinh Hieu – Board Member and Program Director at VIISA, said: "Unlike any other, we want to preserve the excitement of live pitching, so this is not a recorded video, we have all the founders here with us and they are ready to go. So it is the first week 2021 and it seems like we will have another very eventful year. The UK announced 3rd lockdown, the Capitol Hill was taken yesterday. But still in Vietnam thousands of people gathered for fireworks shows on new year's eve. I believe this tranquility in Vietnam represents what everyone has achieved in the last year. We all have sharpened our adaptability and agility to maintain the composure of our businesses. I hope we all will carry on this great attitude forward to 2021. We started this batch in June 2020 with 3 companies and only one succeeded to graduation. During this batch, we also continued supporting the alumni to recover from the covid situation."
This year's Investment Day is not only an opportunity for VIISA Batch 8 startups to demonstrate their maturity, but also a chance for alumni startups who have participated in previous courses to reconfirm their development and position in the startup ecosystem. Whether the startup model is about real estate, fashion, events, e-commerce, technology, and applicability factors are all of the program priorities. With the hope to help young Vietnamese startups build their global business, these are special features that VIISA always appreciates.
Pitching in the event are 5 startups:
CYHOME: CyHome is Vietnam's leading Property management platform that has already served top-tier customers in the field of Property management (PM) such as CBRE, Proman (Novaland), Visaho, Blue Diamond, My House… With an affordable fee, PMs now can have a world-class ERP, and service providers can have a better way to serve customers. What the startup wants to bring to market is a new way of living and working in crowded cities: with no fee, the resident/tenant should have a premium experience.
DROBEBOX: Drobebox is a disruptive fashion tech startup that offers a clothing subscription service for women. Users could unlock their dream closet, which contains thousands of premium designs with a fixed monthly fee, and enjoy any items without buying, maintaining, or laundry. Starting at 30$ per month, members could explore and enjoy up to 30 new items every month that used to cost them 1000-3000$. Using state-of-art technology such as AI, Drobebox platform provides an "infinity" closet with a true personalization experience that helps dress best every day as simple as ordering food delivery.
WISEPASS: WisePass is a lifestyle app enabling its subscribers to access products, services, or events sponsored by brands. Starting from 239,000 VND per month, a subscriber gets 3 PASS a day to enjoy anything brands provide on the platform.
VDES: VDES is the very first marketplace of the event industry, which connects event venues & event suppliers to customers in the simplest way with advanced technology. During over 4 years of operation, VDES has been partners with more than 520 vendors and organized more than 2250 events for users (customers & cooperate). With technology solutions and event-ecosystem platform, VDES offer service to vendors to increase competitive advantage, increase business efficiency, and decrease operating costs by event management system, we will launch this SAAS in 2021.
ECOMEASY: EcomEasy Asia (ECE) is a dynamic ecommerce solution provider for consumer brands in Vietnam. ECE's integrated capabilities encompass all aspects of the e-commerce value chain from SKU selection, sales and inventory management to on-site operations, logistics and fulfilment. ECE has generated billions of VND in sales and hundred thousands of orders on all 10 ecommerce platforms operating in Vietnam for a dozen of brands.
The representative from VIISA hopes that Investment Day will provide Vietnamese startup community with many opportunities to connect and exchange knowledge, which contribute to awakening the potential of domestic businesses and open up more opportunities to promote Vietnamese startups
At the end of Investment Day Batch 8, Mr. Hieu also called for startups to apply at www.viisa.vn to capture opportunities for companionship and support from VIISA.
About VIISA:
Established in January 2017 by FPT Ventures and Dragon Capital, VIISA is an acceleration program and seed-stage fund that invests to build global-ready startups from Vietnam. After 7 batches, there have been 40 graduates, in which some startups have successfully called for US $5.5 million committed deals from investors.
SOURCE VIISA
Securities Commission shares investment red flags for 2021 – Airdrie Today
The Alberta Securities Commission (ASC) has released a list of top investment risks in hopes of helping Albertans avoid falling victim to scams in 2021.
"We want to protect people from the scammers and fraudsters that unfortunately exist out there," said Hilary McMeekin, director of communications and investor education with ASC.
McMeekin said fraudsters capitalize on people in any way they can, even if that means committing scams during the pandemic.
"They prey on our vulnerabilities," she said. "We have seen an increase in activity when it comes to fraud services or products around the pandemic."
In early January, the ASC released a list of six tips that McMeekin said will "arm Albertans with timely information to stay vigilant and protect their finances as we enter 2021."
The first red flag on the ASC's list involves investments related to COVID-19. According to an ASC press release, a common way fraudsters take advantage of global events is through "pump-and-dump schemes," which promise an opportunity to invest in new products or services that will prevent, detect or cure COVID-19 – or otherwise aid in the fight against the virus.
These pump and dump schemes usually involve artificially inflating the price of a penny stock shell company through issuing false and misleading positive statements, according to the release. The price of the stock rises as people invest. However, the wrongdoers cash out their stock at a high price before the truth is revealed, and the price of the stock then falls dramatically, leaving investors with nothing.
Another scam ASC warns about is any investment that promises great expectations. According to McMeekin, the ASC has seen an increase in situations where investment is encouraged with the promise of high returns resulting from a proposed deal involving a letter of intent.
"Proposed deals can fall through, so if it's being promoted as a sure thing, investors should be wary," she said.
Affinity fraud, according to McMeekin, is another scam people should be on the lookout for this year. McMeekin said affinity fraud happens when victims are introduced to scams by someone they know, such as family members, friends or co-workers.
"Fraudsters will often target ethnic communities, religious organizations, social clubs or professional groups, taking advantage of the trust and relationships that exist within," she said. "The fraudster becomes part of – or pretends to be part of – the community, flaunting their success or wealth and often enlisting unsuspecting ambassadors to spread the scheme to make it seem credible. Friends and family may unknowingly fall victim and encourage others to invest, too."
Also on ASC's list is a scam that promises quick profits by trading stocks at home. McMeekin said a lot of trouble can be avoided by just properly researching these promises.
"Research the company, research whatever the investment is for," she said. "Really look into and understand what that product or service is all about. Learn as much as you possibly can."
Particularly during a recession or pandemic, people can be interested in earning additional income. According to McMeekin, taking the time to research the validity of various money-making opportunities can save people a lot of hardship down the road.
"Take that time," she said. "Our hard-earned money is worth taking the time to do the research."
Quite often, McMeekin said, when scams are reported, the companies or persons involved have not been registered with ASC.
"The first question isn't 'are you registered?' but it should be," she said. "If they are not registered, that is a red flag."
The ASC has a website, checkfirst.ca, which McMeekin said can help people find out if companies they plan on dealing or investing with have taken necessary steps to register with the commission.
"It's a website that is full of unbiased and free resources for investors," she said. "No matter what stage of investing someone is in, it can be helpful."
Jordan Stricker, AirdrieToday.com
Follow me on Twitter @Jay_Strickz