The climate papers most featured in the media in 2022
Last year brought no shortage of news. Frontpages around the world were dominated by Russia's invasion of Ukraine, the death of Queen Elizabeth II and a UK prime minister outlasted by a lettuce.
But in yet another hectic year for news coverage, climate change still made headlines – not least because of the thousands of peer-reviewed journal papers about climate and energy that are published every year.
These studies were picked up around the world by online news outlets and shared on social media platforms, including Twitter, Facebook and LinkedIn. Tracking all these "mentions" was Altmetric, an organisation that scores academic papers according to the media attention they receive.
Using Altmetric data for 2022, Carbon Brief has compiled its now-traditional list of the 25 most talked-about climate or energy-related papers that were published the previous year.
From megafloods to megadroughts and insects to polar bears, last year saw a broad range of headline-grabbing research – as well as a new record-high Altmetric score for a paper in a Carbon Brief annual review.
The infographic above shows which papers made it into the top 10, while the chart at the end of the article shows which journals feature most frequently in the top 25.
Pandemic prominence
As in 2020 and 2021, the most talked-about scientific research of the past year has been about Covid-19.
All but five of the 50 highest scoring papers of 2022 relate to the coronavirus. Those five include two papers on monkeypox (since renamed "mpox"), one on the global burden of drug-resistant bacteria, one that identifies the Epstein-Barr virus as "the leading cause of multiple sclerosis", and one finding that, in 2020, firearms became the main cause of deaths in children in the US.
Continuing the theme, the most talked-about climate and energy paper of 2022 also relates to the Covid-19 pandemic.
Just outside the overall top 50, in 56th place, is "Climate change increases cross-species viral transmission risk". Published in Nature, the study warns that mammals forced to move to cooler climes amid rising global temperatures are "already" spreading their viruses further – with "undoubtable" impacts for human health.

The research uses modelling to map how climate change could shift the geographic ranges of 3,100 mammal species and the viruses they carry by 2070. It finds that climate change is increasingly driving new encounters between mammal species, raising the risk of novel disease spread. The world's "biodiversity hotspots" and densely populated parts of Asia and Africa are most likely to be affected.
Speaking to Carbon Brief when the paper was published in April, co-lead author Dr Colin Carlson, a global change biologist at Georgetown University in Washington DC, explained:
"Species are going to show up in new combinations because of climate change and, when they do, that's an opportunity for them to share viruses with each other."
The relevance of the work was "reinforced by the Covid-19 pandemic", the paper says, "which began only weeks after the completion of this study". The authors note that Covid-19 "probably originated in south-east Asian horseshoe bats and may have spread to humans through an as-yet-unknown bridge host". They add:
"Although we caution against over-interpreting our results as explanatory of the current pandemic, our findings suggest that climate change could easily become the dominant anthropogenic force in viral cross-species transmission, which will undoubtedly have a downstream effect on human health and pandemic risk."
The paper clocks in with an Altmetric score of 7,803 – the highest score for any climate paper featured in Carbon Brief's annual reviews and only the second time the top-scoring paper has surpassed 7,000.
(For Carbon Brief's previous Altmetric articles, see the links for 2021, 2020, 2019, 2018, 2017, 2016 and 2015.)
The study was covered in 716 news stories by 558 outlets around the world, including the Guardian, New York Times, Agence France-Presse, Al Jazeera and New Delhi Times. It was also picked up in 44 blog posts.
The research was the most talked about on Twitter of any of the top 25 climate papers included here. The paper's URL was included in more than 10,000 tweets from more than 9,000 accounts, which collectively have almost 39 million followers.
Considering the paper's timing, it is "not surprising" that connecting climate change with pandemics "gathered a bit of attention", Carlson tells Carbon Brief.
However, he says, "there's still a weird pattern where climate gets left out of the conversation [around pandemics] a lot compared to biodiversity loss or wildlife trade". He adds:
"I think I've started to see that change finally, and if we played a part in that, that's wonderful. Most of my work focuses on the health impacts of climate change, and I think time and time again, we underestimate how bad they'll be…Climate change is an existential threat to human and animal health, and I hope our study and the conversation around it helped push that envelope a bit."
Tipping points
The second highest-scoring climate paper of 2022 – clocking in at 70th in the overall 2022 rankings – is, "Exceeding 1.5C global warming could trigger multiple climate tipping points". Published in the journal Science, the study has an Altmetric score of 6,573.
The study's lead author, Dr David McKay, told Carbon Brief in September that tipping points have been a keen area of interest in the climate community since 2008, when the study, "Tipping elements in the Earth's climate system", first "broke the ice" on the subject.
His work provides the first comprehensive assessment of climate-related tipping points since the 2008 paper. It identifies 16 climate tipping elements – shown below – and finds a "significant likelihood" that multiple tipping points will be crossed if global temperatures exceed 1.5C above pre-industrial levels.
The location of the Earth's tipping points and when they are likely to be crossed. Credit: Map by Tom Prater, based on McKay et al (2022).
The study was mentioned in 667 news stories from 397 outlets – including the Guardian, New Scientist and BBC News. It received the highest number of mentions in blog posts and Wikipedia pages of the top 25 climate papers – at 55 and 34, respectively. The study also featured in more than 6,000 tweets.
The study was strategically published just days before researchers, economists and civil society representatives gathered in McKay's home town of Exeter for a conference on the topic of climate tipping points. Carbon Brief attended the conference, and summarised the key talking points, ideas and proposals that emerged.
Arctic warming
In third place with an Altmetric score of 6,201 is the Communications Earth and Environment study, "The Arctic has warmed nearly four times faster than the globe since 1979".
It is well known that Arctic temperatures are rising much faster than the global average. Previous estimates suggest that the region is warming twice or even three times as quickly as the rest of the world. However, this new study finds that the Arctic has warmed nearly four times faster than the global average over the past four decades.
Dr Mika Rantanen – a researcher at the Finnish Meteorological Institute and lead author on the study – tells Carbon Brief that "Arctic warming and its consequences have become one of the biggest manifestations of climate change". As such, he says he and his co-authors expected the paper to attract media attention.
True to his expectations, the article was picked up in 765 news stories from 525 outlets, including the Independent, New York Times, Scientific American and Washington Post. "I think that choosing an attractive title was one reason why the paper was picked up so widely," Rantanen tells Carbon Brief.
Top five
In fourth place, with an Altmetric score of 6,147, is the Nature Climate Change paper, "Greenland ice sheet climate disequilibrium and committed sea level rise".
The study finds that the "imbalance" of the Greenland ice sheet caused by global warming means it is already committed to contributing "at least" 274mm to global sea levels in future, "regardless of 21st-century climate pathways".
The research also warned that if Greenland melt was consistently as large as the high-melt year of 2012, this would commit 782mm to sea levels, which serves as "an ominous prognosis for Greenland's trajectory through a 21st century of warming".
The study was picked up by 867 news stories from 658 outlets. These include, for example, a Guardian headline warning that major sea level rise from Greenland was now "inevitable", and an Associated Press article leading on the idea of "zombie ice":
"That's doomed ice that, while still attached to thicker areas of ice, is no longer getting replenished by parent glaciers now receiving less snow. Without replenishment, the doomed ice is melting from climate change and will inevitably raise seas."
Study co-author Dr William Colgan, a glaciologist at the Geological Survey of Denmark and Greenland, told the outlet:
"It's dead ice. It's just going to melt and disappear from the ice sheet…This ice has been consigned to the ocean, regardless of what climate (emissions) scenario we take now."
The paper was also picked up by 37 blog posts and 1,671 tweets.
Completing the top five is another pandemic-related paper, "Over half of known human pathogenic diseases can be aggravated by climate change", also published in Nature Climate Change.
It finds that nearly 60% of pathogen-caused diseases that affect humans have been "at some point aggravated" by climate-related "hazards", such as warming and drought.
Specifically, the researchers identify how 375 infectious diseases around the world have been affected by a range of climatic hazards. They find that while 16% of infectious diseases have "at times" been reduced by climate hazards, there are more than 1,000 "unique pathways" by which pathogenic diseases were exacerbated by climate change.
The authors warn that these pathways are "too numerous for comprehensive societal adaptations" and say that this work highlights the "urgent need to work at the source of the problem: reducing [greenhouse gas] emissions".
With an overall Altmetric tally of 6,079, the paper would have scored high enough to secure top spot last year. It was covered by 803 news stories from 582 outlets, 31 posts from 28 blogs, and 2,571 tweets from 2,277 users.
Top 10
Just missing out on a spot in the top five is a "perspective" paper in the Proceedings of the National Academy of Sciences, "Climate endgame: Exploring catastrophic climate change scenarios". This less-than-cheery article on "catastrophic" outcomes of climate change was referenced in 556 news stories from 428 outlets. The BBC News coverage of the study says:
"Catastrophic climate change outcomes, including human extinction, are not being taken seriously enough by scientists, a new study says. The authors say that the consequences of more extreme warming – still on the cards if no action is taken – are 'dangerously underexplored'. They argue that the world needs to start preparing for the possibility of what they term the 'climate endgame'."
With an Altmetric score of 4,807, spot number seven goes to the Advances in Atmospheric Sciences paper, "Another record: Ocean warming continues through 2021 despite La Niña conditions".
The annual Lancet Countdown on Health and Climate Change report clocks in at number eight. The paper – under the heading "health at the mercy of fossil fuels" – was mentioned in 521 news stories from 386 outlets. In a striking summary, the report says:
"Worldwide, people are seeing their health increasingly affected by climate change amidst the compounding impacts of Covid-19 and the cost of living and energy crises; governments and companies continue to prioritise fossil fuels over a healthy future despite climate commitments; and rapid, holistic action is the only route to ensuring a just and healthy future."
At number nine is the "brief communication" Nature Climate Change paper, "Rapid intensification of the emerging south-western North American megadrought in 2020-2021". The study finds that the American west's megadrought is the driest in at least 1,200 years.
The research was picked up in 1,187 new stories – more than any of the other 25 papers included here – including American publications the New York Times, the Washington Post, NBC News and NPR. The paper also topped the tables for blog post mentions, with 76.
Rounding off the top 10 climate articles of 2022 is the Nature Climate Change study, "Pronounced loss of Amazon rainforest resilience since the early 2000s", with an Altmetric score of 4,195. This article was mentioned in 563 news stories from 434 outlets, including Carbon Brief, BBC News, the Independent, the New York Times and New Scientist.
The study finds that three-quarters of the Amazon rainforest has lost "resilience" since 2003 – making it more vulnerable to extreme events such as droughts. The work shows we are "approaching a tipping point", the lead author of the study told journalists at a press conference.
Elsewhere in the top 25
The rest of the top 25 contains a varied mix of papers, including how agriculture and climate change are "reshaping" insect biodiversity worldwide (12th) and the discovery of a "genetically distinct and functionally isolated" population of polar bears from south-eastern Greenland (19th).
Just missing out on the top 10 is, "Global carbon budget 2022", in 11th place. Published in the journal Earth System Science Data, the paper details the annually estimated "global carbon budget" as produced by the Global Carbon Project.
The paper's lead author Prof Pierre Friedlingstein, chair of mathematical modelling of climate systems at the University of Exeter, co-wrote a Carbon Brief article to unpack their findings.
The latest data shows that global CO2 emissions from fossil fuels and cement increased by 1.0% in 2022, hitting a new record high of 36.6bn tonnes of CO2. This rise was "primarily driven by a strong increase in oil emissions as global travel continues to recover from the Covid-19 pandemic", the article says, adding that "coal and gas emissions grew more slowly, though both had record emissions in 2022".
There are several energy-related papers in the top 25. This includes a paper in 15th place from the Proceedings of the National Academy of Sciences, which finds that "corn-based ethanol in the US has failed to meet the policy's own greenhouse gas emissions targets and negatively affected water quality, the area of land used for conservation, and other ecosystem processes". Another is a Joule paper in 20th, which finds that "compared to continuing with a fossil fuel-based system, a rapid green energy transition is likely to result in trillions of net savings".
The topic of public health features again in the top 25. For example, in 14th place is a Communications Earth & Environment study warning that, under 2C of warming, the exposure to dangerous heat stress "will likely increase by 50-100% across much of the tropics and increase by a factor of 3-10 in many regions throughout the mid-latitudes".
Research into extreme weather also appears in the top 25. This includes a Nature Communications study in 18th place on the 2020 North Atlantic hurricane season – the most active on record – which finds that "human-induced climate change increased the extreme three-hourly storm rainfall rates and extreme three-day accumulated rainfall amounts…for observed storms that are at least tropical storm strength". A Science Advances paper in 23rd place warns that climate change has already doubled the likelihood of an event capable of producing a catastrophic "megaflood" in California.
Finally, rounding out the top 25 is a Nature Geoscience study showing that the Thwaites glacier in west Antarctica has seen "sustained pulses of rapid retreat" in the past two centuries and similar pulses "are likely to occur in the near future".
All the final scores for the top 25 climate papers of 2022 can be found in this spreadsheet.
Top journals
Across the top 25 papers in Carbon Brief's leaderboard this year, Nature Climate Change features most frequently with four papers. Nature Climate Change also took first place in 2021 (jointly with Nature) and 2016 (jointly with Science).
In joint-second place is Nature and Science with three papers each. Nature is perennially high-placed in this analysis, taking first – or joint first – spot in Carbon Brief's top 25 in 2021, 2020, 2019, 2018, 2017 and 2015.
For the rest of the top 25, there are four journals that appear twice and seven that appear once.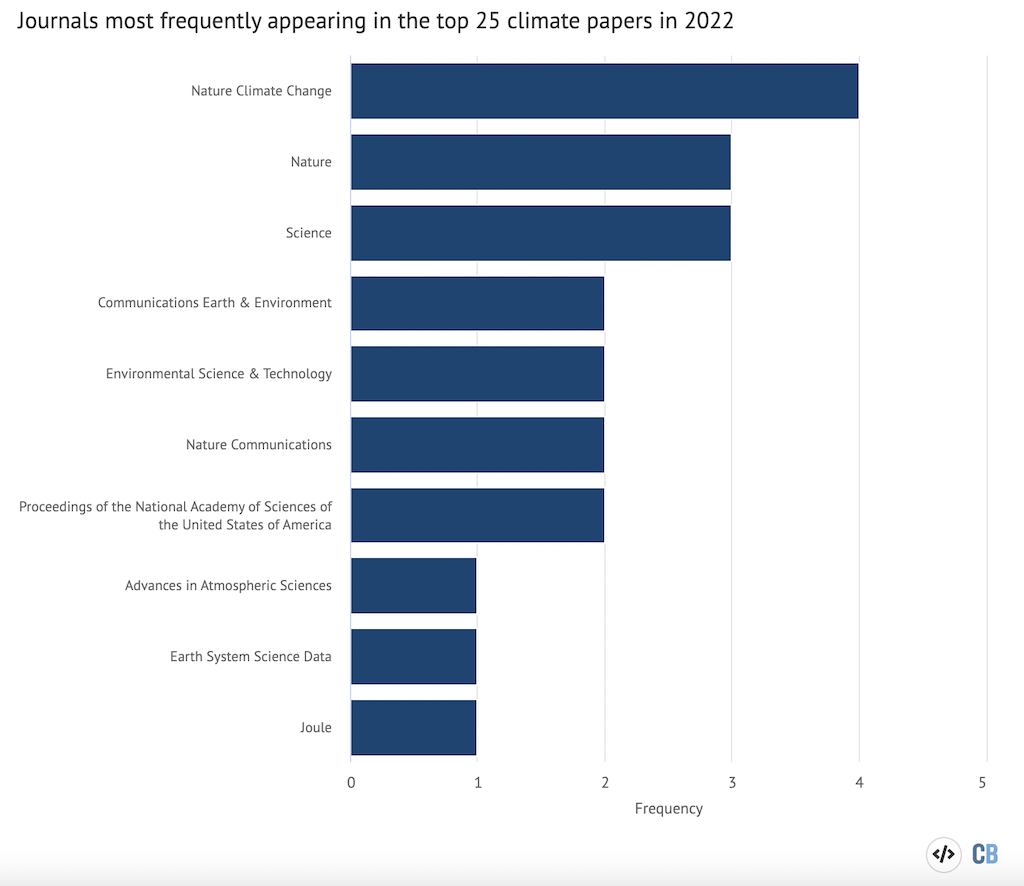 Chart by Carbon Brief using Highcharts.
Jan. 6 Committee failed to hold social media companies to account for their role in the Capitol attack, staffers and witnesses say – CNN
"There might be someone getting shot tomorrow."
That was the warning from Twitter staff at an internal meeting on Jan. 5, 2021, the eve of the deadly attack on the US Capitol. It wasn't the only stark warning Twitter management received ahead of the insurrection, according to two former Twitter employees who spoke to the House Jan. 6 Committee.
But now these witnesses, along with some committee staff, are frustrated, saying the committee failed to adequately hold major social media companies to account for the role they played in the worst attack on the Capitol in 200 years.
It was a "real missed opportunity," Anika Collier Navaroli, a former Twitter employee turned whistleblower who gave evidence to the committee, told CNN in an interview last week. "I risked a lot to come forward and speak to the committee and to share the truth about these momentous occasions in history," Navaroli said.
CNN spoke to half a dozen people who interacted with and were familiar with the Jan. 6 Committee's so-called "purple team" – a group that included staff with expertise in extremism and online misinformation. Some witnesses and staff said the committee pulled its punches when it came to Big Tech, failing to include critical parts of the team's work in its final report. The discontent has poured into public view, with an unpublished draft of the team's findings leaked and obtained by multiple news organizations, including CNN.
One source familiar with the probe acknowledged that the committee obtained evidence that social media companies like Twitter largely ignored concerns that were raised internally prior to Jan. 6, but while those platforms should have done something at the time, the panel was limited in its ability to hold them accountable. A lawyer who worked on the committee said the panel did its job and focused on the unique and malign role of then-President Donald Trump in an unprecedented attack on American democracy. They also said the final report outlines structural issues across social media and society that need to be studied further.
Disagreement about social media companies' role in the Jan. 6 attack comes as 2023 looks to be a pivotal year for Silicon Valley firms in Washington, DC. Spurred in part by the release of Elon Musk's so-called "Twitter Files," House Republicans are set to investigate purported Big Tech censorship, particularly as it pertains to social media companies' handling of a 2020 New York Post story about Hunter Biden and his laptop. Facebook parent company Meta's high-stakes decision Wednesday to reinstate Trump on its platforms is also expected to stoke further scrutiny of tech companies' influence in elections. At the Supreme Court, justices are set to rule this year on a case that could strip key protections afforded to tech companies moderating online speech.
A missed opportunity

It isn't just Navaroli who has taken issue with the committee's findings. Three of the committee's own staff members, part of the so-called purple team, published an article earlier this month, sharply criticizing the decisions made by social media companies in the lead up to the attack.
The final report's "emphasis on Trump meant important context was left on the cutting room floor," they wrote.
"Indeed, the lack of an official Committee report chapter or appendix dedicated exclusively to these matters does not mean our investigation exonerated social media companies for their failure to confront violent rhetoric," they wrote.
In wake of the decision, CNN has reviewed thousands of pages of deposition transcripts and other supporting documents the committee has publicly released that provide insight into Silicon Valley's action and inaction in the critical period between Election Day 2020 and Jan. 6, 2021.
Navaroli, who worked on Twitter's safety policy team, told the committee she had repeatedly warned Twitter's leadership in the lead-up to Jan. 6 about the dangers of not cracking down on what she said was violent rhetoric.
Navaroli pointed to Trump's infamous "stand back and stand by" message to the Proud Boys at the first 2020 presidential debate as one instance that incited more violent rhetoric on Twitter.
Navaroli initially appeared before the committee as an anonymous whistleblower. Part of her testimony was played during the public committee hearings last summer, with her voice distorted to protect her identity. However, she later decided to go public, testifying before the committee for a second time, and speaking to The Washington Post.
In an interview with CNN, Navaroli said she is speaking out now because she believes it is important for the "truth to be on the record." She warned that without a full reckoning of social media's role in the Capitol attack, political violence could once again ignite in the United States and elsewhere around the world, pointing to recent unrest in Brazil where supporters of former President Jair Bolsonaro stormed the country's top government offices.
A leak

The final report from the Jan. 6 Committee stated, "Social media played a prominent role in amplifying erroneous claims of election fraud."
But a far more blistering assessment was laid out in an unpublished draft document prepared by committee staff that was obtained by several news organizations, including CNN. Its key findings included:
"Social media platforms delayed response to the rise of far-right extremism—and President Trump's incitement of his supporters—helped to facilitate the attack on January 6th."

"Fear of reprisal and accusations of censorship from the political right compromised policy, process, and decision-making."

"Twitter failed to take actions that could have prevented the spread of incitement to violence after the election."

"Facebook did not fail to grapple with election delegitimization after the election so much as it did not even try."
Tech companies would broadly dispute these findings and have repeatedly said they are working to keep their platforms safe.
Twitter's previous management repeatedly outlined steps it said it was taking to crack down on hateful and violent rhetoric on its platform prior to Jan. 6, 2021, but stressed it didn't want to unnecessarily limit free expression. Under Musk's leadership, Twitter no longer has a responsive communications team, and the company did not respond to CNN's request for comment.
Andy Stone, a spokesperson for Facebook parent company Meta, pointed to an earlier statement from the company where it said it was cooperating with the committee.
Jacob Glick, an investigative counsel who conducted multiple depositions for the Jan. 6 Committee, including Navaroli's, told CNN he believes the committee did its job to show "the American public the dangers posed by President Trump's multilayered attack on our democracy."
He said the lack of awareness he believes tech companies have shown about their role in the attack was "stark."
"I don't think social media companies recognize they were dealing with a sustained threat to American democracy," he said.
Glick, who now works at the Georgetown Institute for Constitutional Advocacy and Protection, said the purple team's report had not been fact-checked, contains some errors, and should not have been leaked.
Another source familiar with the committee's work told CNN, "It couldn't be clearer that Trump was at the center of this plot to overturn the election. Not everything staff worked on could fit into this extensive report and hearings, including some who wanted their work to be the center of the investigation."
Culture wars and content moderation

How social media platforms write and enforce their rules has become a central and ongoing debate, raising the key question of what power the companies should wield when it comes to politicians like Trump.
While some, including Navaroli, insist Trump repeatedly broke social media platforms' rules by inciting violent rhetoric that should have resulted in his removal before Jan. 6, others including Musk and Twitter's previous management, argue that what politicians say should be made available to as many people as possible so they can be held to account.
Meta and Twitter have both reversed their bans on Trump.
"We're moving backwards and it's concerning to me," Navaroli said of the return of prominent election conspiracy theorists to major tech platforms. "History has taught us what happens when political speech on social media companies is allowed to fester unchecked."
Bolivia media guide – Yahoo News Canada
Many media outlets are in private hands and ownership is highly concentrated.
The government controls numerous newspapers and has stepped up monitoring of critical media, especially on social networks, says the NGO Reporters Without Borders (RSF).
The political turbulence and instability as a result of the forced exile of former President Evo Morales in 2019, saw an increase in attacks on journalists. The 2020 election of Luis Arce brought this to an end.
Officials use legal, political and economic means to pressure independent media, says Freedom House. It says self-censorship is commonplace, with many journalists fearing that they could lose their jobs over reporting critical of the authorities.
Media deemed to "play party politics" or "insult" the government face being denied funding from state advertising, says Reporters Without Borders. Arbitrary arrests and impunity for violence against journalists are other problems.
Newspaper readership is limited by low literacy. Radio is important, especially in rural areas. There are hundreds of stations. The government operates a TV station and community radios.
There were 8.9 million internet users by July 2022, comprising 74% of the population (Internetworldstats.com).
Trump's Evolution on Truth Social: More QAnon, More Extremes – The New York Times
The former president, now free to post again on Facebook and Twitter, has increasingly amplified far-right accounts on Truth Social. Experts on extremism worry that he will bring this approach to a far wider audience.
In September, former President Donald J. Trump went on Truth Social, his social network, and shared an image of himself wearing a lapel pin in the form of the letter Q, along with a phrase closely associated with the QAnon conspiracy theory movement: "The storm is coming."
In doing so, Mr. Trump ensured that the message — first posted by a QAnon-aligned account — would be hugely amplified, visible to his more than four million followers. He was also delivering what amounted to an unmistakable endorsement of the movement, which falsely and violently claims that leading Democrats are baby-eating devil worshipers.
Even as the parent company of Facebook and Instagram announced this past week that Mr. Trump would be reinstated — a move that followed the lifting of his ban from Twitter, though he has not yet returned — there is no sign that he has curtailed his behavior or stopped spreading the kinds of messages that got him exiled in the first place.
In fact, two years after he was banished from most mainstream social media sites for his role in inciting the Capitol riot, his online presence has grown only more extreme — even if it is far less visible to most Americans, who never use the relatively obscure platforms where he has been posting at a sometimes astonishing clip.
Since introducing his social media website in February 2022, Mr. Trump has shared hundreds of posts from accounts promoting QAnon ideas. He has continued to falsely insist that the 2020 election was stolen and that he is a victim of corrupt federal law enforcement agencies. And he has made personal attacks against his many perceived enemies, including private citizens whose names he has elevated.
Now, Mr. Trump's increasingly probable return to major platforms raises the prospect that he will carry over his more radicalized behavior to a far wider audience on Facebook and Instagram, with a combined five billion active users, and Twitter, with 360 million active users.
The potential for such an outcome has alarmed extremism experts; pushed the platforms to explain that they have installed "guardrails" to deter incendiary posts; and prompted questions about how Mr. Trump's assertions, long siloed in a right-wing arena, are likely to play with mainstream voters, particularly as a sizable share of his party signals that it is ready to move on.
"It's not that Trump has meaningfully changed the way he behaves online. In fact, he's grown more extreme," said Jared Holt, a researcher at the Institute for Strategic Dialogue who studies technology and extremism in the United States. "I don't think anybody should reasonably expect him to be any different if he's back on Facebook and Twitter. And when it comes to spreading conspiracy theories, Trump is the big tuna."
Last month, as Meta considered whether to reinstate Mr. Trump, he wrote on Truth Social that even the Constitution should not stand in the way of his return to power.
"A Massive Fraud of this type and magnitude allows for the termination of all rules, regulations, and articles, even those found in the Constitution," he said.
Steven Cheung, a spokesman for Mr. Trump, said on Thursday that "Truth Social has been a success because President Trump has created a true free-speech platform, unlike the Big Tech oligarchs who censor conservatives." He added, "President Trump should have never been banned on these social media platforms, and everybody knows their decisions were unjust and ultimately destroyed the integrity of our democracy."
In a letter sent this month to three top Meta officials, including Mark Zuckerberg, the company's chief executive, a lawyer for Mr. Trump argued that the ban had "dramatically distorted and inhibited the public discourse."
The petition for reinstatement was timed to coincide with the second anniversary of the decision to bar him from Facebook and Instagram, made one day after the deadly attack on the Capitol by Trump supporters. At the time, the company said his presence on its sites posed a risk to public safety.
Democrats have said he's still dangerous. Last month, four of the party's members of Congress urged Meta not to reinstate Mr. Trump, writing in a letter that he was still "undermining our democracy."
But on Wednesday, Nick Clegg, Meta's president for global affairs, wrote in a blog post that "our determination is that the risk has sufficiently receded." He added that the suspension was "an extraordinary decision taken in extraordinary circumstances" and that normally, "the public should be able to hear from a former president of the United States, and a declared candidate for that office again, on our platforms."
To try to stop Mr. Trump from provoking future unrest, Meta said, it would prevent sharing of posts that, among other things, question the legitimacy of elections or promote QAnon content. Violations of the company's policies could also result in his being blocked from the site again, Meta said. Conservatives praised the decision, and the A.C.L.U. and Senator Bernie Sanders defended the move.
No such restrictions exist for Mr. Trump on Twitter, which had barred him soon after the Capitol riot but reinstated him in November after Elon Musk, the company's new owner, conducted a public poll about a possible return.
.css-1v2n82wmax-width:600px;width:calc(100% – 40px);margin-top:20px;margin-bottom:25px;height:auto;margin-left:auto;margin-right:auto;font-family:nyt-franklin;color:var(–color-content-secondary,#363636);@media only screen and (max-width:480px).css-1v2n82wmargin-left:20px;margin-right:20px;@media only screen and (min-width:1024px).css-1v2n82wwidth:600px;.css-161d8zrwidth:40px;margin-bottom:18px;text-align:left;margin-left:0;color:var(–color-content-primary,#121212);border:1px solid var(–color-content-primary,#121212);@media only screen and (max-width:480px).css-161d8zrwidth:30px;margin-bottom:15px;.css-tjtq43line-height:25px;@media only screen and (max-width:480px).css-tjtq43line-height:24px;.css-x1k33hfont-family:nyt-cheltenham;font-size:19px;font-weight:700;line-height:25px;.css-1hvpcvefont-size:17px;font-weight:300;line-height:25px;.css-1hvpcve emfont-style:italic;.css-1hvpcve strongfont-weight:bold;.css-1hvpcve afont-weight:500;color:var(–color-content-secondary,#363636);.css-1c013uzmargin-top:18px;margin-bottom:22px;@media only screen and (max-width:480px).css-1c013uzfont-size:14px;margin-top:15px;margin-bottom:20px;.css-1c013uz acolor:var(–color-signal-editorial,#326891);-webkit-text-decoration:underline;text-decoration:underline;font-weight:500;font-size:16px;@media only screen and (max-width:480px).css-1c013uz afont-size:13px;.css-1c013uz a:hover-webkit-text-decoration:none;text-decoration:none;
---
How Times reporters cover politics. We rely on our journalists to be independent observers. So while Times staff members may vote, they are not allowed to endorse or campaign for candidates or political causes. This includes participating in marches or rallies in support of a movement or giving money to, or raising money for, any political candidate or election cause.
Mr. Trump also often handled his Twitter account directly, unlike his Facebook account. He used the platform as a cudgel during his presidency, issuing a steady flow of stream-of-consciousness thoughts, insults and policy declarations on the fly.
He has been talking to aides about when and what to post on Twitter upon his return, according to two people familiar with the discussions who asked for anonymity.
The former president delivered the first-ever post on Truth Social, in which he has a significant financial stake, in February 2022, writing: "Get Ready! Your favorite President will see you soon!"
He didn't return for more than two months, but the floodgates then opened, with Mr. Trump Truthing and Retruthing — as posts and shares are called — dozens of times a day.
On Aug. 31, for example, he posted over 50 times, making wild claims about Hunter Biden's laptop, Dominion voting machines, and supposed links by President Biden and Vice President Kamala Harris to Russia.
He has often repeated lies about the 2020 election. This past week, he posted that his infamous phone call seeking more votes in Georgia was "perfect" and that officials had "cheated in many ways including STUFFING Ballots."
If Mr. Trump returns to major social media sites, Republican candidates and elected officials — who spent his presidency dodging questions about his incendiary tweets — are far likelier to be pressed for their opinions on what he says.
Mr. Trump would also have to figure out how to manage his online presences.
According to regulatory filings, he is obliged to place his posts exclusively on Truth Social and to not share them elsewhere for six hours. That contract has a significant exception, though, allowing him to post material "that specifically relates to political messaging, political fund-raising or get-out-the vote efforts at any time" on other sites.
To date, Mr. Trump has not taken advantage of the loophole, posting exclusively to his 4.8 million followers on Truth Social and at times reposting that content to his nearly 800,000 subscribers on Telegram.
Those follower counts pale in comparison to his potential reach elsewhere. A Pew Research Center analysis in October found that only 2 percent of Americans used Truth Social or Telegram as a regular source for news, compared with 28 percent for Facebook and 14 percent for Twitter.
Mr. Trump's own statistics underscore that difference. He has nearly 88 million Twitter followers; his Facebook account has 34 million followers. His Instagram page, which tended to focus more on family photos, has 23 million followers.
According to people close to Mr. Trump, he is aware that a return to those platforms would risk starving Truth Social of its largest draw. But it may be that his desire for more income, they said, is outweighed by the enormous attention that Facebook and Twitter can provide him as he runs again for president.
Rashad Robinson, the president of Color of Change, a civil rights group, said Mr. Trump's outsize following could partly explain why Meta made its decision.
"Corporations like Facebook have continued to find ways to profit off Trump even as they've condemned him," said Mr. Robinson, whose group has pressured Facebook to enact policy changes through advertiser boycotts. "It's not just that they let Donald Trump back on their platform, it's that they benefit from it."
He and others pointed to the fact that Mr. Trump's campaign spent $89 million to advertise on Facebook and Instagram during the 2020 election, and $56 million to advertise on Google and YouTube. (Google, which also suspended Mr. Trump from YouTube in January 2021, has not announced plans to reinstate him.)
"Facebook has more followers than Christianity," Mr. Robinson said. "There is not really a comparison point in terms of reach and advertising power." Meta declined to comment on Mr. Robinson's criticism. But executives have in the past noted that political advertising represents a tiny fraction of the company's overall revenue, and Meta has acknowledged tweaking its algorithm to downplay political content over the past two years.
The Pew social media study found that Truth Social was "heavily partisan," with half of its most influential accounts self-identifying as pro-Trump or right-wing.
In a podcast interview in June, Kash Patel, an adviser to Mr. Trump and, at the time, a director of the company that owns Truth Social, described the proliferation of QAnon-friendly content on the site as a deliberate business decision by the platform, which has struggled financially.
"We try to incorporate it into our overall messaging scheme to capture audiences," Mr. Patel said. "You can't ignore that group of people that has such a strong dominant following."
While it is possible that Mr. Trump will moderate his flow of extreme posts if he returns to mainstream platforms, it is far from clear he will do so.
On Wednesday, Mr. Trump showed no sign of slowing down, posting or reposting 19 times on Truth Social about the 2020 election, the news media and the end of what he called his "deplatforming" from Facebook.
"Such a thing should never happen again," he wrote.