Analysis: The 'satchetisation' of Africa's largest economy – Al Jazeera English
Abuja, Nigeria – In February 2019, Eat'n'Go, the Nigerian franchisee of popular pizza maker Domino's, introduced a miniature version of the pizza boxes the market was familiar with, for 550 naira ($1.50).
Smaller in size and far cheaper than the medium-sized pizza which costs N3,900 ($9), this new version was designed to be affordable for everyone.
It was a necessary decision given the economic instability at the time, CEO Patrick Michael told Al Jazeera.
"The Nigerian market is diverse, and the potential for profit remains high," he said. "However, we can't overlook the economic instability [which] has, in some way, affected purchasing power. At times like this, it becomes pertinent for industry players like ourselves to cushion the effect of this situation on customers."
Two years earlier, StarTimes, a Chinese satellite TV provider with a strong presence in Nigeria, had added daily and weekly subscriptions – with fewer channels – at N60 (15 cents) and N300 (72 cents) respectively, to its existing monthly option.
Since 2015, Nigeria, Africa's largest economy, has gone into recession twice and in that time, the naira has plummeted against the dollar, losing 70 percent of its value. That put the economy in a chokehold. But things could become even worse in the coming days.
According to a recent World Bank report [PDF], by 2022, the number of poor people in the country is projected to reach 95.1 million – more than 40 percent of the population. And even as the adverse economic effects of the COVID-19 pandemic linger, commodity prices are on the rise due to the effect of Russia's invasion of Ukraine.
A 2022 report by the National Bureau of Statistics (NBS), shows that Nigeria's annual inflation rate accelerated for the third straight month to 16.82% in April 2022, from 15.92% in March. It was the steepest rise in inflation since August 2021 and follows the trend of a global surge in commodity prices.
For Nigerians, the end result is a huge depletion of their purchasing power and ultimately, less money in their accounts.
Indeed, while there were 133.5 million active bank accounts in the country as of December 2021, 99% of those accounts had less than 500,000 naira ($1,200), according to the Nigeria Deposit Insurance Corporation.
A response to market reality
To cope with this reality, businesses like Eat'n'Go are turning to sachet marketing as a strategy to stay in business.
Scholars Rodolfo P. Ang and Joseph A. Sy-Changco of Ateneo de Manila University in The Philippines, define sachet marketing as "the effort to increase market penetration for one's product by making it available in smaller, more affordable packs…a tool for penetrating the market at the bottom of the economic pyramid."
Colloquially referred to as 'sachetisation', it has been around in Nigeria for decades and is prevalent in other emerging markets like The Phillippines and India.
Fast-moving consumer goods businesses (FMCGs) adopted it for items like "'pure water", powdered milk and instant noodle packs. This, Shakirudeen Taiwo, a Nigerian economist, told Al Jazeera, allowed the companies to cater to up to 80% of the market.
But in recent years, brands have ramped up the strategy, as a new economic reality set in. These products are now sold in even smaller sachets or small nylon bags.
"As at last count, we have over 75% of households in Nigeria living below $3-5 per day, which is huge," Taiwo said. "So, companies start modelling their products to fit this income bracket of people since they make up the bulk of the population."
Doing this helps businesses reach more customers and maximise profits as they can sell more products at a cumulatively higher price. But more importantly for buyers, it cushions the effects of inflation even if they have to sacrifice quantity and in some cases, quality, too.
How sachet marketing plays out in Nigeria's tech industry
The trend is also playing out in Nigeria's tech industry and influencing how more startups are thinking about product pricing.
The industry may still be in its infancy but is highly regarded around the world. In 2021, approximately 60 percent ($1.7bn) of the total amount ($2.9bn) raised by Africa-based tech startups went to Nigeria alone.
But even giants bow to market forces.
Many technology firms appeal to younger Nigerians because they ease bureaucratic and expensive processes of investing, saving, buying insurance, and accessing loans by introducing lower fees and cheaper payment plans, among other things.
Yanmo Omorogbe, co-founder and COO of investment platform Bamboo, says companies like hers must consider market realities to reach product-market-fit. Leveraging its partnership with a US broker-dealer, Bamboo allows Nigerians to participate in the US stock market with as little as $10.
"Here [in Nigeria], the majority of people are working hard to escape the trap of the poverty line," Omorogbe told Al Jazeera. "A small middle class is being pulled in different directions, and then you have an equally small segment of high-net-worth individuals.
"Your strategies will need to account for the differences, but the core product should be able to accommodate everyone," she said. "For us, it meant adding features like fractional shares that allow people to invest with what they have and also lowering the minimums so you can get more people in."
Eke Urum, Lagos-based investor and financial analyst agrees, saying the strategy is "a response to a bad reality" as "demand backed by purchasing power is getting smaller."
Rise, the fintech startup he runs, allows Nigerians to make dollar investments into real estate and the stock market in the United States, with as little as $1.
In Nigeria where insurance penetration is less than 2%, Reliance Health, a startup, created a system where people do not have to be formally employed to access health insurance. It introduced plans from 3,500 naira ($7) to 148,500 naira ($297) that allow users to pay monthly, quarterly, or annually.
A solution or a problem?
The Nigerian government seemed to understand this, too, when it launched a micro-pension scheme in 2019.
It expanded the country's contributory pension scheme to allow individuals in the informal and semi-formal industries to create accounts without a plan sponsor – typically their employer – and save small amounts over a long period.
While the scheme has not fully caught on yet for various reasons, it illustrates the state of the market and how institutions operating here are adapting.
But experts and industry stakeholders say satchetisation is as much of an innovative solution as it is evidence of a large-scale problem.
"[It] can be a form of democratisation where companies desire to bring products to people who otherwise cannot afford them," said Bamboo's Omorogbe. "But a second perspective is that rapidly growing poverty, where most people in the economy can't afford [a] product or service and are increasingly moving farther away from affording them."
As inflation rises while purchasing power inversely declines, more companies in various sectors of the economy could turn to sachetisation, even service providers that previously served only the upper and middle class.
"A trip to the mall will show you that the concept of sachetisation is gaining more traction," Taiwo said. "We might also start seeing it in terms of services. Companies offering integrated services might start offering specific services at lower prices [to] ensure affordability and business survival."
Arabs believe economy is weak under democracy – BBC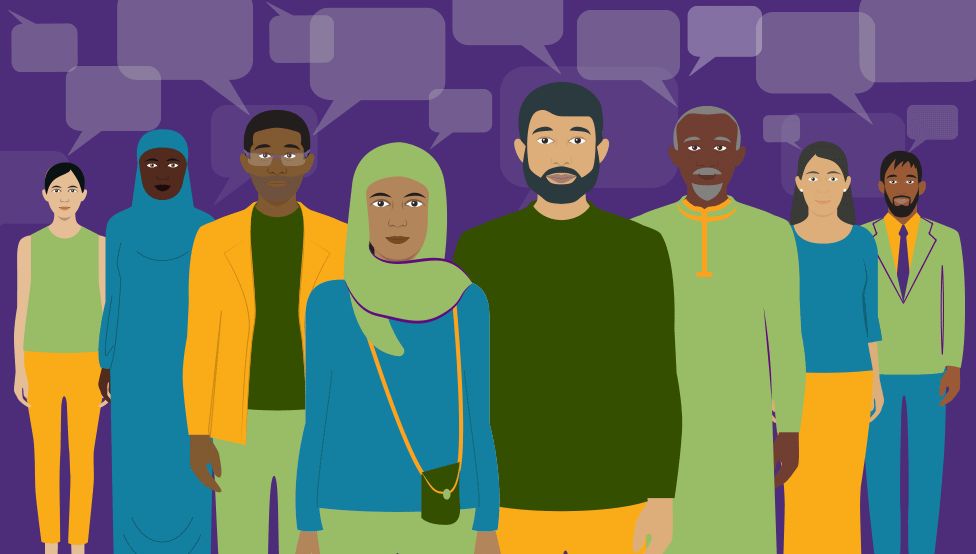 Arabs are losing faith in democracy to deliver economic stability across the Middle East and North Africa, according to a major new survey.
Nearly 23,000 people were interviewed across nine countries and the Palestinian territories for BBC News Arabic by the Arab Barometer network.
Most agreed with the statement that an economy is weak under a democracy.
The findings come just over a decade after the so-called Arab Spring protests called for democratic change.
Less than two years after the protests, just one of those countries – Tunisia – remained a democracy, but a draft constitution published last week could push the country back towards authoritarianism, if approved.
Michael Robbins, director of Arab Barometer, a research network based at Princeton University which worked with universities and polling organisations in the Middle East and North Africa to conduct the survey between late 2021 and Spring 2022, says there has been a regional shift in views on democracy since the last survey in 2018/19.
"There's a growing realisation that democracy is not a perfect form of government, and it won't fix everything," he says.
"What we see across the region is people going hungry, people need bread, people are frustrated with the systems that they have."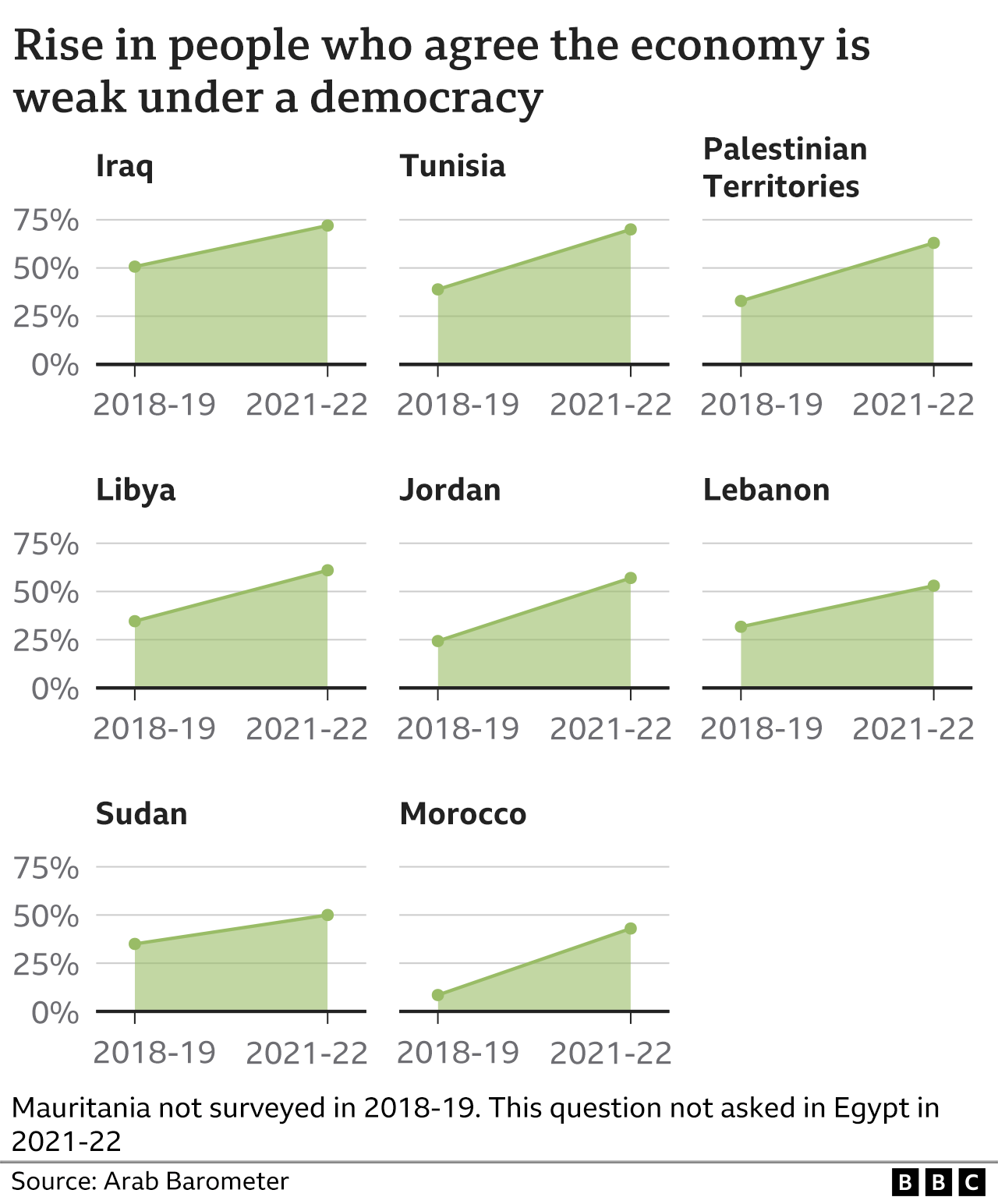 Across most of the surveyed countries, more than half of respondents, on average, agree with the statement that the economy is weak under a democratic system.
In every country surveyed, more than half also say they either agree or strongly agree that they are more concerned about the effectiveness of their government's policies, than they are about the type of government.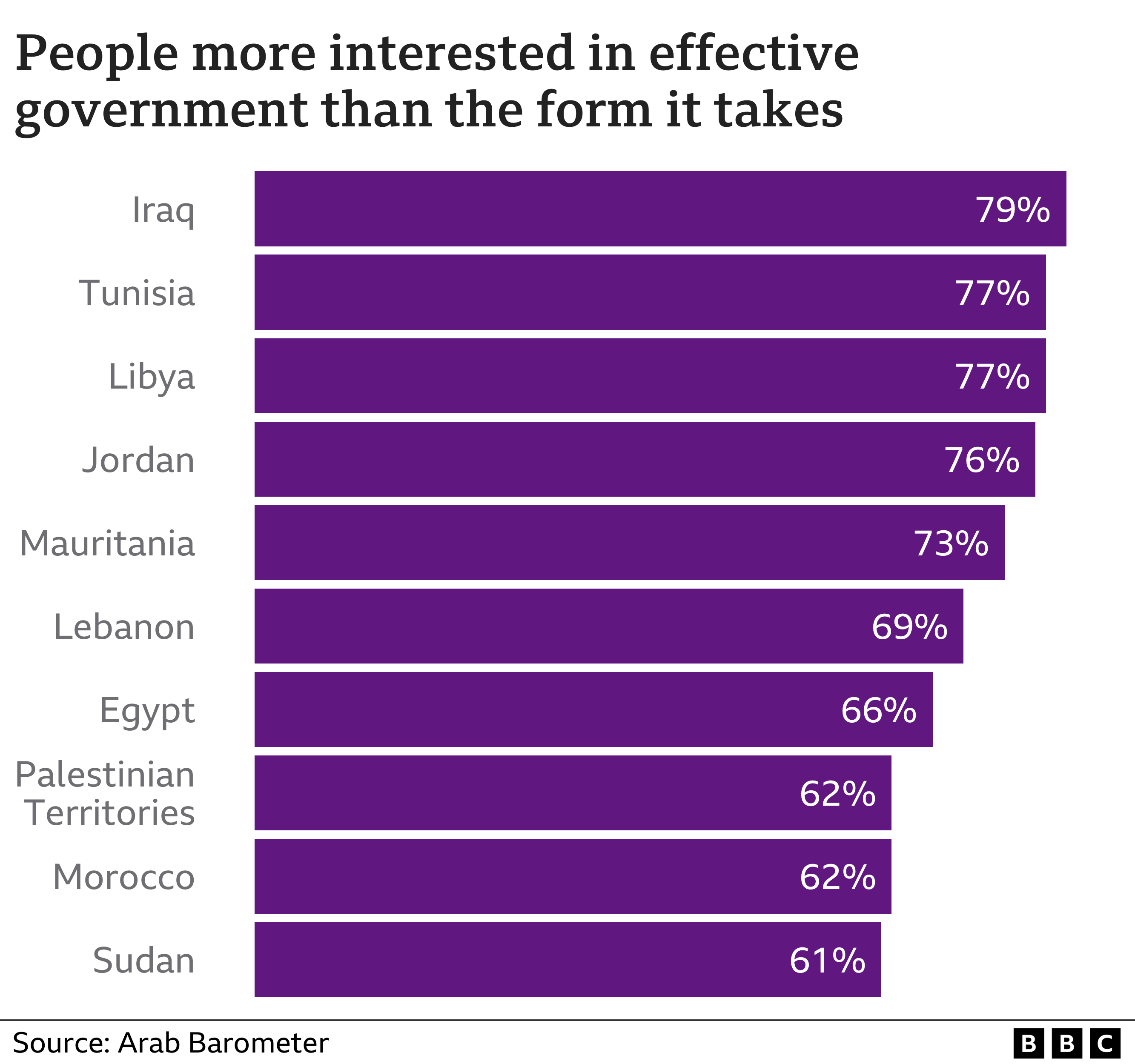 According to the EIU Democracy Index, the Middle East and North Africa is the lowest ranked of all regions covered in the index – Israel is classed as a "flawed democracy", Tunisia and Morocco are classed as "hybrid regimes", and the rest of the region is classed as "authoritarian".
In seven countries and the Palestinian territories, more than half of respondents to the Arab Barometer survey agree with the statement that their country needs a leader who can "bend the rules" if necessary to get things done. Only in Morocco do fewer than half agree with that statement. However there is also a sizeable proportion of people disagreeing with the statement in the Palestinian territories, Jordan, and Sudan.
In Tunisia, eight in 10 of those surveyed agree with the statement, with nine in 10 saying they supported President's Saied's decision to sack the government and suspend parliament in July 2021, which his opponents denounced as a coup but he said was necessary to overhaul a corrupt political system.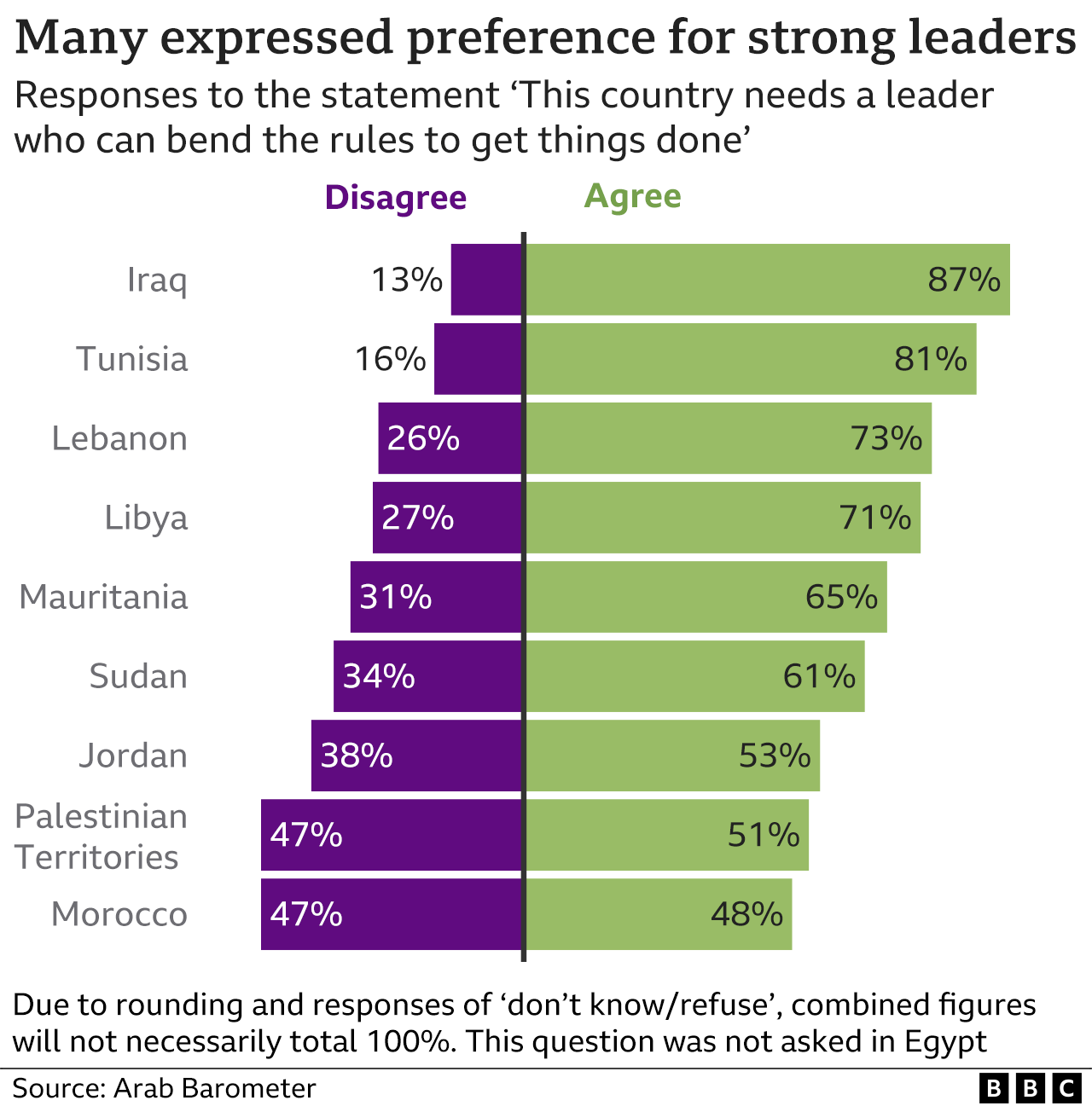 Tunisia was the only country that managed to form a lasting democratic government following the 2011 Arab Spring uprisings. However, Tunisia appears to be slipping back into an authoritarian rule under President Saied. According to the EIU democracy index for 2021, the country fell 21 places in the rankings and has been reclassified as a "hybrid regime" rather than a "flawed democracy".
The survey in Tunisia was conducted between October and November 2021. Since then there have been protests against the president, as he has tightened his grip on power by dissolving parliament, taking control of the electoral commission, and pressed ahead with holding a referendum on a new constitution which many say will boost his authority. The country's economy has meanwhile sunk deeper into crisis.
"Now, unfortunately, for Tunisia, it's reverting to authoritarianism, or what we call democratic backsliding, which is a trend across the world today," says Amaney Jamal, co-founder of Arab Barometer and dean of the Princeton School of Public and International Affairs.
"I think one of the key drivers is not a commitment to authoritarianism or an authoritarian political culture, it's really a belief now that democracy has failed economically in Tunisia."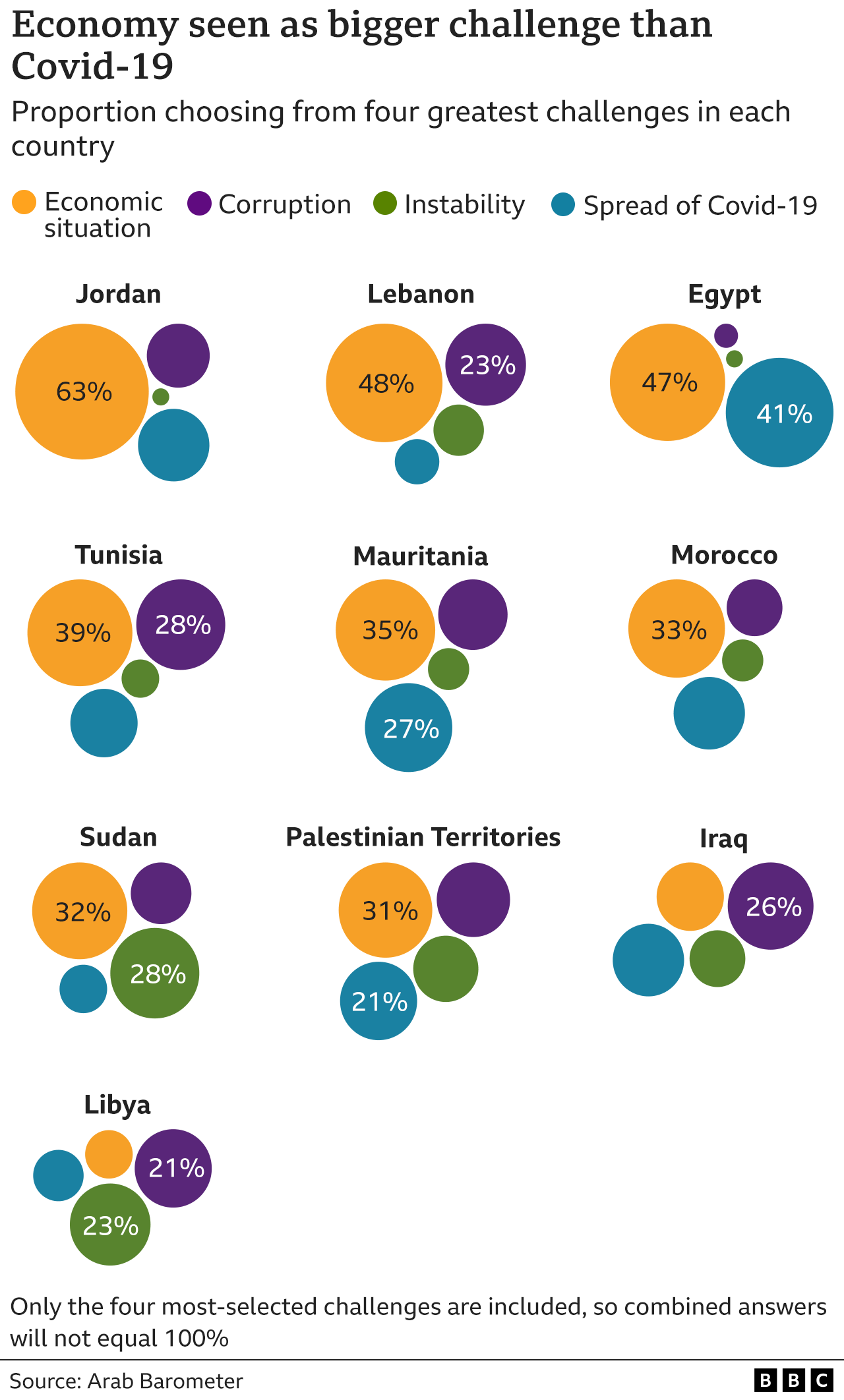 The economic situation is seen as the most pressing challenge for seven countries and the Palestinian territories, ahead of corruption, instability, and the spread of Covid-19.
Only in two countries is the economic situation not seen as the most crucial issue – in Iraq, where it is corruption, and in war-torn Libya, where it is instability.
At least one in three people in every country surveyed agree with the statement that, over the past year, they ran out of food before they next had sufficient funds to buy more.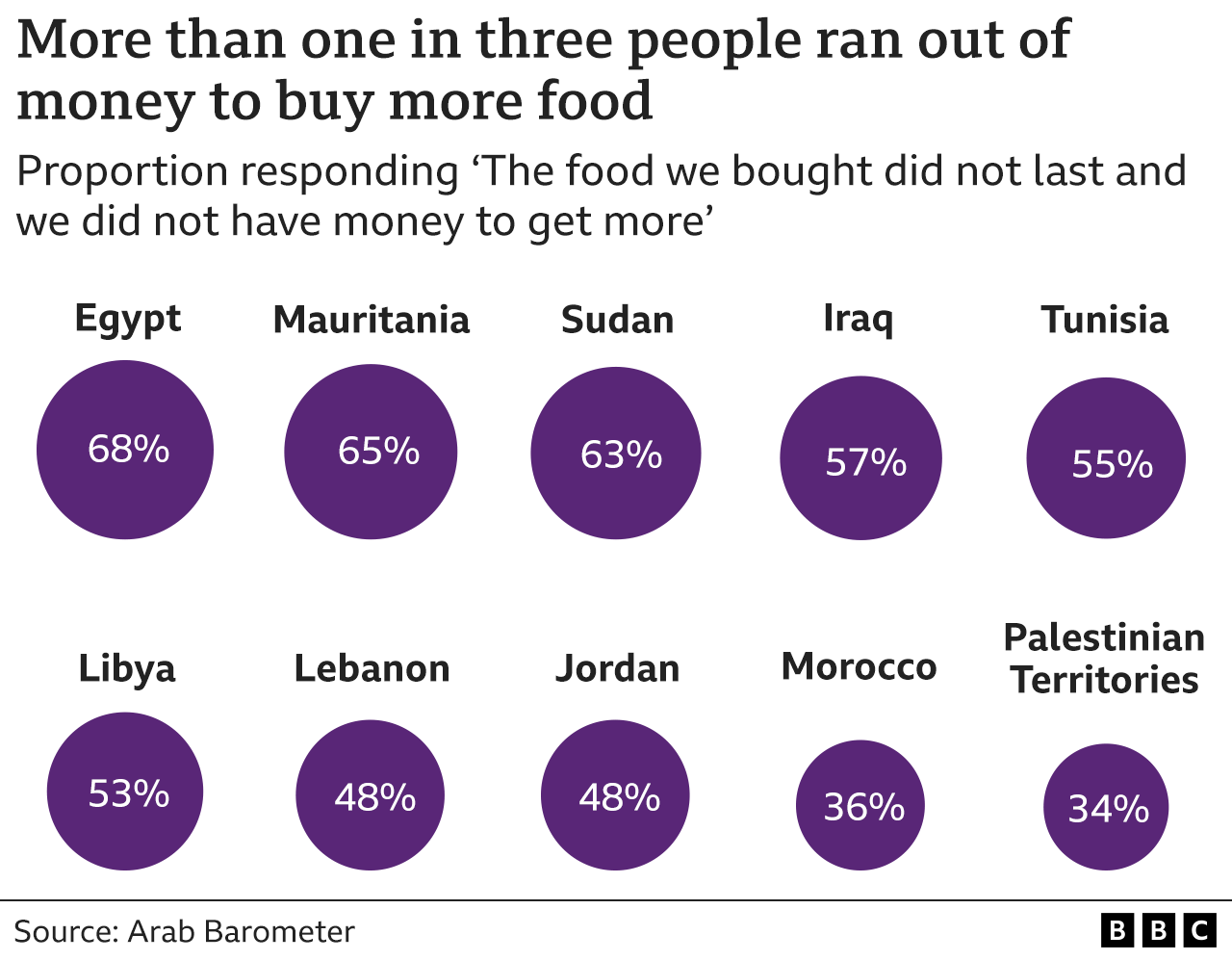 The struggle to keep food on the table was most acutely felt in Egypt and Mauritania, where around two in three people said this happened sometimes or often.
The survey was for the most part conducted before Russia's invasion of Ukraine in February, which has further exacerbated food insecurity across the region – particularly for Egypt, Libya, and Tunisia – which heavily rely on Russian and Ukrainian wheat exports.
The survey's respondents who reported being unable to buy more food when they ran out were less supportive of democracy in a number of the countries surveyed, especially in Sudan, Mauritania, and Morocco.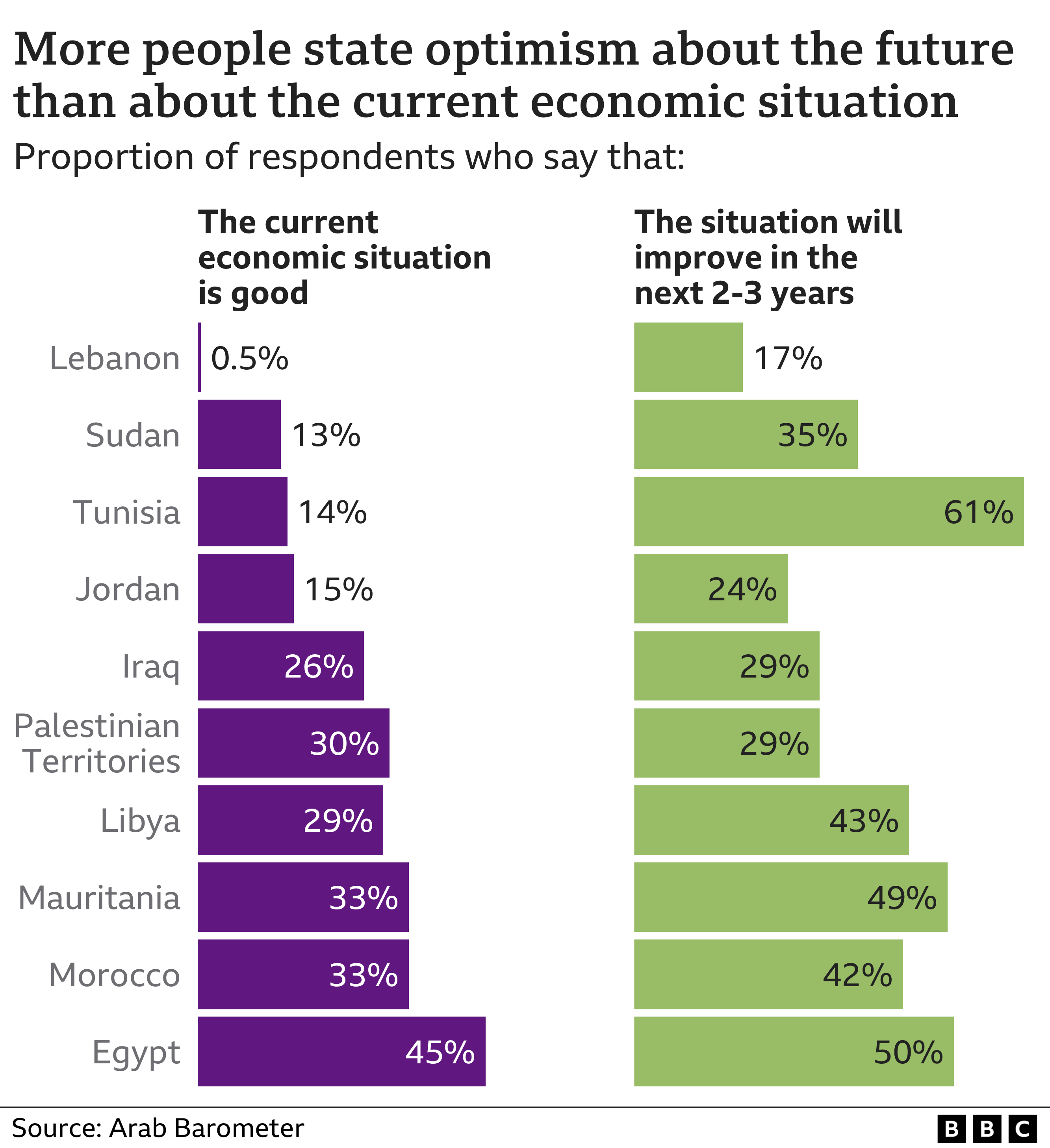 The economic outlook is bleak across the region, with fewer than half of all respondents willing to describe the economic situation in their country as good.
Lebanon is ranked lowest out of all the countries in the survey, with less than 1% of Lebanese questioned saying that the current economic situation is good. The World Bank has described Lebanon's economic crisis as one of the most severe in the world since the mid-19th Century.
Overall most people don't expect the economic situation in their country will improve in the next few years. However there is some optimism. In six countries, over a third of surveyed citizens say the situation will be better or somewhat better in the coming two to three years.
Despite the economic turmoil currently gripping Tunisia, its respondents are the most hopeful about the future, with 61% saying things will be much better or somewhat better in a few years.
The future is "uncertain", says Dr Robbins of Arab Barometer. Citizens in the region may be looking to alternative political systems, such as the Chinese model – an authoritarian one-party system – that he says has "brought a huge number of people out of poverty in the last 40 years".
"That type of rapid economic development is what many people are looking for," he says.
Additional data journalism by Erwan Rivault.
The survey was carried out by the research network, Arab Barometer. The project interviewed 22,765 people face-to-face in nine countries and the Palestinian territories. The Arab Barometer is a research network based at Princeton University. They have been conducting surveys like this since 2006. The 45-minute, largely tablet-based interviews were conducted by researchers with participants in private spaces.
It is of Arab world opinion, so does not include Iran, Israel or Turkey, though it does include the Palestinian territories. Most countries in the region are included but several Gulf governments refused full and fair access to the survey. The Kuwait and Algeria results came in too late to include in the BBC Arabic coverage. Syria could not be included due to the difficulty of access.
For legal and cultural reasons some countries asked to drop some questions. These exclusions are taken into account when expressing the results, with limitations clearly outlined.
Boris Johnson Is in Trouble But the British Economy Will Do Better Than Most. – Bloomberg
BOE's Cunliffe Says Economy Is Slowing Due to Spending Squeeze – Bloomberg