Analysis: Trump's election lie becomes a big problem for MAGA Media – CNN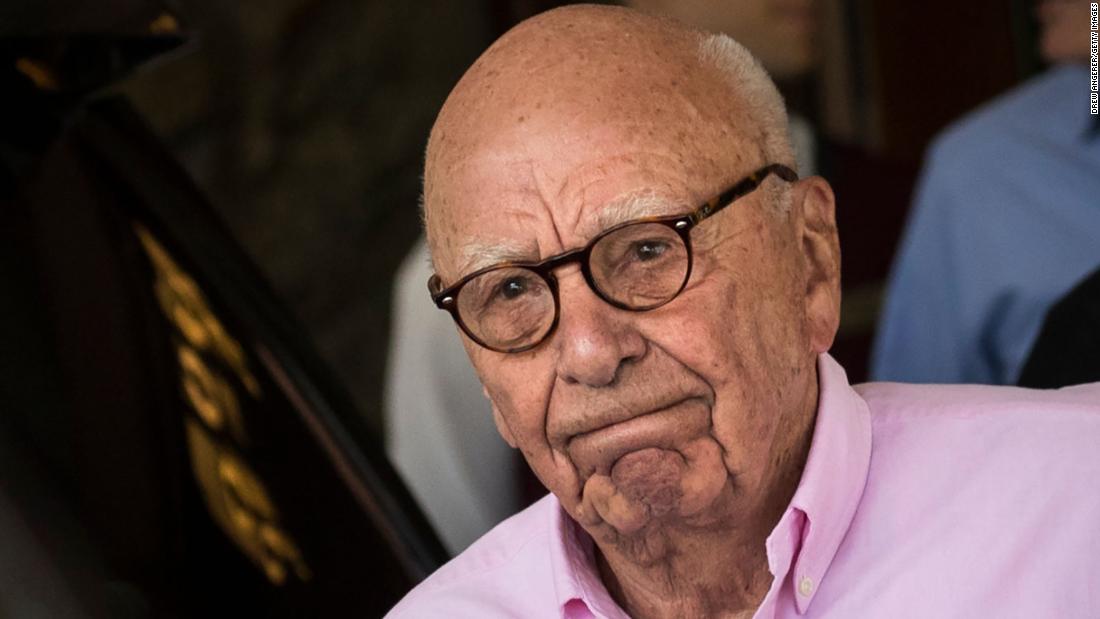 Donald Trump's Big Lie is becoming a big problem for the media outlets that comprise his powerful propaganda arm.
On the same day that the former president's scheme to remain in power was further exposed at another January 6 Committee hearing, Fox and OAN suffered legal defeats in court related to their advancement of his election lies. And last week, on Thursday, Newsmax
also suffered
a legal loss.
So far, the right-wing media outlets that peddled Trump's false election narratives have had little luck winning in court against the voting tech companies suing them for billions of dollars. It is early in the process, of course. But the string of defeats these media outlets have suffered indicate that these lawsuits have some teeth to them.
The cases also point toward the fact that Trump's election lies will be litigated in court, through multiple cases, regardless of whether the Department of Justice pursues charges against him or not…
The Murdochs and "malice"
The most significant legal development on Tuesday was in regard to Fox. As Bloomberg's Erik Larson and Mike Leonard
reported
, a judge ruled that Fox Corporation, Fox News' parent company, can be sued by Dominion "because Rupert and Lachlan Murdoch may have acted with 'actual malice' in directing the network to broadcast conspiracy theories alleging the 2020 presidential election was rigged."
In the decision, Delaware Superior Court Judge Eric M. Davis cited reports that Murdoch privately expressed he knew Trump lost the election. Davis also cited editorials in other Murdoch-run outlets, such as The Wall Street Journal and New York Post, that condemned Trump and encouraged him to accept defeat.
"These allegations support a reasonable inference that Rupert and Lachlan Murdoch either knew Dominion had not manipulated the election or at least recklessly disregarded the truth when they allegedly caused Fox News to propagate its claims about Dominion," Davis wrote. "Thus, Dominion has successfully brought home actual malice to the individuals at Fox Corporation who it claims to be responsible for the broadcasts."
The loss again raises the question as to whether Fox will try to settle the $1.6 billion lawsuit before it reaches the stage of discovery. And if it does attempt to settle, will Dominion allow it to do so? Or will the voting tech company, which has said it aims to clear its name through its lawsuits, want to see the case through?
>> Fox isn't commenting on the matter, though it has in the past defended its coverage and said it was "proud" of it. Bloomberg noted Fox's reps didn't respond to messages seeking comment. And when I checked in on Tuesday evening, I too didn't hear back…
OAN also loses in court
Meanwhile, the right-wing conspiracy channel OAN suffered a loss at the hands of a different voting tech company, Smartmatic. US District Judge Carl Nichols ruled against the media outlet on Tuesday, allowing Smartmatic's lawsuit to proceed, CNN's Tierney Sneed reported. OAN had sought a dismissal on grounds that Nichols' court didn't have jurisdiction. But Nichols rejected the argument…
>> OAN did not respond to my requests for comment on the matter…
"All because of lies"
BY AN PHUNG:
For years now, Trump's lies and unproven conspiracy theories have been front and center in most of the media coverage about him. Rarely do we get to see the other side — the human toll of his incessant lying. But in Tuesday's 1/6 hearing, Wandrea "Shaye" Moss and her mother Ruby Freeman "flipped the script," as Marshall Cohen, Jeremy Herb, and Zachary Cohen
wrote in their recap.
The two election workers from Georgia provided troubling and tearful accounts of what it was like to be targeted by Trump and conspiracy theorists who accused them of manipulating ballots. Moss said she "gained about 60 pounds," stopped going out, and added that she "second-guess[ed] everything" that she did. "It's affected my life in a major way, in every way — all because of lies," she said. The extremely online crowd might have some idea of what it's like to be targeted in this way, but Moss and Freeman's testimony brought into sharp relief for a national TV audience what it's like to have your life turned upside down because of the former president's lies…
Who's watching?
BY BRIAN STELTER
After what Jake Tapper
called
an "upsetting and distressing day of testimony," full of personal stories from election officials and workers "whose lives were upended by Donald Trump, by his minions, by his mobs, and by his election lies," one had to wonder about the impacts on the intended audiences. Political junkies are paying attention, and DOJ lawyers, but many Republicans continue to argue that the Trump-aligned audience has tuned it out. Former Trump WH chief of staff Mick Mulvaney cited Tuesday's "compelling testimony" but said, "Judging by the ratings (and FB comments) people who need to see that aren't watching. If the Committee wants to change minds, they need to reach people who think Trump won. That doesn't seem to be happening."
Fox showed the hearing again, but moved on very quickly afterward. ‪"They're methodically laying out this case," Bret Baier said on Fox later in the day.‬ But his guest, Sen. Tim Scott, ‪said "I have not taken the time to watch the hearings. I feel like the best use of my time is fighting the inflationary effects." He called the hearing "made for TV" ‬and said (answering Baier's question) that if Trump is the 2024 nominee, "of course we support him.‬"
Media Advisory: Ministers Stoodley and Davis to Attend Run for Women in Support of Stella's Circle – News Releases – Government of Newfoundland and Labrador
On Sunday, June 26 the Honourable Sarah Stoodley, Minister of Digital Government and Service NL and the Honourable Bernard Davis, Minister of Environment and Climate Change, will attend the LOVE YOU' by Shoppers Drug Mart Run for Women, in support of women's mental health programs at Stella's Circle.
The event is set to begin at 8:45 a.m. at Quidi Vidi Lake, 115 The Boulevard, St. John's.
The Run for Women is held in 18 cities throughout Canada and focuses on Women's Mental Health. Funds raised go to this year's charity partner, Stella's Circle, to specifically support programming at Naomi House and the Just Us Women's Centre. The event also promotes physical movement as a means to creating better positive mental health outcomes.
-30-
Media contacts
Krista Dalton
Digital Government and Service NL
709-729-4748, 685-6492
kristadalton@gov.nl.ca
Lynn Robinson
Environment and Climate Change
709-729-5449, 691-9466
lynnrobinson@gov.nl.ca
Newly appointed Toronto councillor resigns after controversial social media posts resurfaced – CTV News Toronto
A newly installed Toronto councillor has resigned after her old social media posts, which appear to show homophobic content, were unearthed hours following her appointment.
Rosemarie Bryan was appointed by city council as the new councillor for Ward 1 – Etobicoke North during a special meeting on Friday, filling the vacancy left by Michael Ford, who ran in June's provincial election and won.
After she was appointed, however, Bryan's alleged past social media activities, which appears to show her sharing anti-LGBTQ content, were brought to light.
Friday was the start of the Pride Toronto's Festival Weekend, which features the return of the Pride Parade to downtown streets on Sunday following a two-year hiatus.
Several councillors posted to social media that had they known about Bryan's posts, they would not have voted for her to fill the seat.
"A majority of councillors would have never this (way) had this information been brought forward. We relied too heavily on the recommendation being made by former councillor," Coun. Mike Layton tweeted.
"We need to reopen this debate."
Of the 23 councillors who cast their ballots, 21 voted for Bryan, including Mayor John Tory.
Coun. Josh Matlow, one of the two councillors who did not vote for Bryan, called for her resignation, tweeting that he does not believe "anyone who supports hate and bigotry should be a Toronto city councillor, or hold any public office for that matter. This is disgraceful."
On Friday night, Bryan released a statement announcing that she is resigning, saying it's the best way to continue serving those who love and support her in Etobicoke North.
Bryan said she is devastated that her past online posts are being "thrown against my decades of commitment to the community."
"I recognize councillors were not aware of those posts before today's discussion and now that they are, I recognize many would not have cast their vote for me. I don't want to hurt all those who supported me and I remain committed to helping my community in any and every way I can," she said.
In a statement, Tory said while Bryan made a "strong case" to council for her appointment, her past social media posts are "not acceptable."
"I totally disagree with any homophobic or transphobic views. I absolutely support our 2SLGBTQ+ residents. City Councillors are expected to set an example when it comes to consistency with our shared values," Tory said.
"I would not have voted for this appointment had I been aware of these posts and I know that is the sentiment of the vast majority of council who also voted today."
He said it was appropriate for Bryan to resign.
"The upset this has caused everyone involved is extremely unfortunate. This is especially unfortunate on the very weekend when we are celebrating the progress we have made together," Tory said, adding that he has asked staff to review the overall appointment process.
[embedded content]
S.Korean leader's informal media events are a break with tradition – SaltWire Halifax powered by The Chronicle Herald
By Soo-hyang Choi
SEOUL (Reuters) – South Korean leader Yoon Suk-yeol has departed from years of tradition by holding informal daily media events to field questions on topics ranging from inflation and ties with neighbouring North Korea to the first lady and even boyband BTS.
Such wide-ranging access to the president was previously unheard of. It stems from Yoon's decision to move his office out of the official Blue House, whose previous occupants largely steered clear of such interactions over more than seven decades.
"It's apparently helping Yoon dispel worries about his lack of political experience and giving him a sense of where public opinion is at," said Eom Kyeong-young, a political commentator based in the capital, Seoul.
Yoon, a former prosecutor-general, entered politics just a year ago, before winning the presidency in March by a margin of just 0.7%, the narrowest in South Korea's history.
Upon his inauguration in May, Yoon moved the presidential office to the compound of South Korea's defence ministry, describing the official residence as the symbol of an "imperial presidency", and vowing not to "hide behind" his aides.
His liberal predecessor, Moon Jae-in, had rarely held news conferences, and almost always filtered his communication with the media, and the public, through layers of secretaries.
Analysts see Yoon's daily freewheeling sessions as part of a broader communications strategy that lets him drive policy initiatives and present himself as a confident, approachable leader.
The campaign has also allayed public suspicions about the newcomer to politics, they say.
Polls show the new strategy helping to win support and much-needed political capital for Yoon in his effort to hasten recovery from the COVID-19 pandemic, in a parliament dominated by the opposition Democratic Party.
Although Yoon's approval rating dipped to 47.6% in a recent survey, slightly lower than the disapproval figure of 47.9%, another June poll showed communication was the reason most frequently cited by those who favoured him.
"The sweeping victory of Yoon's conservative party in June local elections shows the public is not so much against the new administration," said Eom.
Incumbents from Yoon's People Power Party (PPP) defeated challengers for the posts of mayor in the two biggest cities of Seoul and the port city of Busan in that contest, while its candidates won five of seven parliamentary seats.
Eom attributed Yoon's low approval rating from the beginning of his term to inflation risks that threaten to undermine an economic recovery and his lack of a support base as a new politician.
But some critics say Yoon's sessions raise the chances that he could make mistakes.
"He could make one mistake a day," Yun Kun-young of the opposition party wrote on Facebook last week, saying the new practice could be "the biggest risk factor" for the government.
The presidential office could not immediately be reached for comment.
Yoon has already faced criticism for controversial remarks made during the morning briefings, such as one in defence of his nominee for education minister, who has a record of driving under the influence of alcohol years ago.
But the daily meetings and public reaction would ultimately help the government to shape policy better, said Shin Yul, a professor of political science at Myongji University in Seoul.
"It might be burdensome for his aides for now, but will be an advantage in the long term," Shin said. "A slip of the tongue cannot be a bigger problem than a policy failure."
(Reporting by Soo-hyang Choi; Editing by Clarence Fernandez)