Analysis: Trump's election lie becomes a big problem for MAGA Media – CNN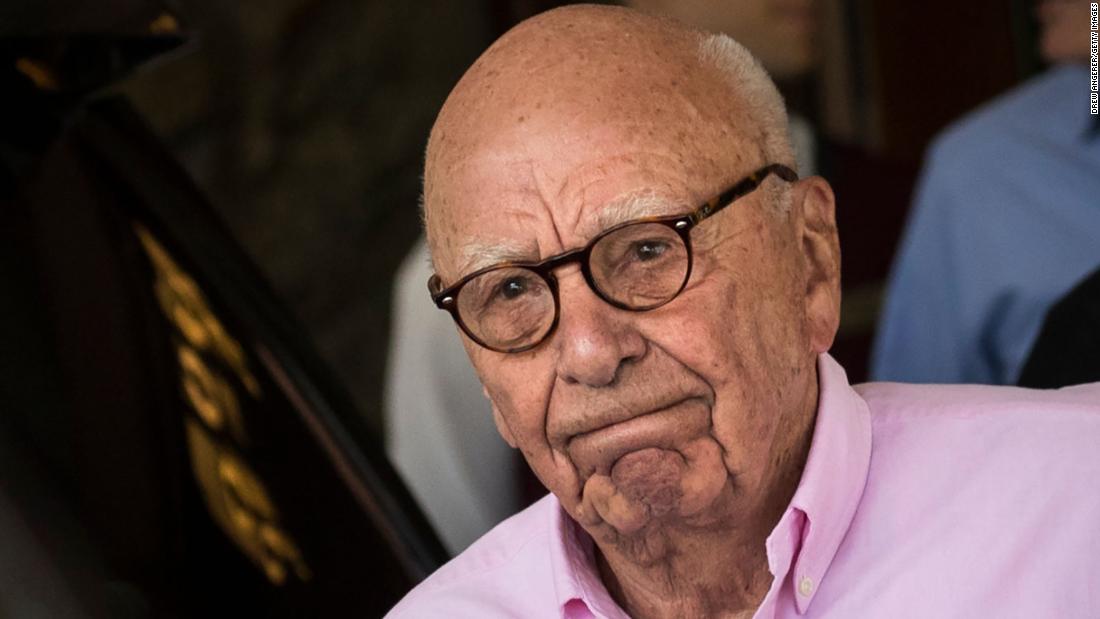 Donald Trump's Big Lie is becoming a big problem for the media outlets that comprise his powerful propaganda arm.
On the same day that the former president's scheme to remain in power was further exposed at another January 6 Committee hearing, Fox and OAN suffered legal defeats in court related to their advancement of his election lies. And last week, on Thursday, Newsmax
also suffered
a legal loss.
So far, the right-wing media outlets that peddled Trump's false election narratives have had little luck winning in court against the voting tech companies suing them for billions of dollars. It is early in the process, of course. But the string of defeats these media outlets have suffered indicate that these lawsuits have some teeth to them.
The cases also point toward the fact that Trump's election lies will be litigated in court, through multiple cases, regardless of whether the Department of Justice pursues charges against him or not…
The Murdochs and "malice"
The most significant legal development on Tuesday was in regard to Fox. As Bloomberg's Erik Larson and Mike Leonard
reported
, a judge ruled that Fox Corporation, Fox News' parent company, can be sued by Dominion "because Rupert and Lachlan Murdoch may have acted with 'actual malice' in directing the network to broadcast conspiracy theories alleging the 2020 presidential election was rigged."
In the decision, Delaware Superior Court Judge Eric M. Davis cited reports that Murdoch privately expressed he knew Trump lost the election. Davis also cited editorials in other Murdoch-run outlets, such as The Wall Street Journal and New York Post, that condemned Trump and encouraged him to accept defeat.
"These allegations support a reasonable inference that Rupert and Lachlan Murdoch either knew Dominion had not manipulated the election or at least recklessly disregarded the truth when they allegedly caused Fox News to propagate its claims about Dominion," Davis wrote. "Thus, Dominion has successfully brought home actual malice to the individuals at Fox Corporation who it claims to be responsible for the broadcasts."
The loss again raises the question as to whether Fox will try to settle the $1.6 billion lawsuit before it reaches the stage of discovery. And if it does attempt to settle, will Dominion allow it to do so? Or will the voting tech company, which has said it aims to clear its name through its lawsuits, want to see the case through?
>> Fox isn't commenting on the matter, though it has in the past defended its coverage and said it was "proud" of it. Bloomberg noted Fox's reps didn't respond to messages seeking comment. And when I checked in on Tuesday evening, I too didn't hear back…
OAN also loses in court
Meanwhile, the right-wing conspiracy channel OAN suffered a loss at the hands of a different voting tech company, Smartmatic. US District Judge Carl Nichols ruled against the media outlet on Tuesday, allowing Smartmatic's lawsuit to proceed, CNN's Tierney Sneed reported. OAN had sought a dismissal on grounds that Nichols' court didn't have jurisdiction. But Nichols rejected the argument…
>> OAN did not respond to my requests for comment on the matter…
"All because of lies"
BY AN PHUNG:
For years now, Trump's lies and unproven conspiracy theories have been front and center in most of the media coverage about him. Rarely do we get to see the other side — the human toll of his incessant lying. But in Tuesday's 1/6 hearing, Wandrea "Shaye" Moss and her mother Ruby Freeman "flipped the script," as Marshall Cohen, Jeremy Herb, and Zachary Cohen
wrote in their recap.
The two election workers from Georgia provided troubling and tearful accounts of what it was like to be targeted by Trump and conspiracy theorists who accused them of manipulating ballots. Moss said she "gained about 60 pounds," stopped going out, and added that she "second-guess[ed] everything" that she did. "It's affected my life in a major way, in every way — all because of lies," she said. The extremely online crowd might have some idea of what it's like to be targeted in this way, but Moss and Freeman's testimony brought into sharp relief for a national TV audience what it's like to have your life turned upside down because of the former president's lies…
Who's watching?
BY BRIAN STELTER
After what Jake Tapper
called
an "upsetting and distressing day of testimony," full of personal stories from election officials and workers "whose lives were upended by Donald Trump, by his minions, by his mobs, and by his election lies," one had to wonder about the impacts on the intended audiences. Political junkies are paying attention, and DOJ lawyers, but many Republicans continue to argue that the Trump-aligned audience has tuned it out. Former Trump WH chief of staff Mick Mulvaney cited Tuesday's "compelling testimony" but said, "Judging by the ratings (and FB comments) people who need to see that aren't watching. If the Committee wants to change minds, they need to reach people who think Trump won. That doesn't seem to be happening."
Fox showed the hearing again, but moved on very quickly afterward. ‪"They're methodically laying out this case," Bret Baier said on Fox later in the day.‬ But his guest, Sen. Tim Scott, ‪said "I have not taken the time to watch the hearings. I feel like the best use of my time is fighting the inflationary effects." He called the hearing "made for TV" ‬and said (answering Baier's question) that if Trump is the 2024 nominee, "of course we support him.‬"
Howard Anglin: The Conservatives are cruising and the media can't hide its disappointment – The Hub
We use cookies and data to
Deliver and maintain Google services
Track outages and protect against spam, fraud, and abuse
Measure audience engagement and site statistics to understand how our services are used and enhance the quality of those services
If you choose to "Accept all," we will also use cookies and data to
Develop and improve new services
Deliver and measure the effectiveness of ads
Show personalized content, depending on your settings
Show personalized ads, depending on your settings
Non-personalized content is influenced by things like the content you're currently viewing, activity in your active Search session, and your location. Non-personalized ads are influenced by the content you're currently viewing and your general location. Personalized content and ads can also include more relevant results, recommendations, and tailored ads based on past activity from this browser, like previous Google searches. We also use cookies and data to tailor the experience to be age-appropriate, if relevant.
Select "More options" to see additional information, including details about managing your privacy settings. You can also visit g.co/privacytools at any time.
Sources – James Harden, seeking trade, not at 76ers media day
CAMDEN, N.J. — It took nearly four minutes Monday morning for Philadelphia 76ers president of basketball operations Daryl Morey to say James Harden's name. But, after rattling off the names of several other players and speaking confidently about the team's chances to contend this season, Morey turned to the matter of Harden's absence from media day.
"I want to address James Harden," Morey said, sitting on a dais next to coach Nick Nurse, both wearing matching blue blazers to kick off the interviews. "He's not here today. He continues to seek a trade, and we're working with his representation to resolve that in the best way for the 76ers and, hopefully, all parties."
Harden's decision not to come Monday was the latest push in a summer full of them to fulfill his desire to be dealt to the LA Clippers. But although the two teams have talked recently, there's been no traction on a deal, sources told ESPN's Adrian Wojnarowski.
The Sixers' asking price remains high, and the Clippers don't seem inclined to bid against themselves in a marketplace that is cool to unloading significant trade assets for Harden, sources told Wojnarowski.
As a result, Harden is still a member of the 76ers — and the franchise clearly would love for him to return and help in what the 76ers still believe is a group good enough to compete for a championship, even in the wake of the moves the Milwaukee Bucks and Boston Celtics made to get Damian Lillard and Jrue Holiday, respectively, over the past few days.
"Who said they surpassed us?" reigning NBA MVP Joel Embiid responded to a reporter. "We still gotta go out there and compete. You can do whatever you want off the court, but you still gotta go out there and put the ball in the hoop.
"I believe that any team that I'm on, we always gonna have a chance. Just need to be a little bit lucky. Just need to stay healthy — be healthy and stay healthy — and, you know, as a team, just come together."
Harden exercised his $35.6 million contract option for the season in June with hopes of the Sixers trading him before camp, but Morey has shown a willingness to wait out Harden and try to get him reinvested in the team.
To that end, the message over and over again from the 76ers was that they hope they can get Harden to come back and take part alongside them. Harden on Friday was paid the 25% of his contract that he was scheduled to receive by Sunday, sources said, after already having received the 25% payment he was scheduled to receive on July 1.
It remains unclear when, or if, Harden is going to rejoin the team, which is flying to Fort Collins on Monday afternoon before holding training camp at Colorado State University for the next several days.
Morey, when asked if Harden would be fined for missing Monday, said the team would "treat James like every other player on the roster as required by the CBA."
In August, Harden publicly called Morey a "liar" and suggested he wouldn't fulfill his contractual services with the Sixers as long as Morey remained president. The league fined Harden $100,000.
In a call with league and union officials during the NBA's investigation into the comments, Harden insisted he would be fulfilling his contractual obligations with the Sixers should he remain without a trade, sources said.
Morey, who has previously had a close relationship with Harden going back to when he acquired him as the general manage of the Houston Rockets from the Oklahoma City Thunder just before the start of the 2012-13 NBA season, admitted this summer was difficult for him given how it's all played out in the public sphere.
"I would say it was hard," Morey said. "I think there are many people who worked with him for some time, but I've been right there with anyone else.
"Look, I think he's a heck of a basketball player. I like him as a person. It was hard, I think, that he felt like that was the right course of action for him at that point. What else can I say? I think he's a tremendous player that will help us if he chooses to be here. And, right now, that's not where he wants to be."
Morey did, however, push back on Harden's assertion that he is a liar.
"I don't think I have to interpret it," Morey said. "He said what he meant. I think that was well reported on.
"I haven't responded to that because I think it falls flat on its face. In 20 years of working in the league, always followed through on everything. Every top agent knows that. Everyone in the league knows. You can't operate in this job without that. So, you know, privately I've appreciated all the key people in the league reaching out to me and knowing obviously that's not true. But like I said before, obviously it was disappointing that he chose to handle it that way."
Now, Philadelphia begins preparations for training camp — its first under Nurse, who replaced Doc Rivers earlier this summer — unsure of when — or if — its star point guard will join them. To that end, Nurse said he and the team will be preparing for both possibilities and will address them as things unfold.
"For me, it's, it's obviously we've kind of got Plan A, Plan B, right? We've gotta get the team ready regardless. We're expecting him to show up.
"He shows up? We go. If he doesn't? We go. There's two ways to look at it. And we proceed and we really get to work in building our foundation of what we want to do, getting all our principles in, all the things that we want to do, and play the style of play we want to play regardless."
Perhaps the best summation of the situation, however, came from Harden's longtime friend and teammate P.J. Tucker, who was asked whether he thought Harden would be back anytime soon.
"That ain't for me to answer," Tucker said with a laugh and a shake of his head. "I have no idea.
"I hope they figure it out soon. But if not, it's gonna be what it's gonna be."
James Harden skips 76ers media day to take trade demand to next level – SB Nation
We use cookies and data to
Deliver and maintain Google services
Track outages and protect against spam, fraud, and abuse
Measure audience engagement and site statistics to understand how our services are used and enhance the quality of those services
If you choose to "Accept all," we will also use cookies and data to
Develop and improve new services
Deliver and measure the effectiveness of ads
Show personalized content, depending on your settings
Show personalized ads, depending on your settings
Non-personalized content is influenced by things like the content you're currently viewing, activity in your active Search session, and your location. Non-personalized ads are influenced by the content you're currently viewing and your general location. Personalized content and ads can also include more relevant results, recommendations, and tailored ads based on past activity from this browser, like previous Google searches. We also use cookies and data to tailor the experience to be age-appropriate, if relevant.
Select "More options" to see additional information, including details about managing your privacy settings. You can also visit g.co/privacytools at any time.