Ancient DNA suggests woolly mammoths roamed Canada more recently than previously thought – The Conversation CA
In 2010, small cores of permafrost sediments were collected by a team at the University of Alberta from gold mines in the Klondike region of central Yukon. They had remained in cold storage until paleogeneticists at the McMaster Ancient DNA Centre applied new genomics techniques to better understand the global extinction of megafauna that had culminated in North America some 12,700 years ago.
These tiny sediment samples contain an immense wealth of ancient environmental DNA from innumerable plants and animals that lived in those environments over millennia. These genetic microfossils originate from all components of an ecosystem — including bacteria, fungi, plants and animals — and serve as a time capsule of long-lost ecosystems, such as the mammoth-steppe, which disappeared around 13,000 years ago.
How exactly these ecosystems restructured so significantly, and why large animals seem to have been the most impacted by this shift has been an active area of scientific debate since the 18th century.
We can now use environmental DNA to help fill the gaps that have driven this debate.
Ancient DNA, cutting-edge technologies
Bacterial, fungal and unidentifiable DNA make up over 99.99 per cent of an environmental sample. In our case, we wanted a way to selectively recover the much smaller fraction of ancient plant and animal DNA that would help us better understand the collapse of the mammoth-steppe ecosystem.
For my doctoral research, I was part of a team that developed a a new technique to extract, isolate, sequence and identify tiny fragments of ancient DNA from sediment.
We analyzed these DNA fragments to track the shifting cast of plants and animals that lived in central Yukon over the past 30,000 years. We found evidence for the late survival of woolly mammoths and horses in the Klondike region, some 3,000 years later than expected.
We then expanded our analysis to include 21 previously collected permafrost cores from four sites in the Klondike region that date between 4,000 to 30,000 years ago.
With current technologies, we not only could identify which organisms a set of genetic microfossils came from. But we were also able to reassemble those fragments into genomes to study their evolutionary histories — solely from sediment.
Tremendous environmental change
The Pleistocene-Holocene transition, which occurred about 11,700 years ago, was a period of tremendous change across the globe. In eastern Beringia (the former Eurasian land bridge and unglaciated regions of Yukon and Alaska), this period saw the collapse of the mammoth-steppe biome and its gradual replacement with the boreal forest as we know it today.
This brought about the loss of iconic ice age megaherbivores like the woolly mammoth, Yukon horse, and steppe bison, along with predators such as the American scimitar cat and Beringian lion, among many others.
We found ancient environmental DNA from a diverse spectrum of ancient fauna, including woolly mammoths, horses, steppe bison, caribou, rodents, birds and many other animals.
We were also able to observe how ecosystems shifted with the rise of woody shrubs around 13,500 years ago, and how that correlated with a decline of DNA from woolly mammoths, horses and steppe bison. With this remarkably rich dataset, we observed four main findings.
There was a surprising consistency in the signal between sites, suggesting our data was representative of ecological trends in the region.

Woolly mammoth DNA declines prior to the Bølling–Allerød warming, a warm period at the end of the last ice age, suggesting that megafaunal losses may have been staggered.

Forbs (herbaceous flowering plants) make up a substantial component of the mammoth-steppe ecosystem alongside grasses.

There is a consistent signal of woolly mammoth and Yukon horse persistence into the Holocene, as much as 7,000 years after their disappearance from fossil records.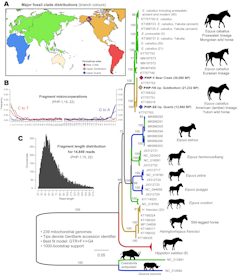 When paired with other records, our genetic reconstructions suggest that the transition out of the last glacial period may have been more drawn out than dated bones alone would suggest.
Mammoths, for example, may have declined in local population abundance thousands of years earlier than other megafauna, which is potentially correlated with the first controversial evidence of humans in the area. Further, grassland grazing animals may have persisted for thousands of years in refugia (habitats that support the existence of an isolated population), despite the environmental shift.
Woolly mammoths alongside humans
Our data suggest that horses and woolly mammoths may have persisted in the Klondike until approximately 9,000 years ago and perhaps as recently as 5,700 years ago, outliving their supposed disappearance from local fossil records by 7,000 years. However, it is possible for ancient environmental DNA to survive erosion and re-deposition, which could mix the genetic signals of different time periods, necessitating a degree of caution in our interpretations.
Until recently, there was no evidence of mammoth survival into the mid-Holocene. But studies have now shown that mammoths survived until 5,500 and 4,000 years ago on Arctic islands.
Researchers at the Centre for GeoGenetics in Copenhagen found evidence for the late survival of horses and mammoths in Alaska until as recently as as 7,900 years ago. They also found evidence of mammoths surviving as recently as 3,900 years ago in Siberia, alongside woolly rhinoceros to at least 9,800 years ago.
Steppe bison, which were thought to have disappeared and been replaced by the American bison during the Pleistocene, have likewise been found to have survived even as recently as perhaps just 400 years ago. We were able to observe the presence of distinct genetic lineages of both woolly mammoths and steppe bison in the same sediment samples, which suggests that there were likely distinct populations of these animals living in the same area.
There is a growing body of evidence that many ice age megafauna probably survived well into recorded human history, roaming the north during the Bronze Age and while builders worked on the pyramids of Egypt.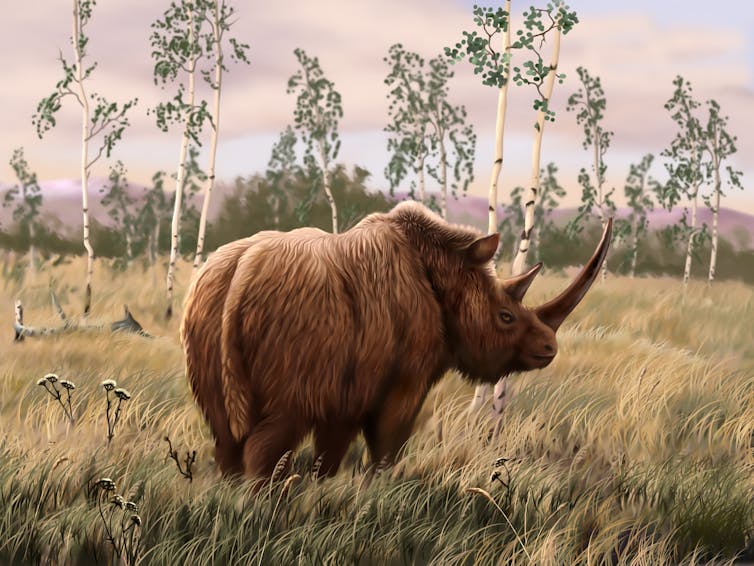 Genetic archives of our ecological past
The growing sophistication of environmental DNA methods to study ancient genetic microfossils highlights just how much information is buried in sediments.
Permafrost is ideal for preserving ancient DNA, but as this perennially frozen ground thaws and degrades with a warming Arctic, so too will the genetic material preserved within, and the evolutionary mysteries they once held.
Advances in paleogenetics continues to push the boundaries of what was once relegated to science fiction. Who knows what undiscovered evolutionary information remains frozen in ordinary sediments, hidden in microfossils of ancient DNA?
Toward customizable timber, grown in a lab – EurekAlert
Each year, the world loses about 10 million hectares of forest — an area about the size of Iceland — because of deforestation. At that rate, some scientists predict the world's forests could disappear in 100 to 200 years.
In an effort to provide an environmentally friendly and low-waste alternative, researchers at MIT have pioneered a tunable technique to generate wood-like plant material in a lab, which could enable someone to "grow" a wooden product like a table without needing to cut down trees, process lumber, etc.
These researchers have now demonstrated that, by adjusting certain chemicals used during the growth process, they can precisely control the physical and mechanical properties of the resulting plant material, such as its stiffness and density.
They also show that, using 3D bioprinting techniques, they can grow plant material in shapes, sizes, and forms that are not found in nature and that can't be easily produced using traditional agricultural methods.
"The idea is that you can grow these plant materials in exactly the shape that you need, so you don't need to do any subtractive manufacturing after the fact, which reduces the amount of energy and waste. There is a lot of potential to expand this and grow three-dimensional structures," says lead author Ashley Beckwith, a recent PhD graduate.
Though still in its early days, this research demonstrates that lab-grown plant materials can be tuned to have specific characteristics, which could someday enable researchers to grow wood products with the exact features needed for a particular application, like high strength to support the walls of a house or certain thermal properties to more efficiently heat a room, explains senior author Luis Fernando Velásquez-García, a principal scientist in MIT's Microsystems Technology Laboratories.
Joining Beckwith and Velásquez-García on the paper is Jeffrey Borenstein, a biomedical engineer and group leader at the Charles Stark Draper Laboratory. The research is published today in Materials Today.
Planting cells
To begin the process of growing plant material in the lab, the researchers first isolate cells from the leaves of young Zinnia elegans plants. The cells are cultured in liquid medium for two days, then transferred to a gel-based medium, which contains nutrients and two different hormones.
Adjusting the hormone levels at this stage in the process enables researchers to tune the physical and mechanical properties of the plant cells that grow in that nutrient-rich broth.
"In the human body, you have hormones that determine how your cells develop and how certain traits emerge. In the same way, by changing the hormone concentrations in the nutrient broth, the plant cells respond differently. Just by manipulating these tiny chemical quantities, we can elicit pretty dramatic changes in terms of the physical outcomes," Beckwith says.
In a way, these growing plant cells behave almost like stem cells — researchers can give them cues to tell them what to become, Velásquez-García adds.
They use a 3D printer to extrude the cell culture gel solution into a specific structure in a petri dish, and let it incubate in the dark for three months. Even with this incubation period, the researchers' process is about two orders of magnitude faster than the time it takes for a tree to grow to maturity, Velásquez-García says.
Following incubation, the resulting cell-based material is dehydrated, and then the researchers evaluate its properties.
Wood-like characteristics
They found that lower hormone levels yielded plant materials with more rounded, open cells that have lower density, while higher hormone levels led to the growth of plant materials with smaller, denser cell structures. Higher hormone levels also yielded plant material that was stiffer; the researchers were able to grow plant material with a storage modulus (stiffness) similar to that of some natural woods.
Another goal of this work is to study what is known as lignification in these lab-grown plant materials. Lignin is a polymer that is deposited in the cell walls of plants which makes them rigid and woody. They found that higher hormone levels in the growth medium causes more lignification, which would lead to plant material with more wood-like properties.
The researchers also demonstrated that, using a 3D bioprinting process, the plant material can be grown in a custom shape and size. Rather than using a mold, the process involves the use of a customizable computer-aided design file that is fed to a 3D bioprinter, which deposits the cell gel culture into a specific shape. For instance, they were able to grow plant material in the shape of a tiny evergreen tree.
Research of this kind is relatively new, Borenstein says.
"This work demonstrates the power that a technology at the interface between engineering and biology can bring to bear on an environmental challenge, leveraging advances originally developed for health care applications," he adds.
The researchers also show that the cell cultures can survive and continue to grow for months after printing, and that using a thicker gel to produce thicker plant material structures does not impact the survival rate of the lab-grown cells.
"Amenable to customization"
"I think the real opportunity here is to be optimal with what you use and how you use it. If you want to create an object that is going to serve some purpose, there are mechanical expectations to consider. This process is really amenable to customization," Velásquez-García says.
Now that they have demonstrated the effective tunability of this technique, the researchers want to continue experimenting so they can better understand and control cellular development. They also want to explore how other chemical and genetic factors can direct the growth of the cells.
They hope to evaluate how their method could be transferred to a new species. Zinnia plants don't produce wood, but if this method were used to make a commercially important tree species, like pine, the process would need to be tailored to that species, Velásquez-García says.
Ultimately, he is hopeful this work can help to motivate other groups to dive into this area of research to help reduce deforestation.
"Trees and forests are an amazing tool for helping us manage climate change, so being as strategic as we can with these resources will be a societal necessity going forward," Beckwith adds.
This research is funded, in part, by the Draper Scholars Program.
###
Written by Adam Zewe, MIT News Office
Additional background
Paper: "Physical, mechanical, and microstructural characterization of novel, 3D-printable, tunable, lab-grown plant materials generated from Zinnia elegans cell cultures"
https://www.sciencedirect.com/science/article/pii/S1369702122000451
---
Article Title
"Physical, mechanical, and microstructural characterization of novel, 3D-printable, tunable, lab-grown plant materials generated from Zinnia elegans cell cultures"
Crumbling comet could create meteor shower May 30 – Northern Daily News
Article content
A crumbling comet could create a meteor shower on May 30.
Article content
The 'tau Herculids' meteor display might be one of the most dramatic observed in over two decades, according to Space.com.
Meteor showers occur when dust or particles from asteroids or comets enter Earth's atmosphere at a very high speed, the U.K. Sun explained.
This one is expected to be the product of a comet named 73P/Schwassmann-Wachmann, also known as SW3.
SW3 was first discovered in 1930 but did not reappear again until the 1970s, Republic World reported.
In 1995, astronomers noticed that the comet's nucleus split into four smaller chunks, according to CNET.
It has continued to disintegrate more in the ensuing years.
The display is expected to be very visible in the Northern Hemisphere as it is occurring on a Moon-less night.
A consensus of experts predicts that the shower will be visible starting from 1 a.m. EST on May 31.
It is suggested viewers will want to be outside at least an hour before this so your eyes have a chance to adjust to the dark.
"The southwestern USA and Mexico are favored locations as the radiant, the area of the sky where these meteors come from, will be located highest in a dark sky," Robert Lunsford wrote for AMS.
"The outburst may be seen from southeastern Canada and the remainder of the (eastern) USA, but at a lower altitude."
Boeing capsule lands back on Earth after space shakedown – Phys.org
Boeing's crew taxi returned to Earth from the International Space Station on Wednesday, completing a repeat test flight before NASA astronauts climb aboard.
It was a quick trip back: The Starliner capsule parachuted into the New Mexico desert just four hours after leaving the orbiting lab, with airbags attached to cushion the landing. Only a mannequin was buckled in.
Aside from thruster failures and cooling system snags, Starliner appeared to clinch its high-stakes shakedown cruise, 2 1/2 years after its botched first try. Flight controllers in Houston applauded and cheered the bull's-eye touchdown.
"It's great to have this incredible test flight behind us," said Steve Stich, director of NASA's commercial crew program. He described the demo as "extremely successful," with all objectives met.
Added Boeing's Mark Nappi, a vice president: "On a scale of one to 10, I think I'd give it a 15."
Based on these early results, NASA astronauts will strap in next for a trip to the space station, perhaps by year's end. The space agency has long wanted two competing U.S. companies ferrying astronauts, for added insurance as it drastically reduced its reliance on Russia for rides to and from the space station.
Elon Musk's SpaceX is already the established leader, launching astronauts since 2020 and even tourists. Its crew capsules splash down off the Florida coast, Boeing's Starliner returns to the Army's expansive and desolate White Sands Missile Range in New Mexico.
Boeing scrapped its first attempt to reach the space station in 2019, after software errors left the capsule in the wrong orbit and nearly doomed it. The company fixed the flaws and tried again last summer, but corroded valves halted the countdown. Following more repairs, Starliner finally lifted off from Cape Canaveral last Thursday and docked to the space station Friday.
Station astronauts tested Starliner's communication and computer systems during its five days at the space station. They also unloaded hundreds of pounds (kilograms) of groceries and other supplies that flew up in the Boeing capsule, then filled it with empty air tanks and other discarded gear.
In this infrared image from video made available by NASA, the Boeing Starliner capsule uses parachutes as it descends to land at the White Sands Missile Range in New Mexico on Wednesday, May 25, 2022. Credit: NASA via AP


In this image from video made available by NASA, the Boeing Starliner capsule, upper center, leaves the International Space Station on Wedndesday, May 25, 2022. At bottom foreground is a SpaceX Dragon capsule, still docked to the station. Credit: NASA via AP

A folded U.S. flag sent up by Boeing stayed behind, to be retrieved by the first Starliner crew.
"We're a little sad to see her go," station astronaut Bob Hines radioed as the capsule flew away.
Along for the ride was Starliner's test dummy—Rosie the Rocketeer, a takeoff on World War II's Rosie the Riveter.
The repairs and do-over cost Boeing nearly $600 million.
---
---
© 2022 The Associated Press. All rights reserved. This material may not be published, broadcast, rewritten or redistributed without permission.
Citation:
Boeing capsule lands back on Earth after space shakedown (2022, May 26)
retrieved 26 May 2022
from https://phys.org/news/2022-05-boeing-capsule-earth-space-shakedown.html
This document is subject to copyright. Apart from any fair dealing for the purpose of private study or research, no
part may be reproduced without the written permission. The content is provided for information purposes only.