ABC goes on warpath over coverage of Lisa Millar's misogynist trolls
It was the week we saw a new ABC policy to call out the social media abuse of its journalists in action. The public broadcaster's news director, Justin Stevens, took the big stick to news.com.au and the Daily Mail over their coverage of misogynist online abuse of News Breakfast host Lisa Millar but the popular websites did not resile, not in public anyway.
The editor-in-chief of news.com.au, Lisa Muxworthy, publicly defended the coverage, claiming the high ground. "News.com.au has a long and strident history of exposing abuse against women such as the Let Her Speak campaign championing Grace Tame and other victims of crime and, more recently, our Justice Shouldn't Hurt editorial series which led to legislative change for children involved in sexual abuse matters," she said in her own publication.
"We believe a clear public interest exists in reporting on the issue of vile social media trolls and the damage they cause. Choosing to not report on this issue or to ignore it would set a poor precedent that could help ensure appropriate action to address these actions fails to occur."
However, Andrew Bolt and the Australian's media writer, Sophie Elsworth, were critical of the decision to publish the stories. In a media segment on Sky News, Bolt said: "I probably wouldn't have run that story" because we shouldn't allow trolls to set the news agenda. Elsworth agreed: "I don't think the editors should have run this story". Bolt also inadvertently blamed "Guardian Australia" for publishing the story – instead of the Daily Mail – but we will forgive him for this slip of the tongue. He also referred to news.com.au as "the leftwing clickbait arm of the Murdoch newspapers".
Behind the scenes, news.com.au was not so brazen about defending the story. After a strong ABC rebuke, editors quietly took out the highly offensive tweets about Millar's skirt and removed a screenshot. The story, headlined "'Just plain gutless': Aussie Twitter users slam online trolls for sickening Lisa Millar comments", disappeared from the homepage and was not posted on news.com.au's social media accounts. But News Corp stopped short of admitting it was wrong or taking the story down, telling Stevens the story was in the public interest.
The Daily Mail used the angry response from Millar on ABC News Breakfast on Wednesday as an opening to do another story, while neatly sidestepping its own role in the amplification of misogynist online abuse.
Co-host Michael Rowland's contribution was not reported by either website. Rowland said his co-host was "too nice" to name news.com.au or the Daily Mail but "the editors of both websites should hang their heads in shame".
The editors of the publications did not respond to a request for comment.
Short shrift
The Daily Mail proved once again that no tweet is too inconsequential to prompt a news story.
The New South Wales Labor leader, Chris Minns, poked fun at the premier, Dominic Perrottet, for "height inflation" in an appearance on KissFM's Kyle and Jackie O radio show.
"If he's claiming six foot four then I'm calling him a liar." Minns joked in a discussion about the two keen joggers racing against each other.
Liberal backroom operative John Macgowan picked up on the theme, musing on Twitter that Minns was not as tall as he claimed to be, and posting several examples of the would-be premier allegedly boosting his height in photos.
Cue the Daily Mail:
"A politician widely touted to be New South Wales' next premier has been accused of intentionally making himself look taller in photos as the election heats up," the Mail reported.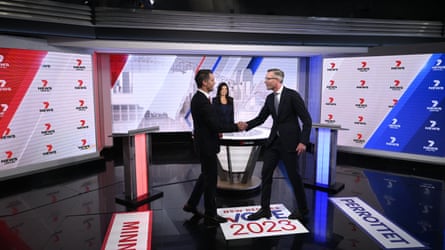 Interviewed by the Daily Mail, Macgowan said: "Chris Minns took a swipe at Dom Perrottet's height so I thought it was worth taking a closer look at his, and it turns out there's a lot of discrepancies in his official photos that appear to make him taller than he may really be."
The Labor campaign eventually responded to this nonsense: "It's true," a spokesperson said. "This is obviously a huge setback for our campaign. It was a secret we'd hope would last until election day. We have 17 days to bring it back."
But the Daily Telegraph front page on Friday made the Daily Mail's "height anxiety" story look almost like decent journalism.
"Chris Who?" screamed the front page of the Tele. "Would-be premier an unknown quantity". The report said a "staggering" 60% of voters in Minns' electorate of Kogarah did not know who he was when shown a photo. "Meanwhile, Dom Perrottet was recognised by 80 per cent of people surveyed in his Epping electorate."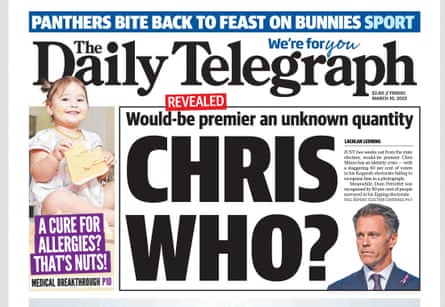 So how many people were polled for this "exclusive" story? "The Telegraph quizzed 30 locals in each electorate," the paper said.
OK zoomer
The Australian's media writer, Sophie Elsworth, is a prodigious observer of the ABC, sharing her thoughts with Chris Kenny and Andrew Bolt regularly on Sky After Dark. But she may have overreached this week when it appears she tried to listen in to a union meeting at the public broadcaster. ABC staff were poised to strike when their managing director put an improved offer on the table on Monday. The Media Entertainment and Arts Alliance called a union meeting to discuss the terms but as officials approved each staffer queued up to join the Zoom call, the name "Sophie Elsworth" popped up on the screen. The union has confirmed to Weekly Beast that entry was denied because the meeting was only open to ABC staffers. The incident reminded us of the Australian Financial Review reporter Mark di Stefano who resigned from the Financial Times in the UK in 2020 after he was accused by the Independent of listening in on sensitive Zoom meetings.
When di Stefano resigned, the Australian's associate editor Chris Kenny thundered that what he did "amounted to hacking", breached the journalism code and "any normal sense of appropriate, fair and honest behaviour". We asked Elsworth and her editor, Michelle Gunn, what they thought of the incident but we didn't hear back.
Back in black
When ABC election analyst Antony Green had a "very minor knock on an eyebrow" he ended up with a "rather dramatic looking black eye", which he said on Twitter would pose a challenge for make up artists trying to make him presentable for ABC News.
After receiving thousands of responses to his black eye posts Green decided to use the interest to increase traffic to his blog post about the New South Wales election. "Knowing how social media works, I thought I'd publish an update on my black eye in an attempt to draw attention to something more important, my blog post on the political impact of optional preferential voting on NSW elections," he said.
Did a chatbot write this?
News boss Michael Miller has encouraged journalists to try ChatGPT despite the "trepidation around new technology", calling artificial intelligence (AI) one of "the more significant and transformative technologies that is (and will) change our industry".
At a town hall meeting on Wednesday the executive leading News Corp's AI working group, Jules Delany, told staff about the AI applications being worked on across editorial as well as finance and customer departments.
News is not alone in this exploration of new technologies. The UK's Daily Mirror publisher Reach has revealed it has already published articles written by a chatbot.
During Reach's 2022 earnings call, executives said there were three AI-written articles about Newport for local paper In Your Area. One of them was "Seven Things to do in Newport".
Media Keep Stifling the Covid Debate – WSJ – The Wall Street Journal
Resume Subscription
We are delighted that you'd like to resume your subscription.
You will be charged
$ + tax
(if applicable) for The Wall Street Journal.
You may change your billing preferences at any time in the Customer Center or call
Customer Service.
You will be notified in advance of any changes in rate or terms.
You may cancel your subscription at anytime by calling
Customer Service.
Please click confirm to resume now.
Facebook users consume more fake news than users of Twitter, other social media sites: Study – CTV News
When it comes to election misinformation on social media, Facebook takes the cake, according to a new study which found heavy Facebook users were far more likely to consume fake news than Twitter or other social media sites.
The study, published earlier this month in the peer-reviewed journal Government Information Quarterly, found Facebook users read the most fake news about the 2020 U.S. presidential election and reported the most concern about votes not being counted properly.
They also found the biggest factor in whether a person reported being suspicious about the election results was their level of fake news consumption, not their method of casting their vote.
According to the study, a big part of the problem with relying on social media for news is that these sites have algorithms designed to keep you scrolling and engaged, meaning that they're likely to keep serving you the same content you're engaging with and make it harder to climb out of a disinformation hole once you are in it.
"What we saw in this study is that if you aren't careful, the bias that you bring into your news consumption can be absolutely confirmed and supported if you are in a place like Facebook where the algorithms feed into that," Robert Crossler, study co-author and an associate professor in the WSU Carson College of Business, said in a press release.
Those who got their news about the 2020 election primarily by navigating directly on a news website were less likely to consume fake news, the study found, and were more likely to believe that the election had unfolded the way it did.
U.S. President Joe Biden's win in 2020 was accompanied with unproven allegations pushed by former U.S. President Donald Trump that the election had been stolen from him and that many votes for him had gone uncounted. Allegations of voter fraud with mail-in ballots and with Dominion voting machines were spread after the election, but none of these claims stood up in court, and few legal experts supported this position.
However, the lack of factual support didn't stop the story from spreading widely on social media.
It's not new that Facebook and other social media sites can be drivers of disinformation and fake news, but it's trickier to measure how consuming fake news affects a person's perception of reality.
In order to get a better understanding of this, the Washington State University-led study designed three surveys relating to how political alignment, fake news consumption and voting method each individually impacted a person's perception of the election.
In the study, "fake news" was defined as articles and sites spreading disinformation that was provably incorrect, not articles or sites with information perceived to be false from a partisan standpoint.
The first two surveys were given to different groups of voters prior to the election, both containing hypothetical scenarios for participants to react to.
The first posited a scenario where the participant would either be voting in-person, through the mail or online. Once the participant had read the scenario of their voting method, they were asked questions about how concerned they were about votes being counted properly, and how much news they got from various news organizations.
The second survey gave the scenario of all voters needing to use mail-in ballots that would be counted either by a government official, a neutral party or by a voting machine. They were then asked again about their concerns regarding votes being counted and their news sources.
The third survey was presented to a group of actual voters after the election. Participants filled out what their voting method had been, and then answered the same questions presented in the previous two surveys. They then reported what percentage of their news they got from direct navigation, Twitter, Facebook, or other social media sites.
Researchers were surprised to find the voting method — whether people voted by mail or in-person — had no measurable impact on how likely participants were to be worried about votes not being counted properly.
Instead, the more a person reported receiving their news from social media, particularly Facebook, the more likely they were to be heavily concerned about votes not being counted.
This suggested to researchers that Facebook, more so than other social media sites, was elevating sources spreading these fears.
"I don't think that Facebook is deliberately directing people towards fake news but something about how their algorithm is designed compared to other algorithms is actually moving people towards that type of content," Stachofsky said. "It was surprising how hard it was to find the websites Facebook was directing people to when we looked for them in a web browser. The research shows that not all social media platforms are created equal when it comes to propagating intentionally misleading information."
The study also found there was no age group more likely to read fake news, which is different from other studies, suggesting that there could be a higher proportion of younger adults consuming fake news than had been previously thought.
Authors noted that more research needs to be done to understand how disinformation spreads and how it can be combatted, particularly in a political climate where the partisan divide in the U.S. is increasing the distrust in mainstream media. They're hoping that this study could spur social media sites to think more about how their algorithms impact their users.
"This supports the argument that people need to be encouraged to be information or news literate," Crossler said. "Right now, we are talking about the elections, but there are a lot of other issues, such as the war in Ukraine, that directing people to misinformation is not only misleading but also potentially dangerous."
2023 Media Layoff Tracker: Rough Year For Journalism Marked By Increasing Layoffs
Topline
Board members of the Texas Democracy Foundation reportedly voted to put the progressive Texas Observer on hiatus and lay off its 17-person staff following prolonged economic woes and shrinking readership, marking the latest in a brutal series of closures and layoffs rocking the media industry in 2023.
Timeline