Apple and ad industry clash over iOS 14 popup seeking permission for tracking – 9to5Mac
Apple and the ad industry are once again in conflict, as ad associations object to the way iOS 14 seeks user permission for tracking.
It's not the first time this has happened – Apple's adoption of Intelligent Tracking Prevention led to criticism by the ad industry back in 2018 …
Background
Advertisers like to measure the effectiveness of their ads by working out how many people who purchase a product have seen an online ad for it. To do this, a cookie is dropped on the user's device when they see an ad, and the website where the purchase is made can check for the presence of that cookie.
Conversely, if you visit a website about (eg) drones, the site can drop a cookie, and ad networks like those run by Google and Facebook can check for that cookie and then serve you ads for drones. This is why you often see ads relating to topics you've recently been researching.
This type of tailored advertising is more likely to be effective, so ad networks can charge more for displaying personalized ads.
Advertisers don't know who you are – they don't know the identity of the person who saw the ad or visited the website – they just know that the same person (actually, device) did both.
iOS 14 approach to seeking permission for tracking
In iOS 14, if an app wants to show tailored ads, it must display a popup asking permission from the user.
Reuters reports that the complaint stems from Apple not adopting a permission standard required by law in Europe. This means that apps with European users will need to seek the same permission twice, once with a GDPR-compliant request, and again with Apple's request. Advertisers fear this will make it seem a bigger deal than it is, and lead to more users refusing permission.
Sixteen marketing associations, some of which are backed by Facebook Inc and Google, faulted Apple for not adhering to an ad-industry system for seeking user consent under European privacy rules. Apps will now need to ask for permission twice, increasing the risk users will refuse, the associations argued.

Facebook and Google are the largest among thousands of companies that track online consumers to pick up on their habits and interests and serve them relevant ads.
Apple rejects the criticism because it already offers a tool to help advertisers measure effectiveness.
Apple engineers also said last week the company will bolster a free Apple-made tool that uses anonymous, aggregated data to measure whether advertising campaigns are working and that will not trigger the pop-up.

"Because it's engineered to not track users, there's no need to request permission to track," Brandon Van Ryswyk, an Apple privacy engineer, said in a video session explaining the measurement tool to developers.
Attitudes to personalized ads vary, some preferring relevant ads to generic ones, while others object to what they consider a privacy breach.
I've argued in the past that online advertising is a hot mess, and that we really need agreed standards laid down in law.
I'm personally of the view that I don't mind anonymised tracking. I'm a decisive shopper, so generally it only results in me being shown ads for things I've recently bought, but I have nothing against the principle. Others disagree, and strongly object to the practice. But I don't have strong views either way: let's allow it or ban it – the important thing is to agree in law what is and isn't allowed.

With ad standards legislation in place, we can finally get rid of the most obnoxious forms of advertising, and put an end to the war of escalation between ever-more aggressive brands and ever more fed-up consumers.
Part of this would involve giving websites greater control over the ads inserted by ad networks like Google. Currently, for example, you will occasionally see scam ads on sites like ours because they make it through Google's checks. We can only block them reactively, when we spot them or a reader reports them. Legal controls would make them far less likely to make it into an ad network in the first place.
FTC: We use income earning auto affiliate links. More.
Check out 9to5Mac on YouTube for more Apple news:
[embedded content]
DrDisrespect says he has "no idea" why Twitch banned him in first YouTube stream – Polygon
Former Twitch streamer and current YouTube hopeful Guy "DrDisrespect" Beahm officially returned to livestreaming on Friday afternoon. Over 500,000 people tuned in to hear the mustachioed boaster tell his side of the highly publicized Twitch ban, which, he claims, he still has no clue about.
"We still have no idea," he said at the start of the YouTube stream, before repeating that line a couple of more times.
Polygon contacted Twitch, but the livestreaming company reiterated its previous statement about taking "appropriate action" when a user has "acted in violation" of its community guidelines and terms of service. But as Beahm tells it, he's still in the dark regarding what happened and why he was taken off the Amazon-owned livestreaming service.
"As far as I'm concerned, we didn't do anything to warrant a ban, let alone how they went about banning us," he said. "No communication before, no reaching out, nothing."
Notably, prior to the ban, Beahm had signed a multi-year deal to stay on Twitch. While numbers weren't disclosed, presumably Twitch paid good money to ensure that one of its most-watched performers stayed on the platform. Beahm's comments during the stream suggested there may be some kind of legal movement regarding his contract.
"You're talking about a heavy contract, lots of money," he said, noting that he has to be careful about what he says regarding the ban situation. "There's big money involved. So let the legal professionals do what they need to do."
Viewers seemed happy to have the vest-wearing entertainer back, with plenty of donations trickling in as Beahm swore that this would be the last time he addressed the situation.
"My conscience, I feel so good," he stated, before berating people who assumed he must have done something bad to get a ban.
"So that's your update," he said. For a portion of the livestream, Beahm opted to watch other creators' gameplay for titles such as the new-kid-on-the-block battle royale, Fall Guys. He later played some Call of Duty: Warzone. He punctuated the occasion by telling viewers about some upcoming limited-edition merchandise that they could preorder for $30.
"Taxes were heavy this year," he later added, noting that "for a second, I thought I was in trouble."
Update: Added mention of DrDisrespect's gaming during the livestream.
Samsung Galaxy Z Fold2 hands-on video leaks, showing more angles – GSMArena.com news – GSMArena.com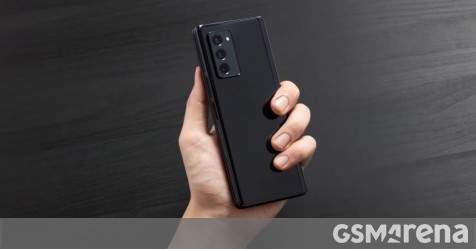 Samsung has sort of semi-announced the Galaxy Z Fold2 at its big Unpacked event on August 5, with the company promising a proper unveiling, with all details, to come on September 1. We got a few official press renders of the upcoming device, but sometimes nothing beats an honest-to-God hands-on video.
And today that's exactly what has surfaced, courtesy of Ben Geskin on Twitter. It's a short 16-second affair, but does portray more angles of the device than the official images. You can see the weird placement of the internal hole-punch selfie camera, the display crease (which is obviously not going to be featured in promotional materials), the much improved external screen (in size and bezel size), and the rear, reminiscent of the Galaxy Note20 Ultra, because of the similar looking camera island.
#GalaxyZFold2 pic.twitter.com/j5IAX41WRV

— Ben Geskin (@BenGeskin) August 7, 2020
The Galaxy Z Fold2 has a 6.23-inch cover display and a 7.6″ internal screen (which has 120Hz refresh rate too), and according to rumors it should be powered by the Snapdragon 865+ chipset. It will run Android 10 with One UI on top, of course.
The rumors also talked about a wide/ultrawide/telephoto triple rear camera setup, a 4,500 mAh battery, and 12GB of RAM and 256GB of storage (possibly UFS 3.1).
Dr Disrespect Gives Statement On Twitch Ban During His YouTube Return Stream – Forbes
The man can generate hype, I'll give him that. After a mysterious disappearance that lasted longer than a month, Dr Disrespect has returned to streaming today on YouTube, his apparent new home after his permanent Twitch ban.
Yesterday afternoon Doc started running a static stream, and after the first hour or so, revealed that he'd return today at 3 PM ET. Well, that was pushed to 4 PM, and now he is indeed live to over 500,000 viewers at the time of this writing and no, naturally he does not have any concrete answers for us about his famous Twitch ban. He addressed the ban, saying that he still has no idea why Twitch banned him, and that he cannot think of anything he would have done to have warranted the ban. This remains difficult to believe, and yet Doc pushed back on critics that don't believe this line about the ban, calling it a "cockroach approach" to speculate on what happened. The "last thing" he said he was going to say about it was "let the legal professionals do what they need to do, that's it."
Quite literally nothing has leaked out about Doc's Twitch ban in the last month. Not from him, Twitch or inside sources. Twitch abruptly ended a recently signed, multi-million dollar contract with Dr Disrespect just months after the deal was made, and gave no reason for doing so, only saying that all creators are subject to the same rules, no matter their size. Dr Disrespect maintained that he had not been told why he was banned, and managed to get through a lot of major interviews revealing absolutely nothing about what was going on in a PR-sanitized tour where he kept saying he couldn't talk about what was going on with Twitch for legal reasons.
What legal reasons? That remains unclear. Perhaps more unclear than ever, now. At first, given that Doc's ban came immediately after a wave of #MeToo allegations in the gaming industry, many of which led to Twitch bans, the logical leap was that perhaps something of that nature, and/or something criminal, might be going on behind the scenes.
But there were no public accusations ever made against Doc. He has not been arrested or charged with anything in the last month. So now he is essentially mounting a "comeback" from something that…no one knows the details of. It's a very strange situation. This is, of course, the type of speculation that Doc has pushed back against, yet has offered no plausible theories of his own about the ban, and is now content to be quiet and let lawyers work it out.
It does feel a little weird to see such massive support for Doc's return without ever getting clarity on the Twitch situation. The line among his fans seems to be that since nothing bad has come out, there's no reason not to support him, and they assume that Twitch just screwed him over in some way, and whatever "legal" issues are ongoing, they must be contractual, not criminal. It's possible, but it's also probably too soon to rule anything out, even if it's been over a month now.
So, here's the comeback, which does not involve Doc signing a new contract, but instead just heading to YouTube to stream without any sort of high dollar deal, just to…stream. And of course he can make money anyway and has already raked in tens of thousands, if not hundreds of thousands of dollars in subscriptions and donations for the lead-up to his return and now the return itself. Since we do not know what he did to get banned from Twitch, we have no idea if that same thing could have him end up getting banned on YouTube, but he certainly doesn't seem to think so, hence all the hype and set-up for this grand return.
It really is one of the most confounding mysteries in gaming. I had little interest in Doc before any of this, but this situation has just been so perplexing it's hard not to be engrossed in the mystery of it all. In this industry, the truth has to leak out at some point about what happened here, but I am frankly stunned it hasn't already, so who knows.
It appears that for now, YouTube is Doc's new home, with or without a contract, and sources are saying that no deals from YT or any other streaming services are imminent, and yet he's free to stream elsewhere like anyone normally would be. Even if Doc gets back to regular streaming, it's a changed situation. He's not allowed to stream with any of his old Twitch buddies (part of the nature of a ban), and yet he can continue creating content on YouTube unless a new ban takes effect. And since we don't know what caused the last one, it's impossible to say what happens next.
If you want to be one of the hundreds of thousands of people watching Doc's return, you can view his comeback stream here. This story is not over, and if anything, is really only getting more confusing the longer answers remain out of sight.
Follow me on Twitter, YouTube and Instagram. Pick up my sci-fi novels Herokiller and Herokiller 2, and read my first series, The Earthborn Trilogy, which is also on audiobook.