Apple doesn't make videogames. But it's the hottest player in gaming – Livemint
Apple Inc. doesn't make hot videogames such as "Fortnite," or consoles such as the Xbox. But with little fanfare, Chief Executive Tim Cook has turned the maker of the iPhone into one of the world's largest videogame companies.
The key is the App Store, its digital marketplace, where the company sells and distributes thousands of games by other companies and developers, from Epic Games Inc.'s "Fortnite" to Tencent Holdings Ltd.'s "Honor of Kings"—and takes a 30% cut of sales. That explains a lot about the tech giant's current battles with rivals.
Apple raked in more profits from games than Xbox maker Microsoft Corp., gaming giants Nintendo Co. and Activision Blizzard Inc. and PlayStation maker Sony Corp.—combined—in its fiscal year 2019, according to a Wall Street Journal analysis of figures released as part of the company's recent antitrust trial.
Apple's operating profits from games that year totaled $8.5 billion, according to the Journal analysis, exceeding the other four companies' combined gaming operating incomes in the same period. The tech giant said operating margins discussed during the trial were flawed and as a result are too high.
Apple's dominance, however, is under threat. Its position as the gatekeeper to the gaming economy places it at odds with Facebook Inc., Microsoft and "Fortnite" maker Epic Games Inc. as each company prepares for the next frontier in technology: virtual reality.
Many digital activities—from search to social to shopping to live events —could take place inside of games in the coming years. Industry global revenue from videogames is expected to almost double to $198 billion in 2024 compared with 2016, according to estimates by technology consulting firm Activate Inc. The biggest chunk of that growth is from mobile games, which Activate predicts will generate $103 billion in 2024.
The risk for Apple is that its role as the gatekeeper between the gaming world and its more than 1 billion iPhone users as well as the fee it collects as the middleman could be disrupted—whether by legislation, court order or regulatory action. Epic sued the company in 2020, alleging that it stifled competition. Because of Epic's lawsuit and increased scrutiny of Apple's sway, lawmakers and regulators from Washington to Brussels are considering ways to potentially upend the company's power, which some fear hurts rivals.
Another threat to Apple's profit engine comes from China. New rules in that country aim to decrease the number of hours young people can play games. Three of the top five grossing mobile games in the App Store are from China, including the No. 1 title "Honor of Kings" from Tencent, which generated an estimated $2.5 billion last year from users, according to analytics firm Sensor Tower.
Globally, customers spent a total of $45 billion on mobile games through the App Store in fiscal 2020, according to Sensor Tower. Almost 31% of that money was spent in China while 26% was in the U.S.; Apple's cut came out to an estimated $13.5 billion or about 5% of Apple's overall sales that year of $275 billion. Fifty percent of Apple's revenue came from hardware sales of iPhones.
Apple doesn't break out revenue from the App Store; instead it includes the business as part of its services category, which it said generated $53.8 billion in sales last year. That category also includes music, iCloud, Apple TV, advertising and extended warranties. It doesn't say how profitable each of its product categories is but disclosed an overall company operating profit of $66.29 billion during the period.
A new gold mine
That such a large part of Apple's business comes from the gaming world is almost a fluke. After releasing the iPhone in 2007 and seeing developers hack their gadgets, it designed the App Store so users could download third-party software to their phones under Apple's control. Apple's late co-founder Steve Jobs and his team came to realize that the store could be a new gold mine.
In 2008, the year the App Store launched, it had 500 apps, many of them games. Apple's profits from gaming got bigger as the app economy expanded. The shift became even more important under Mr. Cook as he looked to combat stagnating iPhone sales.
In a nod to how important hard-core gamers are to the company now, Apple introduced its new iPhone 13 Pro last month with upgrades to the screen aimed at giving a smoother video experience. The feature is particularly attractive to those who use it for gaming.
Apple is appealing to a rather small group. Just 6% of App Store game customers in 2017 accounted for 88% of all the store's game billings for the year, according to court records. On average they spent more than $750 annually. The biggest spenders, who made up 1% of Apple gamers, generated 64% of billings and spent on average $2,694 annually.
Blockbusters include "Honor of Kings," which allows users to battle as historical Chinese characters and was the top grossing game last year in the App Store, according to Sensor Tower. Other top money generators are "Pokémon Go," an augmented reality game based on the popular Japanese anime, and "Candy Crush Saga," a puzzle game where users match clusters of jelly beans and gumdrops.
Bri Thomas, a 38-year-old human resources professional from Dallas, likely fits into the medium-high category of spenders who accounted for 3% of gamers and generated 20% of billings in 2017. On average that group spent about $373 each year.
She said she typically spends as much as $50 each month. The convenience of having the iPhone in her pocket means it is easy to spend money to access special perks in mobiles games such as "Empires & Puzzles," a puzzle game.
"It's very convenient," Ms. Thomas said. "You can get carried away really easily."
Lifting the veil
By Mr. Cook's own admission, he is not a gamer. He said so during an appearance before a judge in the antitrust case that consumed Apple's attention for much of the past year.
In August 2020, "Fortnite" maker Epic filed a lawsuit against Apple claiming the company held an improper monopoly over distribution of software on its mobile devices and forced developers to use its in-app purchasing system. They went to trial in May.
Apple vehemently denied the claims, pointing to everything from Google devices to the XBox as alternative ways for users to play games and arguing that its fees were in line with the industry and fair. U.S. District Judge Yvonne Gonzalez Rogers mostly agreed with Apple in an early-September ruling.
That doesn't mean Apple is out of danger. The judge ordered the tech giant to let developers inside their apps advertise alternative, cheaper payment methods that exist outside of Apple's App Store. That raises the possibility that game developers could deny Apple money for those games.
The case lifted the veil on Apple's gaming business. The company, which has long prized secrecy as it seeks to draw users to new products and services, keeps under wraps the extent to which gaming is at the center of its profits and business.
Apple said records introduced during the trial purportedly showing profitability of the digital store weren't correct, and Mr. Cook testified in court that the company doesn't do such analysis. But Judge Gonzalez Rogers, who reviewed Apple's records under seal, contradicted this assessment.
She wrote that Epic's claims that Apple generated operating margins of more than 75% from the App Store are, in fact, correct and characterized them as "extraordinarily high."
App sales may be small in comparison with overall revenue but court documents suggest they are almost pure profit for Apple. As part of the legal battle, Apple handed over millions of internal documents to Epic. Using those materials, an expert witness for Epic named Ned Barnes, a forensic accountant, calculated that Apple's App Store generated a 79.6% operating margin—a measure of profitability that subtracts costs from revenue—during both the 2018 and 2019 fiscal years.
The late discovery of an internal report sent to Mr. Cook supported that assessment. The report, according to court records, included the company's own calculations for the store's operating margin of 74.9% and 77.8% for fiscal 2018 and 2019, respectively.
"Mr. Barnes made appropriate adjustments based on sound economic principles to reach his conclusions," the judge wrote. "Apple's protestations to the contrary, notwithstanding the evidence, shows that Apple has calculated a fully burdened operating margin for the App Store as part of their normal business operations."
Another view of how much Apple collects from its App Store—and gaming—comes from Sensor Tower, the analytics firm. It estimated that Apple received $15.9 billion in revenue from the App Store in fiscal 2019, with 69% of that amount coming from games. Using Apple's operating margin calculation described in court records, the company's App Store had an implied operating profit of $12.3 billion that year—or nearly one out of five dollars of the company's overall operating profit.
Gaming alone would have earned $8.5 billion, according to a Journal analysis. That is $2 billion more than the operating profit generated in the sector during the equivalent 12-month period from gaming giants Sony, Activision, Nintendo and Microsoft, according to company filings from the first three and an analyst estimate for Microsoft.
Apple said Friday the disputed operating margins come from an analysis that doesn't include many joint costs for the App Store and results in margins that it describes as being too high because it includes all revenue but only a fraction of the costs. During the trial, Apple vehemently denied the accuracy and during public court testimony Mr. Cook took issue with the margins as well.
Under questioning from Apple's lawyer, he said the company had never tried to determine the specific profitability of the App Store as a stand-alone business and that he couldn't put an exact figure on how profitable it might be. The practice of not tracking business-unit profitability, he said, dated back to a desire by Mr. Jobs to encourage cooperation across the company's various units. The internal document that calculated operating margin, which wasn't made public, was a "one-off presentation," he said.
Nevertheless, Mr. Cook said he believed the App Store was profitable even without calculating it. "We haven't done that, but, you know, I have a feel—if you will," Mr. Cook said. While being questioned by the judge, Mr. Cook said a majority of App Store revenue came from games.
The judge ruled that Apple wasn't a monopoly in part because the mobile gaming market is evolving so quickly, including the nascent streaming game services. Similar to how Netflix Inc. offers movies, Microsoft, chip maker Nvidia Corp. and others are pushing subscription game services that could be accessed on iPhones through websites. That allows them to bypass the App Store.
As for Apple's gaming economy, it is unclear what happens next. Epic plans to appeal the judge's ruling, and some legal observers said Apple will appeal the order to stop prohibiting developers from communicating cheaper alternatives to the App Store. The company said it is reviewing the matter.
Never miss a story! Stay connected and informed with Mint.
Download
our App Now!!

5 things to try out on Apple's new AirPods (3rd generation) | Venture – Daily Hive
Earlier this month, Apple announced its latest AirPods (3rd generation) with a major redesign from its earlier models.
The new design is lightweight and has a stem that is 33% shorter than the 2nd generation model. Its new design aligns closer to the AirPods Pro but comes in at a lower cost.
For those looking at the new AirPods (3rd generation), here are five things to try out with these smaller headphones:
Go for a sweaty workout or head out in the rain
You can go for a vigorous walk, run, or workout, or head out in the rain, as the new AirPods are sweat and water-resistant. Not only are the headphones themselves resistant to sweat and water, but the case has an IPX4 rating for sweat and water resistance.
While you're at it, let Siri read your messages
You don't have to look at your phone when you can have your text messages announced, and read to you. Siri can read alerts and reply to messages for you using just your voice.
Make a FaceTime call or listen to tunes
While it isn't noise cancelling like the AirPods Pro, the new AirPods include a custom high dynamic range amplifier, taking its sound quality to the next level with computational audio features, like Adaptive EQ and spatial audio with dynamic head tracking. The head tracking also allows Group FaceTime calls to feel more immersive than ever before. A new acoustic mesh covers the microphone to reduce wind noise, so your voice is crisp and clear on calls.
Check out the new skin-detect sensor
The new AirPods has an innovative way to detect when they are in your ear. According to Apple, a "new skin detect optical sensor, when combined with the accelerometer, helps the new AirPods to better determine whether they are in your ears or in your pockets." So there is better detection on when AirPods can turn on and turn off playback.
You can also press to play, pause, and skip through songs, or answer and end calls through the force sensor located on the stem.
Let the music play for hours
There is now up to 6 hours of battery life on a single charge, which is an hour more compared to the 2nd generation AirPods. And speaking of battery, the new AirPods are also now part of the MagSafe ecosystem, so they can magnetically align your AirPods on the charger.
The new AirPods (3rd generation) will be available for $239 beginning Tuesday, October 26.
For those looking for AirPods but less expensive, the 2nd generation is also available at $179. And the AirPods Pro now comes with MagSafe Charging Case and goes for $329.
Apple also says that all new AirPods come with six months of free Apple Music.
First MacBook Pro Orders Arriving to Customers in New Zealand, Australia and Asia – MacRumors
It's already Tuesday, October 26 in New Zealand, Australia, and multiple countries in Asia which means it's MacBook Pro launch day. Customers in New Zealand and Australia are always the first to get their hands on new devices due to time zone differences, and the new MacBook Pro models are no exception.
14 and 16-inch MacBook Pro models are beginning to arrive to customers who pre-ordered last Monday, and new MacBook Pro owners have been sharing photos on the MacRumors forums.
There are no Apple Stores in New Zealand, so customers in Australia and countries across Asia are the first to be able to pick up a MacBook Pro at an Apple retail location. Stock in Australia and other countries will give us an idea of what we can expect from other stores worldwide.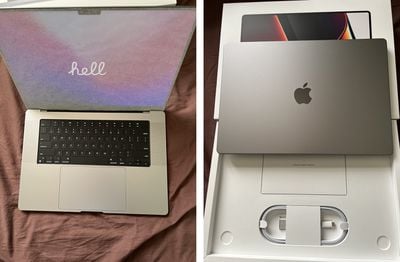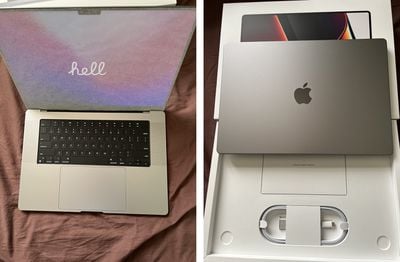 Apple is selling stock configurations of the new machines in its retail stores, and there are also some higher-end BTO configurations that may be available depending on the store. Most people who want a custom configured machine will need to order online and wait, however.
Supplies of stock MacBook Pro models are constrained and new orders won't arrive until mid-to-late November or early December in some cases, so getting a stock configuration in a store is now the only way to get one of the new machines on launch day.
Following New Zealand, Australia, and Asia, sales of the MacBook Pro will begin in the Middle East, Europe, and then North America. Apple Stores‌ globally are opening up right around 8:00 a.m. local time to allow customers to pick up reserved devices and make walk-in purchases.
Stay tuned to MacRumors tomorrow because we'll have a hands-on look at the MacBook Pro along with first impressions and plenty more coverage coming throughout the week.
Nigeria launches eNaira amid hope, scepticism – and plenty of uncertainty
Nigeria on Monday became the first African nation to launch a digital currency – the eNaira – a move its leaders said will expand access to banking, enable more remittances and even grow the economy by billions of dollars.
Africa's most populous nation joins the Bahamas, the first to launch a general purpose central bank digital currency, known as the Sand Dollar, in October. China has ongoing trials and Switzerland and the Bank of France have announced Europe's first cross-border experiment.
But experts and cryptocurrency users in the continent's biggest economy say the fact that there are more questions than answers regarding the eNaira – and a large amount of worry over the consistency of Central Bank (CBN) rules – means the government faces a tough path to make the eNaira a success.
Central Bank Governor Godwin Emefiele said during Monday's launch that there had been "overwhelming interest and encouraging response", adding that 33 banks, 2,000 customers and 120 merchants had already registered successfully with the platform, which is available via an app on Apple and Android.
Some 200 million nairas' worth of eNaira, which will maintain parity with the traditional currency, has been issued to financial institutions, he said. President Muhammadu Buhari said use of the currency could grow the economy by $29 billion over ten years, enable direct government welfare payments and even increase the tax base.
Nigeria's young, tech-savvy population has eagerly adopted digital currencies. Cryptocurrency use has grown quickly despite a Central Bank ban in February on banks and financial institutions dealing in or facilitating transactions in them.
Nigeria ranked seventh in the 2021 Global Crypto Adoption Index compiled by research firm Chainalysis. Official digital currencies, unlike crytocurrencies such as bitcoin, are backed and controlled by the central bank.
But some of what drove Nigeria's enthusiastic adoption of cryptocurrencies was the Central Bank's own shifting rules regarding accessing foreign currency – and the naira's plunging value on parallel markets that saw savings shrink.
"It's not clear looking at the CBN's body of work that Nigerians would be comfortable using this," said Ikemesit Effiong, head of research with Lagos-based consultancy SBM Intelligence.
He added that the CBN had not yet made clear whether users could transfer eNaira back into traditional naira, whether they could use cryptocurrency to buy or sell the eNaira or even whether there would be physical locations to use and transfer eNaira, or whether it would be entirely digital.
"There are more questions than answers, even though we are looking at the launch of this digital currency. The fact that this is the case so late in the game is concerning," he told Reuters.
The CBN issued a nine-page FAQ, which said eNaira users would access it via the phone app, internet banking or a code dialled from mobile phones, but it did not address transferability or other questions raised by Effiong.
Only three local television channels were allowed to attend the launch, and officials took no questions.
For 28-year-old Ebuka Joseph, an art dealer and enthusiastic cryptocurrency user in the commercial capital, Lagos, the uncertainty means he will stay on the sidelines, for now.
His concerns centre on whether he would easily be able to change eNaira back into normal currency.
"I have had issues trusting the central bank … because they have already banned crypto," he told Reuters. "I want to hear from people, see people use it, before I venture into it."
(Reporting by Libby George; Editing by Nick Macfie)