Apple Event 2020 highlights: iOS 14, WatchOS 7, iPadOS 14 will start rolling out tomorrow – Firstpost
23:38 (IST)
The end!
That's all from Apple for today, but a lot more coming on tech2 soon.
23:34 (IST)
All new products announced today will come with the latest version of the operating system
23:33 (IST)
We will be releasing major OS updates starting tomorrow, including iOS 14, says Apple CEO Tim Cook
23:31 (IST)
The new iPad Air will be priced starting $599
23:29 (IST)
The new iPad Air
23:28 (IST)
The iPad Air will come with USB-C
It also includes a 7 MP selfie camera, and 12 MP camera at the back.
23:25 (IST)
Apple's A14 chip
23:25 (IST)
Apple claims that the A14 chip can do 11 trillion operations per second
23:23 (IST)
The A14 chip makes the new iPad Air 40 percent faster than the previous generation iPad Air
Apple also claims it has 2X faster graphics performance.
23:23 (IST)
The new iPad Air is powered by an A14 chipset
Apple claims it is the first 5-nanometer chip in the industry. The A14 chip packs 11.8 billion transistors.
23:21 (IST)
The new iPad Air's power button features the Touch ID on top of it
23:20 (IST)
The new iPad Air comes in four colour options
It features a 10.9-inch retina display.
23:19 (IST)
Apple is also refreshing the iPad Air series
23:18 (IST)
Apple iPad 8th generation is priced starting $329
23:17 (IST)
On the new iPadOS 14 you can use the Apple Pencil to handwritten notes and then paste it has regular text on your notes.
23:15 (IST)
The Apple Watch works with keyboards and the Apple Pencil
23:14 (IST)
Apple announces iPad 8th generation
It comes with an A12 Bionic chip. Apple claims it is 2X faster than the top-selling Windows laptop, 3x Android tablet, 6x Chromebook. Apple says it's a 40 percent faster CPU and has a 2X jump in graphics.
23:12 (IST)
Apple One subscription bundles announced
23:08 (IST)
The Fitness+ app will be available for users globally by the end of the year
For people who buy the new Apple Watch, the Fitness+ service will be available for first three months.
23:07 (IST)
The Fitness+ app can be downloaded now from the app store
23:04 (IST)
Apple launches its now fitness service called Fitness+
The feature lets you choose the workout from your watch, iPhone, iPad or Apple TV. It shows you your real-time calouries burns, activity rings, and the summary of the entire workout.
23:02 (IST)
Apple has created a fitness service around the Apple Watch
22:57 (IST)
Apple says that by 2030 it will be 100 percent carbon neutral
As part of its efforts to reducing electronic waste, Apple is also removing the power adapters from the Watch box this year.
22:56 (IST)
Apple Watch Series 6 has been announced at a starting price of $399 in the US
22:55 (IST)
Apple Watch SE announced
It will be priced start $279 in the US.
22:52 (IST)
Apple Watch Family Setup
Apple will now let you setup a watch for your family members who do not have an iPhone or the app. The feature also comes with a DND mode for children during their study time. Initially, the feature will be rolled out only to a limited number of markets.
22:50 (IST)
The Watch Series 6 also comes in a braided solo loop
22:49 (IST)
The Apple Watch 6 comes with a 'solo loop' strap
22:48 (IST)
The Apple Watch Series 6 comes with a number of customised watch faces, including the memoji face
22:47 (IST)
The Apple Watch 6 has an always-on display
The watch also features an always-on altimeter.
22:45 (IST)
Apple Watch Series 6 uses Apple's Silicon S6 chipset
22:42 (IST)
Apple Watch Series 6 lets you monitor blood oxygen levels
22:41 (IST)
The Apple Watch Series 6
22:39 (IST)
Apple COO has taken over to talk more about the new Apple Watch
22:33 (IST)
Apple CEO Tim Cook has taken over!
22:33 (IST)
The hynotising animations have levelled up!
22:31 (IST)
The Apple Event webcast is now live
The video shows a hypnotising animation of the Apple logo.
22:21 (IST)
The Apple Event will be live in another 10 minutes…
21:58 (IST)
Apple will also be streaming the event on its YouTube channel
Below is the webcast link video:
[embedded content]
21:42 (IST)
Are you also wondering what the Apple Event animation trend is all about?
For the Apple Event tonight, the company partnered with Twitter so that when a user likes any tweet with the official #AppleEvent hashtag, they will see a special like animation.
21:34 (IST)
Apple Event: What to expect!
At the event today, Apple is expected to launch the Watch Series 6, a new Watch SE (believed to be a cheaper version of the Watch Series 3), iPad Air 4 and also the AirTags (finally!).
Additionally, some reports suggest that tonight, Apple might also announce the release date for the final version of iOS 14, iPadOS 14, watchOS 7, tvOS 14, along with the unveiling of Apple One subscription and AirPods Studio.
11:55 (IST)
Apple Time Flies event will kick off at 10.30 pm IST
Welcome to the liveblog, folks!
Apple is hosting an event at 10.30 pm IST today. At the event, it's expected to launch the Watch Series 6, a new Watch SE, iPad Air 4, AirTags, Apple One subscription and AirPods Studio. Stay tuned to the liveblog to get all the updates from the event.
Sony Apologizes for Rough PlayStation 5 Preorder Mishap – HYPEBEAST
Sony has just tweeted an apology for its misaligned preorder system which took gamers by surprise — leaving many without a secured PlayStation 5 console. Taking a form closer to a Quickstrike sneaker release, the console was announced last Wednesday that it would be available for preorder the next day but was launched just hours later on Walmart — leading to other retailers opening their preorder links which caused a frenzy of preorders by quick-handed gamers and resellers alike.
Resellers got their hands on multiple preorders while fans were left emptyhanded. Recognizing this, Sony has promised to release more preorders "over the next few days" with more units coming at the end of the year. Those that missed out should get ready for an update from Sony next week so that they lock down a preorder of their own.
Let's be honest: PS5 preorders could have been a lot smoother. We truly apologize for that.

Over the next few days, we will release more PS5 consoles for preorder – retailers will share more details.

And more PS5s will be available through the end of the year. pic.twitter.com/h1TaGsGBun

— PlayStation (@PlayStation) September 19, 2020
In other gaming news, the Nintendo 3DS has been discontinued.
How to use the Handwashing feature on the Apple Watch – AppleInsider
The addition of the Handwashing Timer to watchOS 7 is meant to encourage Apple Watch users to properly wash their hands for at least 20 seconds. Here's how to get the feature working, to remind you to keep your hands clean.
The ongoing COVID-19 pandemic has caused health-related organizations and governments around the world to come up with ways to encourage people to be more hygienic. One idea that has been adopted around the world is that of regularly washing hands, and doing so for at least 20 seconds to minimize the risk of infection by touch.
Memes have been circulated, proposing songs and other ways people can use to time themselves washing their hands, with social pressure helping to enforce the washing of hands in the first place.
With the Handwashing feature of watchOS 7, Apple has added a function to the Apple Watch that is a fairly simple concept, namely a timer that appears whenever the user starts to wash their hands, counting down from 20 seconds. With the release of watchOS 7, it is now available to enable and use on supported devices.
Handwashing requires users to update their iPhone to run iOS 14, and their Apple Watch to watchOS 7, in order to function.
How to turn Handwashing detection on and off via your iPhone
Open the Watch app on your iPhone.
Under My Watch, scroll down and tap Handwashing.
Tap the toggle next to Handwashing Timer.
Handwashing can be enabled within the Watch app on iOS.
How to turn Handwashing detection on and off via your Apple Watch
Press the Digital Crown and select the Settings app.
Scroll down and tap Handwashing.
Tap the toggle next to Handwashing Timer.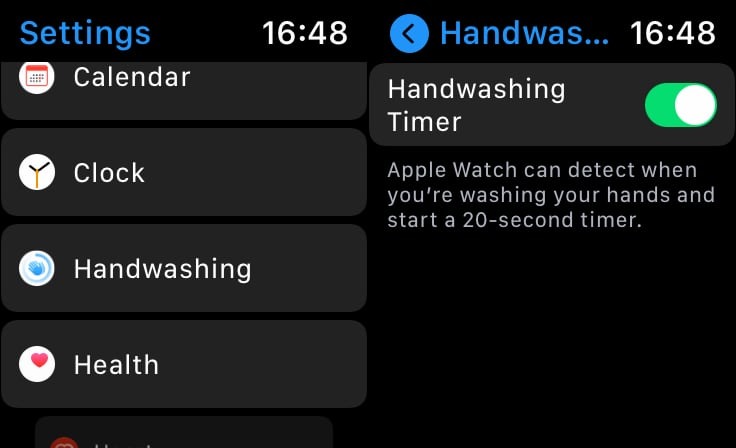 Handwashing Timer can also be enabled directly on the Apple Watch in the Settings app.
How to use the Handwashing timer
Start washing your hands.
If the Apple Watch detects correct hand movements and the sound of running water, the timer will appear. It will automatically adjust to have started the timer when it thinks handwashing started, and will show a countdown timer with the remaining time.
Continue washing until the Apple Watch chimes and displays a "Thumbs Up" symbol.
It is advised to not bother to stop and look at the timer on the Apple Watch, as it will cease the countdown and may stop the timer altogether. AppleInsider has encountered situations where the timer stopped abruptly, such as water being registered as a screen tap, which may be an issue for some users.
Along with the default timer, Apple has also included Handwashing Reminders, which will use location tracking to determine if the user has been outside of home, and has returned. The reminder is to encourage users to wash their hands on arrival at home, again to minimize any bacteria or virus transference to other family members by bringing them into the house.
How to turn Handwashing notifications on and off via your iPhone
Open the Watch app on your iPhone.
Under My Watch, scroll down and tap Handwashing.
Ensure the toggle next to Handwashing Timer is enabled to see the Handwashing Reminders toggle.
Tap the toggle next to Handwashing Reminders.
As handwashing is an important part of staying healthy, especially in the current COVID-19 climate, the Apple Watch collects data on handwashing activities. This includes times when the counter is enacted, how many times the user successfully reaches 20 seconds, the average time spent handwashing, and other data which can be reviewed over a longer period of time.
How to view Handwashing data on the iPhone
Open the Health app.
If it doesn't appear in the Summary page when entering the app, select Browse.
Select Other Data.
Select Handwashing.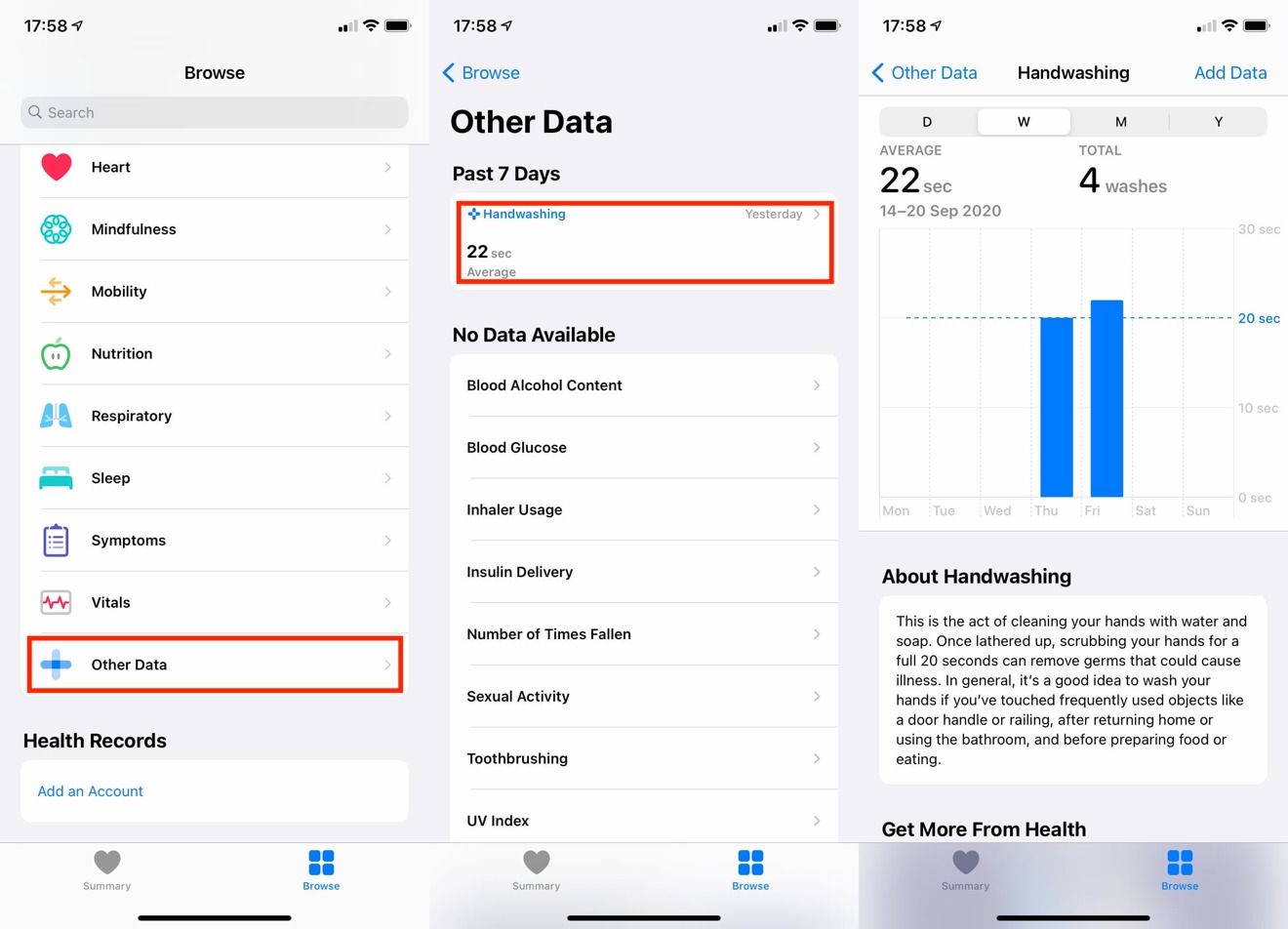 The Health app keeps track of how often and how long you wash your hands for.
Like other metrics the app tracks, users can see how many times they washed their hands in a day, week, month, or year, as well as how long for, averages, and even timestamped data. This feature may be especially useful for families, with parents able to check if their children are washing their hands sufficiently throughout the day.
Forget PS5 and Xbox Series X — Oculus Quest 2 is the next-gen system to watch – Tom's Guide
As Microsoft and Sony finally provided concrete release date details of the PS5 and Xbox Series X, it was almost easy to forget about the Oculus Quest 2, which has laid down the gauntlet in a VR race occupied by rivals including HTC, Valve and current leader Sony.
Set for release October 13, the Quest 2 retails at $100 cheaper than its predecessor at $299 for the 64GB version and $399 for the 256G edition. Specs for the new headset feature noticeable improvements over the original Quest as well. The Quest 2 uses Snapdragon's XR2 CPU purposely built for VR and AR, which should be a big boost from the Snapdragon 835 mobile chip in the original. Upgrades like 6GB of ram, higher per eye pixel resolution, a 90Hz refresh rate and interpupillary distance adjustment have also already impressed critics. But it's two specific features that should push the Quest 2 right into the forefront of VR hardware.
Following an introduction last year on the original Quest, Oculus Link is preparing to leave beta sometime this fall. This allows the headset to run Oculus Rift and Steam VR games by tethering it to a VR-ready PC through a USB-C cable. By itself, the Quest 2 is limited to games that are enjoyable like Beat Saber, Superhot, Moss and even a port of the excellent Tetris Effect. Having a standard gaming PC to run top-tier VR games like Echo Arena means the Quest 2 offers dual usage out of the box. Half-Life: Alyx, the third highest reviewed game this year behind Last of Us II according to Metacritic, has a chance to reach a wider audience.
Being portable and tethered to the PC lends to a freedom that's not unlike the hybrid Nintendo Switch console. Oculus also announced that it will phase out the pricey Rift S and all PC-only headsets in 2021, making the Quest 2 its standalone VR product. This makes the Quest 2 by itself less expensive than the HTC Cosmos, Valve Index and Sony's ultra popular Playstation VR. As prices for VR-ready PCs are dropping under $700, Oculus has made the barrier of entry more accessible than ever.
Killer VR apps
[embedded content]
Of course, none of this would matter if Quest 2 didn't have some spectacular games coming down the pipeline. While many early Quest releases felt more in line with tech demos or mini-games, Oculus is now leaning further toward releasing titles that blur lines between traditional console gaming and VR. Oculus striking a partnership with Ubisoft for new entries in the Assassin's Creed and Splinter Cell universe is one thing. Having the French publisher pull resources from Red Storm, Reflections, Ubisoft Dusseldorf and Ubisoft Mumbai to help develop is another.
Jurassic World: Aftermath hopes to prove survival horror games inspired by Alien: Isolation and Resident Evil 7 can be done in VR. With Fortnite, PUBG and Call of Duty: Warzone all fighting for supremacy within the ultra popular battle royale genre, Population: One seems to be carving a nice space for itself. For a lot of longtime PC gamers, a VR remake of iconic 1993 point-and-click adventure Myst feels magical. Dormant since Medal of Honor: Warfighter, EA's storied military first-person-shooter returns through Medal of Honor: Above and Beyond for those who can run it on PC through Oculus Link.
Coupled with Oculus' great existing library, these upcoming Quest games sound more exciting than anything launching alongside the PS5 and Xbox Series X on day one. Microsoft delaying Halo Infinite till 2021 has the house that Windows built focusing more on cross-generational support and Game Pass for Xbox Series X. Meanwhile, PS5 exclusives like Spider-Man: Miles Morales and Horizon: Forbidden West will also come to PS4, somewhat limiting the urgency to upgrade for some.
As of now, Microsoft hasn't officially entered the VR realm outside of its Xbox One Streaming app for Rift. Since its 2016 release, PlayStation VR could be considered the leader in the space with five million sold. Being backwards compatible with the upcoming PS5 means there's a vast library available from the start. Though some phenomenal exclusives available have been released for PSVR including Farpoint and Iron Man VR, the platform hasn't delivered anything that can truly match PC. Maybe that'll change when its upgraded successor hits the PS5 eventually.
Going beyond next-gen gaming
Beyond gaming, Quest 2's Infinite Office seems to be the future of home offices. The feature will allow users to use the Oculus Browser to work across multiple customizable screens and display live feeds of the environments from the onboard cameras.
A partnership with Logitech means certain keyboards will be recognized and rendered for easy input. If Google Chrome becomes compatible outside of VR browsing, the Quest 2 could be a real game changer.
Oculus' strategy for the future of VR may not create an unshakable hype train like Microsoft and Sony have. Regardless, the Quest 2 might have positioned itself as the most next-gen device to be released this year, thanks to unique, immersive experiences and a price that undercuts new consoles by up to $200.