Apple: Great Company But Likely Poor Investment For The Future (NASDAQ:AAPL)
Investment Thesis
Apple (NASDAQ:AAPL) is a tech giant, and the highest market capitalization stock traded on the stock market. The iPhone is the most successful consumer product ever created in the entire universe. A successful encore is nearly impossible. As the innovator of the smartphone, Apple has had unrivaled success and is a global powerhouse and dominant position the United States, especially with teenagers and young adults.
Globally, around 1 billion people have an iPhone. Since the launch of the iPhone sales is estimated to have totaled $2 trillion. Apple is the most valuable company of all time, with a market cap of $2.6 Trillion.
However, revenue and earnings growth has slowed to the 4-6% range. This slow growth is primarily a victim of "The Law of Large Numbers" and Apple's on success. Additionally, Apple has not been immune to COVID-19 supply chain chokepoints and a saturated smartphone market. Most of the developed world has a smartphone so business there is replacement only and few new features warrant an upgrade. In the developing world, fewer customers can afford the luxury of purchasing the status symbol of buying an iPhone.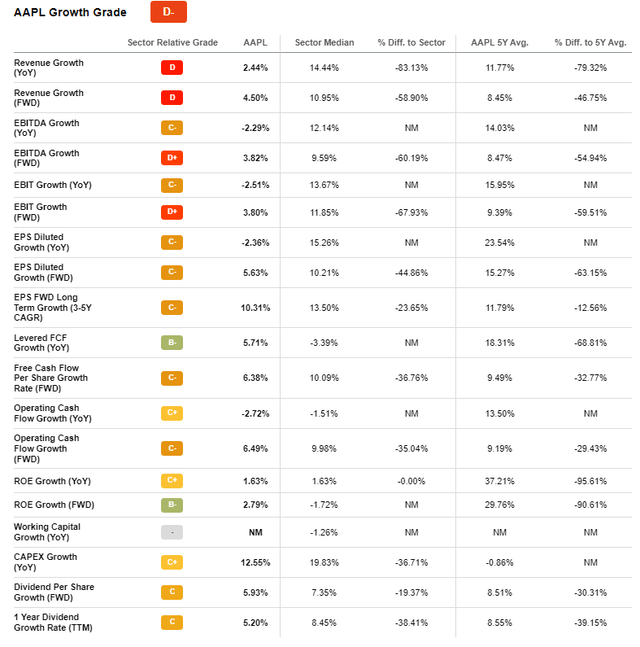 Nonetheless, Apple is still priced as a growth stock with a 27.8 PE (Price to Earnings ratio). Given that AAPL had a 12 PE in 2013 when its 8.6% 10-year CAGR revenue was still in front of them, we would not be surprised to see the PE fall to this level which would be more appropriate given its low forward expected growth. Apple has been one of the greatest investments of all time. I hope you own it and are in a position to sell or trim. I believe the stock will underperform over the next 5-10 years and do not own any shares.
Outlook
Consumer spending is expected to weaken in FY23. Apple's financial performance is heavily reliant on the success of their consumer products like the iPhone. Around 52% of revenue in FY22 came from iPhone sales, trailed by services which made up 20%. Additionally, iPhone sales have been flat in recent years, stagnating or declining since FY15. No other device Apple has produced has had the growth rate or sales of the iPhone. It is not even close as the iPhone is the most successful consumer product ever created in the entire universe.
Apple's market share in the smartphone market ballooned to record highs in FY20, reaching 61% in the US. While investors had been hopeful of a similar trend in China with its emerging middle class, Apple has not been able to breach the 25% mark in market share since the iPhone launched in China in 2009. Additionally, despite iPhone sales stagnating, iPhone users have steadily grown. While this will increase the company's service revenue, it is clear that people are not as eager to buy brand-new iPhones every year as they have been in the past.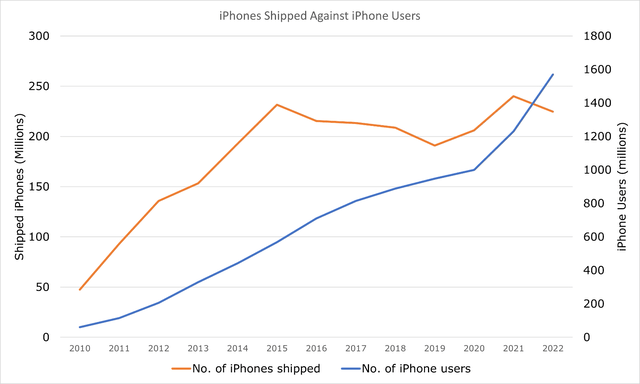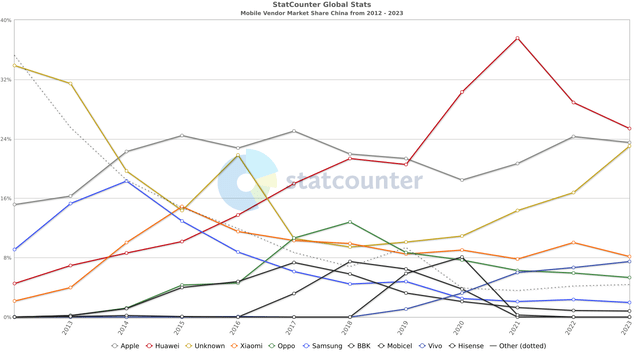 There is room to grow in the service area, with AppleTV launching its subscription service. But the market is already saturated with everyone rolling out streaming services. Apple has only been able to breach just over 10% market share in this area.
Apple has made no friends in the advertising space, with its strict rules around advertising and user tracking making it an unattractive platform to advertise on. While this has been applauded as pro-privacy and pro-consumer, it dulled their own ability to carve out a revenue stream.
Apple is under scrutiny in the United States and Europe for competitive iPhone and MacOS ecosystem practices. Since 2019 Apple has been under investigation in the US on whether or not it suppresses third party apps in favor of its own. In Europe meanwhile, the entire MacOS ecosystem has been declared as a "threat to competition [utilizes] practices [that] effectively prevent them". Not only this, but the most downloaded app on iPhones today is TikTok, which has come under equally harsh scrutiny.
It is not as though AAPL is not a financially healthy company, it has fantastic margins on every level and eyewatering levels of free cash flow yearly – nearly $100 billion. In 1Q23 AAPL repurchased $20 billion in stock but has been stingy on the dividend with only a 0.56% forward yield. We struggle to see why management would prioritize further repurchases instead of dividend expansion at these stock valuations. Our guess is the board is concerned a reasonable dividend would be like an announcement that Apple's growth days are behind it. Consistently spending $80 billion per year on repurchases and reducing outstanding share count by roughly 4% is not a sign of a company that believes that it has lots of opportunities to invest capital in areas that will match their existing business. That gets back to the core of the problem; no business is going to have the size and margins of Apple's hugely successful iPhone.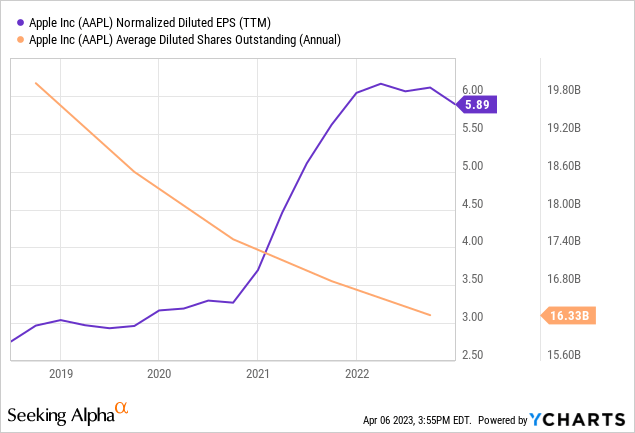 While the financial robustness of Apple is hard to deny, we have growing concerns about the stagnation in earnings per share and revenue – especially in segments that used to be powerhouses. The company's market share has also not budged, and efforts to expand into streaming with AppleTV and Apple Music have faced steep competition. We no longer believe there is a likely long-term case for Apple from a growth investor's perspective and have removed it from our portfolio.
Downtown decay: Greater investment needed to reverse decline
In Part 3 of its Downtown Decay series, CTV News Toronto examines the path forward for the city's slumping core—and what can be done to reverse the troubling trend.
It is lunch hour in Toronto's core, and the Front Street patio tables are set. It's midweek, it's May, and the skies are clear—but the office crowd is scarce, and the chairs sit empty.
It's a tell-tale sign that fewer people are downtown these days, with plenty of reasons to avoid the area.
"Transportation has been a hot mess," said Jay Daye, who lives downtown. "It has been a struggle to get around."
"I have never seen this much construction at a single time," said Akash Thomas, who moved here from India three years ago.
Improving the commute into the core, and the ease with which people can move around within it, is key to revitalizing a slumping city centre, said Matti Siemiatycki, director of the Infrastructure Institute at the University of Toronto's School of Cities.
A 'for sale' sign in the window of a commercial building in downtown Toronto. (CTV News Toronto)
"It's just like a litany of transportation challenges in that area, to the point where politicians are in some cases saying 'Don't come into downtown,' which is the opposite of what we need right now," he said.
"We're talking about a downtown core that is struggling, and needs huge numbers of people to come in and out, and be able to do that easily."
With activity levels at just 47 per cent of what they were in the core pre-pandemic, the data suggests a downtown decline spurred by a lockdown-led drop in the nine-to-five office crowd. But with hybrid and remote work here to stay in at least some capacity, some experts suggest reorganizing the role of Toronto's core in the city's economy.
"If you're not able to attract people to work, attract people for amenities," said William Strange, who teaches urban economics at the University of Toronto. "The stronger are the amenities, the happier people are going to be to go into their office anyway."
"What I see is a huge opportunity for downtown Toronto to remake itself," Karen Chapple, director of the University of Toronto's School of Cities, told CTV News Toronto.
The key, she said, would be to reinvent the area as a mixed-use community, a model other urban centres have demonstrated to be successful.
"What I just hope, though, as we're attracting sectors back, is that they are not nine-to-five sectors, because that's what killed some of these downtowns."
People passing by an empty patio on a sunny day in downtown Toronto. (CTV News Toronto)
The revitalization of the core will be a critical challenge for the city's next mayor, Siemiatycki said, who warned service cuts could worsen an already-spiralling problem.
But investment won't be possible without a rethink of the city's fiscal framework, according to Matt Elliott, publisher of City Hall Watcher.
"If you look at the city's budget hole and you say, 'We're just going to keep doing what we're doing,' and you're not going to have a real plan to fill that budget hole, that gets into some really dicey territory," Elliott said. "Because that's when you start looking at really deep cuts."
It's not ideology, he said—it's math.
"I don't think we've realized that we've fallen down this ladder in terms of our prosperity," Giles Gherson, incoming Toronto Region Board of Trade president, told CTV News Toronto.
Gherson warned that without a new financial deal for the city, which heavily supports services that should be the responsibility of Ottawa and the province, Toronto's downtown would fall further behind.
"We're poor," he said. "We're a poorer place than we used to be."
The core, he argued, is in need of a correction, if the city is to salvage its productivity, maintain job growth, and remain competitive globally.
"We haven't been paying attention," he said. "We've been sleeping, and it's falling off. So that's what we need to fix—and that's a big deal."
FTX: Singapore state fund Temasek cuts pay after failed investment – BBC
Singapore state-owned investment fund Temasek Holdings says it has cut the pay of staff responsible for its investment in cryptocurrency exchange FTX, which collapsed last year.
In November, the fund wrote off all of the $275m (£222.8m) it invested in FTX.
Mr Bankman-Fried has pleaded not guilty to the charges.
"The investment team and senior management, who are ultimately responsible for the investment decisions made, took collective accountability and had their compensation reduced," Temasek said in a statement on Monday.
The sovereign wealth fund also said it was "disappointed with the outcome of our investment, and the negative impact on our reputation."
Temasek did not indicate how much salaries were reduced by.
It had invested $210m and then another $65m in FTX in two funding rounds between October 2021 and January 2022.
Last year, the state-owned fund said that before making those investments it had spent eight months evaluating the cryptocurrency exchange. This included the review of an audited financial statement "which showed it to be profitable."
As of March 2022, Temasek was worth more than S$403bn ($298.1bn; £241.3bn), so the money it had put into the cryptocurrency platform accounted for a small percentage of its investments.
However, Singapore's deputy prime minister Lawrence Wong said in December that Temasek's losses in FTX had caused damage to the fund's reputation.
"The fact that other leading global institutional investors like BlackRock and Sequoia Capital also invested in FTX does not mitigate this," added Mr Wong, who is also the country's finance minister.
Sovereign wealth funds are like a savings account for a country, and they typically invest in shares, currencies, property or other assets.
FTX, which a year ago was valued at $32bn, filed for bankruptcy protection in November. It has been estimated that $8bn of customer's funds was missing.
Mr Bankman-Fried, who co-founded FTX in 2019, was one of the most high-profile figures in the cryptocurrency industry, known for his political ties, celebrity endorsements and bailouts of other struggling firms.
In December, prosecutors announced eight criminal charges against Mr Bankman-Fried, including wire fraud, money laundering and campaign finance violations. Another five charges were levied against him in March. Financial regulators have also brought claims against Mr Bankman-Fried.
FTX co-founder Gary Wang and Caroline Ellison, the former head of Alameda, have also been charged over their alleged roles in the company's collapse.
Mr Bankman-Fried was arrested in December in the Bahamas, where he lived and FTX was based.
Singapore's Temasek cuts compensation for staff responsible for FTX investment
May 29 (Reuters) – Singapore state investor Temasek Holdings (TEM.UL) said on Monday it had cut compensation for the team that recommended its investment in the now-bankrupt FTX cryptocurrency exchange, as well as for its senior management team.
The move comes around six months after Temasek initiated an internal review of its investment in FTX, which resulted in a writedown of $275 million.
"Although there was no misconduct by the investment team in reaching their investment recommendation, the investment team and senior management, who are ultimately responsible for investment decisions made, took collective accountability and had their compensation reduced," Temasek Chairman Lim Boon Heng said in a statement posted on Temasek's website on Monday.
Temasek did not detail the amount of compensation cut.
Temasek had said its cost of investment in FTX was 0.09% of its net portfolio value of S$403 billion ($304 billion) as of March 31, 2022, and that it currently had no direct exposure in cryptocurrencies.
Temasek also said last year it had conducted "extensive due diligence" on FTX, with its audited financial statement then "showed it to be profitable".
FTX's other backers such as SoftBank Group Corp's (9984.T) Vision Fund and Sequoia Capital had also marked down their investment to zero after FTX, founded by Sam Bankman Fried, filed for bankruptcy protection in the U.S. last year.
"With FTX, as alleged by prosecutors and as admitted by key executives at FTX and its affiliates, there was fraudulent conduct intentionally hidden from investors, including Temasek," Lim said in the statement on Monday. "Nevertheless, we are disappointed with the outcome of our investment, and the negative impact on our reputation."
Temasek seeks to deliver sustainable returns over the long term by investing into early-stage companies, Lim said.
"While there are inherent risks whenever we invest, we believe that we have to invest in new sectors and emerging technologies to understand how these areas may impact the business and financial models of our existing portfolio, and whether they would be drivers of future value in an ever changing world," Lim added.
($1 = 1.3245 Singapore dollars)
Reporting by Urvi Dugar in Bengaluru and Yantoultra Ngui in Singapore; Editing by Himani Sarkar and Lincoln Feast.