Apple ramps up production ahead of 5G iPhone debut – Nikkei Asian Review
TAIPEI — Apple and its key suppliers are ramping up production and working through holidays to make sure the long-awaited 5G iPhone range will hit shelves soon after it is unveiled on Oct. 13.
The two most important iPhone assemblers, Foxconn and Pegatron, have been running at full production speed during China's two most important holidays — the Mid-Autumn Festival and the Golden Week holiday that follows its National Day — Nikkei Asia has learned.
Initial production of the highly anticipated 5G iPhone began around mid-September, in line with Nikkei Asia's previous report, with more substantial production output starting in early October. Both Apple and its suppliers have been working hard for months to shorten the production delay caused by the coronavirus pandemic.
The production volume for the new 5G iPhone range could end up between 73 million and 74 million units for this year, Nikkei Asia reported, falling short of Apple's original orders for up 80 million units' worth of components due to production and development delays caused by the coronavirus outbreak. The production shortfall will likely be made up early next year, if sales are as strong Apple expects. Production of all the latest iPhones and the flagship 5G lineup remains in China, despite the tech industry's huge migration out of the country, Nikkei reported.
Foxconn said it does "not comment on any aspect of our operations or our work for any customer" as a matter of policy. "However, we can say that all holiday and overtime work arrangements carried out by employees in our facilities in China are entirely voluntary and they fully comply with all relevant laws and regulations."
Pegatron declined to comment on specific clients or products.
Apple last week sent out an invitation for an online press event on Oct. 13 to announce the release of the 5G iPhones, weeks after it hosted a virtual event to launch new iPads and Apple Watch and about one month later than it usually unveils its flagship iPhones.
The Cupertino-based tech giant is set to introduce four models of 5G iPhones with three screen sizes: 5.4-inches, 6.1-inches and 6.7-inches. All four of the phones will sport the most advanced organic light-emitting diode displays, which is mostly supplied by Samsung Display and LG Display of South Korea.
Two of the 5G iPhones — the 6.1-inch and 6.7-inch models — will come with high-end triple cameras, which will likely feature an artificial intelligence-powered object detection feature that could better enable augmented reality applications. The other two models will sport dual cameras like last year's popular iPhone 11.
The full 5G iPhone range will be powered by Apple's in-house designed A14 mobile processors, which are produced by Taiwan Semiconductor Manufacturing Co. using the Taiwanese company's latest 5-nanometer chip production technology — currently the industry's most advanced.
The new iPhones will be the first smartphones in the world to use such advanced chips, following Apple's announcement in September that its new iPad Air will also boast the A14 chips. Apple will also not include a charger or wired earphones with its new iPhones, both to keep costs down and because many iPhone users already have these accessories.
Apple's launch of its flagship iPhones comes as its embattled rival Huawei Technologies — which briefly overtook Samsung Electronics' as the world's leading smartphone maker by shipments in the June quarter — announced it will launch its flagship Mate 40 smartphone on Oct. 22.
Huawei is battling an ongoing U.S. clampdown that restricts all suppliers, American or not, from using American technology to serve the Chinese tech giant unless they receive a specific license. This restriction has affected everyone from TSMC, Micron and Samsung to Sony, Qualcomm and Largan Precision, a high-end camera lens provider.
The Mate 40 models will be equipped with Huawei's in-house designed Kirin mobile processor, which, like Apple's A14 chip, is produced by TSMC using 5-nanometer technology. Because Huawei cannot receive support from unlicensed chip suppliers, however, the company's chip supply may run out. Huawei's Mate series usually competes head-to-head with Apple's new iPhones in the final quarter of the year.
Growing geopolitical tensions could also impact Apple's 5G iPhone sales in China if the Trump administration forces the company to remove popular Chinese apps like WeChat or TikTok from its app store. Meanwhile Beijing in September rolled out a set of rules for its "Unreliable Entity List," a list of foreign companies accused of treating Chinese companies unfairly. The Global Times, the mouthpiece of the Chinese Communist Party, previously hinted that Apple, Qualcomm and Cisco Systems could be among the potential targets of Beijing's retaliation.
While market watchers foresee more uncertainty for the smartphone market due to the pandemic and geopolitical tensions, they are hopeful of a recovery in 2021.
Luke Lin, an analyst with Digitimes, expects Samsung, Apple, Oppo, Vivo and Xiaomi to see healthy growth in smartphone shipment next year, while Huawei will see a significant decline due to the U.S. crackdown. Total iPhone sales will surpass 220 million units in 2021, from around 195 million units this year, and Apple will reclaim the No. 2 position in the global smartphone market, according to Lin's forecast.
All hopes of Apple's AirPower charging mat are lost, yet again
If you haven't heard of the AirPower charging mat, it was a product that Apple announced in 2017 along with the drastically redesigned iPhone X which would let you wirelessly charge AirPods, an Apple Watch, and the iPhone, wherever you placed them on the mat. Apple eventually announced it was abandoning the project, reportedly due to complications with overlapping charger coils overheating.
Apple shows off the AirPower charger during its September 2017 keynote
Some time passed after the initial cancellation and new reports from reliable Apple leaker @JonProsser claimed that the AirPower charging mat had re-entered development and even managed to get the Apple Watch to charge (which was a reported issue within the first round of development.
All AirPower prototyping / testing has been removed from the schedule for 2021.

Sources doubt that it'll ever be picked back up again.

Seems like once again, AirPower is dead.

— Jon Prosser (@jon_prosser) October 26, 2020
On Monday, the same leaker refutes his own reports stating that Apple has once again cancelled the AirPower mat. According to Prosser's sources, they doubt that Apple will ever get the AirPower into development again. This would coincide with a shift in Apple's recently announced MagSafe, which has created a new ecosystem for iPhones and accessories. MagSafe seems to be a lower-risk alternative to AirPower for Apple and besides, other third-party OEMs have already invented a similar three-product wireless charging pad without the overlapping coils.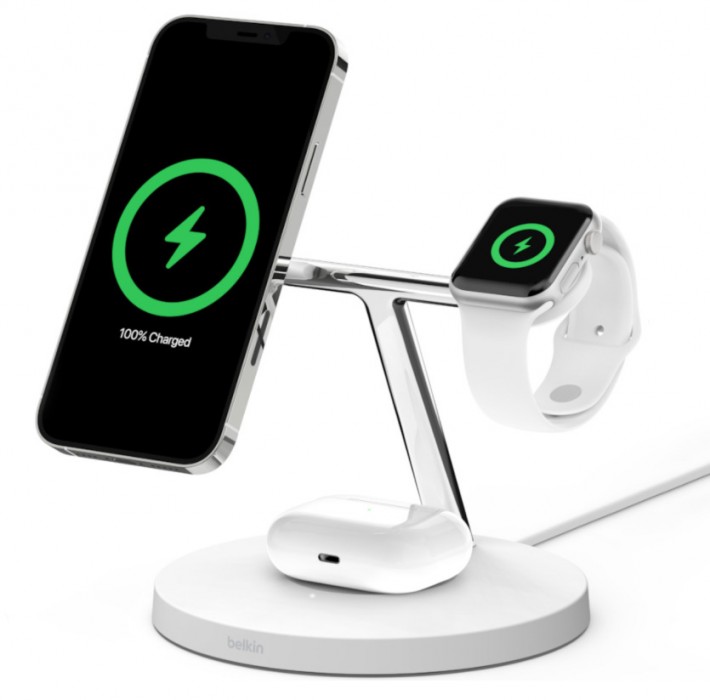 The spirit of the AirPower mat unofficially lives on with the new 3-in-1 Wireless Charger with MagSafe made by Belkin. It has the magnetic mounts for the iPhone 12's MagSafe with up to 15W wireless charging speeds and supports AirPods and an Apple Watch, all simultaneously. This Belkin charger retails for $150 in the US.
Via Twtiter
Source:- GSMArena.com news – GSMArena.com
iPhone 12 can act as 5GHz Wi-Fi hotspot, boon for 5G
Apple's iPhone 12 series sports an upgraded hotspot mode that supports 5GHz Wi-Fi connectivity, greatly expanding the handsets' utility amid a worldwide buildout of 5G cellular networks.
As noted by multiple reports on Twitter, including Zollotech's Aaron Zollo, iPhone 12 devices include the new Personal Hotspot ability that serves as an upgrade over previous iPhone models. Prior to iPhone 12, Apple's smartphone was able to connect to both 2.4GHz and 5GHz bands, but limited hotspot duties to the 2.4GHz band.
The capability is not spelled out in Apple's marketing materials, nor is the feature explained in iOS. Zollo, however, has confirmed a new "Maximize Compatibility" option manages switching between the two bands.
"Internet performance may be reduced for devices connected to your hotspot when turned on," according to the feature's description.
While the disclaimer is vague, Zollo says the setting moves Personal Hotspot to the 2.4GHz band to enable compatibility with a wider array of devices. Switching the option off presumably locks iPhone 12 handsets into a 5GHz Wi-Fi mode for faster data transmission.
The addition should prove beneficial to users in areas where 5G cellular connectivity is rolling out. Currently, most locations with 5G are limited to sub-6GHz bands with speeds comparable to existing 4G LTE networks. Some urban locales, however, are getting a taste speedy mmWave bands and will be able to take advantage of iPhone 12's faster hotspot.
Apple's iPhone 12, iPhone 12 mini, iPhone 12 Pro and iPhone 12 Pro Max support mmWave, but only in the U.S. To enable access to the protocol, domestic iPhones integrate a special mmWave antenna window that resides in a cutout below the side button.
Source:- AppleInsider
Five iPhone 12 features you won't find on any Android phones (and one Apple is missing!) – Daily Express
iPhone 12 and iPhone 12 Pro landed on shelves on Friday October 21, with those who managed to pre-order earlier this month receiving their new smartphones through the post on the same day. Apple looks like it's struggling to keep up with demand – with shipping estimates now slipping well into mid-November on most models. This could be a sign that Apple fans are flocking to the new design, reworked cameras and 5G support… or the widespread shutdowns due to the global pandemic have seriously impacted the Californian company's ability to manufacture handsets and ship them around the world at its usual scale. Who knows, it could be a bit of both.
What we do know is exactly how the iPhone 12 series stacks-up against its closest rivals from the likes of Samsung, OnePlus, Sony and Google. So, to breakdown exactly what the new iPhone has going for it – as well as what it's sorely missing – here is a list of five features that you won't find on its Android counterparts.
1) iPhone 12 features you won't find on Android: Ceramic Shield
Ceramic Shield is a new toughened glass developed with Apple and smash-proof specialists Corning. Although you'll find Corning's super-strength Gorilla Glass product, including the latest Gorilla Glass Victus (which is designed to prevent against day-to-day scuffs and scratches as much as drops) announced back in August, on a huge array of Android smartphones, the company uses a custom formulation when it works with Apple. And according to both companies, the latest result of this partnership is truly special.
Dubbed Ceramic Shield by the Apple Marketing department, the Californian company says it's tougher than any other smartphone glass available right now. Corning and Apple have infused the toughened glass with nano-ceramic crystals to improve toughness. The result? Apple says all four new iPhone 12 models are four times more likely to survive accidental drops.
2) iPhone 12 features you won't find on Android: MagSafe
Android smartphones have had wireless charging support for years… and Apple was incredibly slow to jump on the bandwagon. However, now that wireless charging is baked into every iPhone on-sale in the Apple Store, the US company is now bringing some interesting new additions to the table. MagSafe, which borrows its brand name from the trip-proof magnetic charging cables previously shipped with all MacBooks, lets the wireless charging puck snap to the back of your iPhone. This ensures the smartphone can't buzz itself out of alignment with the charging coils after a few notifications and means you'll be able to pick-up and use your iPhone when it's charging.
Of course, you can do all of that with a good ol' fashioned cable. But a charging cable isn't much good if you trip over it – it'll send your £999 iPhone 12 Pro flying across the room. That's something that won't happen with MagSafe. And more interesting than charging, Apple is already using MagSafe for a series of new accessories, including a lightweight card-holder that magnetically sticks to the back of your handset and new cases that trigger custom animations to match the colour of the accessory. Third-parties will be allowed to make their own MagSafe gadgets, so we're likely to see a truckload of interesting applications – from car charging mounts, to wallets and folios – over the coming months.
3) iPhone 12 features you won't find on Android: A14 Bionic
While most flagship Android smartphones are fuelled by the latest-and-greatest from US chipmaker Qualcomm, Apple designs its own processors. This has enabled the Californian firm to focus on what it prioritises – battery life, speed, camera – compared to a one-size-fits-all approach designed to work in devices from a wide variety of manufactures, like the Snapdragon 865. For the last few years, Apple's approach seems to have really paid off, with iPhones regularly toppling Android handsets with three times the amount of RAM during benchmark tests.
With the A14 Bionic, Apple is toppling its own MacBook Air models. The chipset inside the iPhone 12 series is the first smartphone silicon to be built on a 5-nanometer process. In a nutshell, that means all of the core components are squeezed together on a minuscule chip – allowing data to travel less distance and using less energy, which makes the smartphone faster and boost battery life, respectively. That's a (very) simplified explanation, but all you really need to know is that A14 Bionic is a true beast.
It boasts the fastest CPU and GPU by up to 50 percent compared to the fastest competing smartphone chips. A14 Bionic also includes a 16-core Neural Engine – designed to hope with AI tasks handled on the handset itself, like identifying faces in the Photos app, suggesting iOS apps throughout the day based on your habits, and more.
Apple says its A14 Bionic boasts an 80 percent increase in performance and is capable of completing 11 trillion operations per second. Android cannot match that… until the Huawei Mate 40 Pro, which will use a Huawei-designed chipset built with a 5nm process – but no access to YouTube, Google Maps or the Google Play Store, launches in the coming weeks.
4) iPhone 12 features you won't find on Android: Smart Data Mode
5G is clearly the future. This next-generation mobile signal allows super-speedy downloads and lower latency. Better yet, 5G smartphones won't lose speed when in a crowded area, like a packed football stadium, sell-out gig, or festival – something that can't be said for 4G. However, 5G can be a bit of a tax on battery life.
Most Android manufacturers have solved this issue by increasing the size of the battery cell. There's no denying it, this works pretty well. However, Apple has taken a different approach to enable it to create the "smallest and lightest" 5G smartphone on the planet – the diddy new iPhone 12 Mini, which launches in November.
Dubbed Smart Data Mode, the iPhone 12 will toggle between 4G and 5G based on how much bandwidth it thinks you need. So, if you're reading an email, or a long-form article – like this one – chances are, 4G speeds will work fine. So, Apple will quietly shift over your iPhone 12 to this slower mobile technology and conserve battery life. But, if you're about to jump on the train to start the morning commute and try to download an entire season of a show on Netflix, iPhone 12 will connect to 5G and download hours of HD content in a few minutes.
5) iPhone 12 features you won't find on Android: Dolby Vision
If you're a budding Hollywood director, the iPhone 12 is the first device on the planet that offers the ability to film and edit Dolby Vision HDR footage. Video can be shot in up to 60 frames-per-second – comfortably more than the 24fps most blockbusters are filmed at – and edited within the Photos app or iMovie. Dolby Vision grading is processed live and sustained during editing thanks to the grunt of the A14 Bionic (see above). Apple's professional-grade editing software Final Cut will be updated to support Dolby Vision HDR soon and you can already playback your latest movie with an Apple TV too.
1) Android features you won't find on the iPhone 12: High-Refresh Rate Display
A dizzying number of Android smartphones – at the same price point as the iPhone 12 and iPhone 12 Pro, as well as much cheaper – already offer a high-refresh rate OLED display. For those who don't know, until recently, most smartphone displays were 60Hz, which meant they refreshed the image 60 times each second. Doubling that to 120Hz makes system animations smoother, removes the stuttering from scrolling, makes fast-paced video games feel more responsive and much more.
Unfortunately, Apple has decided to keep the refresh rate at 60Hz across the iPhone 12 series. It's a shame as Apple is well aware of how brilliant 120Hz panels can be – the company was one of the pioneers of this technology when it introduced it to the iPad Pro range years ago. Given the shared "Pro" branding between this premium tablet and the iPhone 12 Pro, it seems odd Apple hasn't included it in the £999+ smartphone at the very least.