Apple responds to antitrust pressure with App Store PR blitz – 9to5Mac
Apple is today responding to increasing antitrust pressure with an App Store PR blitz. This includes a complete revamp of its main App Store page, a new page promoting the benefits of the App Store to developers, new messaging, and a new program for developers of streaming video apps.
The response begins on Apple's homepage, with a large banner at the top pointing visitors to the new App Store page. The headline message is 'The apps you love from a place you can trust' …
The new page again stresses the consumer benefits of a curated app store.
For over a decade, the App Store has proved to be a safe and trusted place to discover and download apps. But the App Store is more than just a storefront — it's an innovative destination focused on bringing you amazing experiences. And a big part of those experiences is ensuring that the apps we offer are held to the highest standards for privacy, security, and content. Because we offer nearly two million apps — and we want you to feel good about using every single one of them.
The new page for developers is headed 'Together we turn apps into opportunities.'
Apple is committed to helping developers turn their brightest ideas into apps that change the world. That's why the App Store helps you from start to finish — to build, test, market, and distribute your products and grow your business. Our marketplace is secure, trusted, and accessible — connecting you to over 1.5 billion devices in 175 regions. The App Store and you. Together every step of the way.
This again stresses the privacy and security message.
Over a decade of trust and success. In 12 years, the App Store has grown from 500 apps to 1.8 million — all reviewed to comply with our rigorous standards for privacy, security, and content. All along the way, we've provided developers with the cutting‑edge tools and end‑to‑end support they need. So they can keep making the apps that change how people work, play, meet, learn, travel, and live their lives.
The pages contain some new facts and figures, the most notable of which is that more than a million apps have been rejected for objectionable content, with more than 150,000 apps rejected last year alone for failing to adhere to Apple's privacy requirements.
One of the antitrust accusations leveled against Apple is that it doesn't live up to its claim to treat all developers equally. There is evidence of Apple offering special deals for large developers whose apps the company wants to have on its platform.
We learned in July that Amazon Prime Video pays half the usual App Store commission, in a special deal agreed between Jeff Bezos and Eddy Cue.
Apple is also accused of creating arbitrary rules to allow it to appease companies like Netflix. It claims that it has since 2016 offered a program open to all video streaming apps, but has for the first time formalized and promoted this in the form of a new webpage for the Apple Video Partner Program.
This program is designed for apps that deliver premium subscription video entertainment services. Participating apps are required to integrate with a number of Apple technologies, such as Universal Search, Siri, AirPlay, and single sign-on or zero sign-on, to ensure a seamless experience for customers.

As a result of this integration, these apps are featured on the Apple TV app and throughout tvOS, and their content is discoverable through Universal Search and Siri.

As a program member, you earn 85% of sales from customers who sign up using Apple's in-app purchase system. You may also allow customers who subscribe using your payment method outside of the app to use that payment method for additional video transactions within the app. You must enable in-app purchase to enjoy these economic benefits.
Apple's response comes as a number of big developers banded together to form a coalition intended to coordinate antitrust battles over the App Store.
I argued back in July that Apple's antitrust woes aren't going anywhere, and it needs to address them head-on. The company seems to be getting halfway there with the PR blitz offering better messaging, together with a more formal and consistent approach to its exceptions, but it still seems determined to resist any move likely to reduce its income from developers.
FTC: We use income earning auto affiliate links. More.
Check out 9to5Mac on YouTube for more Apple news:
[embedded content]
Hands-On With the New iPhone 12 Pro – Mac Rumors
Happy launch day! The new iPhone 12 and iPhone 12 Pro are arriving to pre-order customers as of today and are hitting stores worldwide. We picked up a Pacific Blue ‌iPhone 12 Pro‌ and thought we'd share our first impressions for MacRumors readers still deciding on a purchase or waiting for their own iPhones to arrive.
Subscribe to the MacRumors YouTube channel for more videos.
This year's iPhones include no EarPods or power adapter in the box, so there's a new, more environmentally friendly box that's slimmer than the prior boxes. There's the phone itself, a Lightning to USB-C cable, a few small regulatory booklets, an Apple sticker, and a SIM ejection tool.

The squared-off edges of the new iPhone design are a major departure from the rounded edges we've had since the ‌iPhone‌ 6, so the feel of the flatter edge will take some getting used to. It can be a bit more uncomfortable to hold in the hand when you're unaccustomed to it, but it does feel secure and easy to hold on to, even though it's thinner than the iPhone 11 models.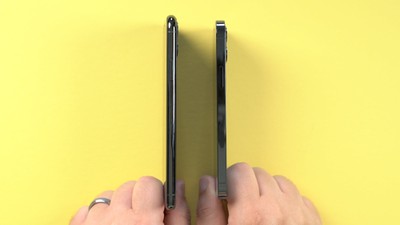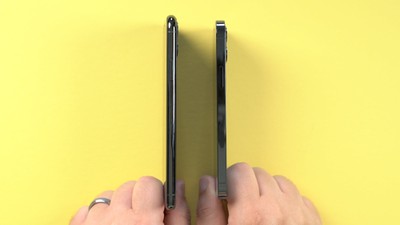 Design wise, the new ‌iPhone 12 Pro‌ looks similar to the iPad Pro or something like the ‌iPhone‌ 5, so if you love that flat edged look, this is the phone for you. We think it looks great, and it's a refreshing change from rounded edges. There have already been complaints about those shiny stainless steel edges on the Pro models, and we can confirm, that glossy material is a fingerprint magnet. The Pacific Blue color is unique, but it doesn't do much in terms of hiding fingerprints.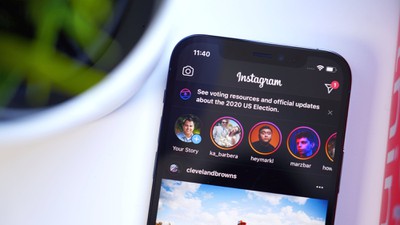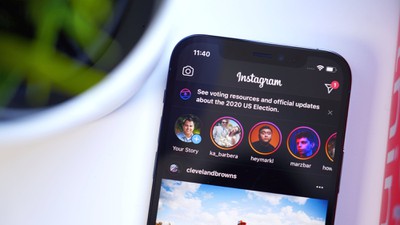 The ‌iPhone 12 Pro‌ is 6.1 inches, which is about the same size as the ‌iPhone 11‌ before. Last year's Pro model was 5.8 inches, so expect a bit of a size increase, but overall, the sizes aren't hugely different.
Apple added a new Ceramic Shield display that offers 4x stronger drop protection, but we're not going to test that claim and ruin a perfectly good ‌iPhone‌. Drop tests will be coming, though, and note that Apple makes no claims when it comes to protection against scratches and dings. Our ‌iPhone‌ is new enough that it's in perfect condition, but there have been early reports that the screen is easier to scratch than normal, which is something to keep an eye on.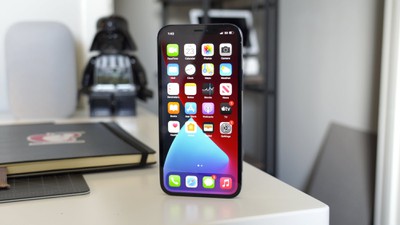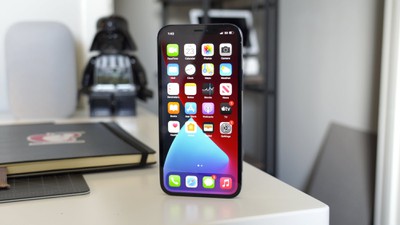 We covered MagSafe cases and chargers earlier this week before we had a new ‌iPhone‌ and were curious if the magnetic connection is stronger with an actual ‌iPhone 12‌ in hand, and it does seem like there's a small difference. It's still not as magnetic as we might have expected, and while we don't have a Wallet accessory on hand to test yet, there's a good chance it's not going to be the best accessory to slap onto the back of the phone.

All of the new ‌iPhone 12‌ models support 5G, but we can't give feedback on connection speeds because it's just too early. That's something we'll follow up on in another video, but for the fastest mmWave 5G, you need to be in specific parts of specific cities to use it, so most people won't be experiencing it.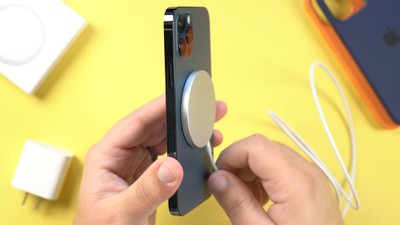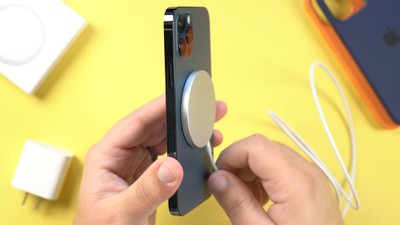 Most people will connect to slower Sub-6GHz networks. We have a T-Mobile ‌iPhone 12 Pro‌, and so far, the speeds seem to be a bit faster than on LTE, but for Verizon, LTE was faster. We'll also need to come back to the A14 chip after we've had some time to test it out, but it is unsurprisingly the fastest chip in an ‌iPhone‌ yet.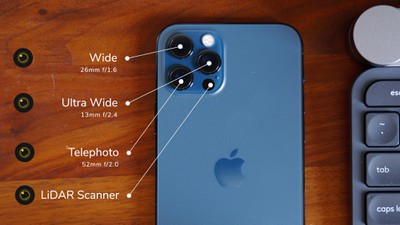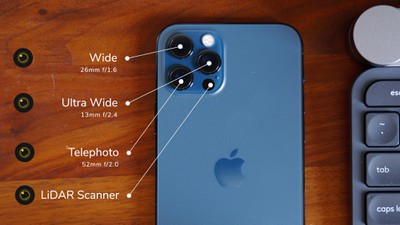 The ‌iPhone 12 Pro‌ has a middle-tier camera that's better than the ‌iPhone 12‌ camera but not quite as good as the camera setup in the Pro Max, launching in November. There are three lenses along with a LiDAR Scanner, which brings some neat features like Night Mode portraits, ‌Night Mode‌ for the Ultra Wide lens, and improved low-light performance.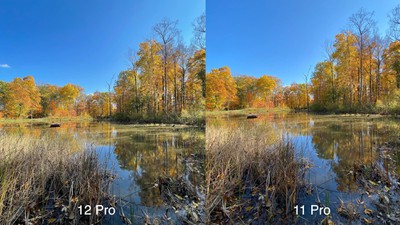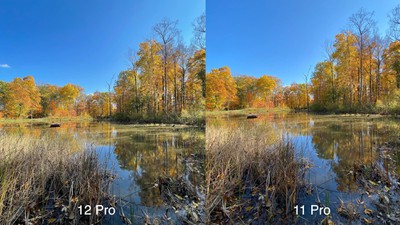 Ultra Wide lens comparison
The LiDAR Scanner works by sending out light and measuring the time it takes to reflect back from objects, mapping out the entire space around you. In addition to photography features, it also has some AR applications, but developers need to incorporate the new technology into apps before we can see what it can really do.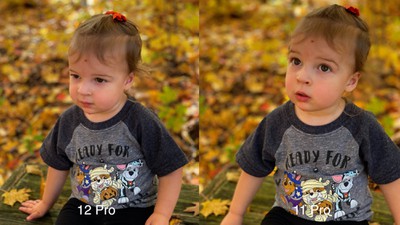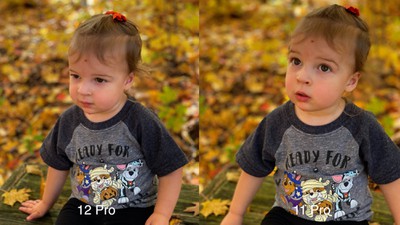 Portrait mode comparison
As for the camera quality, we'll have a deep dive, but early photos are promising. The 7-element Wide camera has an f/1.6 aperture that lets in 27 percent more light, and there's an improved optical image stabilization system that makes 5000 adjustments per second. The ‌iPhone 12 Pro‌ is also capable of shooting 4K HDR and Dolby Vision video, which we'll show off more in-depth in a future video.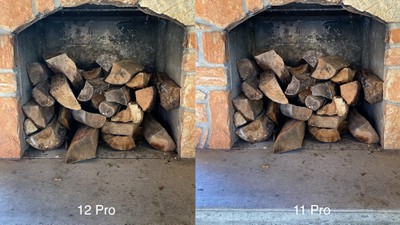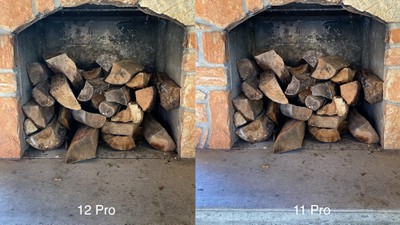 Telephoto comparison
Make sure to stay tuned to MacRumors because we're going to have a lot more ‌iPhone‌ coverage coming, including those aforementioned deep dives into 5G connectivity and camera technology. When November rolls around, we'll also be able to see the real differences between the ‌iPhone 12 Pro‌ and Pro Max camera systems.
Telus Sky's Northern Lights to premiere Saturday night – Calgary Herald
Article content
An art installation years in the making that promises to amplify Calgary's nighttime skyline will officially debut on Saturday night.
Northern Lights, a light show installed on two sides of the Telus Sky building, was created by artist and author Douglas Coupland. It features 2.2 kilometres of LED lighting, 600 custom bulbs and 89,000 pixels of light.
The lights — which wrap most of the windows on the building in an inverted L shape — combine to depict the aurora borealis in motion, along with a myriad of other patterns. The show will be visible on both the north and south facing sides of Telus Sky, a 59-storey skyscraper at 685 Centre St. South.
Calgarians have been seeing test runs of the show periodically for months, but Saturday night will be the official launch of the full show.
At 160,000 square feet, Northern Lights will be the largest art installation in Calgary.
After the Saturday night premiere, Northern Lights will run every night year-round, starting about one hour before sunset to 11 p.m.
Telus is recommending people watch the show from the ground from Centre Street and Stephen Avenue or Centre Street and 9 Avenue.
Montague man takes aim at International Space Station project – CBC.ca
A man from eastern P.E.I., currently on a post-doctoral fellowship at Harvard, is looking to help put an experiment on board the International Space Station (ISS) next year.
Justin Pater of Montague has been named a mentor on the Genes in Space project, an annual competition for high school students.
The competition is open to students from grades 7 to 12 from across the U.S. They're asked to design experiments that use DNA analysis to solve real-world problems in space exploration. The winning experiment is carried up to the International Space Station.
"Being a nerd myself, it's definitely a cool opportunity," said Pater.
"It's really a great opportunity for the high school students because it really gives them an opportunity to see the things they learn in a classroom can actually be applied to solve real, like applicable, problems."
The ideas come from the students in consultation with their teachers locally, who then pitch their ideas to one of the mentors appointed by the competition. Pater will choose some groups of students to work with.
"We can throw the resources of Harvard at the problem and try to make that experiment possible," he said.
The competition organizers will narrow the field down to five finalists. The winning team will visit NASA to train astronauts on how to perform the experiment. The experiment itself will launch to the ISS late next summer.
Credit to Montague school
Pater said he is constantly on the lookout for opportunities such as this, and that may be because of his own high school experience.
"I wasn't really confident in an academic sense. In fact, I took an extra year to graduate high school," he said.
"It really wasn't until that year that I realized that I had the potential of becoming something, and what I'm doing now wouldn't be possible without the guidance of Mr. Philip MacDonald and Miss Margaret MacDonald … teachers at Montague Regional High School."
Pater credits the interest of those two teachers for getting him to Harvard, and from there into the Genes in Space competition.
More from CBC P.E.I.