Apple suing 'hacker-for-hire' firm NSO that Canadian cyber watchdog Citizen Lab warned them about – CBC.ca
Tech giant Apple announced Tuesday it is suing Israel's NSO Group, the world's most infamous hacker-for-hire company for creating and selling software designed to break into their devices.
The tech giant said in a complaint filed in federal court in California that NSO Group employees are "amoral 21st century mercenaries who have created highly sophisticated cyber-surveillance machinery that invites routine and flagrant abuse."
"State-sponsored actors like the NSO Group spend millions of dollars on sophisticated surveillance technologies without effective accountability. That needs to change," said Craig Federighi, Apple's senior vice-president of software engineering.
The move by Apple comes after cybersecurity watchdog group Citizen Lab, at the University of Toronto, warned Apple of a vulnerability in its software that could allow a type of spyware called Pegasus to infect Apple devices without the user doing anything or knowing about it.
How Pegasus works
Security researchers have found Pegasus being used around the world to break into the phones of human rights activists, journalists and even members of the Catholic clergy.
Pegasus infiltrates phones to vacuum up personal and location data and surreptitiously controls the smartphone's microphones and cameras. Researchers have found several examples of NSO Group tools using so-called "zero click" exploits that infect targeted mobile phones without any user interaction.
NSO claims it created the spyware for legitimate law enforcement purposes, but cybersecurity experts have long suspected the company has no qualms about who or what it sells its services to.
"It is important for all of us to have awareness of what NSO Group has been up to," said Chester Wisniewski, principal research scientist at security firm Sophos, in an interview with CBC News.
"Those of us who look into spyware, which is ultimately what NSO Group produces, have suspected them of doing this for years."
The hacker company did not immediately respond to a request for comment.
"Mercenary spyware firms like NSO Group have facilitated some of the world's worst human rights abuses and acts of transnational repression while enriching themselves and their investors," Citizen Lab's director Ron Diebert said in a statement. "They claim they are selling a carefully controlled "lawful interception" tool, but in reality what they are providing is despotism-as-a-service."
Wisniewski agrees that Citizen Lab deserves some credit, both for finding the proof of what NSO was up to and drawing attention to it by bringing the focus to such a high profile company such as Apple.
"If Citizen Lab hadn't done the work they had done, Apple probably wouldn't be as upset about it, and therefore they wouldn't have done anything," he said.
Exiled NSA contractor Edward Snowden also credited Citizen Lab with shining a light on the issue.
Reporters writing on the Apple-NSO story should understand this lawsuit would not be *possible* without the years-long investigations of <a href="https://twitter.com/citizenlab?ref_src=twsrc%5Etfw">@citizenlab</a>, who are close to single-handedly responsible for uncovering the bulk of what we know about the NSO group's darkest deeds. <a href="https://t.co/3YDVvlwYgn">https://t.co/3YDVvlwYgn</a>

&mdash;@Snowden
Growing list of lawsuits
It's the latest blow to the hacking firm, which was recently blacklisted by the U.S. Commerce Department and is currently being sued by social media giant Facebook.
The Biden administration announced this month that NSO Group and another Israeli cybersecurity firm called Candiru were being added to the "entity list," which limits their access to U.S. components and technology by requiring government permission for exports.
Apple also announced Tuesday that it was donating $10 million US, as well as any damages won in the NSO Group lawsuit, to cybersurveillance researchers and advocates.
While he welcomes Apple's move, Wisniewski says it ultimately probably won't solve the problem.
"It's unlikely to have any effect whatsoever on NSO Group continuing to do what they do," he said. "It's not going to stop them from producing spy tools and continuing to sell them to to governments."
Canadians to get biggest drop in gasoline prices since 2009 over COVID variant fears – Yahoo Canada Finance
Canadians should experience the fastest drop in gasoline prices in nearly 13 years on Sunday as fears about a virulent new COVID-19 variant are expected to provide a break of 11 cents per litre at the pumps.
Dan McTeague, president of Canadians for Affordable Energy, said the national average price could drop to about $1.32 per litre but begin to rise again midweek.
"(Sunday) represents the single largest decrease at the pumps we've seen going back to 2009," he said in an interview.
Global crude oil prices plunged Friday over fears about a new COVID-19 variant called Omicron that prompted Canada to ban entry for foreign nationals who travelled through southern Africa.
The January crude oil contract fell 13.1 per cent or US$10.24 on Friday and currently stands at US$68.15 per barrel.
The decrease came as U.S. stock markets closed early Friday because of the Thanksgiving holiday.
"Sunday and Monday are going to be the best days for Canadians to fill up, including British Columbia," McTeague said
Even residents of flood-ravaged B.C. will save on the province's high gasoline prices despite facing rationing because severe flooding has shut both the Trans Mountain pipeline and the province's lone refinery.
Drivers of non-essential vehicles can only purchase up to 30 litres per visit to a gas station in the Lower Mainland, Sunshine Coast, Sea to Sky area, Gulf Islands and Vancouver Island.
East Coast residents won't reap the immediate benefits of Sunday's price drop because its regulated regional system averages price movements. That provides price predictability but blunts price discounts.
Despite the upcoming decrease, national gasoline prices have surged nearly 43 per cent in the past year as the reopening of the global economy from pandemic lockdowns prompted a recovery in crude prices.
McTeague suggested Canadians shouldn't get too comfortable with the energy savings. He said prices are expectd to increase as OPEC and its allies, who are meeting on Monday, will likely refuse to increase production any further. Energy traders realize that Friday's decrease was overdone and "flies in the face of fundamentals," he added.
"My sense is that the decreases that we saw were a little exaggerated and overbought, and for that reason I think we might see a little bit more balance come back to the markets and fundamentals by Wednesday," McTeague said.
"Unless there's further unsettling news of greater and further lockdowns, I would expect that oil prices are probably going to recover US$3 to US$4 a barrel by Monday or Tuesday, which means by Wednesday or Thursday we could be looking at increases in the order of four or five cents a litre."
McTeague said some gasoline savings will continue for a couple of weeks, but he foresees crude climbing back to about US$90 a barrel, which would translate into prices in Canada exceeding $1.50 per litre.
Impending carbon tax increases will further boost prices.
A tax of 2.5 cents per litre, including HST, will take effect on April 1, 2022. It will be followed in December by the clear fuel standard that will add another 18.1 cents per litre including HST, said McTeague.
Adding to the inflation pressure is the Canadian dollar which is less valuable than when it was at par the last time crude prices were around US$80. That reduces the purchasing power for all kinds of products, including energy and food.
The Canadian Automobile Association said that as of early Saturday morning, Manitoba had the lowest average pump price of $1.35/L, followed closely by Alberta at $1.377, while Newfoundland and Labrador was the highest at $1.583 with British Columbia at $1.558.
This report by The Canadian Press was first published Nov. 27, 2021.
Ross Marowits, The Canadian Press
Facing shortages, Canada taps its strategic reserves of maple syrup – CNN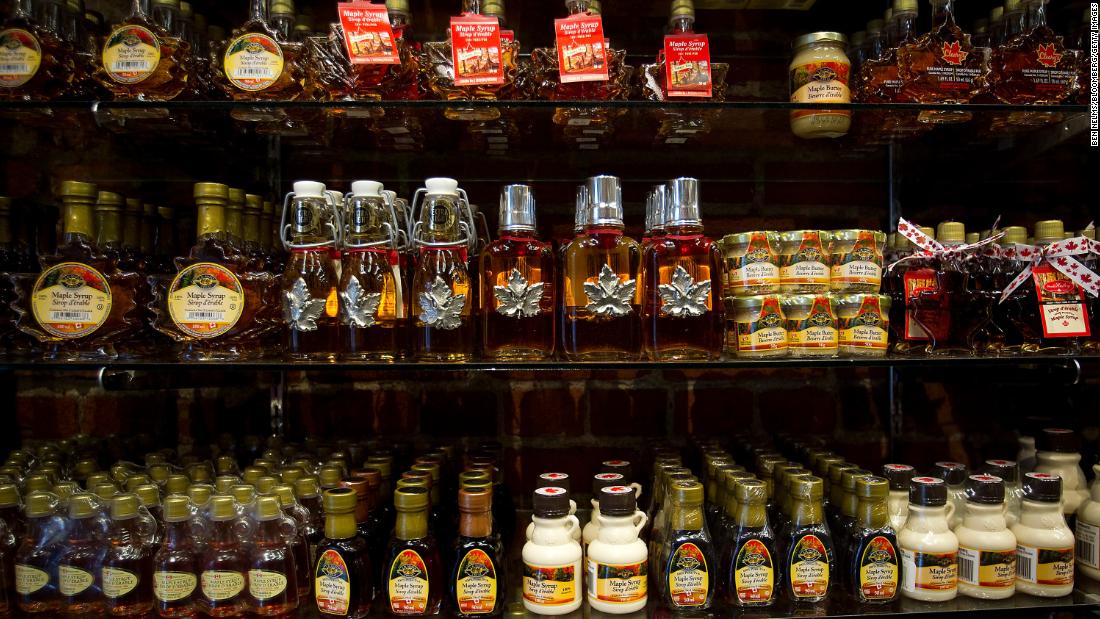 New York, NY (CNN)Amid shortages, Canada is tapping into its strategic reserves. This time, for maple syrup.
The Quebec Maple Syrup Producers, a leading trade group, said it is releasing roughly 50 million pounds from its strategic maple syrup reserves, almost half of the stockpile,
Bloomberg first reported
.
The government-supported organization, which is often called the OPEC of maple syrup, uses its reserves to control syrup prices and supply. As of 2020, Quebec produced 73% of all maple syrup in the world, and its biggest customer by far is the United States, which accounts for around 60% of Canada's export volume.
The strategic reserve was created to keep maple syrup in stock during bad harvest seasons or when demand spikes. That is the case right now following a hot and short spring that led to a lower yield. Historically, 2021 was
an average year
for maple production in Quebec, with a harvest estimated at 133 million pounds, but sales rose 21% compared to last year, straining the available supply.
QMSP did not immediately respond to requests for comment from CNN Business. "The pandemic helped in our case because we're seeing people cook more at home and use more local products," the group's spokesperson Helene Normandin said in an interview with Bloomberg. "It's not just in Quebec the demand is increasing."
The reserve has made headlines in the past. Between 2011 and 2012, 3,000 tons of maple syrup, valued at nearly $20 million Canadian dollars, were secretly siphoned from the reserve in a notorious theft known as
the Great Canadian Maple Syrup Heist
.
Oil's Black Friday: Algos, options turn a tumble into a crash – BNN
Black Friday turned red very quickly for global oil markets.
The day after Thanksgiving has been choppy before — fewer traders can mean more volatility — but nothing like this year. The prospect of the freshly named Omicron variant of COVID derailing the world's fight against the pandemic saw an early morning sell-off become a full-blown crash.
At the end, investors were rushing to cover short positions, analysts were ripping up forecasts and next week's OPEC+ meeting was up in the air. West Texas Intermediate oil, the U.S. benchmark, closed 13 per cent lower, the biggest decline since April 2020. Brent crude slumped 12 per cent.
Oil had climbed fairly steadily through the year, staging a comeback as economic life gradually recovered from the pandemic, putting drivers back in cars and passengers into planes. Many analysts have global demand close to pre-pandemic levels above 100 million barrels a day. With OPEC+ keeping a tight grip on supply, several senior traders said US$100 oil could be close.
But news of a fresh COVID-19 variant, which scientists fear could be more transmissible and less susceptible to vaccines than existing strains, sent familiar shivers through the market. Benchmark crude futures posted the biggest single-day plunge since the early days of the pandemic, showing just how fragile this recovery is.
"It's been a crazy day in the markets that feels very reminiscent of last March," said Craig Erlam, senior market analyst at Oanda Europe.
The initial plunge was driven by revived fears of widespread lockdowns and travel bans, but a host of technical factors, including anemic post-holiday volumes, exacerbated the sell-off. The panic spread to every corner of the market from European diesel trades and time-spreads, the relative value of oil today to oil tomorrow, through to opaque options markets.
"Factors such as the break of technical support levels and an environment with lower liquidity post the Thanksgiving holiday have intensified the price drop," said Giovanni Staunovo, commodity analyst at UBS Group AG.
It had already been an unusual week in the market. On Tuesday, the U.S. and other top oil consumers said they would release supplies from emergency reserves in a bid to curb surging energy costs. In response, the OPEC+ cartel, led by Saudi Arabia, had said it might scrap plans to increase production. London's benchmark Brent prices rallied back above US$80 a barrel.
But that was before Omicron.
Asia and European trading saw a steady sell-off early on Friday, prices were down 5 per cent by mid-morning in London. But the real excitement came in U.S. hours.
The market spiraled ever lower as oil broke through key technical levels — U.S. futures pierced their 100-day and 200-day moving averages. That gave algorithmic computer-driven trades the upper hand on a day when many participants were away from the market.
"The sell-off has no doubt been driven exacerbated by algo-driven trading as key technical levels broke down," said Fawad Razaqzada, an analyst at ThinkMarkets.
Then the options market kicked in. When prices fall heavily, banks often sell futures contracts in order to hedge themselves against losses from put options — contracts that grant the right to sell at a particular price. Banks often sell puts to producers who want to protect against a bear market. This feedback loop, known as negative gamma to options traders, was seen as a factor on Friday.
"Dealers just took down hedges and they are shorter put options than normal, so must sell futures to hedge," said Ilia Bouchouev, a partner at Pentathlon Investments and former head of oil derivatives at Koch Supply and Trading.
At the worst point of the crash, New York's WTI futures slumped 14 per cent from its pre-Thanksgiving close and London's Brent collapsed more than 12 per cent. By the close they'd both recovered slightly, but for London futures it was still the seventh worst one-day drop in history.
What happens next depends on whether the direst predictions for Omicron's impact are realized.
Goldman Sachs Group Inc. said in a note that Friday's move priced in a 4 million-barrel hit to demand over the next three months, nowhere close to the first lockdown, but more than enough to throw the market back into disarray. In any case, the Wall Street bank said that was excessive.
For many the crash is a buying opportunity because they expect prices to recover quickly when the U.S. market returns fully after the holiday and volumes return to normal. The longer-term outlook remains robust.
"This is a huge overreaction in terms of the market," Amrita Sen, chief oil analyst at consultant Energy Aspects Ltd., said in a Bloomberg Television interview. "This is the market pricing in the worst possible scenarios."