Apple's battle with Epic Games could lead to big changes in iPhone apps – CNET
Apple's iPhone is already one of the world's most litigated devices. Apple fought its No. 1 rival, Samsung, and others over the iPhone's design. It's fought phone giant Nokia and chipmaker Qualcomm over patent royalties. Before the smartphone first went on sale in 2007, Apple even fought networking giant Cisco over the iPhone name.
On Monday, Apple meets a new combatant in court. This time, it's fighting Epic Games, maker of the online gaming phenomenon Fortnite, which has more than 350 million players. Epic sued on Aug. 13, alleging that the iPhone maker's rules for how big a cut of app sales developers need to pay Apple, and how they can even make money on the popular App Store, are anticompetitive. The suit effectively forces Apple to defend the way it operates its App Store, the only gateway for developers who want to have their apps made available for download on the iPhone.
To prove its point, Epic intentionally broke Apple's rules that say that for in-app purchases, app developers can only use Apple's payments processing service. In-app purchases are the add-ons, like digital tokens, that users can buy to get different clothes or designs for their digital characters and weapons. Developers, especially the ones who offer free-for-download apps like Fortnite, rely on those in-app purchases as a key source of income. On that August Thursday, Epic turned on hidden code in its Fortnite battle game, letting users buy items directly from Epic at a discount, rather than pay full price through Apple's payments service.
By letting users pay Epic directly, and avoiding Apple's payment service, Epic also circumvented the up to 30% commission on each sale that Apple charges developers for the privilege of their wares being available to iPhone users on the App Store.
Apple quickly banned Fortnite from its App Store and Epic sued in response, kicking off a legal battle that's grabbed the attention of both the game industry and millions of app developers, all of whose businesses could change as a result of whatever happens. The App Store, launched in June 2008, has grown to more than 1.85 million apps, according to September data from research firm Statista. It's attracted more than 27 million app developers, whose programs have been downloaded by about 1 billion people across 175 countries. Apple is estimated to have paid out $37 billion to developers last year, according to industry watcher Sensor Tower. Assuming Apple took a 30 percent cut, that puts App Store sales at about $55.5 billion.
"There's good arguments on both sides," said David Olson, a professor at Boston College Law School who closely tracks antitrust, intellectual property and patent law. What makes this case in particular stand out, he said, is it raises thorny questions around how much Apple is allowed to control its platform, an issue that's been debated online for years but not so much in the courts. "This could be huge."
Apple and Epic didn't respond to requests for comment.
What's at stake for Apple is how apps are distributed and monetized across mobile devices. Apple, in particular, has demanded it approve every app that's offered for sale for its iPhone since the beginning, with its App Store serving as the only distribution platform for iPhone app developers. Apple also touts that control as a feature in its marketing, promising iPhone users they can trust any app they download from the App Store because it's already been vetted.
Aside from charging an up to 30% fee for in-app purchases, Apple requires app developers to follow policies against what it deems objectionable content, such as pornography, encouraging drug use, or realistic portrayals of death and violence. Apple also scans for security issues, spam and apps that could be used to take data from people's phones without their consent.
"Apple's requirement that every iOS app undergo rigorous, human-assisted review — with reviewers representing 81 languages vetting on average 100,000 submissions per week — is critical to its ability to maintain the App Store as a secure and trusted platform for consumers to discover and download software," the company said in one of its filings.
That trust, and the App Store brand, is so important to Apple that it even fought Amazon and Microsoft over the use of the name "App Store." (Apple ultimately backed down.)
The App Store's policies have almost always been at the center of controversy for Apple too. Apple's tight control is an instinct that came from its co-founder and former CEO Steve Jobs, who micromanaged the look and feel of the company's software and hardware, sometimes down to the smallest dot on the screen, the angle of the curves on its devices and the satisfying click-feeling you get when you plug in a cord.
That obsessively controlling approach has ticked off developers over the years. They say Apple's inflexible rules over everything from content (Apple once banned an app from a Pulitzer-winning cartoonist) to the ways programs talk to the internet, give the iPhone maker too much control over other companies. And in July, legislators on Capitol Hill called in Apple CEO Tim Cook, alongside leaders of Facebook, Amazon and Google parent Alphabet, to defend those and other policies.
Cook said Apple's approach helps attract more people and developers to its platform, not less. "Clearly, if Apple is a gatekeeper, what we have done is open the gate wider," he said. "We want to get every app we can on the store, not keep them off."
Epic isn't the only developer that disagrees with Apple. More than a dozen companies, including music service Spotify and dating app maker Match Group, joined with Epic to found a group called the Coalition for App Fairness to take on Apple's rules.
"As enforcers, regulators, and legislators around the world investigate Apple for its anti-competitive behavior, The Coalition for App Fairness will be the voice of app and game developers in the effort to protect consumer choice and create a level playing field for all," Horacio Gutierrez, head of global affairs at Spotify, said in a statement on Thursday. Spotify also helped kick off EU investigations of Apple this summer after the music service complained to European regulators about the company's policies.
On Monday, Apple and Epic Games are set to meet in an online version of what would've been an Oakland, California, court room, a reminder that despite the coronavirus pandemic that's infected more than 32 million people and killed at least 990,000 patients around the world, big fights between big tech companies still go on.
Epic argues that Apple's strict control of its App Store is anticompetitive and that the court should force the company to allow alternative app stores and payment processors on its phones, remaking the way people get and pay for iPhone apps. "Apple is bigger, more powerful, more entrenched and more pernicious than monopolies of yesteryear," Epic said in an August legal filing. "Apple's size and reach far exceeds that of any technology monopolist in history."
Apple responded, saying Epic's lawsuit is just a disagreement over money. "Although Epic portrays itself as a modern corporate Robin Hood," Apple wrote in its legal response, "In reality it is a multibillion-dollar enterprise that simply wants to pay nothing for the tremendous value it derives from the App Store."
Epic battle
Apple and Epic Games used to be friends. A decade ago, Apple invited the software developer on stage at one of its events to show off Project Sword, a game later called Infinity Blade, designed to show off how Epic's Unreal Engine tools could be used to create beautiful and intricately designed games.
"We're using the same lighting and motion-captured animation techniques you see in top films," Mike Capps, then president of Epic Games, said while demonstrating a fantasy game battle between a knight and a massive brute on the then-newly announced iPhone 4 in 2010.
Apple brought Epic back on stage in 2011 to show off its sequel, Infinity Blade 2. And then again in 2013 for the second sequel, Infinity Blade 3. Each game was considered a success, and largely well received.
"Of all the many thousands of games to hit iOS over the years, Infinity Blade and Infinity Blade II were among the few that aspired to be something greater than mere mobile games," CNET sister site GameSpot's Mark Walton wrote in his 2013 review of the games. "Their visuals were — and indeed still are — some of the most impressive to grace the platform, and both offered a surprising amount of depth behind their flashy touchscreen swordplay."
As Epic grew into a multibillion dollar company, it began using its size to push for change within the game industry. In 2015, Epic began offering its Unreal Engine game development tools for free, taking a 5% royalty fee on games sold. This year, it said it would charge game royalties only after a developer's first $1 million in revenue.
"They want to be a company that empowers creators," said Ben Wiley, program director of game production at, who formerly worked at Warner Bros.
Epic's most controversial move came in 2018, when the company opened its Epic Games Store for PCs, a competitor to the industry-leading Valve Steam store. Though the Epic store didn't have the same social networking, reviews and other features Valve's did, it asked for only a 12% commission from game developers, less than half the industry standard 30%.
To win over developers even further, Epic started paying for and securing exclusivity deals for PC games, effectively locking the titles to its Epic Games Store usually for a year. Some of those exclusives were highly anticipated titles like Gearbox Software's sci-fi shooter Borderlands 3, Deep Silver's postapocalyptic thriller Metro: Exodus, and the epic story game Shenmu 3.
As Epic's roster of exclusive titles grew, some gamers bristled at being forced to sign up for yet another game service in order to play games they're excited about.
"I wish there were a more popular way to do this," Tim Sweeney, Epic's CEO, said in a 2019 interview with CNET. But a survey by the Game Developers Conference, released just before our interview, underscored Sweeney's point, finding, among other things, that a majority of game developers weren't sure Valve's Steam justified its 30% cut of revenue. "I feel like the ends are more than worth the means," Sweeney said.
Now Epic is taking its fight to Apple, and fighting a different app store for mobile devices. In emails between the two companies before the lawsuit was filed, Sweeney asked Apple to allow Epic to create its own app store for mobile devices too, and to use its own payment processing service. Apple refused.
Apple fight
Epic isn't just fighting Apple in the courts. It's also devised a PR campaign to bring that fight to the public.
The same day Fortnite was kicked off the App Store, and after Epic sued, the company released an ad parodying Apple's famous Ridley Scott-directed 1984 Macintosh Super Bowl ad. The original positioned Apple as a revolutionary, fighting back against a Big Brother conformist overlord-type figure.
Epic's remaking, called Nineteen Eighty-Fortnite, paints Apple as the domineering Big Brother, and shows a Fortnite character fighting back.
"Epic Games has defied the App Store Monopoly. In retaliation, Apple is blocking Fortnite from a billion devices," Epic wrote at the end of its 48-second video. "Join the fight to stop 2020 from becoming '1984'" In the month since the video's release, it's been watched more than 6 million times.
Apple says the commission it charges pays for the tools, people and computing costs to run its App Store. The company also says its control protects users from potentially bad behavior and fraud, too.
Neither company's arguments appear to have swung the court of public opinion much. Analysts say the whole thing really boils down to a slap-fight over money between a multitrillion-dollar company and a multibillion-dollar company.
"Epic's being self-serving by saying it's protecting the little guy, and Apple's being self-serving by saying it's protecting consumers," said Joost van Dreunen, a professor at NYU Stern School of Business and author of the upcoming book One Up: Creativity, Competition, and the Global Business of Video Games. Regardless of how this lawsuit goes, he said, Apple's continuing challenge will be to convince developers the App Store is worth that 30% fee.
In the game industry, console makers justify their cut of games sold by using the money to help market their products and grow the number of people playing even more, van Dreunen said. Console makers also tend to take less of a cut the larger a company's sales get.
"It's baked into the habit of the industry that it's acceptable," he added. But van Dreunen said that now, with more than a decade of Apple being as inflexible as developers have said it is, pushback is inevitable.
Apple isn't the only company Epic targeted in its Fortnite battle. The same day Epic broke Apple's App Store rules, it adding the same with its game on the Google Play Store, for devices powered by Google's Android software. Google kicked Fortnite out of its store too, and Epic sued, arguing that Google has strayed from the Don't Be Evil mantra of its early years.
Google has since reportedly begun plans to tighten its app store rules, in seeming support of Apple. A report in Bloomberg last week said the company is planning to tell developers they need to use Google's payments processing service, which has an up to 30% commission just like Apple's App Store.
In the meantime, the first court skirmishes between Apple and Epic have scored legal wins for both companies. In an emergency hearing in August, a district judge in Northern California agreed that Apple could keep Fortnite off its App Store during the lawsuit. She also ruled that Epic should be able to continue distributing its Unreal game tools to developers without interference from Apple, for now.
The risk that Apple could lose the case and potentially set a precedent that upends how all app stores work across the tech industry will likely drive the company to settle. But it's also why Olson, the law professor, is hoping for the case to drag on a bit. He wants to see how Apple, Epic and the court attempt to apply antitrust laws from decades ago to modern day tech.
"Antitrust needs to catch up with the world some," he said. And cases like this help it to do that.
Five iPhone 12 features you won't find on any Android phones (and one Apple is missing!) – Daily Express
iPhone 12 and iPhone 12 Pro landed on shelves on Friday October 21, with those who managed to pre-order earlier this month receiving their new smartphones through the post on the same day. Apple looks like it's struggling to keep up with demand – with shipping estimates now slipping well into mid-November on most models. This could be a sign that Apple fans are flocking to the new design, reworked cameras and 5G support… or the widespread shutdowns due to the global pandemic have seriously impacted the Californian company's ability to manufacture handsets and ship them around the world at its usual scale. Who knows, it could be a bit of both.
What we do know is exactly how the iPhone 12 series stacks-up against its closest rivals from the likes of Samsung, OnePlus, Sony and Google. So, to breakdown exactly what the new iPhone has going for it – as well as what it's sorely missing – here is a list of five features that you won't find on its Android counterparts.
1) iPhone 12 features you won't find on Android: Ceramic Shield
Ceramic Shield is a new toughened glass developed with Apple and smash-proof specialists Corning. Although you'll find Corning's super-strength Gorilla Glass product, including the latest Gorilla Glass Victus (which is designed to prevent against day-to-day scuffs and scratches as much as drops) announced back in August, on a huge array of Android smartphones, the company uses a custom formulation when it works with Apple. And according to both companies, the latest result of this partnership is truly special.
Dubbed Ceramic Shield by the Apple Marketing department, the Californian company says it's tougher than any other smartphone glass available right now. Corning and Apple have infused the toughened glass with nano-ceramic crystals to improve toughness. The result? Apple says all four new iPhone 12 models are four times more likely to survive accidental drops.
2) iPhone 12 features you won't find on Android: MagSafe
Android smartphones have had wireless charging support for years… and Apple was incredibly slow to jump on the bandwagon. However, now that wireless charging is baked into every iPhone on-sale in the Apple Store, the US company is now bringing some interesting new additions to the table. MagSafe, which borrows its brand name from the trip-proof magnetic charging cables previously shipped with all MacBooks, lets the wireless charging puck snap to the back of your iPhone. This ensures the smartphone can't buzz itself out of alignment with the charging coils after a few notifications and means you'll be able to pick-up and use your iPhone when it's charging.
Of course, you can do all of that with a good ol' fashioned cable. But a charging cable isn't much good if you trip over it – it'll send your £999 iPhone 12 Pro flying across the room. That's something that won't happen with MagSafe. And more interesting than charging, Apple is already using MagSafe for a series of new accessories, including a lightweight card-holder that magnetically sticks to the back of your handset and new cases that trigger custom animations to match the colour of the accessory. Third-parties will be allowed to make their own MagSafe gadgets, so we're likely to see a truckload of interesting applications – from car charging mounts, to wallets and folios – over the coming months.
3) iPhone 12 features you won't find on Android: A14 Bionic
While most flagship Android smartphones are fuelled by the latest-and-greatest from US chipmaker Qualcomm, Apple designs its own processors. This has enabled the Californian firm to focus on what it prioritises – battery life, speed, camera – compared to a one-size-fits-all approach designed to work in devices from a wide variety of manufactures, like the Snapdragon 865. For the last few years, Apple's approach seems to have really paid off, with iPhones regularly toppling Android handsets with three times the amount of RAM during benchmark tests.
With the A14 Bionic, Apple is toppling its own MacBook Air models. The chipset inside the iPhone 12 series is the first smartphone silicon to be built on a 5-nanometer process. In a nutshell, that means all of the core components are squeezed together on a minuscule chip – allowing data to travel less distance and using less energy, which makes the smartphone faster and boost battery life, respectively. That's a (very) simplified explanation, but all you really need to know is that A14 Bionic is a true beast.
It boasts the fastest CPU and GPU by up to 50 percent compared to the fastest competing smartphone chips. A14 Bionic also includes a 16-core Neural Engine – designed to hope with AI tasks handled on the handset itself, like identifying faces in the Photos app, suggesting iOS apps throughout the day based on your habits, and more.
Apple says its A14 Bionic boasts an 80 percent increase in performance and is capable of completing 11 trillion operations per second. Android cannot match that… until the Huawei Mate 40 Pro, which will use a Huawei-designed chipset built with a 5nm process – but no access to YouTube, Google Maps or the Google Play Store, launches in the coming weeks.
4) iPhone 12 features you won't find on Android: Smart Data Mode
5G is clearly the future. This next-generation mobile signal allows super-speedy downloads and lower latency. Better yet, 5G smartphones won't lose speed when in a crowded area, like a packed football stadium, sell-out gig, or festival – something that can't be said for 4G. However, 5G can be a bit of a tax on battery life.
Most Android manufacturers have solved this issue by increasing the size of the battery cell. There's no denying it, this works pretty well. However, Apple has taken a different approach to enable it to create the "smallest and lightest" 5G smartphone on the planet – the diddy new iPhone 12 Mini, which launches in November.
Dubbed Smart Data Mode, the iPhone 12 will toggle between 4G and 5G based on how much bandwidth it thinks you need. So, if you're reading an email, or a long-form article – like this one – chances are, 4G speeds will work fine. So, Apple will quietly shift over your iPhone 12 to this slower mobile technology and conserve battery life. But, if you're about to jump on the train to start the morning commute and try to download an entire season of a show on Netflix, iPhone 12 will connect to 5G and download hours of HD content in a few minutes.
5) iPhone 12 features you won't find on Android: Dolby Vision
If you're a budding Hollywood director, the iPhone 12 is the first device on the planet that offers the ability to film and edit Dolby Vision HDR footage. Video can be shot in up to 60 frames-per-second – comfortably more than the 24fps most blockbusters are filmed at – and edited within the Photos app or iMovie. Dolby Vision grading is processed live and sustained during editing thanks to the grunt of the A14 Bionic (see above). Apple's professional-grade editing software Final Cut will be updated to support Dolby Vision HDR soon and you can already playback your latest movie with an Apple TV too.
1) Android features you won't find on the iPhone 12: High-Refresh Rate Display
A dizzying number of Android smartphones – at the same price point as the iPhone 12 and iPhone 12 Pro, as well as much cheaper – already offer a high-refresh rate OLED display. For those who don't know, until recently, most smartphone displays were 60Hz, which meant they refreshed the image 60 times each second. Doubling that to 120Hz makes system animations smoother, removes the stuttering from scrolling, makes fast-paced video games feel more responsive and much more.
Unfortunately, Apple has decided to keep the refresh rate at 60Hz across the iPhone 12 series. It's a shame as Apple is well aware of how brilliant 120Hz panels can be – the company was one of the pioneers of this technology when it introduced it to the iPad Pro range years ago. Given the shared "Pro" branding between this premium tablet and the iPhone 12 Pro, it seems odd Apple hasn't included it in the £999+ smartphone at the very least.
iPhone 12 Lineup Enables Personal Hotspot Over Faster 5GHz Wi-Fi – MacRumors
As noted by MacRumors contributor Steve Moser, and confirmed by Aaron Zollo, the iPhone 12 lineup introduces support for Personal Hotspot tethering over faster 5GHz Wi-Fi, compared to 2.4GHz Wi-Fi on previous iPhones.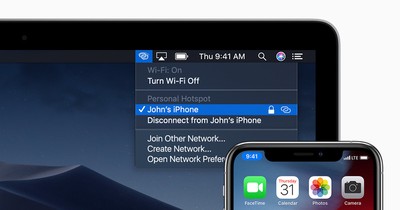 Personal Hotspot over 5GHz Wi-Fi is enabled by default on all iPhone 12 models. In the Settings > Personal Hotspot menu on these devices, there is a new "Maximize Compatibility" toggle that reverts Personal Hotspot to 2.4GHz Wi-Fi when enabled, with Apple noting that this may reduce internet performance on devices that are connected to the hotspot.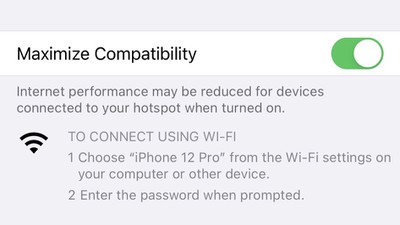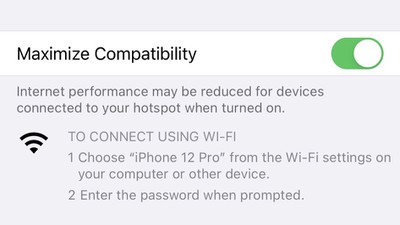 The combination of iPhone 12 models supporting higher-speed 5G networks and 5GHz Wi-Fi's higher maximum throughput paves the way for faster Personal Hotspot, but testing will have to be done to confirm the exact speed improvements. Keep in mind that while 5GHz Wi-Fi is faster than 2.4GHz Wi-Fi, it has shorter range, so Personal Hotspot speeds will vary based on the distance of a tethered device to the iPhone.
MagSafe 15W fast charging restricted to Apple 20W adapter – AppleInsider
New testing shows Apple's MagSafe charging puck does peak at 15W with iPhone 12, but only when paired with the company's 20W adapter.
The apparent restriction was discovered by Aaron Zollo of YouTube channel Zollotech. In a comprehensive evaluation of Apple's MagSafe device posted on Monday, Zollo found two Apple adapters — a new standalone 20W USB-C device and the 18W unit that came with iPhone 11 Pro handsets — achieved high rates of charge.
Measuring energy throughput with an inline digital meter revealed MagSafe hits the advertised 15W peak charging rate (up to 16W in the video) when paired with Apple's branded 20W adapter. Speeds drop to about 13W with the 18W adapter, and Zollo notes the system takes some time to ramp up to that level.
Older adapters and third-party models with high output ratings do not fare well in the test. Apple's own 96W MacBook Pro USB-C adapter eked out 10W with MagSafe, matching a high seen by Anker's PowerPort Atom PD1. Likewise, charging rates hovered between 6W and 9W when attached to Aukey's 65W adapter, Google's Pixel adapter and Samsung's Note 20 Ultra adapter.
It appears third-party devices will need to adopt a MagSafe-compatible power delivery (PD) profile to ensure fast, stable energy delivery when connected to iPhone 12 series devices.
As can be expected with any charging solution, temperature plays a significant role in potential throughput. Zollo found MagSafe significantly throttles speeds as temperatures rise, meaning actual rates are not a constant 15W even when using the 20W adapter. When heat rises, energy output decreases to protect sensitive hardware components and the battery itself. In some cases, this could prompt users to remove their iPhone from its case — including Apple-branded MagSafe models — to achieve maximum thermal efficiency.
Zollo also confirms older Qi-compatible iPhone models, like iPhone 8 Plus and iPhone 11 Pro Max, charge at about 5W with MagSafe. Apple previously said Qi devices would charge at 7.5W.