Apple's overdue innovation: iPhone repair – The Business Standard
Years ago, long before the iPhone, nobody needed a professional technician to switch out a phone battery. You simply slid open the back, inserted a replacement and the job was done. The first iPhone changed everything.
Now you might need a screwdriver, nylon pry tools, a dental pick, a tweezer, a soldering iron and maybe 40 minutes of spare time. Today, many iPhone owners view a dying battery as simply a prompt to upgrade.
On Wednesday, Apple Inc. announced that it is giving consumers a new choice. Starting next year, it will let them access Apple parts and tools to address the most common repairs, such as battery and screen replacements. It is a monumental decision: It will reverse the company's long-standing opposition to self-repair, expand consumer choice, reduce harmful emissions and potentially set the stage for a revolution in repair-friendly product design.
Historically, consumers bought expensive durable products with the expectation of repairability. If they could not fix their appliances at home, then a nearby shop could usually do the job.
Corner repair stores were common to most middle-class towns as recently as 25 years ago. They did not just fix televisions and stereos; they helped preserve the considerable investment such products represented.
Several factors changed this dynamic. First, thanks to globalised supply chains and manufacturing, the real cost of durable goods like TVs has been dropping for decades.
For many consumers, it is now easier and cheaper to throw out a $200 flatscreen and upgrade than it is to attempt a repair. As a result, manufacturers had few reasons to build out expensive spare-part supply chains.
Apple saw a different opportunity. Although its products were hardly disposable, it limited access to parts, manuals and specialised tools exclusively to authorised repair shops.
This drove up the cost of repairs and pushed consumers to buy new stuff rather than maintain what they had. In 2019, Chief Executive Officer Tim Cook admitted that revenue had taken a hit when consumers started opting for the company's battery replacements instead of new iPhones.
All the while, Apple actively fought legislation intended to prevent such practices, arguing that self-repair endangered consumers, threatened intellectual property and abetted criminal hackers.
These decisions had consequences. Consumers had little choice over who fixed their property and often paid more as a result. In emerging markets, a lack of authorised repair centres made it especially challenging to maintain devices.
Finally, Apple's bias against repair undermined its commitment to sustainability: As the company itself has noted, more than 80 percent of the carbon emissions associated with iPhones are released during the manufacturing stage (actual use accounts for 16 percent). Repair means fewer emissions.
Apple's about-face this week was unexpected, but it had a clear logic. For more than a decade, 'right to repair' activists have been lobbying state legislatures and federal officials to prohibit anti-repair practices.
In March, those activists scored a major victory when President Joe Biden issued an executive order calling for an end to repair monopolies. For Apple, the writing was likely on the iPad: expand repair options voluntarily, or fight a losing battle to resist.
The impact should be widespread. Apple's products have never been designed with amateur repairers in mind.
The hurdles for at-home fixes were considerable, ranging from glued-in batteries to proprietary screws that required special screwdriver heads. Now its product designers will need to take non-professionals into account.
That should lead to more easily fixable products — maybe even a battery that can be easily swapped in and out. The last thing Apple wants is customers complaining that its (likely expensive) repair kits do not work.
It will not just be iPhone owners who benefit. Apple's influence on consumer technology is so extensive that its decision will likely be emulated by others, boosting 'repairability' as a device feature.
Meanwhile, the booming global secondhand market should see an influx of devices that have either been repaired or can be. In turn, consumers in emerging markets could benefit hugely. Crucially, all of these developments will also be helping the environment.
Of course, Apple is not reversing course entirely out of the goodness of its corporate heart. Independent shops that want to use Apple-certified parts must still join the company's Independent Repair Provider Programme and agree to its invasive terms.
Even so, Apple's decision is a momentous one. Consumers do not yet have a universal right to repair their stuff. But thanks to this change, of course, they are now a lot closer to having one.
---
Adam Minter is a Bloomberg Opinion columnist. He is the author of "Junkyard Planet: Travels in the Billion-Dollar Trash Trade" and "Secondhand: Travels in the New Global Garage Sale."
---
Disclaimer: This opinion first appeared on Bloomberg, and is published by special syndication arrangement.
iPhone SE 3 on course for early 2022 release – TrustedReviews
Apple will launch its affordable iPhone SE 3 in the first quarter of 2022, according to a new report.
It's been more than 18 months since Apple released its current affordable smartphone option, the iPhone SE (2020). We could be set to see a replacement before we hit the two year mark.
That's according to analyst firm TrendForce, at any rate. In a recent report, the company claimed that "Apple is staying with the plan to release its third-generation iPhone SE in 1Q22".
This third-gen iPhone SE is predicted to be "a major instrument in helping Apple establish a presence in the market segment for mid-range 5G smartphones", with a hefty production volume of 25-30 million units.
As that quote suggests, the big feature of Apple's next affordable smartphone is heavily tipped to be 5G connectivity. To date, only the iPhone 12 and iPhone 13 ranges have featured such advanced network connectivity.
We've heard it claimed that the iPhone SE 3/iPhone SE (2022) will switch to a design that's more reminiscent of the iPhone XR than the iPhone 8, with a larger 6.1-inch display and a full notch.
Other recent reports have claimed that the iPhone SE 3 will actually be an ‌iPhone SE‌ Plus, with a standard 4.7-inch display. Again, 5G is tipped as the big new feature here.
We were big fans of the iPhone SE 2. Our reviewer praised the dinky device for its flagship-like performance and great photos at a mid-market price.
Which upcoming phones will use the Qualcomm Snapdragon 8 Gen 1? – TechRadar
The new Qualcomm Snapdragon 8 Gen 1 is official, and it's set to power some of the very best smartphones of 2022.
Flights and accommodation for this launch event were funded by Qualcomm, but the views reflect the writer's own independent opinion.
But which upcoming phones will be using the new chipset? We've now had the first manufacturers confirm compatbility, and we expect to hear from more Android phone makers over the coming weeks.
Below we'll reveal all the handsets that have been confirmed so far, and then we'll talk you through some of the other phones we're expecting to see that may also sport the latest chipset from Qualcomm.
Xiaomi 12
The first phone confirmed to feature the next-gen chipset is the Xiaomi 12, which the company's CEO has announced will be "available soon".
We expect the Xiaomi 12 to launch in China in the next couple of weeks. It'll then likely come to other markets in early 2022.
While it may be that Xiaomi reveals this phone first, that doesn't necessarily mean it'll be the first phone featuring the next-gen chip that will be available in Western markets.
Oppo Find X4
Although the company has yet to confirm the name of its next flagship as the Find X4, we know that Oppo's top-end phone for 2022 will feature the Snapdragon 8 Gen 1.
Oppo also told us that it would be revealing its next flagship phone before the end of March 2022. The Find X3 was introduced in March 2021, so it would make sense if the Find X4 was introduced around a year later.
Realme GT 2 Pro
Realme teased its next smartphone over the last few days, and the company has now confirmed that the upcoming Realme GT 2 Pro will be one of the first phones to feature the Snapdragon 8 Gen 1.
It's official! #realmeGT2Pro, our first and most premium flagship will pack #Snapdragon8Gen1. Along with the best chip, what else do you think makes a true premium flagship smartphone? #realmeGT2series pic.twitter.com/oFcDGkeVfrDecember 1, 2021
See more
This is expected to be the brand's first seriously top-end phone, designed to compete with flagships from the likes of Apple and Samsung, so it would come as no surprise if it used the new Qualcomm chipset.
We don't yet know much about the Realme GT 2 Pro, or when it'll be officially revealed, but with the company now starting to tease this handset we'd expect to see it sooner rather than later.
A new Motorola Edge
We don't yet know the name of this phone, but during the launch event for the Snapdragon 8 Gen 1 we heard that a new Motorola Edge device is set to debut with the chipset on board.
Ruben Castano, Head of Customer Experiences at Motorola, said: "In just a few days, we will reveal one of the very first smartphones to launch on this new Snapdragon 8 platform in China." That event has now been confirmed for December 9.
There have been leaks and rumors that suggest a new Motorola Edge X30 handset may be introduced in China in the coming weeks. That may be the handset that Castano was talking about, but that hasn't been confirmed, and whatever the phone turns out to be, we don't yet know whether it will launch in markets outside of China.
Rumored Snapdragon 8 Gen 1 handsets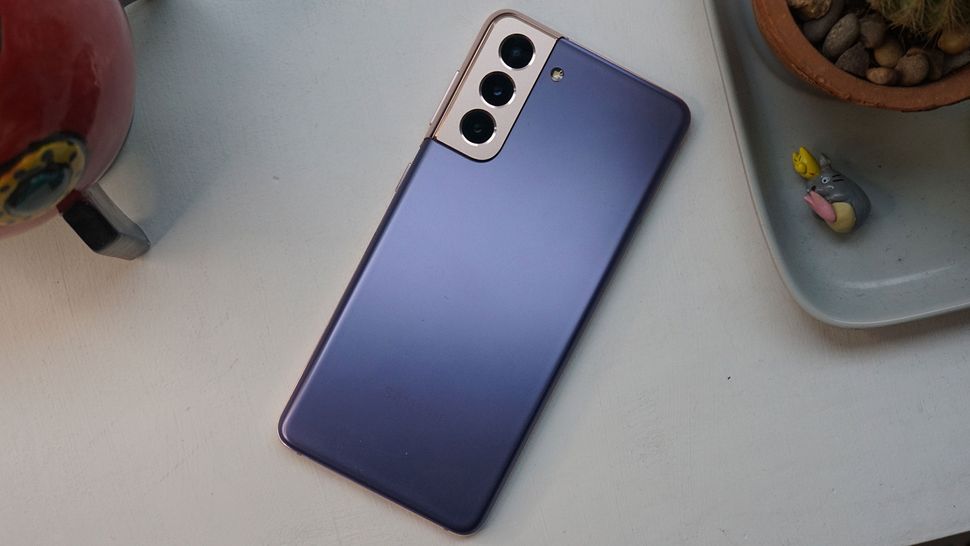 In addition to the confirmed phones above, we expect to see the Snapdragon 8 Gen 1 powering many of the other top-end handsets that are launched over the next year or so.
Arguably the biggest phone that will feature the chipset is the upcoming Samsung Galaxy S22. Normally, Samsung's flagship phones run on its own Exynos chipset in some regions, while models released in other parts of the world use the newest Qualcomm chip.
However, numerous leaks have suggested that all the Galaxy S22 handsets will use Qualcomm's chipset, as Samsung has run into issues with the manufacturing of its Exynos processors.
Other leaks suggest the Huawei P60 may also feature the Snapdragon 8 Gen 1, as the company has hit production problems with its own Kirin chipsets. Rumors suggest that this is due to the global silicon shortage that's impacting the production of numerous devices.
We haven't seen any credible leaks around other phones that could include the Snapdragon 8 Gen 1, but we can speculate that the upcoming OnePlus 10, Samsung Galaxy Z Fold 4, Samsung Galaxy Z Flip 4, Sony Xperia 1 IV and others are likely to be powered by Qualcomm's latest and greatest mobile chip. Watch this space.
Apple iPhone SE 3 on track for March 2022, claims report – Pocket-lint.com
(Pocket-lint) – The much-rumoured 3rd-gen iPhone SE will reportedly release in the first quarter of 2022 – most likely March.
That's the opinion of TrendForce, a market research firm in Taiwan, which believes that Apple is keen to get a firmer grip on the "mid-range 5G smartphone" market.
"Apple is staying with the plan to release its 3rd-generation iPhone SE in 1Q22 and four models under a new series in 2H22," it wrote in its latest report on smartphone production growth.
"The 3rd-generation iPhone SE is expected to be a major instrument in helping Apple establish a presence in the market segment for mid-range 5G smartphones."
The last iPhone SE was released in April 2020 and is still available today. However, it is now somewhat an oddity in Apple's line-up, being the only device with older design and a front-facing Touch ID button.
That might not change, as a rumour in October suggested the button could remain. The 4.7-inch Retina HD display was also said to be returning, although a beefier A15 Bionic chip could power the new device.
Another big change will be the addition of 5G, which will make it more attractive as networks rollout 5G coverage more widely. We'll undoubtedly find out more as spring approaches.
These 3 cases will keep your iPhone 13 slim, protected, and looking fantastic

By Pocket-lint International Promotion
·
1 December 2021
Writing by Rik Henderson. Originally published on 1 December 2021.