Arabs believe economy is weak under democracy – BBC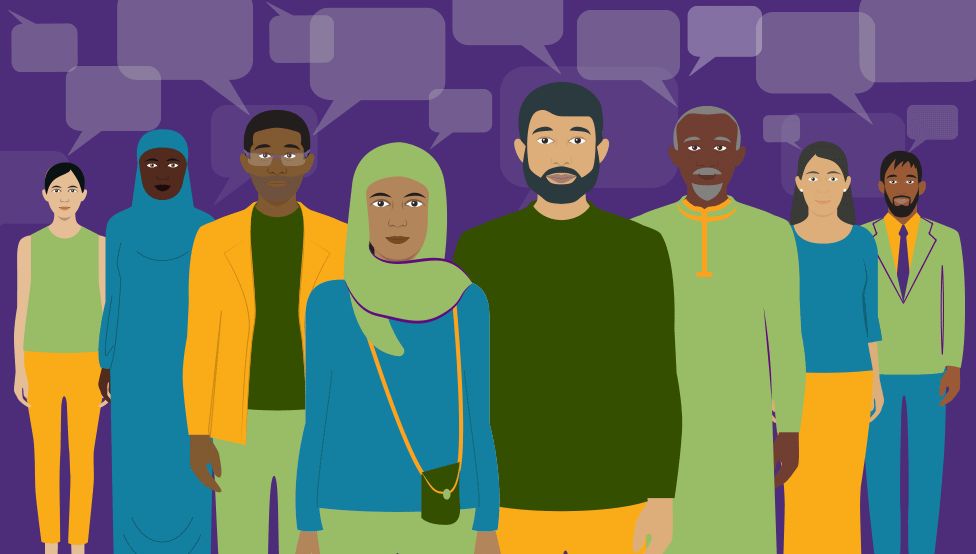 Arabs are losing faith in democracy to deliver economic stability across the Middle East and North Africa, according to a major new survey.
Nearly 23,000 people were interviewed across nine countries and the Palestinian territories for BBC News Arabic by the Arab Barometer network.
Most agreed with the statement that an economy is weak under a democracy.
The findings come just over a decade after the so-called Arab Spring protests called for democratic change.
Less than two years after the protests, just one of those countries – Tunisia – remained a democracy, but a draft constitution published last week could push the country back towards authoritarianism, if approved.
Michael Robbins, director of Arab Barometer, a research network based at Princeton University which worked with universities and polling organisations in the Middle East and North Africa to conduct the survey between late 2021 and Spring 2022, says there has been a regional shift in views on democracy since the last survey in 2018/19.
"There's a growing realisation that democracy is not a perfect form of government, and it won't fix everything," he says.
"What we see across the region is people going hungry, people need bread, people are frustrated with the systems that they have."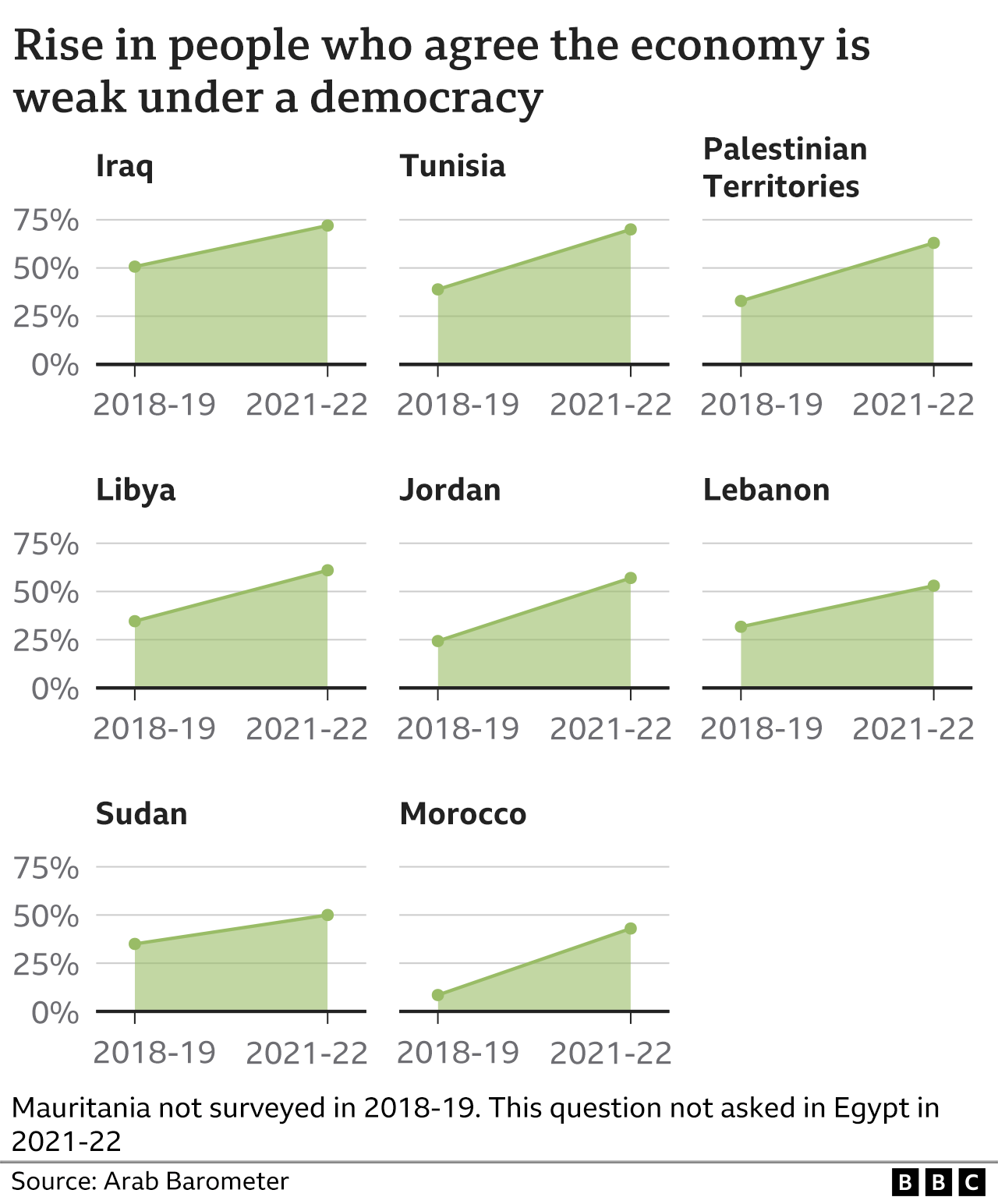 Across most of the surveyed countries, more than half of respondents, on average, agree with the statement that the economy is weak under a democratic system.
In every country surveyed, more than half also say they either agree or strongly agree that they are more concerned about the effectiveness of their government's policies, than they are about the type of government.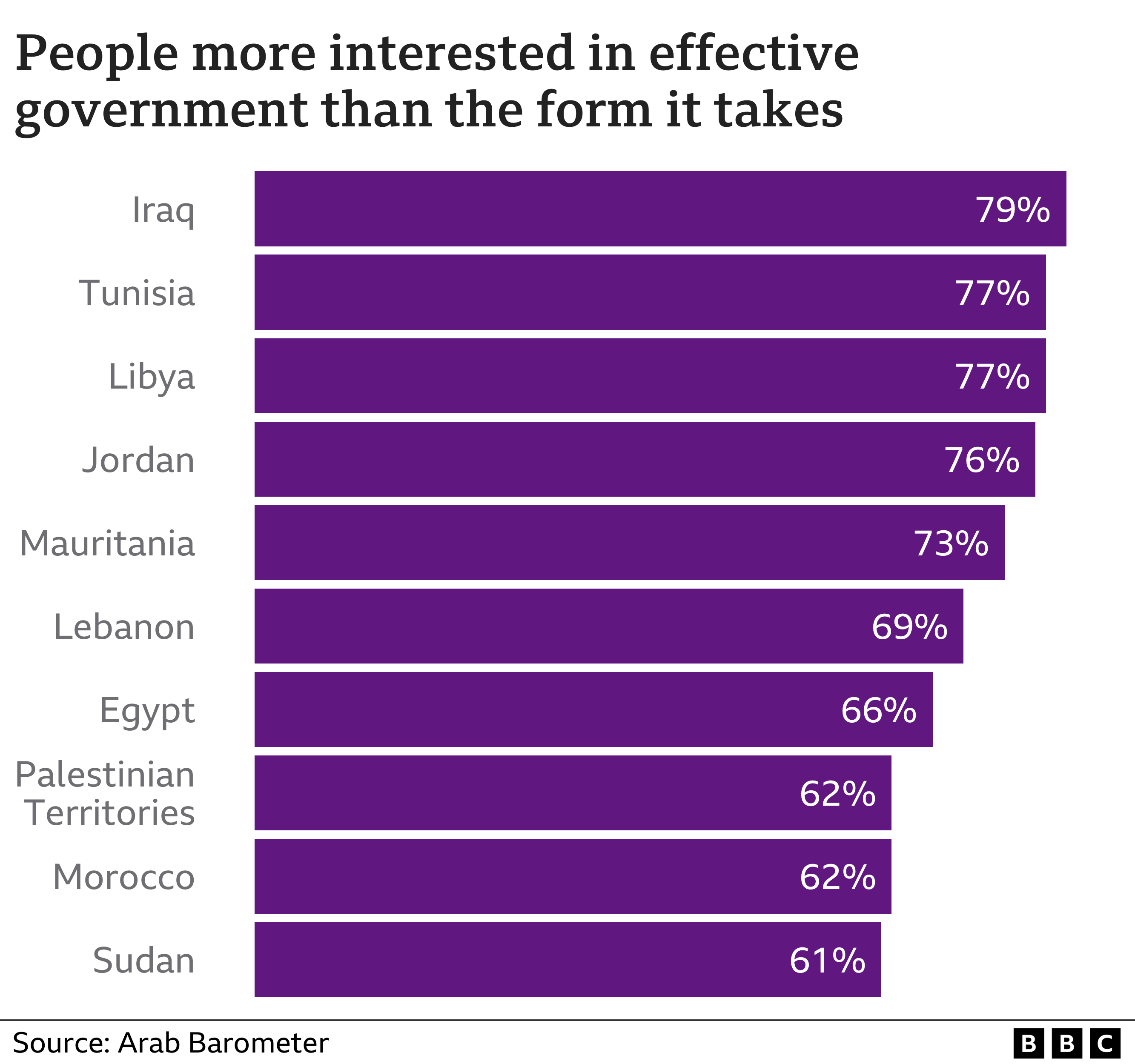 According to the EIU Democracy Index, the Middle East and North Africa is the lowest ranked of all regions covered in the index – Israel is classed as a "flawed democracy", Tunisia and Morocco are classed as "hybrid regimes", and the rest of the region is classed as "authoritarian".
In seven countries and the Palestinian territories, more than half of respondents to the Arab Barometer survey agree with the statement that their country needs a leader who can "bend the rules" if necessary to get things done. Only in Morocco do fewer than half agree with that statement. However there is also a sizeable proportion of people disagreeing with the statement in the Palestinian territories, Jordan, and Sudan.
In Tunisia, eight in 10 of those surveyed agree with the statement, with nine in 10 saying they supported President's Saied's decision to sack the government and suspend parliament in July 2021, which his opponents denounced as a coup but he said was necessary to overhaul a corrupt political system.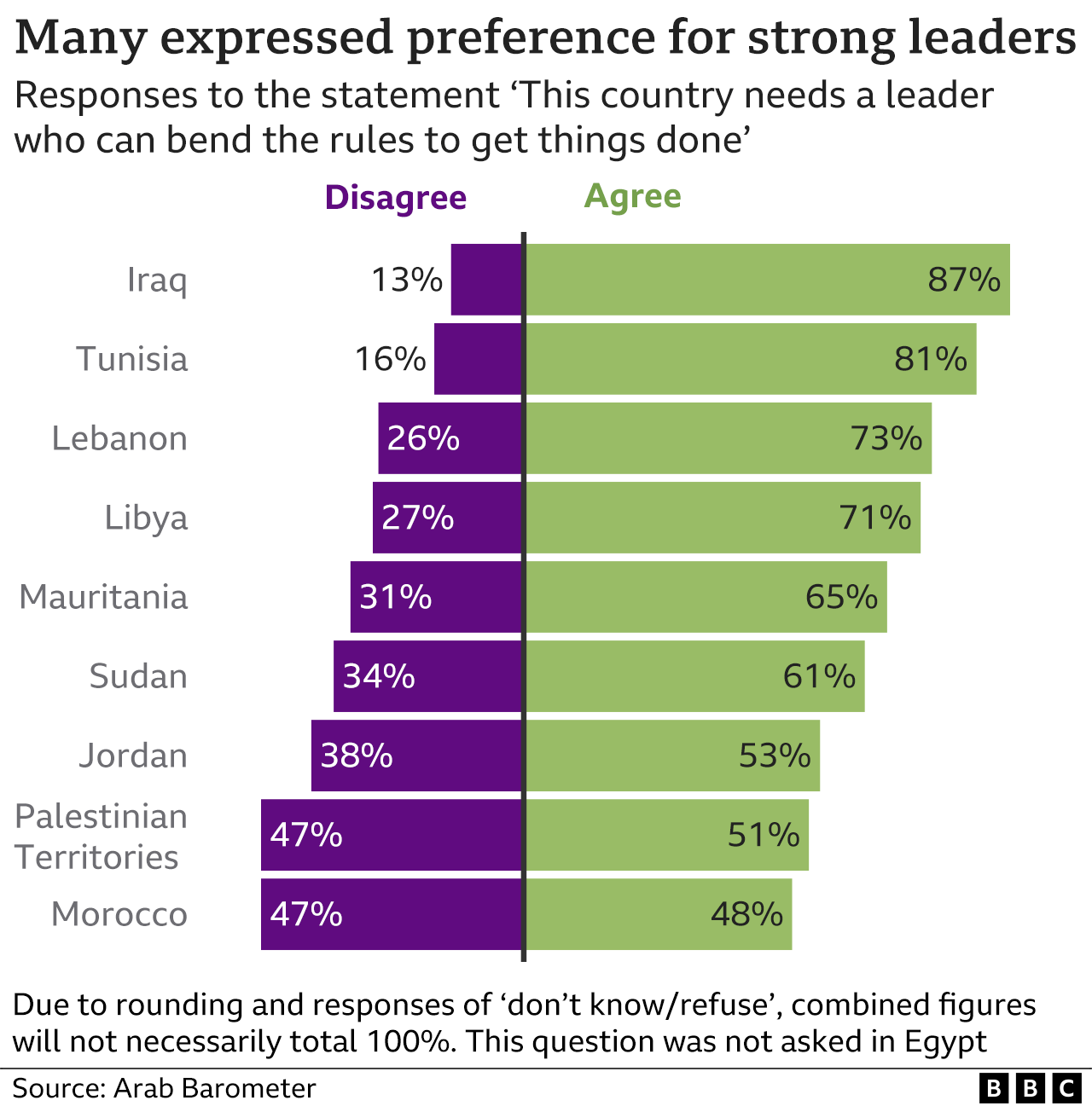 Tunisia was the only country that managed to form a lasting democratic government following the 2011 Arab Spring uprisings. However, Tunisia appears to be slipping back into an authoritarian rule under President Saied. According to the EIU democracy index for 2021, the country fell 21 places in the rankings and has been reclassified as a "hybrid regime" rather than a "flawed democracy".
The survey in Tunisia was conducted between October and November 2021. Since then there have been protests against the president, as he has tightened his grip on power by dissolving parliament, taking control of the electoral commission, and pressed ahead with holding a referendum on a new constitution which many say will boost his authority. The country's economy has meanwhile sunk deeper into crisis.
"Now, unfortunately, for Tunisia, it's reverting to authoritarianism, or what we call democratic backsliding, which is a trend across the world today," says Amaney Jamal, co-founder of Arab Barometer and dean of the Princeton School of Public and International Affairs.
"I think one of the key drivers is not a commitment to authoritarianism or an authoritarian political culture, it's really a belief now that democracy has failed economically in Tunisia."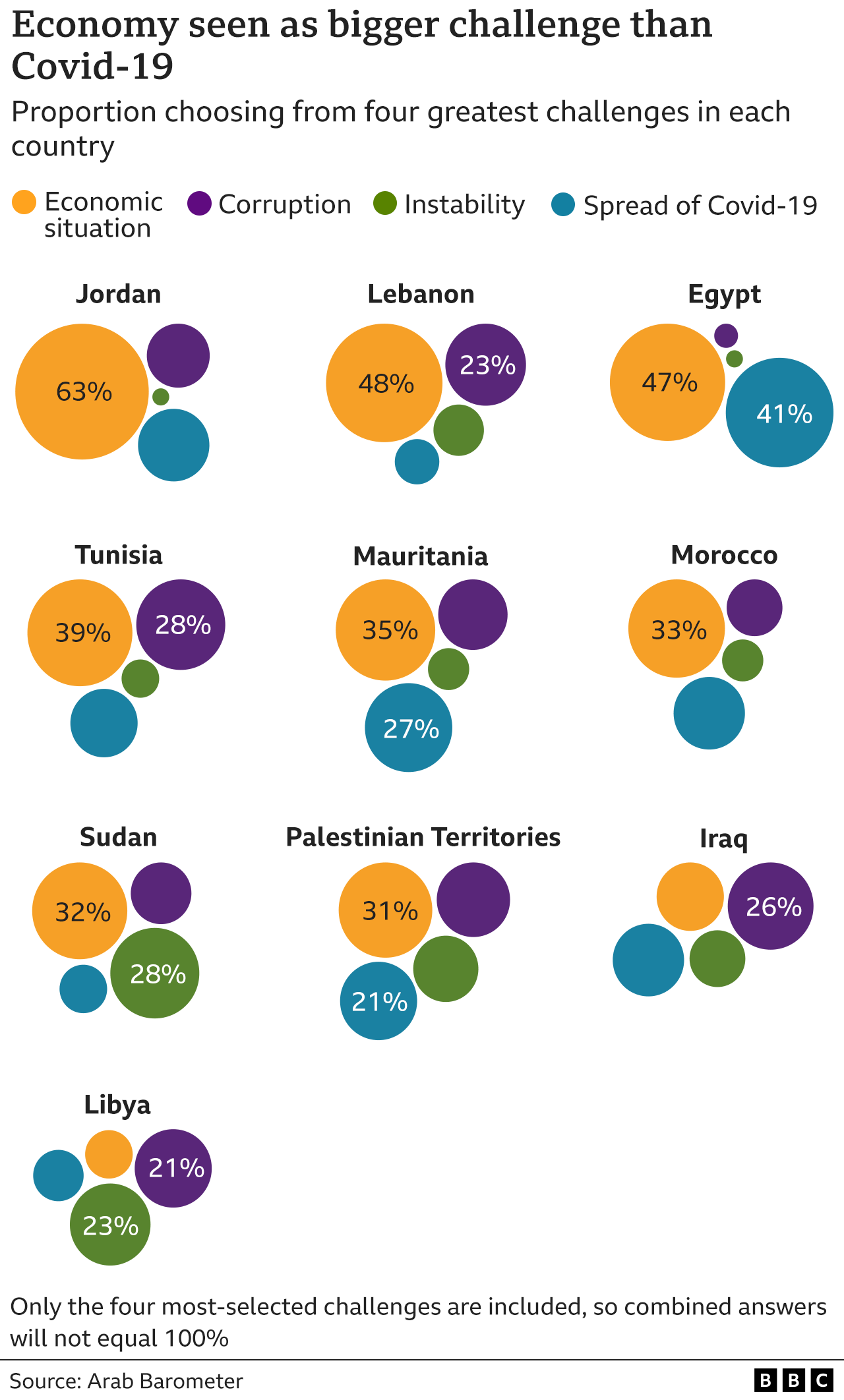 The economic situation is seen as the most pressing challenge for seven countries and the Palestinian territories, ahead of corruption, instability, and the spread of Covid-19.
Only in two countries is the economic situation not seen as the most crucial issue – in Iraq, where it is corruption, and in war-torn Libya, where it is instability.
At least one in three people in every country surveyed agree with the statement that, over the past year, they ran out of food before they next had sufficient funds to buy more.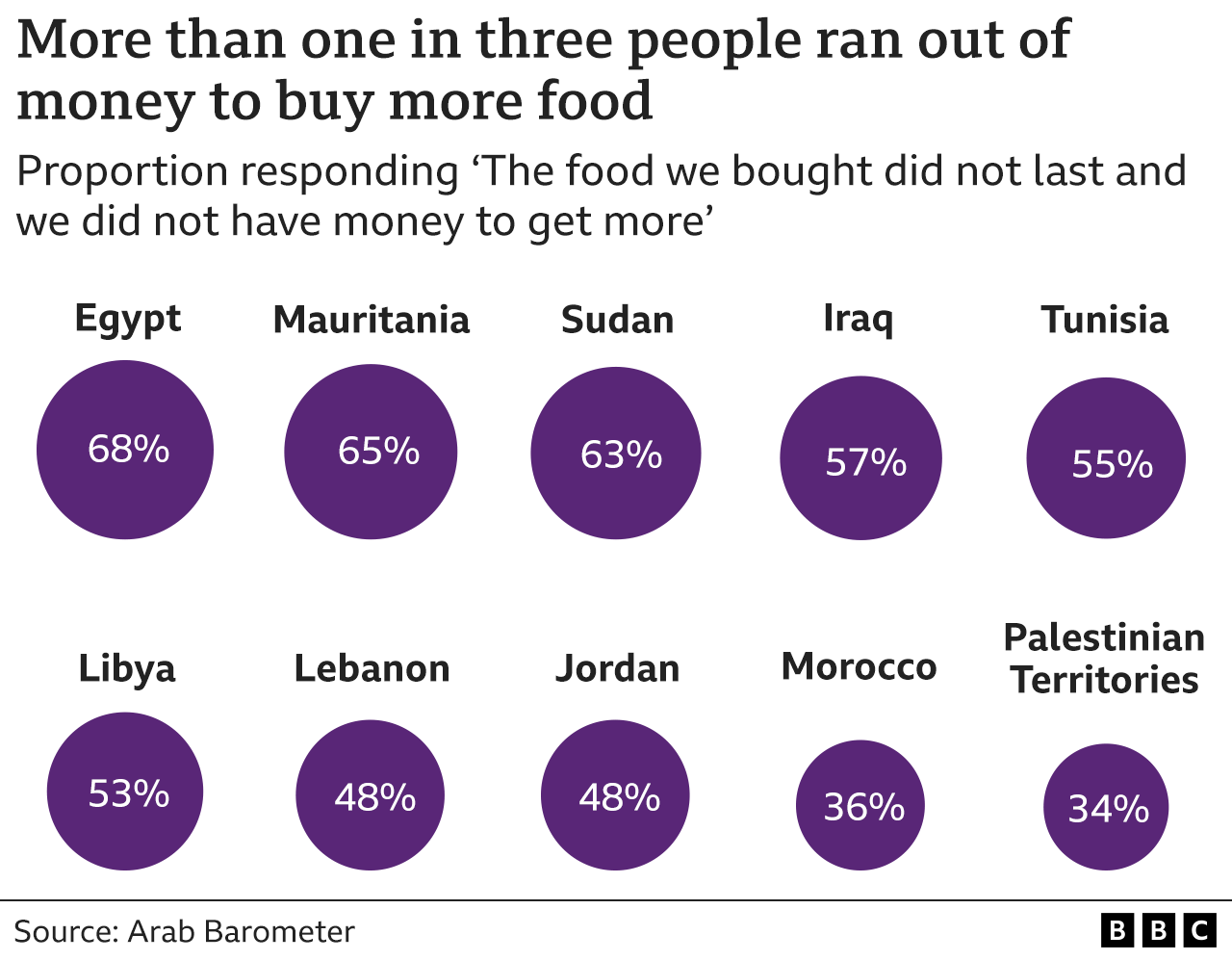 The struggle to keep food on the table was most acutely felt in Egypt and Mauritania, where around two in three people said this happened sometimes or often.
The survey was for the most part conducted before Russia's invasion of Ukraine in February, which has further exacerbated food insecurity across the region – particularly for Egypt, Libya, and Tunisia – which heavily rely on Russian and Ukrainian wheat exports.
The survey's respondents who reported being unable to buy more food when they ran out were less supportive of democracy in a number of the countries surveyed, especially in Sudan, Mauritania, and Morocco.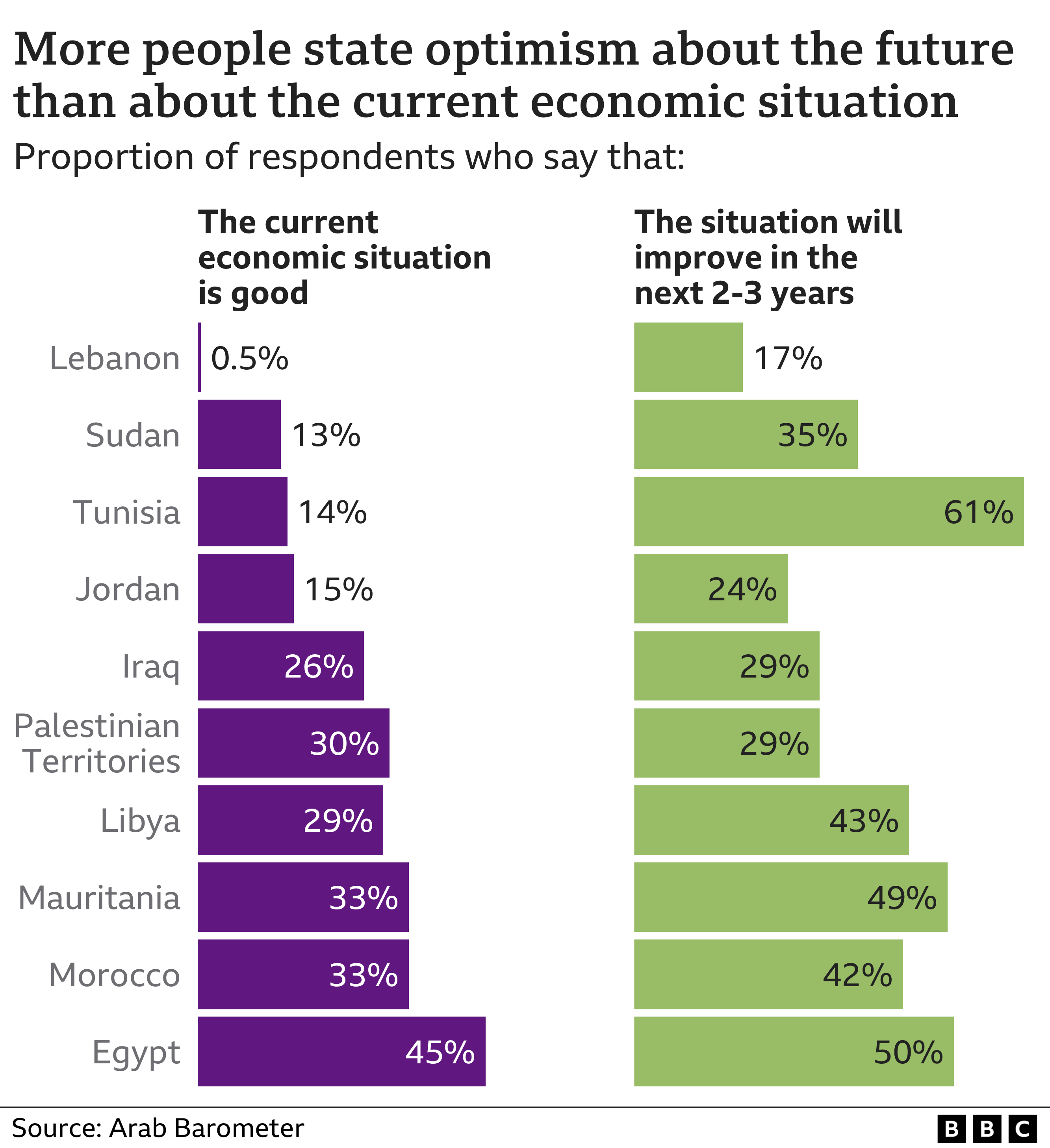 The economic outlook is bleak across the region, with fewer than half of all respondents willing to describe the economic situation in their country as good.
Lebanon is ranked lowest out of all the countries in the survey, with less than 1% of Lebanese questioned saying that the current economic situation is good. The World Bank has described Lebanon's economic crisis as one of the most severe in the world since the mid-19th Century.
Overall most people don't expect the economic situation in their country will improve in the next few years. However there is some optimism. In six countries, over a third of surveyed citizens say the situation will be better or somewhat better in the coming two to three years.
Despite the economic turmoil currently gripping Tunisia, its respondents are the most hopeful about the future, with 61% saying things will be much better or somewhat better in a few years.
The future is "uncertain", says Dr Robbins of Arab Barometer. Citizens in the region may be looking to alternative political systems, such as the Chinese model – an authoritarian one-party system – that he says has "brought a huge number of people out of poverty in the last 40 years".
"That type of rapid economic development is what many people are looking for," he says.
Additional data journalism by Erwan Rivault.
The survey was carried out by the research network, Arab Barometer. The project interviewed 22,765 people face-to-face in nine countries and the Palestinian territories. The Arab Barometer is a research network based at Princeton University. They have been conducting surveys like this since 2006. The 45-minute, largely tablet-based interviews were conducted by researchers with participants in private spaces.
It is of Arab world opinion, so does not include Iran, Israel or Turkey, though it does include the Palestinian territories. Most countries in the region are included but several Gulf governments refused full and fair access to the survey. The Kuwait and Algeria results came in too late to include in the BBC Arabic coverage. Syria could not be included due to the difficulty of access.
For legal and cultural reasons some countries asked to drop some questions. These exclusions are taken into account when expressing the results, with limitations clearly outlined.
Euro-Zone Economy Grew Less Than Estimated in Second Quarter – BNN Bloomberg
(Bloomberg) — Sign up for the New Economy Daily newsletter, follow us @economics and subscribe to our podcast.
The euro-area economy grew slightly less than initially estimated in the second quarter as signs continue to emerge that momentum is unraveling.
Output rose 0.6% from the previous three months between April and June, compared with a preliminary reading of 0.7%, Eurostat said Wednesday. Employment, meanwhile, climbed 0.3% during that period.
While the data still suggest Europe's economy was on a relatively firm footing coming into the summer, analysts worry that energy shortages will drive record inflation higher still, tipping the continent into a recession. A downturn lasting two quarters is now more likely than not, according to a Bloomberg survey, which puts the probability at 60%.
Inflation is expected to average almost 8% in 2022 — about four times the European Central Bank's goal. Officials have stressed the importance of reacting forcefully to prevent expectations of higher inflation from becoming entrenched, though some economists question how far interest rates can be lifted if there's a recession.
©2022 Bloomberg L.P.
B.C.'s export economy continues to cash in on its Cascadian connections – Business in Vancouver
It is well known that the United States is British Columbia's largest export market and number one international commercial partner.
Even if the specific details of export magnitudes are not widely known, most people recognize that being physically adjacent to the world's largest economy means B.C.'s trade will invariably be tilted to the south. A common language, similar business and legal environments, and previous trade agreements further augment this powerful cross-border trade orientation.
In a typical year, B.C. sends about half of its merchandise exports stateside. In 2021, the share was even higher: 55 per cent. China, a distant second, accounts for 15 to 16 per cent of the province's international merchandise exports, followed by Japan at around 10 per cent.
Less well known is that the distribution of B.C.'s exports within the U.S. is similarly shaped by geography and the size of the various state economies. In particular, the three West Coast states – Washington, Oregon, and California – collectively absorb 45 to 46 per cent of the province's U.S.-bound merchandise exports. We estimate that, if services are included, these three states buy more than half of everything the province sells to the giant American market.
When it comes to cross-border trade, geography and size matter – a lot. The I-5 highway, connecting coastal cities from San Diego through California to Portland, Seattle and Vancouver, with arteries extending into northern B.C., has long supported economic activity along the west coast of North America. It has also enabled steady trade growth. The built-up networks of railways, pipelines, electricity transmission lines and seaports and airports – and the sharing of a common time zone – all serve to reinforce the pattern and depth of commerce along the west coast.
Underscoring the point that geography matters, last year B.C. exported $9 billion in goods to next-door Washington state, equal to 30 per cent of U.S.-bound merchandise exports. In fact, exports to Washington state match the value of B.C.'s exports to China, the world's second largest economy.
The size of the individual state economies is also a key factor shaping cross-border trade. California is the largest economy in the U.S., and one of the biggest in the world. So, it's not surprising that California ranks as B.C.'s second largest individual state export market, taking nearly 12 per cent of our U.S.-bound goods.
Broadening the picture to include services, California stands out even more, given that it boasts world-class advanced technology and film and entertainment industries. California is also important as a source of international visitors to B.C. When service exports are included, our research suggests that California accounts for about one-fifth of the value of British Columbia's U.S.- bound exports.
California is unique among the province's trading partners in that service exports exceed merchandise exports in dollar terms. B.C.'s exports of film and television productions have increased sharply and are now close to $2.5 billion annually; the bulk of this involves business done with California. Also, California accounts for a disproportionate share of B.C.'s exports of scientific, technical and professional services and of technology-based services, and the state is also a leading supplier of international tourists to the province. In total, once tourism activity fully resumes, we project that B.C.'s service exports to California will soon exceed $6 billion, almost twice the value of our merchandise exports to the Golden State.
In sum, international goods exports to B.C.'s three neighbouring coastal states amounted to almost $14 billion in 2021. With some educated guesswork, and assuming tourism fully recovers, service exports to these three states should soon reach $12 billion annually. Thus, the combined value of goods and services sold to California, Oregon and Washington amounts to almost $26 billion, equal to 55 per cent of B.C.'s total goods and services exports to the United States.
An updated and more complete look at the direction of provincial exports and the role of the three coastal states in B.C.'s global trade underscores the significance of the "Cascadia" region in shaping the province's economy. When services are counted, this dynamic U.S. region purchases an eye-popping 30 to 33 per cent of B.C.'s international exports. And these are not stagnant markets; all three states have diverse, growing economies. This means there is scope to further deepen B.C.'s already substantial commercial ties with our West Coast neighbours.
Jock Finlayson is the Business Council of British Columbia's senior adviser; Ken Peacock is the council's senior vice-president and chief economist.
Chipmakers Are Flashing More Warnings on the Global Economy – BNN Bloomberg
(Bloomberg) — Mounting concern over semiconductor demand is sending shudders through North Asia's high-tech exporters, which historically serve as a bellwether for the international economy.
South Korean behemoths Samsung Electronics Co. and SK Hynix Inc. have signaled plans to dial back investment outlays, while across the East China Sea, the world's biggest contract chipmaker Taiwan Semiconductor Manufacturing Co. indicated a similar expectation.
Fading tech demand highlights a darkening picture as Russia's war on Ukraine and rising interest rates damp activity. The following charts look at the chip industry and its implications for the world economy.
In recent weeks, major chip manufacturers Micron Technology Inc. Nvidia Corp., Intel Corp. and Advanced Micro Devices Inc. have warned of weaker export orders.
Gartner Inc. predicts an abrupt end to one of the industry's biggest boom cycles. The research firm slashed its outlook for revenue growth to just 7.4% in 2022, down from 14% seen three months earlier. Gartner then sees it falling 2.5% in 2023.
Memory chips are among the most vulnerable segments in the $500 billion semiconductor market to global economic performance, and Samsung and SK Hyinx' sales of dynamic random access memory, or DRAM, a chip that holds bits of data, are central to Korean trade.
Next year, demand for DRAM is likely to rise 8.3%, the weakest bit growth on record, says tech researcher TrendForce Corp., which sees supply climbing 14.1%. Bit growth refers to the amount of memory produced and serves as a key barometer for global market demand.
South Korea's exports are bolstered when demand outpaces supply in bit growth. But with supply likely to expand at almost twice the pace of demand next year, exports may be headed for a major downturn.
Signs are rising that trade is already starting to deteriorate. Korea's technology exports slipped in July for the first time in more than two years, with memory chips leading the falls. Semiconductor inventories piled up in June at the fastest pace in more than six years.
Among potential victims will be Samsung, the world's biggest memory-chip producer and a linchpin of Korea's trade-reliant economy.
Samsung recorded rapid sales growth when demand was strong relative to supply. As the chip outlook turns gloomy, shares of Samsung have been declining this year, with occasional rebounds on better-than-expected profits.
Samsung and SK Hynix control roughly two thirds of the global memory market, meaning they have the power to narrow the gap between supply and demand.
Memory is loosely tied to other types of semiconductors, built by firms such as TSMC that produces chips in iPhones, and Nvidia, whose graphics cards are used in everything from games to crypto mining and artificial intelligence.
The Philadelphia Semiconductor Index, which includes these firms, has ebbed and flowed together with memory demand in recent years.
Korean exports have long correlated with global trade, meaning their decline will add to signs of trouble for a world economy facing headwinds from geopolitical risks to higher borrowing costs.
Micron Technology, the world's third-largest memory maker, last week issued a warning about deteriorating demand, triggering a selloff in global chip stocks.
Korea's stock market has been among leading indicators of the country's trade performance, with investors dumping shares well before exports slump.
"The trend is important for Asia as its economic cycle is very dependent on tech exports," said Alicia Garcia Herrero, chief economist for Asia Pacific at Natixis SA. "Fewer new orders and the large inventory pile-up mean Asia's tech sector will see a long destocking cycle and a shrinking profit margin."
The International Monetary Fund last month downgraded its global growth forecast and said 2023 may be tougher than this year.
Deutsche Bank AG sees a U.S. recession starting in mid-2023 and Wells Fargo & Co. expects one in early 2023. A Bloomberg Economics model sees a 100% probability of a US recession within the next 24 months.
©2022 Bloomberg L.P.