Argentina peso drops as left-leaning economy minister named – ABC News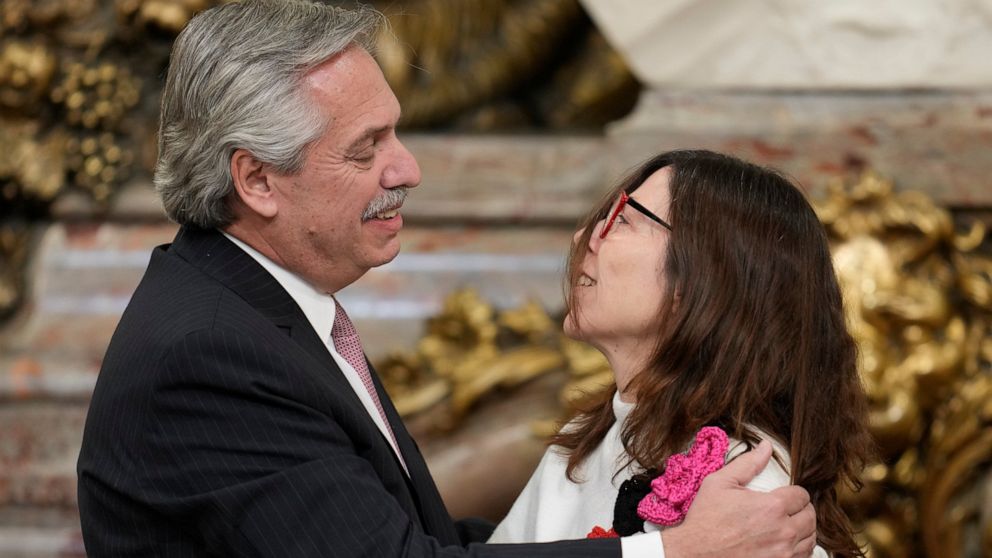 BUENOS AIRES, Argentina — Argentina's peso fell and stock prices dipped Monday after left-leaning Silvina Batakis was named economy minister following the surprise resignation of her more moderate predecessor over the weekend as the country struggles with economic woes.
Batakis was named late Sunday to take over from Martín Guzmán, who was largely seen as a moderate voice within President Alberto Fernández's Cabinet. Guzmán had been the target of strong criticism from more left-leaning elements of the governing coalition, including Vice President Cristina Fernández, who is not related to the president.
The peso's value was down 18% at one point in the informal market Monday, reaching 280 per dollar, before recovering some late in the day. Prices for government bonds plunged as much as 10%, signaling fears of worsening inflation, while stocks also saw declines.
The historic volatility of the peso means Argentines largely save in U.S. dollars and the exchange rate is closely followed as a general barometer for the economy.
Some analysts cautioned it was too early to say if the peso is at a new low because trading activity was very light Monday, indicating that many people might be taking a wait-and-see attitude.
"These are prices that must be taken with a grain of salt today," said Gustavo Ber, an economist who heads local consultancy Estudio Ber.
But others said it was a signal that after serveral economic crashes in recent decades, Argentines are worried that inflation already running at an annual rate of 60% will worsen under Batakis, who was sworn in late Monday afternoon.
"This is what we expected, a pretty strong reaction from the markets," said Marcos Buscaglia, an economist who is a partner at local consulting firm Alberdi Partners.
Argentines crowded into stores over the weekend to buy big ticket items like refrigerators and ovens.
"More inflation is on the way," Buscaglia predicted, saying the appointment of Batakis indicates that the policy preferences of the left-leaning vice president are predominating in the government.
Fernández, who herself was Argentina's president in 2007-2015 and continues to hold a strong base of support, has publicly criticized austerity efforts meant to try to tame inflation.
Guzmán, who was seen as a close ally of the president, resigned Saturday with a seven-page letter posted on Twitter at a time of tension in the governing coalition about how to deal with the economic problems gripping the country.
In addition to inflation, Batakis will have to deal with an economy in which about four of every 10 Argentines are poor and the Central Bank is running perilously low on hard currency reserves.
Batakis has a long history of public service and was the economy minister of Buenos Aires province, the country's most populous district, in 2011-2015 under then Gov. Daniel Scioli, who was recently named the federal production minister.
A big question mark involves the future of the country's recent deal with the International Monetary Fund to restructure $44 billion in debt.
Many left-leaning members of the governing coalition have publicly opposed the IMF agreement, saying it involves too many concessions to the multilateral institution that will hamper growth.
While the country waits for Batakis to lay out her plan for the future, some analysts caution her path forward is difficult.
"One would expect the new minister would try to calm the financial market first, and then order the macro (economy)," said Matias Carugati, an economist with Consultora Seido. "But it really is difficult to know today whether that will happen, considering we do not have a lot of information about the government plan. They're assuring continuity with respect to what Guzmán was doing, but it was precisely that plan that led to his resignation."
Chipmakers Are Flashing More Warnings on the Global Economy – BNN Bloomberg
(Bloomberg) — Mounting concern over semiconductor demand is sending shudders through North Asia's high-tech exporters, which historically serve as a bellwether for the international economy.
South Korean behemoths Samsung Electronics Co. and SK Hynix Inc. have signaled plans to dial back investment outlays, while across the East China Sea, the world's biggest contract chipmaker Taiwan Semiconductor Manufacturing Co. indicated a similar expectation.
Fading tech demand highlights a darkening picture as Russia's war on Ukraine and rising interest rates damp activity. The following charts look at the chip industry and its implications for the world economy.
In recent weeks, major chip manufacturers Micron Technology Inc. Nvidia Corp., Intel Corp. and Advanced Micro Devices Inc. have warned of weaker export orders.
Gartner Inc. predicts an abrupt end to one of the industry's biggest boom cycles. The research firm slashed its outlook for revenue growth to just 7.4% in 2022, down from 14% seen three months earlier. Gartner then sees it falling 2.5% in 2023.
Memory chips are among the most vulnerable segments in the $500 billion semiconductor market to global economic performance, and Samsung and SK Hyinx' sales of dynamic random access memory, or DRAM, a chip that holds bits of data, are central to Korean trade.
Next year, demand for DRAM is likely to rise 8.3%, the weakest bit growth on record, says tech researcher TrendForce Corp., which sees supply climbing 14.1%. Bit growth refers to the amount of memory produced and serves as a key barometer for global market demand.
South Korea's exports are bolstered when demand outpaces supply in bit growth. But with supply likely to expand at almost twice the pace of demand next year, exports may be headed for a major downturn.
Signs are rising that trade is already starting to deteriorate. Korea's technology exports slipped in July for the first time in more than two years, with memory chips leading the falls. Semiconductor inventories piled up in June at the fastest pace in more than six years.
Among potential victims will be Samsung, the world's biggest memory-chip producer and a linchpin of Korea's trade-reliant economy.
Samsung recorded rapid sales growth when demand was strong relative to supply. As the chip outlook turns gloomy, shares of Samsung have been declining this year, with occasional rebounds on better-than-expected profits.
Samsung and SK Hynix control roughly two thirds of the global memory market, meaning they have the power to narrow the gap between supply and demand.
Memory is loosely tied to other types of semiconductors, built by firms such as TSMC that produces chips in iPhones, and Nvidia, whose graphics cards are used in everything from games to crypto mining and artificial intelligence.
The Philadelphia Semiconductor Index, which includes these firms, has ebbed and flowed together with memory demand in recent years.
Korean exports have long correlated with global trade, meaning their decline will add to signs of trouble for a world economy facing headwinds from geopolitical risks to higher borrowing costs.
Micron Technology, the world's third-largest memory maker, last week issued a warning about deteriorating demand, triggering a selloff in global chip stocks.
Korea's stock market has been among leading indicators of the country's trade performance, with investors dumping shares well before exports slump.
"The trend is important for Asia as its economic cycle is very dependent on tech exports," said Alicia Garcia Herrero, chief economist for Asia Pacific at Natixis SA. "Fewer new orders and the large inventory pile-up mean Asia's tech sector will see a long destocking cycle and a shrinking profit margin."
The International Monetary Fund last month downgraded its global growth forecast and said 2023 may be tougher than this year.
Deutsche Bank AG sees a U.S. recession starting in mid-2023 and Wells Fargo & Co. expects one in early 2023. A Bloomberg Economics model sees a 100% probability of a US recession within the next 24 months.
©2022 Bloomberg L.P.
Russia ministry says economic slump less severe than feared – Al Jazeera English
Economy ministry says gross domestic product to shrink 4.2 percent this year amid sanctions over the war in Ukraine.
Russia's economy will contract less than expected and inflation will not be as high as projected three months ago, economy ministry forecasts showed, suggesting the economy is dealing with sanctions better than initially feared.
The economy is plunging into recession after Moscow sent its armed forces into Ukraine on February 24, triggering sweeping Western curbs on its energy and financial sectors, including a freeze of Russian reserves held abroad, and prompting scores of Western companies to leave.
Yet nearly six months since Russia started what it calls a "special military operation", the downturn is proving to be less severe than the economy ministry predicted in mid-May.
The Russian gross domestic product (GDP) will shrink 4.2 percent this year, and real disposable incomes will fall 2.8 percent compared with 7.8 percent and 6.8 percent declines, respectively, seen three months ago.
At one point, the ministry warned the economy was on track to shrink by more than 12 percent, in what would be the most significant drop in economic output since the fall of the Soviet Union and a resulting crisis in the mid-1990s.
The ministry now sees 2022 year-end inflation at 13.4 percent and unemployment of 4.8 percent compared with earlier forecasts of 17.5 percent and 6.7 percent, respectively.
GDP forecasts for 2023 are more pessimistic, though, with a 2.7 percent contraction compared with the previous estimate of 0.7 percent. This is in line with the central bank's view that the economic downturn will continue for longer than previously thought.
The economy ministry left out forecasts for prices for oil, Russia's key export, in the August data set and offered no reasons for the revision of its forecasts.
The forecasts are due to be reviewed by the government's budget committee and then by the government itself.
China's premier urges pro-growth policies as economy sputters – Al Jazeera English
Li Keqiang calls on provinces to bolster growth after consumption and output fall short of expectations.
China's Premier Li Keqiang asked local officials from six key provinces that account for about 40% of the country's economy to bolster pro-growth measures after data for July showed consumption and output grew slower than expectations due to Covid lockdowns and the ongoing property slump.
Li told officials at a meeting to take the lead in helping boost consumption and offer more fiscal support via government bond issuance for investments, state television CCTV reported Tuesday evening. He also vowed to "reasonably" step up policy support to stabilize employment, prices and ensure economic growth.
"Only when the main entities of the market are stable can the economy and employment be stable," Li was cited as saying at the meeting in a front-page report carried in the People's Daily, the flagship newspaper of the Communist Party.
The meeting came after Monday's surprise interest-rate cut did little to allay concern over the property and Covid Zero-led slowdown. Economists have warned of even weaker growth and have called for additional stimulus, such as further cuts in policy rates and bank reserve ratios and more fiscal spending.
Li acknowledged the greater-than-expected downward pressure from Covid lockdowns in the second quarter and asked the local officials to strike a balance between Covid control measures and the need to lift the economy. "Only by development shall we solve all problems," Li said, according to the broadcaster.
Indicating China may resort to more local debt issuance to pump-prime the economy, Li said "the balance of local special bonds has not reached the debt limit" and the country should "activate the debt limit space according to law," according to the People's Daily report.
Based on the government budget, local authorities may be able to issue an estimated 1.5 trillion yuan ($221 billion) of extra debt and bonds this year to support infrastructure spending, after top leaders urged better use of the existing debt ceiling limit in a key July Politburo meeting. The arrangement could be approved in August, according to some analysts.
China's 10-year government yield rose for the first time this week, up one basis point to 2.64% from the lowest in more than two years.
Li urged local governments to accelerate the construction of projects with sound fundamentals in the third quarter to drive investment, the report said, and also asked officials to expand domestic consumption of big-ticket items such as automobiles and support housing demand.
He also stressed the importance of opening up the domestic market to foreign investors, noting that the six major provinces — Guangdong, Jiangsu, Zhejiang, Henan, Sichuan and Shandong — account for nearly 60% of the country's total foreign trade and foreign investment.
"Opening up is the only way to make full use of the two markets and resources and improve international competitiveness," Li was cited as saying.
Li's appearance suggests state leaders have completed their annual two-week policy retreat in resort area of Beidaihe.