Art Advisor and Curator Anna Hygelund Finds Beauty in the Unexpected at Malin Gallery – Cultured Magazine
With an exhibition title that originated from the Wu-Tang Clan random name generator, it is only fitting that "Shady Beautiful," art advisor Anna Hygelund's premiere group show with New York's Malin Gallery, would too bring together seemingly disparate subjects in a surprising yet elegant way. Featuring the work of 11 contemporary artists from abstract painters, sculptors and West Coast artists of the Light & Space movement of the 1960s, the show, which is on view through September 11, bridges a variety of artistic ideas and schools-of-thought, and in doing so, uncovers commonalities that draw a through line back to its title. Four thematic pillars unite the art: tension within the aesthetics of beauty, the use of chiaroscuro, the interplay between light and topography and the surprising creations of resplendence through acts of destruction or violence.
With over a decade of experience in the art world as an advisor and a graduate of Sotheby's Institute of Art, and a career that began working across several sectors, Hygelund has built relationships with galleries, museums and auction houses. Her knowledge of the post-war and contemporary art markets informs exciting juxtapositions within "Shady Beautiful."
The show's standouts include Aaron Young's large-scale abstraction where a motorcycle rider performs intricate choreography on painted brass; Larry Bell's glass-incorporated paintings that focus on the experiential effects and alterations of light and shadow; Oliver Lee Jackson's "Dark Illumination" paintings in which the artist explores a range of tones and textures of Black paint and Vaughn Davis Jr.'s sheath of unstretched canvas cut, ripped, frayed and soaked in pigment to reveal a dynamic abstraction.
The latter is one of the youngest artists in the show, but also the most challenging of the practice of painting itself. The St. Louis native artist's work rests within the ambiguous space of painting and sculpture: he deconstructs canvases into the simplest forms and paints without using a brush. His focus on simplicity rebukes formalism and reframes the role of the art-maker.
Oakland-based painter and sculptor Oliver Lee Jackson, another native of St. Louis, employs a dark palate in his paintings to allow the viewer an experience in the subtle impact of incident light. Known for his richly layered images that incorporate figurative elements, his abstract fields present a deep appreciation of global art history. Jackson is an affiliate member of the Black Artists Group (BAG) which originated in St. Louis in the 1960s. Sustained viewing is deeply rewarding as the work shown in "Shady Beautiful," Painting No. 12 (12.23.13), (2013), changes in light conditions and perspectives.
Meanwhile, in Impenetrable Room, (2016) a seminal work by the Chilean artist Iván Navarro, the viewer, too, stares into a dark abyss, though this is a one-way mirror surrounded by a square pattern of bright orange neon tube lights. The social context guiding Navarro's work addresses the violence inflicted by the Chilean military dictatorship of Pinochet. Born in 1972 in capital city Santiago, Narravo experienced the country's military regime and now uses light as his primary artistic medium to speak to humanitarian issues including capital punishment and torture, specifically in reference to the torture by electricity and loud music of prisoners who resisted the government. The detention center where these injustices occurred was ironically known as La Discotheque, which loosely translates to a dancehall or nightclub.
Through these striking, sensorial art experiences, "Shady Beautiful" sparks internal conversation. Hygelund's unique curatorial premise brings together such monumental works to unexpected effects. Far more than just a dialogue about elements of light and shadow, this show asks the viewer to consider the ways in which we interpret beauty, violence and analyze our collective societies.
Craving more culture? Sign up to receive the Cultured newsletter, a biweekly guide to what's new and what's next in art, architecture, design and more.
Richmondite contributed artwork to support councillor Au's mobile art gallery – Richmond News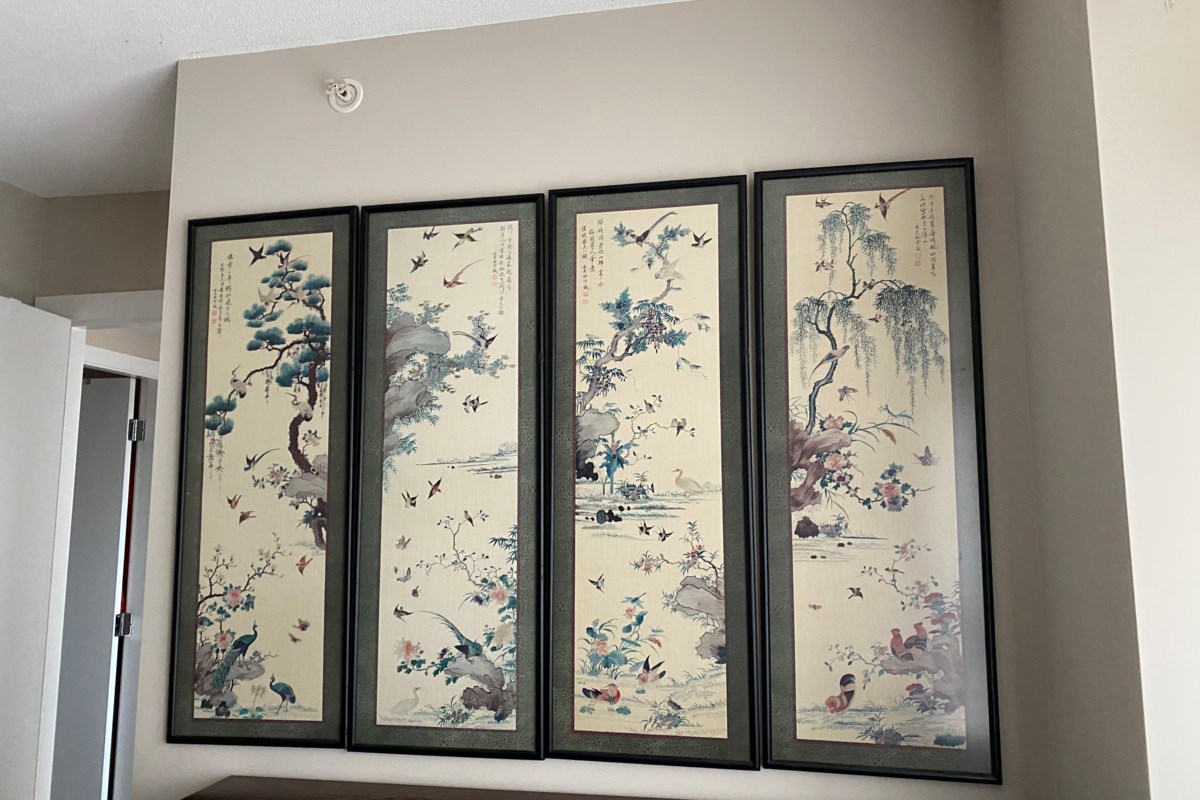 Richmond city councillor Chak Au has spent the past year pondering launching a mobile art gallery for showcasing folk art and connecting the community.
Au is still looking for a venue to showcase such art, but he's already collecting items to exhibit, including one from retired Richmond chartered accountant James Heish, who donated a piece of Chinese decorative needlework this week.
"My idea for the gallery is more like a mobile communication hub. The artwork displayed in the gallery shouldn't be limited to one culture. Instead, it could be as diverse as possible, encouraging more people to share their thoughts on who we are and where we are going as an evolving community," said Au.
The artwork exhibited at the gallery can be returned to the owner when the show comes to an end, added Au, noting that hopefully, Heish's donation could stir up conversations in the community.
Heish told the Richmond News he got his piece dozens of years ago through an auction held by a bank and, since then, it has been kept in his bedroom.
Au said some Chinese immigrants told him how surprised they felt when they first came across some pottery work in galleries around the world, including some from European countries and the Middle East – with the colours being as fresh as painted yesterday and the details so delicate.
The most important thing, added Au, was that they felt ignorant after seeing these art pieces.
"They said we wish we could have known these fantastic work earlier. Looking at other countries' art broadens our horizons and inspires us to embrace their languages and cultures," said Au.
"Artwork represents history and tells fascinating stories, which could be used as a way to connect us."
Heish's donation is now well-preserved at Au's home, and later, they will invite the public to a small exhibition when they find a decent place to display the work.
City of Nanaimo puts together public art advisory group – Nanaimo News Bulletin – Nanaimo Bulletin
The five Nanaimo residents tasked with advising city council on matters relating to public art are set to meet for the first time early next month.
In August, the City of Nanaimo announced the members of its new art in public spaces working group. They include Nanaimo Art Gallery curator Jesse Birch, art conservator Cheryle Harrison, art historian Marie Leduc, art educator Yvonne Vander Kooi and artist Eliot White-Hill, Kwulasultun.
"We were looking for people specifically who have demonstrated experience in aspects of visual arts and we wanted people who represented a variety of professions and experiences to be able to speak to public art," city culture and events manager Julie Bevan said.
The members are all volunteers appointed to a two-year term. Bevan said they will be meeting "several times a year" and their duties will include serving on selection panels for art projects, reviewing and providing feedback on requests for proposals and calls to artists and helping the city proceed in line with its 2010 community plan for public art.
"Part of their role, big picture, is to champion the role of art, artists and creative practitioners and promote processes and policies at the city that support the livelihood of artists and to promote awareness and understanding about the public value of art in public spaces," Bevan said.
Birch said he was drawn to the position because of his commitment to supporting the "cultural fabric" of Nanaimo.
"I'd love to see Nanaimo continue to develop an innovative and inspiring public art policy and body of public art that speaks to this place and honours Snuneymuxw and other regional Indigenous communities and sparks community connections," he said.
As a conservator, Harrison has worked on public art work including the E.J. Hughes mural at the Vancouver Island Conference Centre and projects at the B.C. legislature, Vancouver Post Office and Victoria city hall. She said the 2010 community plan could use some updating.
"In the last 10 years Nanaimo's grown a lot. Our public spaces and how we use them has also changed," she said. "And I see that public art … can communicate and inspire and contribute in new and diverse ways and part of that is looking at our spaces now that we have in our community."
Aside from writing and researching, Leduc has also studied and taught studio art and art history at the post-secondary level and has been a gallery curator. She said she's concerned about how Nanaimo is represented through art and wanted to be involved with the decision making.
"This group, I think, is a really good addition," she said. "A lot of big cities have such a committee and help to guide the selection choices and help to not just guide that, but to nurture more art activity. So it's a reciprocal thing."
Vander Kooi has created public art projects with students from Bayview Elementary School and as participants of the NAG's youth art groups. She also facilitated the creation of a memorial mural for murdered Nanaimo teenager Makayla Chang.
"I've participated with some public art in Nanaimo and I think it's really an important part of our local culture in identifying who we are in a playful way," she said. "So it's part of my experience and it's part of what I hope to continue to help support in the community."
White-Hill has exhibited his work at the Nanaimo Art Gallery, painted murals at Beban Pool and this year he was awarded the City of Nanaimo's Emerging Cultural Leader award. He said public art can have a role in educating people about the city's Indigenous history.
"When there's public art work it fundamentally shifts the nature of a space and the way that people interact with that space," he said. "And I think it's really important that Snuneymuxw is represented and our stories are talked about and that this is coming back to the surface in Nanaimo and teaching people about where they are and the history of this place."
---

arts@nanaimobulletin.com
Like us on Facebook and follow us on Twitter
Art Installation Occurring At Tom Thomson Art Gallery As Part Of #HopeAndHealingCanada Project – Bayshore Broadcasting News Centre
The Tom Thomson Art Gallery is announcing the launch of the #hopeandhealingcanada project, featuring Métis artist Tracey-Mae Chambers.
A release notes this live, one-day outdoor art installation on Sept. 18, reflects upon the challenges of the current global and national climate, including the impacts left by the pandemic and the realities of past and present racial discrimination. This is further emphasized by the discovery of Indigenous children buried on the grounds of residential schools over the summer.
In her art-work, Chambers asks "Where do we go from here – individually and collectively. How do we heal and remain hopeful?"
For the project, Chambers aims to create site-specific art installations for both indoor and outdoor spaces at museums, galleries, and cities across the country.
"This is a poetic and powerful public art project and I look forward to seeing this one-day installation take place in our community – creating conversation, connecting us through our desire and hope for a better future," says Owen Sound Mayor Ian Boddy.
The installations will be used with red yarn, which she will reuse at various locations to act as a way of creating a visual and tangible image of connectivity. Also aimed as an act of decolonization and offering hope to find healing and a way of deeper understanding.
"The red yarn represents danger and power, but also courage and love," says Chambers.
Tom Thomson Chief Curator and Director Aidan Ware adds this project responds to crisis with elegance, humanity, and a prevailing optimism for a future in which we are all more deeply connected, compassioned, and kindred.
"The Tom Thomson Art Gallery is honoured to join the other spaces across Canada in hosting this intimate and resonant performative art installation," says Ware.
Each of the installations with be temporary, ranging from only a day, to six months.
Residents are invited to watch and engage with Chambers as she works on the art installation west of the Tom Thomson Art Gallery and the Library buildings on 2nd Avenue West.
The project ends Sept. 18 at 3 p.m.