Art At Night Hosting online event – pictouadvocate.com
As so many
events have been cancelled lately art lovers and those isolating inside will
have something to look forward to this weekend as Art At Night goes online for
the first time ever to help continue to bring local art and performance to the community.
A Facebook
group has been created for the event with posts of art and more being spread
out through the evening to give people time to look at and enjoy without
feeling rushed.
"We have
created a group on Facebook outside of our general page, where all of the
artwork and performances will be posted. The artists will submit their artwork
on there, and we will push their posts through on somewhat of a schedule. We
want to make sure that there are posts going out to the public spread out
throughout the evening," said Ian Grant, board member and organizer for the
event.
"We've had
over 70 submissions, so we are confident it will be able to fill the evening."
The event
will begin about 7 p.m. Saturday, May 2.
Grant shared
that artists can submit before that time on the website www.artatnight.ca by filling out a submission form
there. Those interested in viewing the submissions can find the group by
searching "New Glasgow's Art at Night Online Art Show 2020."
"Well our
initial decision was to cancel. There wasn't a lot of talk about moving to
online. But as the days went by and we received feedback from artists and the
community, and we saw more things moving to more of a virtual setting, we
thought that it would be a good opportunity to continue with our event and to
provide that platform to local artists that we do year after year," said Grant.
To make the
event have a similar feel to the original, it will only be live for 72 hours.
"We wanted
to concentrate everything around our usual 7-11 time. We did want to leave it
open for a few days so artists could reach out to any potential buyers they
have for their work," he said. "We will also be holding a contest during the
event for $20 towards the New Glasgow's Farmer Market. Post a picture of
yourself wearing an Art at Night hat or T-shirt with our hashtag, #ngaan20, and
you will be entered. We will be doing deliveries of shirts and hats if anyone
is interested Saturday morning. They can contact us on Facebook or by email, ng.artatnight@gmail.com, if they are interested in buying!"
---
Gladys May Carganilla takes a photo of some of the art available at Art At Night on Saturday night.
(Brimicombe photo)
Windsor Public Library wants to show you local art while you ride your bike – CBC.ca
Windsor Public Library wants to showcase the city's downtown art. It plans to have two cycling tours to show it off.
Becky Mayer, a librarian at the Windsor Public Library organized the tours. She said the main reason she wanted to do this is because people think there's nothing to do or see in Windsor.
"I often ride my bike around and I see a lot of cool and weird stuff," said Mayer. "So, I just thought that maybe a few people would want to join me on a weird stuff tour."
Mayer said she'll be bringing Betty the Bookmobile along for the journey. She said the ride will be pretty casual and if someone has a story to tell she's happy to give them space to share.
"I'm fine with talking as well. If you want to have a silent tour, that's also cool. Like, it's very, very casual. Go with the flow. We'll see what happens," Mayer said.
The first tour starts at 6 p.m. August 16, the second tour is on August 20 starting at 10 a.m. The tours last about an hour and starts at the library's Central Branch at the corner of Ouellette Avenue and Pitt Street.
Youth get creative at summer art camp – Lakeland TODAY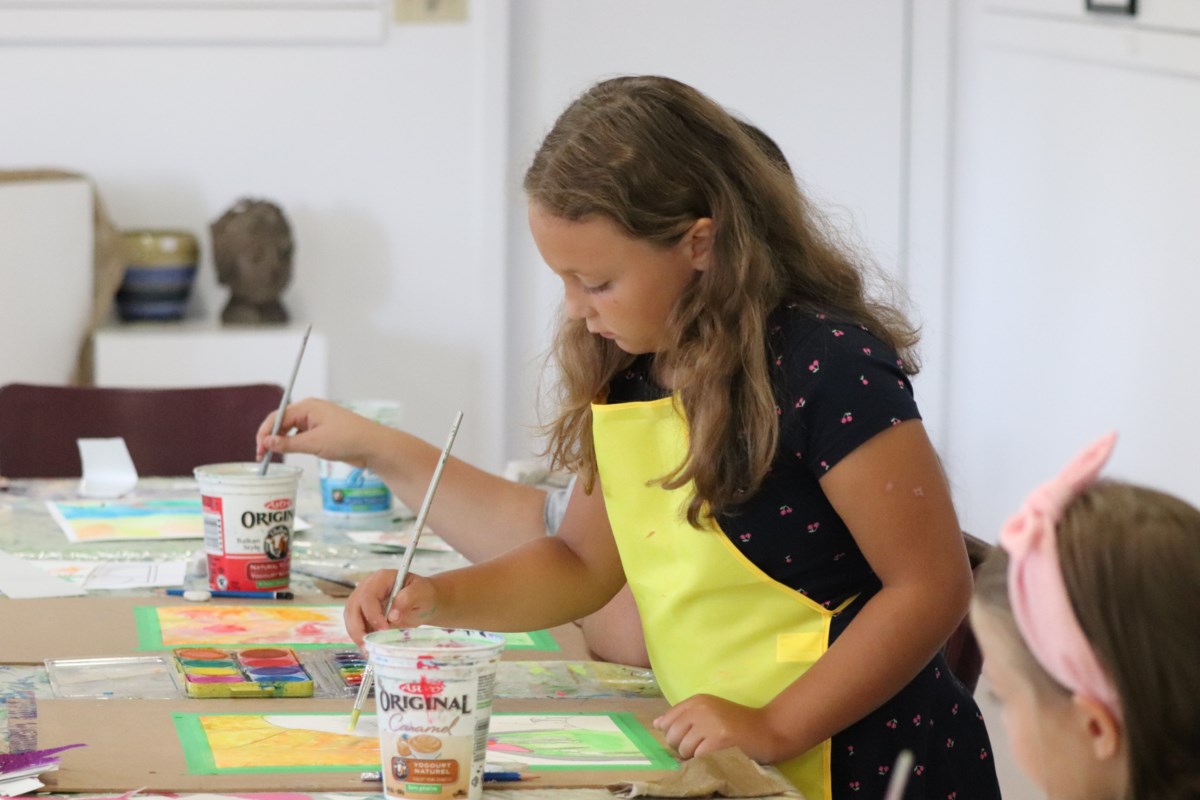 ST. PAUL – A variety of mediums were used to create unique works of art during a week-long Youth Art Camp held at the St. Paul Visual Arts Centre, last week.
Pam Bohn, the art instructor for the art camp, said the camp gives youth the chance to not only do art but form friendships.
"We also go outside to play and go to the park, and so it is also a day where they can make friends."
The art camp included acrylic painting, watercolour painting, mixed media projects, and much more.
"While I facilitate the classes, [the children] are free to create as they please," she said. "That allows those who like to do art that freedom to have different art mediums and try things that they may be unable to do at home."
Bohn said the participating youths have enjoyed the art camps, adding, "They all get excited when they come and take their [art] home to show their parents."
The Hive celebrates three new exhibitions at Art Gallery of Burlington | inHalton – insauga.com
Published August 15, 2022 at 2:41 pm
A special event celebrating three new exhibits is being hosted by the Art Gallery of Burlington.
The Hive is happening Saturday, Aug. 27, from 1 to 4 p.m. This free, all-ages event incorporates the organization, cooperation and energy of a beehive into an afternoon of art, activity, learning and fun.
The Hive will feature a special workshop led by Toronto's Clay and Paper Theatre, live arts and crafts demonstrations, a screen-printing presentation, live performance, food and drink.
The event is being held in celebration of the AGB's three new fall exhibitions:
The Future of Work, an exploration into how the pandemic has affected labour markets and our quality of life

ਨਜਰ ਨਾ ਲੱਗੇ

/Nazar na lage/Knock on wood, a vibrant and meaningful interpretation on the art of rangoli by artist Noni Kaur
Know your Place, an exhibit of cartoon-like clay sculpture that reveal the raw emotional experiences of the artist Sami Tsang
Known for work inspired by oral traditions, folk songs, poems and fables, Clay and Paper Theatre will charm participants and audiences with their original multi-disciplinary performance-based production. Guests who wish to participate with Clay and Paper Theatre should arrive early and be ready to create.
Visitors are invited to an interactive, screen-printing demonstration led by artist Jesse Purcell and are encouraged to bring any used clothing to be transformed into a bunting display to be hung in the gallery by the artist collective Works-in-Progress.
Arts Burlington will be opening its doors to guests with arts demonstrations and the Burlington Handweavers and Spinners Guild will guide guests through a natural plant-based dying demonstration, teaching attendees what they need to know to create from home.
The AGB parking lot will be free for the day. For more information, visit the AGB website.

insauga's Editorial Standards and Policies
Stay the know
Subscribe now to receive our daily email of today's top stories in your city!
advertising