Art Beat: Commotion on the Ocean makes waves for a second year – Coast Reporter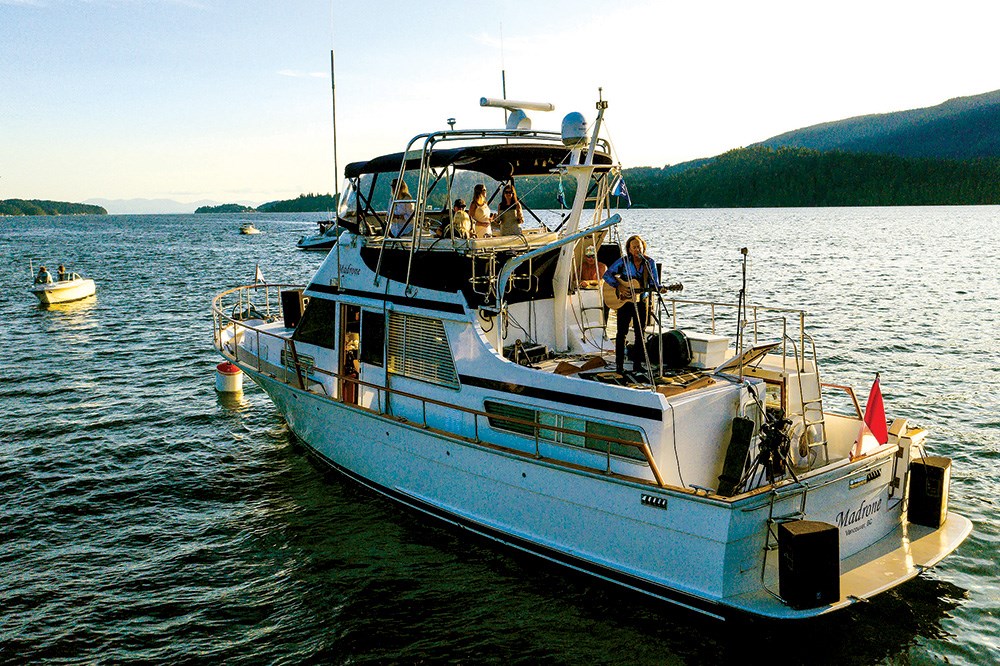 Singer Bobby Bruce is taking to the water as he did in 2020 with a set of floating concerts at three locations on Gambier Island, his home base. Bruce, renowned for his Neil Diamond tribute shows as Nearly Neil, will be on the deck of Andy Harper's big cabin cruiser, Madrone, on Saturday, July 31, singing to audiences ashore and in the small armada of boats that follow. "We're taking Yacht Rock to another level," said Bruce. The music starts in West Bay at 5 p.m., followed by Gambier Harbour at 6 p.m., and New Brighton at 7 p.m. The event is a fundraiser for the Gambier Community Centre. All audience members are asked to purchase $20 tickets at gambierisland.org. Youths 15 and under are free.
Concerts on the pier
For some special music by the ocean – as opposed to on it – guitarist Jamie Bowers launches a series of free Sunday evening shows on Aug. 1, at the end of Roberts Creek pier. Bowers, who has toured with the bands Chilliwack and Prism, will play his sunset serenades in surround sound. "From the hauntingly beautiful, to world and pop originals, and covers," said Bowers. "Magic music in a magic place." Start time is about two hours before sunset (which is getting earlier each week). Every Sunday with nice weather, until Sept. 12.
Art at The Garden
The Landing Artists group has a show and sale throughout the long weekend at the Sunshine Coast Botanical Garden on Mason Road in Sechelt. "Lots of new work. Featuring original paintings, prints, photography, sculpted characters, fibre art, jewellery, lamps and more." 1 p.m. to 6 p.m. on Saturday, 1 p.m. to 5 p.m. on Sunday and Monday.
Venue change
Music in The Landing will now be staging both its Saturday afternoon and evening concerts at Winegarden Park for the rest of the summer. (The afternoon sets had originally been scheduled for Pioneer Square, by the George Gibson statue.) On July 31 at 1 p.m., singer-songwriter Jim Foster performs, then at 7 p.m. hear the bohemian funk/jazz fusion of Tongue N Groove.
More live music
At the Clubhouse at the Pender Harbour golf course, the Soleil Duo of Nancy Pincombe and Kenneth Johnson performs Friday, July 30 at 5 p.m. On Sunday from 2 to 5 p.m., the Peter Van Trio plays and from 2 to 5 p.m. on holiday Monday, Aug. 2, it's the Steve Hinton Band.
At the Sechelt Summer Music Series on Saturday, July 31, David Jones plays at noon and the Gruny Four come on at 1 p.m.
At Tapworks in Gibsons on Saturday, July 31, hear The Organics, starting at 2:30 p.m.
On Saturday, July 31 at the Roberts Creek Legion, the Grateful Dead tribute band GDBC will prompt a few flashbacks, starting at 4 p.m., with sets until 8 p.m. $25.
There's an impressively packed lineup for Aug. 1 at Slow Sundays in the Creek, at the gazebo behind the library in Roberts Creek. At noon, singer-songwriters Charlotte Wrinch and Michael Friedman perform together. At 1 p.m. it's the "evolved ukulele enthusiasts," Wildflowers. Roberts Creek writer John Van Arsdell is on at 1:45, then the Lowry Olafson Trio at 2 p.m., followed by show closers, Tube Radio Quintet at 2:45.
Let us know about your arts event at arts@coastreporter.net.
This Old Thing: Striking portrait by Canadian artist and art teacher – Waterloo Region Record
Q. This painting has been in my family for the past 50 years. It was painted by Canadian artist Adam Sherriff Scott and the title on the canvas back is "Old Philosopher." The dimensions of the painting are 61 by 46 centimetres (24 x 18 inches). Can you tell me more about the painting and its value?
A. Adam Sherriff Scott (1887-1980) was born in Scotland. His initial studies included the Edinburgh School of Art and the Slade School of Art in London. With his arrival in Montreal in 1912, his career blossomed. He captured much of life in Canada with landscapes, genre scenes and portraits of all kinds. This often included winter scenes, Indigenous cultures, cityscapes, still lifes and interiors. Much of his portfolio was exhibited with the Art Association of Montreal and the Royal Canadian Academy of Arts. He also made a great contribution, teaching art and opening up his own school in Montreal. This striking portrait was painted circa the late 1940s or early 1950s. It certainly invokes deep thought. It is worth $750 today.
Q. I inherited this pair of 29-cm-high (11.5 inches) vases from my great-grandmother. They were a wedding gift and she was married in 1890 in New Glasgow, N.S. They have no cracks or chips. There are some painted underside markings. I would be delighted if you consider these for your newspaper column.
A. The 1895 Montgomery Ward & Co. of Chicago advertised your vases as "made of Bohemian glass of a milky white colour and beautifully decorated. This makes a handsome ornament, and would be appreciated as a wedding or birthday gift. There is nothing nicer to give as a holiday present." The vases were offered individually for 27 cents or the pair for 50 cents — a saving of four cents that, at the time would buy either a loaf of bread or a half-pound (225-gram) rib roast. Bohemia harboured some of the major glass-making centres of Europe. The markings on the base are those of the artist. Your vases are hand-blown opal glass. The hand-painted fruit, flowers and foliage might represent a member of the nightshade plant family, which includes plants used for ornament, food or even drugs. Your stately pair is worth $125.
Q. I have this blue glass lamp I found in the basement of an old house. It is 24 cm tall and 16.5 cm wide (9.5 by 6.5 inches). The house owner said it had been in her family since before hydro came in. I am wondering what you might know about the lamp and its value.
A. You have a kerosene oil lamp in one of the most popular selling patterns of its time — "Princess Feather." It was made primarily by the Consolidated Lamp and Glass Company in Coraopolis, Penn., from 1894 to 1900. The lamp is found in clear glass and several colours — sometimes just the founts (the oil reservoir) are in colour. But cobalt blue, as in your example was, by far the most popular colour sold. The proportions of your lamp are distinctive of the "sewing" size, which holds the largest amount of oil of any in the several sizes in which this pattern was produced. Originally, it was sold complete with a chimney for less than one dollar. It is one of the most elaborate patterns in glass stand lamps of this era. "Princess Feather" is still quite popular in this colour and it is very difficult to find examples that are free of chips since the foot edges are quite prone. It is worth $250 today.
SHARE:
Your hand-me-down art can be loved again: Art Attic is back – CambridgeToday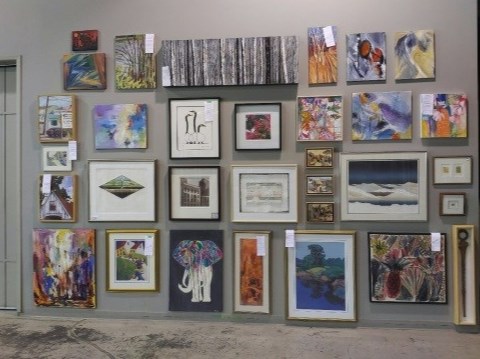 Is there something sitting in your closet collecting dust? The Cambridge Art Attic will take it.
The Cambridge Art Attic Silent Auction is back and looking for donations of art and home décor. As the Cambridge Art Guild's largest annual fundraiser, the event supports the Cambridge Centre for the Arts (CCA).
The 11th annual Art Attic Silent Auction will be held at the Cambridge Centre for the Arts on June 16, from 9 a.m.- 8 p.m., June 17, from 9 a.m.- 9 p.m. and June 18 from 9 a.m. – 1 p.m.
The Art Attic is accepting donations of art including prints, originals, and home décor, all priced to sell.
Visitors will have an opportunity to bid on and purchase art donated by local artists and the community.
The Cambridge Art Attic, an initiative of the Cambridge Arts Guild, is the primary fundraiser that supports the city's art scene.
"We are so excited to see the silent auction return this year," said Lori Bennett, chair of the Cambidge Art Attic.
"This is our major fundraiser that allows us to support our programs and events. Art Attic allows people to donate their previously loved art that they no longer use or have space for, and they know that someone else will love that piece of art again."
Art can be dropped off at 60 Dickson St. For hours visit here.
And for those doing some spring cleaning or decorating and have some art to donate, the Art Attic also accepts pieces year-round.
"We get some items and we think, this doesn't have much value, and then you find out it's an antique piece. Someone will come in and get really excited about it," Bennett said.
Proceeds from the Art Attic Silent Auction will support the Cambridge Arts Guild with local art initiatives including Cookies and Kids Theatre, Cambridge Studio Tour, the Juried Art Show, Artist in Residence, and Christmas in Cambridge. .
The Cambridge Centre for the Arts provides quality arts programming through classes, workshops, an art gallery, special events, and an artist in residence program.
The CCA is a municipally operated community arts centre that enriches and engages area residents, artists and organizations through quality artistic experiences and opportunities that stimulate, promote, and support the arts in Cambridge.
The CCA encourages participation and inspires an appreciation for the arts.
"Art speaks to people," Bennett said.
"You see people's faces light up at the auction when they see that special something that speaks to them. They can give it new life and enjoy it for years to come. It's a win win for everyone."
For more information, visit the Art Attic Facebook page. The Arts Guild is also looking for new volunteers or to help with the silent auction. To volunteer, contact Wanda Schaefer at 519-623-1340 ext. 4491.
For more information, visit here.
Goddesses, she-devils and a tangle with textiles – the week in art – The Guardian