Art contest raises awareness of salmon decline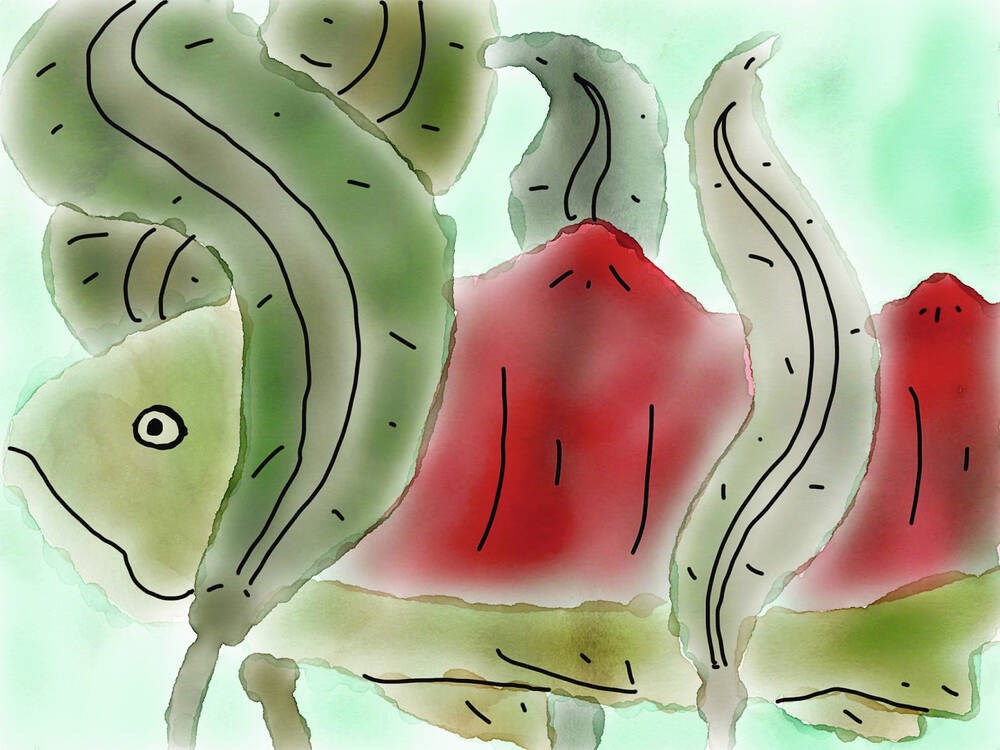 A 10-year-old local student has won first place in her age category in the Pacific Salmon Foundation's second annual Kids Salmon Art Contest. The winning ­submission is a watercolour of salmon darting through bull kelp.
The contest attracted more than 500 art submissions, inspired by salmon, from students ages four through 17 from across B.C. and the Yukon. The contest raises awareness of declining salmon populations amid a multitude of ­challenges brought on by climate change and habitat loss.
"Seeing salmon through the ­creative eyes of young artists is such an ­inspiration and reminder of why we must do everything to help conserve salmon for generations to come," said Michael Meneer, CEO and president of the ­foundation.
"We are so grateful to every artist, parent, and teacher who took the time to celebrate salmon by entering PSF's Kids Salmon Art Contest. The ­impressive ­artistic interpretations of salmon ­anatomy, life cycles and challenges to their survival demonstrate the students' profound awareness of salmon. Their ­passion and thoughtfulness about salmon is a promising indicator for the future of salmon stewardship."
• For more information on the contest and to view the submissions, go to psf.ca.
Arbutus RV and its six Vancouver Island RV Lifestyle Centres held a fundraising campaign during October and November, raising a total of $20,000 for Island food banks.
"The need this year was even greater than ever," said Craig Little, owner and president of Arbutus RV. "Our local ­communities are desperately looking for the resources to help a growing ­community of families in need.
"As a Vancouver Island business of 35 years that is family-run, guided by ­old-fashioned family values, we all wanted to work hard to give back and support our local community food banks so that even more families had the opportunity this year to break bread together over the holidays and beyond."
Little thanked the front-line volunteers for making a lasting difference in their local communities.
Members of the Vancouver Island ­Construction Association raised more than $20,000 in groceries and toys for families in need.
It will use $13,000 to purchase grocery gift cards that will be distributed to Island elementary schools to be given to families throughout the year.
"Working directly with families, often we go beyond our educator role and learn the realities of the hardship many of our families are currently facing," said Shauna Coey, principal of Georgia Avenue Community School in Nanaimo.
"Being able to offer support outside the classroom for our students and their families is essential in our community school. We are always appreciative of the generosity of Vancouver Island ­Construction Association members this time of year and thank them for their continued ­support of our school community."
Other recipient schools include Ruth King Elementary in Langford, Tillicum in Saanich, George Jay and Oaklands ­Elementary Schools in Victoria, and Cedar Elementary in Campbell River.
Each elementary school received $2,150 worth of grocery gift cards to give to families in their school communities that need it the most.
"Even through uncertain economic times, VICA members always step up with their generosity year after year, making a difference in our Vancouver Island communities," said Rory Kulmala, CEO of the association.
"We are fortunate to have a strong ­construction economy on Vancouver Island, allowing our members to express their support for the communities in which we work and live. The holidays can be a stressful time for anyone, and we hope our donations will be able to ease that burden for those in need."
In addition to the grocery gift card program, $7,000 worth of new toys were donated to CFAX's Santa's ­Anonymous, The Great Nanaimo Toy Drive and the Parksville Society of Organized ­Services. A $500 donation was made to the ­Ladysmith Resource Centre.
Greater Victoria Save-on-Foods stores have rallied together in support of ­families staying at Jeneece Place, ­donating $800 worth of gift cards.
"Thank you on behalf of all the ­families staying at Jeneece Place while their children are receiving health care," said Veronica Carroll, CEO of the Children's Health Foundation of Vancouver Island.
"This generous contribution will fill the pantry so that families can use food in the pantry to make their own meals between hospital visits, and don't have to worry about grocery shopping.
"Families have told us how much it means to have the support and ­compassion of donors like Save-on-Foods so that they can focus on their child's health."
This is the eighth year that the eight local stores have got together to make the donation possible.
"We hope to make life a little bit easier for the families staying there," said Lionel Gjerde, Save-on-Foods' Colwood store manager.
"Our eight stores share a ­commitment to supporting important causes in our community and we are happy to come together for the families staying at Jeneece Place and the foundation that runs this important facility."
The Rotary Club of Oak Bay, supported by The Oak Bay High School Alumni, raised almost $8,650 through bottle drives in 2022.
Volunteers held bottle drives on the first Saturday of each month, except ­September, last year.
For the first eight months, all money raised went towards the Jack Wallace Memorial Track Project. In the last three months, the proceeds were split 50/50 with the Threshold Housing Society (one of the residences of the organization is located in Oak Bay). The 50/50 split will continue for 2023.
The volunteers will continue to host their no-sort bottle drives in 2023, between 10 a.m. and 1 p.m. on the first Saturday of the month (except this month, when it will be held on Jan. 14) at the back parking lot of Oak Bay High School ­(Cranmore Road entrance).
parrais@timescolonist.com
Criss Bellini Art Fans Urge for Pop-Up Gallery – E! NEWS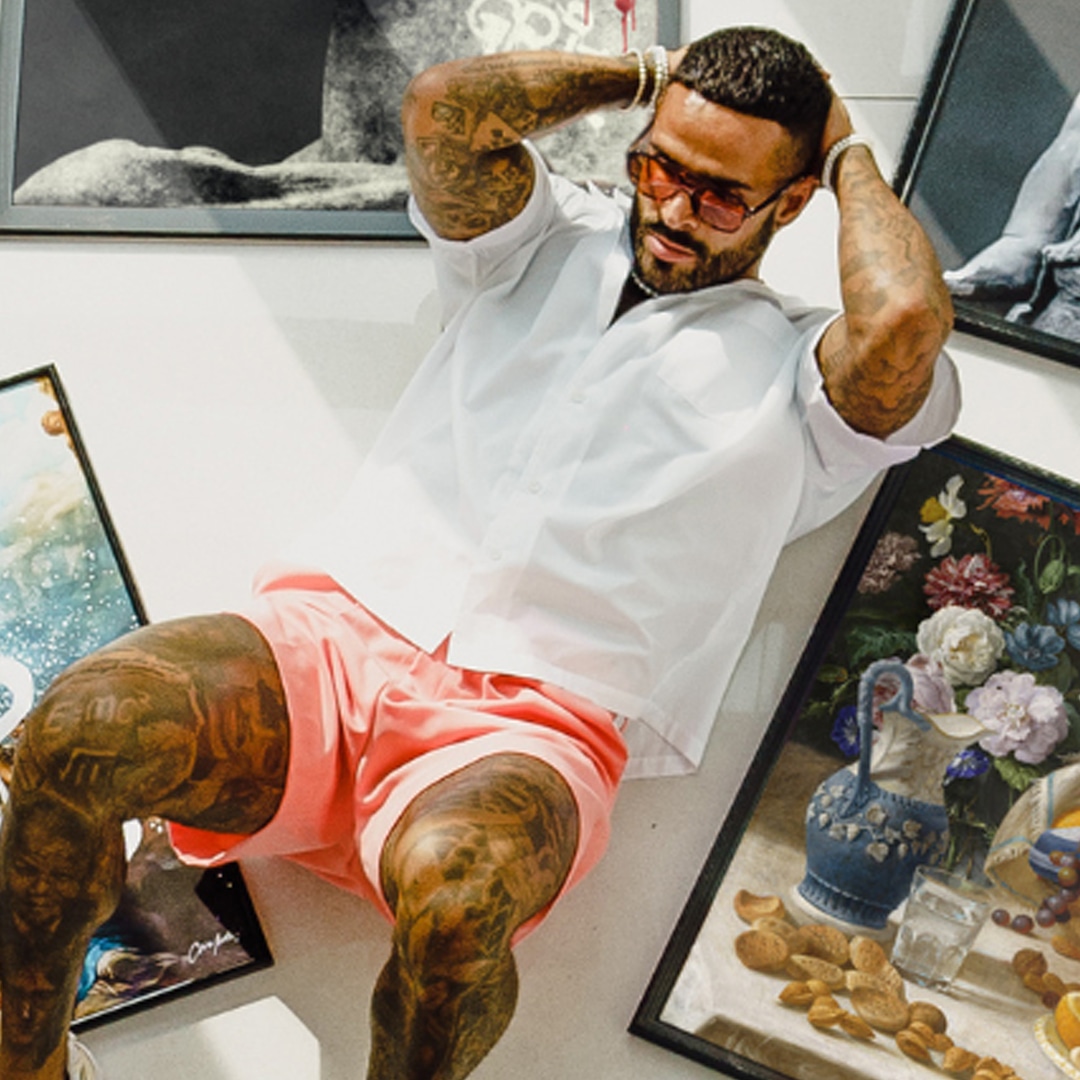 Since the brand's launch in 2020, Bellini's sales have skyrocketed, selling over $1 million in its first year and exceeding its sales in 2021, in 2022, with over 2 million sales in euros. Seeing this, it is clear that art sales are booming, and people want to see more of his unique pieces.
However, because Bellini's website is the only place to view and purchase his art, the public has begun to request a gallery or a pop-up gallery where they can go visit Bellinis' work and see it for themselves.
Wish you could set fire to the last 3 years? A huge flaming art installation is coming to Toronto – CBC.ca
What if you could just set fire to the past? Would you feel liberated — free to start fresh in 2023, flush with feelings of love and peace and other things you could file under positive vibes?
The City of Toronto launched an interactive art project last Thursday called The Burn, a seven-week initiative that aims to offer a moment of respite in the wake of COVID-19, and it comes to a climax on March 11 — the third anniversary of the pandemic.
On that date, a monumental art installation will go up at Nathan Phillips Square, and the centrepiece involves three towering steel sculptures that'll be set aflame for 24 hours — fires that will keep on burning with a little help from the public, who'll be invited to add bits of (supplied) wood to the blaze.
It's a scenario that sounds significantly more thoughtful and controlled to hear Roger Mooking describe it. Mooking is the lead creative on the project, and he talks about The Burn as a chance to heal and grow as a collective. In short, it's bigger than an all-day bonfire.
Mooking says he began thinking about the work in 2021, prompted by the "overwhelming melancholy" of lockdown. "I recognized that I was not the only one, that we were in this kind of collective consciousness globally, and we all needed to heal," he tells CBC Arts. And with The Burn, he's inviting Torontonians to actively begin that healing process.
The first phase of the project is already underway, and involves a series of interactive sculptures — significantly smaller vessels than the ones that'll go up at Nathan Phillips Square. They're being stationed at public sites around the GTA as part of a tour that launched Jan. 19 in three locations: Fort York National Historic Site, the Toronto Zoo and Twist — Mooking's restaurant at Toronto Pearson International Airport.
Here he is, testing it out in Terminal 1.
As of writing, people can find The Burn at three new sites through Feb. 1: Spadina Museum, Native Canadian Centre and the Market Gallery at St. Lawrence Market.
"We want to make sure that we're hitting every corner of the GTA: north, east, south, west, central — all the nooks and crannies," says Mooking. Twenty-one locations are currently scheduled for the tour, and a full map and schedule can be found through the city's website.
Through March 11, visitors will find metallic dodecahedrons at different destinations — sculptures created by local artist Javid JAH. And under each sculpture is a bowl of wooden balls: spheres the size of marbles that have been carved out of cedar.
Take a ball, and you'll be asked to stop and think — to sit with your feelings, really. In the language of The Burn, you'll be "setting an intention." Is there something weighing on you: an emotion you wish you could change or simply set free? Once you've identified that feeling, you're asked to drop your ball inside the sculpture. It's a moment for "letting go," so to speak.
"People are carrying so many things, especially coming through this COVID time," says Mooking. "It's a very simple thing … that can be very, very emotional."
A multihyphenate known for his success as a chef, TV personality (Man Fire Food), and musician (Bass is Base), Mooking's presented participatory art projects for the city before. Just last August, to coincide with Emancipation Month programming at Toronto history museums, he launched Read(In), an interactive installation that also appeared in multiple locations throughout the GTA.
To bring The Burn to life, project curator Umbereen Inayet connected him with collaborators JAH (who designed and produced the installation's ornate sculptural elements) and artist Catherine Tammaro, a Wyandot Elder who served as an advisor, particularly concerning the project's spiritual bent. Says Mooking: "There's a deep history of Indigenous cultures using fire and water for cleansing and preservation and healing, so we needed that guidance to make sure that we were respecting that tradition."
The wooden balls collected at each tour site will eventually fuel the fire on March 11, and Mooking says those attending the activation at Nathan Phillips Square will also have the opportunity to set an intention. At the big event, visitors will send their cedar spheres down a chute, directly into the flames. And when the fire's extinguished, all the ash that's left behind will be collected for use in city gardens. "We're really trying to emulate the cycle of life: from the spark to the ash," says Mooking. "We're looking to carry the spiritual intentions from everybody in the city to fortify our Earth."
The city says it will be announcing more public projects that respond to COVID's impact on residents. Like The Burn, they're part of a program called Stronger Together that launched in late November. More programming is expected to be revealed in February.
In the first few days of The Burn's cross-city tour, Mooking says he was receiving reports from the participating venues. Folks are interacting with the sculptures already, he says. "It's been cathartic, I hope. … I can't wait to see how much healing we're able to do when we really roll out the full scale of this at Nathan Phillips Square."
Full event details, including a map of The Burn's tour locations, can be found on the project's website.
Art is everywhere this weekend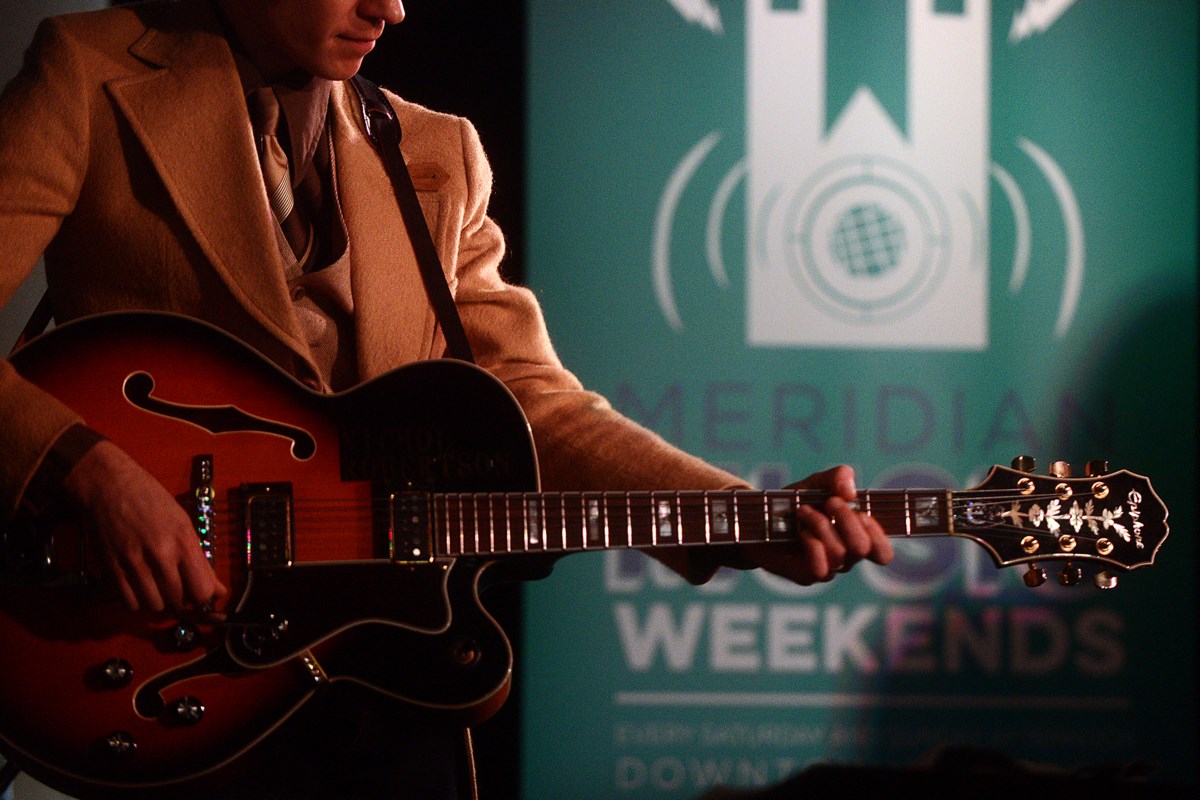 Saturday, Jan. 28
2023 ArtsEverywhere Festival
Multiple locations; 10 a.m. to 10 p.m.
From film screenings to drag brunches and book fairs, the free annual festival has something for everyone. Learn more here.
Winterstock
Royal City Studios; 7 p.m. to 11 p.m.
Join Royal City Studios for a live music tribute to Woodstock 1969; attendees are encouraged to wear their best 60s style clothes. Get tickets here.
Music Weekends
Western Burgers & Steaks; 2:00 p.m. to 5 p.m.
The genre-bouncing Probable Cause will perform live at The Western, pay-by-donation. Doors open at 2 p.m., show starts at 2:30.
Sunday, Jan. 29
2023 ArtsEverywhere Festival
River Run Centre; 10 a.m. to 2:30 p.m.
The last day of the free festival features a lecture and a film screening, both at the River Run Centre. Learn more here.
Music Weekends
Onyx Nightclub; 2p.m. to 5 p.m.
Join SHEBAD for their live concert at Onyx. It's family-friendly and pay-by-donation. Doors open at 2 p.m., show starts at 2:45.
OHL Hockey
2 p.m.: Guelph Storm vs. Sudbury Wolves, Sleeman Centre