Art exhibit raising money for urban wilderness area (5 photos) – HalifaxToday.ca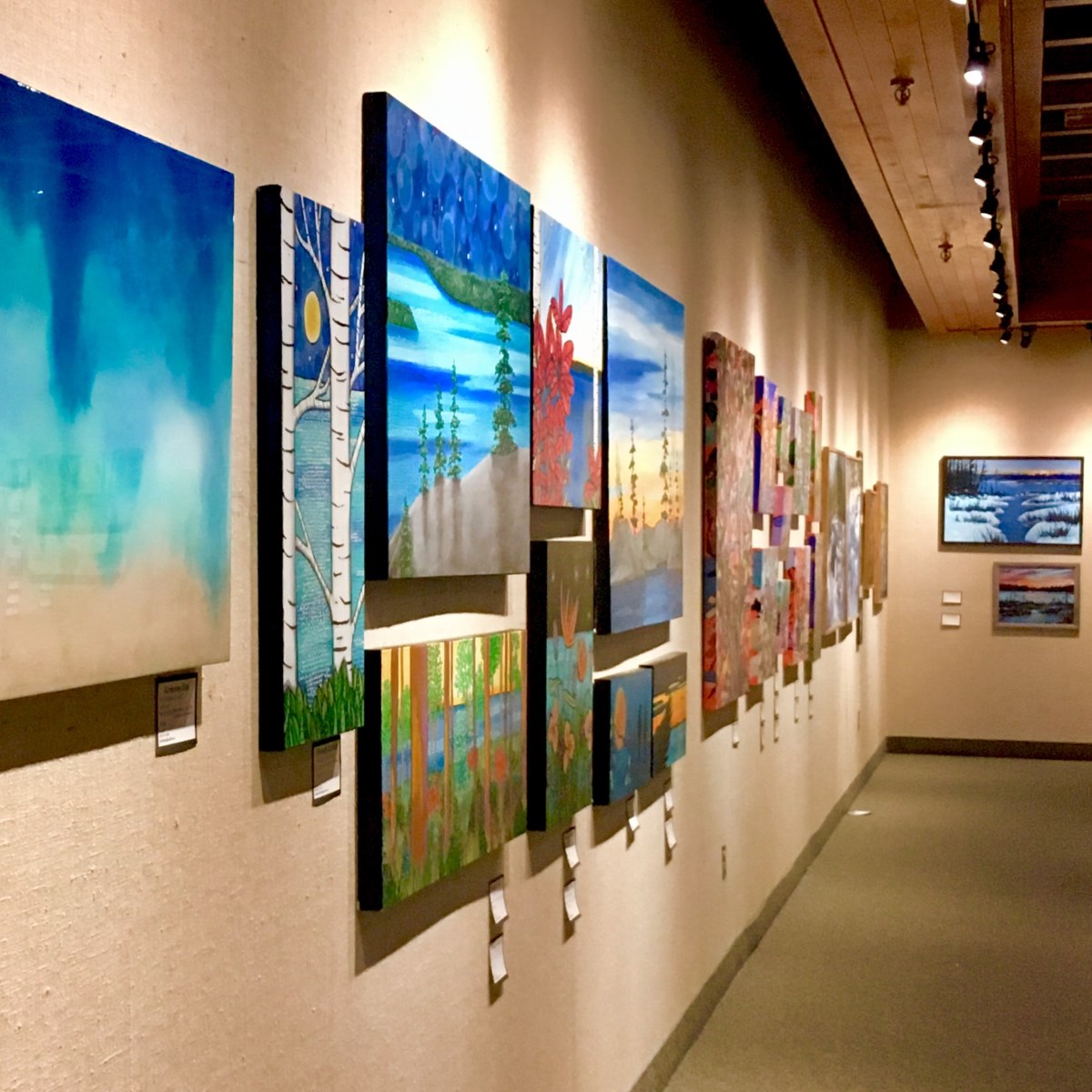 Saturday, February 8 is the opening day for WILD, a new exhibit at the Nova Scotia Archives' Chase Gallery that's centered around nature.
"It's been a long haul. I have to say it's been lots of work, and we're just on the final things, so it's pretty exciting," says Shelagh Duffett, organizer of the exhibit and one of the contributing artists.
Duffett has created the exhibit entirely on her own. When she booked the gallery two years in advance, she knew she wanted to use the February 2020 spot for something that gives back to the community.
"I thought I really want to give back. I want to do something that's going to affect change somehow. I really want to do something positive," says the artist. "And I thought, well I can have a show at the gallery and make it into a fundraiser."
Duffett also has a special connection to the Blue Mountain – Birch Cove area.
"I grew up in Rockingham, and as a teenager I used to hike up and swim in Quarry Lake and Suzy Lake, so that whole Birch Cove Lakes, Blue Mountain wilderness area is very familiar to me and dear to my heart," she explains.
The gallery will open on Saturday at noon with a special reception and presentation from the Nova Scotia Nature Trust.
The non-for-profit needs to raise $2.1 million to purchase the 575-acre piece of land between Hammonds Plains and Timberlea known as the Blue Mountain Wilderness Connector.
"We're asking for the public's help, we've asked for the city's help, and we're hoping that this effort will be well supported," says Allison Thorne, Conservation Project Coordinator with the Nature Trust.
The Nature Trust was surprised but happy when Duffett came forward with her proposal for the art exhibit, which runs through until February 28.
"Shelagh really just took it upon herself to do it, so it's all going to be a great benefit," adds Thorne.
The land itself is surrounded by urban development and is increasingly in danger of being turned into condos or apartments.
"It is an area that's really well-loved by the citizens of Halifax, a lot of community groups have been working for many, many years to see that whole area protected," says Thorne.
The exhibit itself will feature upwards of 80 pieces of art, ranging from acrylic paintings, to poured resin, to woodworking.
"I got nine other artists who are all established artists, they're wonderful and multidisciplinary, all different," explains Duffett.
The artists include Danny Abriel, Mark Brennan, Kimberley Eddy, Melanie Fontaine, Gord MacDonald, Lori MacDonald, Timothy McGuire, Suzanne O'Callaghan and Anne-Marie Spears.
"The whole theme, everything is all the different artists' interpretation of wilderness and wild. They have no humanity allowed, it's just about the wild," says Duffett.
All the artists will donate 20 per cent of their profits to the Nature Trust, with some artists donating up to 100 per cent. At least four paintings have pre-sold, including one at the price of $1,400.
But for Duffett, as much as it's about raising money and selling her artwork, it's about getting the word out about something near and dear to her heart.
"This is the area I grew up enjoying and I hike it now, and I'm going to do what I can to protect it and raise awareness.," she says. "I thought well this is also part of my gift to Nature Trust. It was my donation as well."
Water themes will be on display at art event in Lund – Powell River Peak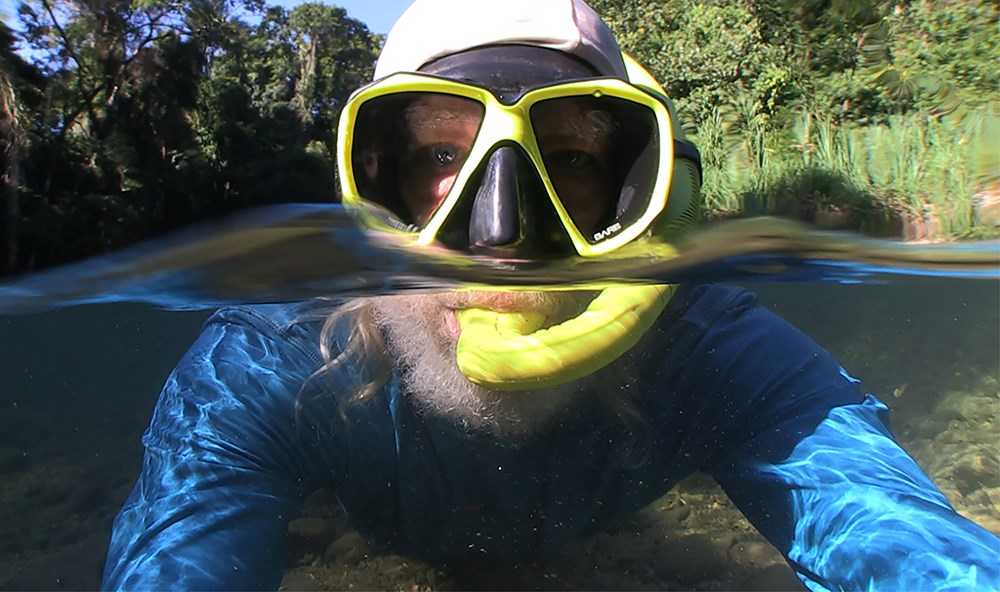 Self-described amphibiographer Terry L. Brown will be sharing his passion for the water through an aquatic video and photo presentation, and through a workshop, where interested parties can learn about photography and videography around the water.
As part of Ebb and Flow, a water-themed art show at Tidal Art Centre on Finn Bay Road in Lund, Brown will be showing photographs and videos he has taken around and under the water, with the showing on Thursday, August 18, at 7 pm.
"You don't even have to get wet to enjoy viewing some of my wondrous videos and photos," said Brown.
For the adventurous who want to learn some aquatic photography techniques, Brown is offering an in-water workshop on August 20, with a venue to be determined, depending on wind and wave conditions on the ocean.
"I've had some fascinating experiences in this amazing aquatic world and I love to share it with people," said Brown.
Regarding the Ebb and Flow art show, Brown said he has four aquatic-themed photos as part of the display. He said his presentation at the art centre will showcase what he calls amphibiography.
"The images are at the interface of water, air and land," said Brown. "There are still photos that are half above water and half under. There are video images that transition from underwater to above water. I will be showing videos and photos that evening and explaining how I get the images, for people who are interested in photography and underwater photography.
"Then, on Saturday, August 20, I'm offering a workshop for those people who want to participate in and practice some aquatic videos. It will be shallow water, either in the shallow ocean water if it's not too windy and wavy, or, it will be in a lake if ocean conditions aren't good."
Breathe deep and dive shallow
This will be a snorkel event, not a scuba diving event.
Brown said most of his photography and videography is actually at or near the water's surface.
"Most people think you have to go deep to get good stuff," said Brown. "I do scuba dive but most of my work is close to the surface. It's basically about as deep as the local pool. My motto is: breathe deep and dive shallow.
"Most of my work is with available light. I seldom use video lights or electronic flash. It's very different when you see the critters underwater in available light in the way the light plays over them."
Brown said the water itself is a prime photographic subject for him because it is constantly changing. He said one of the photos he has in the Ebb and Flow show is called River Vortex, which depicts whitewater rapids, but underwater.
"The water is swirling around and is creating a vortex," said Brown. "It's what it looks like from a fish's eye view underwater.
"I do videos of rapids, also, where the water is pouring over rocks and curving around. It's just the motion of the water and the shapes that water takes that is just spectacular."
Brown said he had read in a book about the dancing curvaceousness of nature, and to him, that's water.
"It's constantly curving and moving and dancing and flowing," said Brown. "I can shoot 10 minutes in one place and every second is different."
He said his work is his prime passion in life.
"My motto is immersing you in wonder, and my passion is immersing people in this amazing world, so they fall in love with it," he added. "Then, then can act out of that love to protect."
Riches in ditches
Brown said he and his partner have chosen to live in the qathet region because of the opportunities afforded in both the incredible freshwater and saltwater here. He said people can even photograph in ditches and get great images.
"There's riches in them ditches," said Brown.
With photography or videography, there is always an expense involved, but Brown said it can be reasonable. He said if people have action cameras, like GoPros, videographers can get some "amazing stuff" with them. However, even smartphones can take great images if they are in waterproof housings.
"I'll show people how they can get some fabulous stuff just dunking it," said Brown. "You don't even have to get really wet. You can just wade along the shore somewhere and dunk that underwater. I'll show them how to make images that make people go 'wow, what is that?' It's right at your feet."
Brown said the in-water event will be a hands-on session. He said he will have an underwater video camera that people can do some video with but it's great if they have their own equipment so they can use it and get the most out of it.
People don't need to make reservations for the show at the Tidal Art Centre. They can just show up to the free presentation.
If people are interested in the workshop, they can contact Brown directly to let him know they will be in attendance. They can ask about equipment, or Brown can answer any questions that they have. There is no specific charge for the workshop, but after it is over, people can voluntarily leave an honorarium for him if they so choose.
"I don't want to keep people away who might not be able to afford coming," said Brown. "The theme is: get out and get wet. Explore your local liquid.
"I like helping people to be aware. So much of life we go through and we're not aware of who or what is around us and what is right in front of us. Part of my mission is to help people become aware, and then to make that connection."
For workshop participants, a mask and snorkel is essential and having a wetsuit or drysuit will allow more comfort and longer immersion time. Children with adult supervision are welcome.
People can contact Brown at 604.414.7883, or by email at amphibiographer@hotmail.com. For examples of Brown's video work, go to amphibiographer.tv, and for still photos, they can go to terrylbrown.com.
"Water is a magical mystery place," said Brown.
Tehran unveils Western art masterpieces hidden for decades – CityNews Toronto
Fake psychics helped woman steal $180M in art from elderly mom, police say – Global News
A Brazilian woman was arrested Wednesday after police found that she orchestrated an elaborate scheme to defraud her elderly mother out of precious works of art.
Sabine Coll Boghici, 48, is accused of using a ring of fraudulent psychics to swindle her mother, Genevieve Boghici, 82, out of around 724 million reais, or $180 million, in art, jewelry and money, according to a statement by police in Rio de Janeiro.
Police say the racket began in January 2020, when Genevieve, the widow of renowned Brazilian art collector Jean Boghici, was contacted by someone claiming to be a psychic who had seen a vision of her daughter Sabine's death.
The phoney psychic then introduced her to other seers, who used personal information provided by Sabine to convince the elderly woman that their claims were real. The ring of psychics used their leverage to get money out of Genevieve for "spiritual treatment," in order to save her daughter from her prophesied death, according to NBC News and the BBC.
The suspects were later alleged to have physically threatened the elderly woman and Sabine eventually kept her mother confined to the house after she became suspicious of the scheme.
Sabine and a psychic then began to take artwork from Genevieve's house and told her that the paintings were cursed with negative energy that needed to be "prayed over," said police officer Gilberto Ribeiro, according to Reuters.
Eventually, Genevieve sought help from the police, who uncovered the scheme.
At least 16 paintings were stolen from the elderly woman, police said, including works from celebrated Brazilian artists Cicero Dias, Rubens Gerchman and Alberto Guignard.
Three of the stolen paintings were works by famed modernist Tarsila do Amaral. Those three paintings alone were worth a reported 700 million reais, or just under $175 million.
Police say they have recovered 14 of the stolen paintings, having found 11 during a raid of the home of one of the accused psychics and three that were sold to an art gallery in Sao Paulo. At least two paintings have yet to be recovered, though, including pieces that were sold to a museum in Buenos Aires.
A video posted on Twitter by a local media outlet shows the moment one of Amaral's paintings, Sol Poente (which means setting sun), was found inside a bed frame hidden under a mattress.
At least seven people were involved in the years-long plot, Reuters reported. Police said four were arrested, including Sabine, on Wednesday but the others remain at large.
The accused are facing charges of embezzlement, robbery, extortion, false imprisonment and criminal association.
© 2022 Global News, a division of Corus Entertainment Inc.