Art in spite of all: how the Kawarthas arts community survived the year of the virus
By March 17, 2020 — a day that shall live in infamy — every artisan fair, community space, concert hall, club, festival, gallery, museum, and theatre in the Kawarthas had gone dark, which led to a never-ending list of cancelled cultural events that has since devastated the arts and culture sector.
Like a black hole, from which no light can escape, the pandemic consumed everything in its path; yet, somehow, this year has miraculously seen much incredible work in the arts.
2020, our year of the virus, has also been the year of art in spite of all.
Advertisement – story continues below
In the early days of uncertainty, people all over the world turned to the arts — whether they binged-watched Netflix, read books or poems, scrolled through collections of images and inspirational quotations, or listened and danced to music, art made the lockdown bearable.
As much of our lives went online, so too did the arts. Local musicians, poets, dancers, actors, artisans, and visual artists created much online content to keep us inspired and connected during the first lockdown.
Local musicians brought us memorable moments such as the #TogetherAtHome video with Blue Rodeo's Greg Keelor and the Peterborough Singers' virtual choir performance of the song "Bobcaygeon" in support of Pinecrest Nursing Home where COVID-19 claimed the lives of 28 residents. The Live! At the Barn video series safely connected us to our favourite local musicians.
VIDEO: Live at the Barn! featuring The Weber Brothers
[embedded content]
Millbrook's 4th Line Theatre offered online readings, artist talks, and unique theatrical performances over the telephone via 4th Line Theatre @ Home Monologue Series.
Public Energy Performing Arts livestreamed archived performances of theatre, dance, and circus-arts in The Rewind Room, which provided financial support for the featured artists.
Local photographer Julie Gagne documented local citizens and business owners for her portrait series "Within", which inspired The Essential Project that Gagne created with the Electric City Culture Council (EC3) to raise awareness of the precarious situation of local artists and arts organizations during the pandemic. As part of EC3's Artsweek SHIFT, local painter John Climenhage chronicled the vacant, ghostly locked-down spaces onto canvases.
Advertisement – story continues below
As lockdown restrictions began to lift in the summer, artists found more ways to safely present their work to audiences.
Outdoor performances and festivals such as the Open Spaces Festival, Pivot Series, and 4th Line Theatre's Halloween show were welcomed back with the warmer weather.
The First Friday Art Crawl safely resumed to celebrate the completion of Peterborough's newest mural. Galleries such as Artspace and The Art Gallery of Peterborough featured exhibits by appointment and the Apsley Autumn Studio Tour restarted.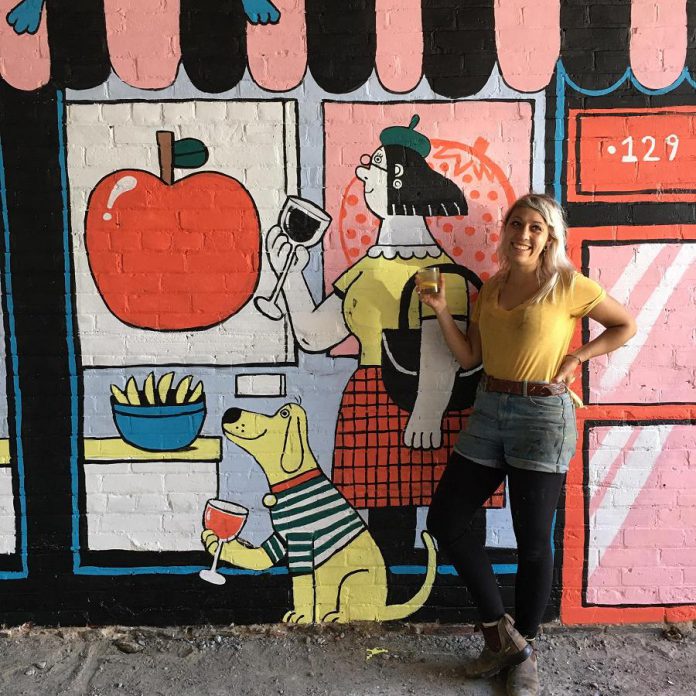 Some local musicians were able to return to work on patios or behind plexiglas in our many clubs, while outdoor performances such as The Verandah Society and drive-in concerts in both Lindsay and Peterborough made the most of the warmer weather while it lasted.
Countless more online performances became available as the colder weather and the second wave of COVID forced us back indoors. Most recently, In From The Cold broadcast and livestreamed on Trent Radio, and the Peterborough Symphony Orchestra's holiday concert, Comfort and Joy, gave audiences near and far a collective musical experience. Many organizations and individuals turned towards research and development to make sure artists have the safety, security, and time to continue to create their work.
Notably, 4th Line Theatre brought on award-winning artist Beau Dixon to begin developing institutional strategies to deter the systemic discrimination faced by artists who are Black, Indigenous, people of colour, or living with disabilities. Artspace hosted 'Breaking Down Stereotypes', photo-based community art project from the First Peoples House of Learning featuring Indigenous students at Trent University. EC3 and Public Energy also demonstrated their commitment to diversity via declarations, programing, and exhibitions.
Artspace, EC3, and Public Energy all announced artist in residence programs to foster creation during the pandemic, including performer Brad Brackenridge as the 2021 artist in residence at Artspace and poet Justin Million as downtown Peterborough's first artist in residence — a partnership between EC3, the Peterborough Downtown Business Improvement Area (DBIA), and Leslie Menagh of Madderhouse Textile Studios.
Fenelon Falls will be the home of a new outdoor amphitheater and professional theatre company, with plans to produce a summer festival of live performance in 2021.
Against all odds, works of art — across all disciplines — have escaped the black hole that is this godforsaken pandemic. Though it is paramount that we celebrate the remarkable adaptation, improvisation, and resilience required of our local artists to create art in spite of all, we must also recognize that we are at risk of losing our beloved cultural institutions and practitioners.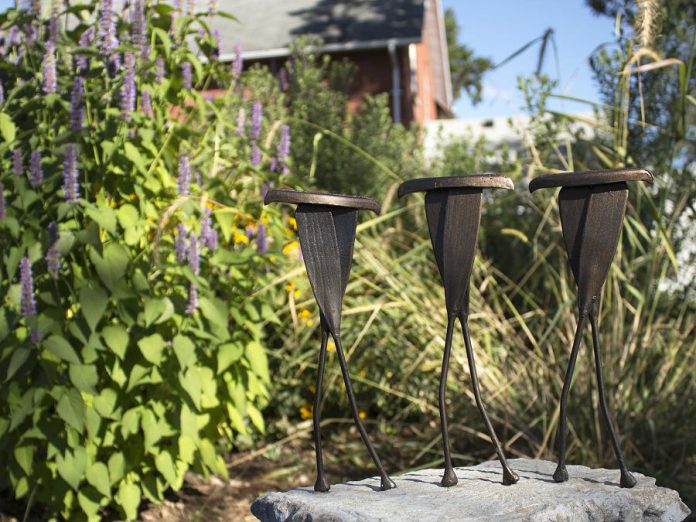 The arts and culture sector – an immense economic driver — is among the hardest-hit in the economy. The situation is dire. For this reason, the most important work that has been done in the arts this year is the oft-invisible, behind-the-scenes administrative and fundraising work.
There have been so many creative fundraising initiatives in support of the arts. From the Lindsay Little Theatre, to the Fenelon Arts Committee, to The Theatre on King, arts organizations are doing what they can to stay afloat.
Artists and arts organizations have made large charitable donations in support of cherished live performance venues, including Peterborough's LLAADS sketch comedy troupe donating $1,000 to The Theatre on King, Theatre Trent launching a relief fund for Peterborough performance venues, and New Stages Peterborough paying it forward by asking people to purchase tickets for others to attend post-pandemic shows, with proceeds supporting local arts organizations and venues.
New partnerships were formed among the arts community, such as the Peterborough Performing Arts Recovery Alliance, a group of local performance venues and arts organizations that formed to to advocate, organize, and lobby for support.
The sheer volume of fundraisers is both a testimony to the love for the arts and the generosity of our communities; and, an indication that the financial support available through multiple levels of government is inadequate.
Much like the team of professionals assembled by the Allied forces during WWII for the Monuments, Fine Arts, and Archives program (also known as the "Monuments Men"), the Electric City Culture Council (EC3) proved to be champions for the arts here in Nogojiwanong/Peterborough, fighting tirelessly to preserve the arts.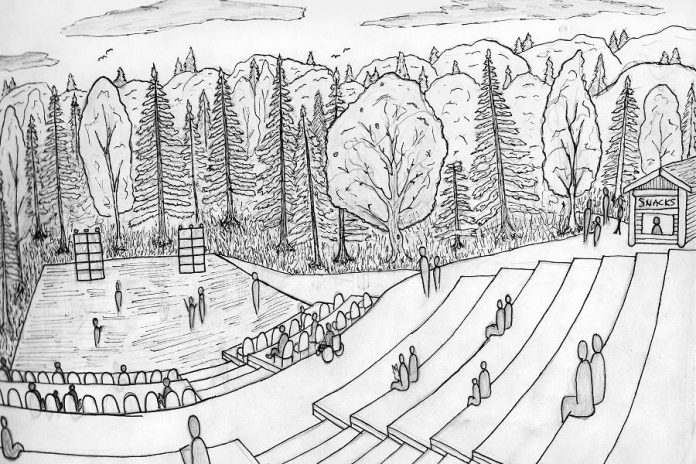 Long before the CERB program was expanded to include artists, EC3 immediately provided urgent, short-term financial support to local professional artists who had experienced the sudden loss of artistic income due to the COVID-19 pandemic by means of Micro Subsistence Grants. They also disseminated crucial information and resources regarding relief funds and grants for artists and arts organizations.
EC3 also worked closely with the Greater Peterborough Chamber of Commerce, the Peterborough Downtown Business Improvement Area (DBIA), and Peterborough & the Kawarthas Economic Development to ensure that artists and arts organizations could participate in vital digital initiatives such as gift card programs and digital marketing consultancy sessions.
Throughout the pandemic, EC3 has been quietly raising funds for the Peterborough Arts Alive Fund which, thanks to Peterborough city councillors Kemi Akapo and Keith Riel, recently saw the City of Peterborough's Budget Committee pledge to match the $40,000 relief fund.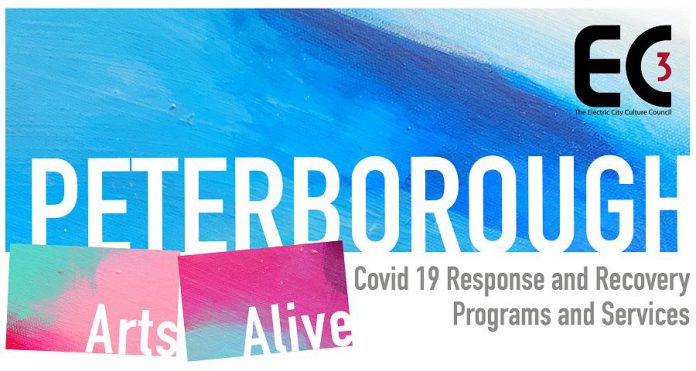 2020, our year of the virus — of art in spite of all – has given us much to celebrate and even more to lament. Though there is hope on the horizon, it seems distant as we brace ourselves to enter 2021 in another lockdown. For better or for worse, we have made it this far and, together, we can make it to the other side.
Together, we can ensure the arts will be ready and waiting on the other side to help us process this collective trauma — that we can return to all of the things that make life worth living.
If you have the means (and if you'd like to get a charitable tax receipt before the end of the calendar year), please consider making a donation to the Peterborough Arts Alive fund, administered jointly by EC3 and the Greater Community Foundation of Peterborough, to help keep the arts alive in Peterborough.
Source:


Google uses cookies and data to:
Deliver and maintain services, like tracking outages and protecting against spam, fraud and abuse
Measure audience engagement and site statistics to understand how our services are used
If you agree, we'll also use cookies and data to:
Improve the quality of our services and develop new ones
Deliver and measure the effectiveness of ads
Show personalised content, depending on your settings
Show personalised or generic ads, depending on your settings, on Google and across the web
For non-personalised content and ads, what you see may be influenced by things like the content that you're currently viewing and your location (ad serving is based on general location). Personalised content and ads can be based on those things and your activity, like Google searches and videos that you watch on YouTube. Personalised content and ads include things like more relevant results and recommendations, a customised YouTube homepage, and ads that are tailored to your interests.
Click 'Customise' to review options, including controls to reject the use of cookies for personalisation and information about browser-level controls to reject some or all cookies for other uses. You can also visit g.co/privacytools at any time.
Visit the city's tiniest art gallery: Five things to do in Saskatoon this weekend – Saskatoon StarPhoenix
In an effort to help Saskatoon residents share art with one another, Suzy Schwanke has created the Free Little Art Gallery YXE outside her home at 332 Hilliard St. E.
Article content
Whether you're interested in art, a virtual party, some outdoor activities or cleaning up around the house, there's a little bit of something for everyone this weekend in Saskatoon.
1. Visit the Free Little Art Gallery
In an effort to help Saskatoon residents share art with one another, Suzy Schwanke has created the Free Little Art Gallery YXE outside her home at 332 Hilliard St. E. Designed in the style of community libraries and kitchen boxes, visitors to the gallery can take a piece of art, leave a piece of art, or do both. You can check out some of the artwork on Instagram @Freelittleartgalleryyxe.
2. Hit up The Bassment's virtual party
Featuring the music and talents of eight Saskatoon bands, The Bassment presents InTune 2021 — a free online party playing from 2 to 9 p.m. on Saturday and Sunday. The shows will be streamed live through the Bassment's Facebook and YouTube pages.
3. Check out local performers
Article content
Watch as some of Saskatoon's performing artists share their work in Episode 1 of Persephone Theatre's Open Stage, which was published earlier this month. The episode is available to watch whenever you want at persephonetheatre.org and features Peace Akintade, Kathie Cram, Amanda Trapp, Sketchy Bandits, Carla Orosz and Ellen Froese.
4. Have some family fun
The Fuddruckers Family Fun Centre (2910 8th St. E) is open from 10 a.m. to 11 p.m. Monday through Sunday, weather permitting. Families can practice their skills on the 18-hole Putt N' Bounce miniature golf course, reach new heights on The Rock climbing wall or take a swing at the Grand Slam batting cages. More information is available at fudds.ca or by calling 306-477-0808.
5. Drop off your hazardous waste
The City of Saskatoon is holding its first Hazardous Household Waste Drop Off of the year on Sunday from 9 a.m. to 3:30 p.m. at the Civic Operations Centre (57 Valley Rd.). The drop off is open to Saskatoon residents from residential properties only. Products eligible for drop off include aerosols, automotive fluids, batteries, cleaners, light bulbs, yard chemicals and more. Learn more at saskatoon.ca/hazardouswaste.
The news seems to be flying at us faster all the time. From COVID-19 updates to politics and crime and everything in between, it can be hard to keep up. With that in mind, the Saskatoon StarPhoenix has created an Afternoon Headlines newsletter that can be delivered daily to your inbox to help make sure you are up to date with the most vital news of the day. Click here to subscribe.
YK ARCC celebrates 10 years by pushing for NWT art gallery – Cabin Radio
Its trailer doubles as one of the NWT's only art galleries. Now, the Yellowknife Artist-Run Community Centre is turning 10 years old.
The group, YK ARCC for short, formed in 2011 in a downtown Yellowknife church scheduled for demolition. "There was always something going on," recalled Métis artist Rosalind Mercredi, owner of the city's Down to Earth Gallery, who was YK ARCC's first president.
"I think it was so good to be able to have a space where people wanted to work on stuff and, if they had bigger projects they wanted to do, there was a space to do it. It was pretty vibrant times, I would say, for art."
Though the organization stayed in the church for less than a year, it has brought art and shows to Yellowknife since. Temporary homes have included an apartment above a Vietnamese restaurant and empty spaces in the Centre Square Mall.
Casey Koyczan, a Tłı̨chǫ artist from Yellowknife pursuing a Master of Fine Arts degree at the University of Manitoba, held some of his first shows with YK ARCC's help.
"It really helped to be able to show work within an environment that was conducive to more of a fine arts aesthetic as opposed to … a coffee shop, or a pub, or something like that," said Koyczan, who was on YK ARCC's board.
"YK ARCC felt like it was getting to more of a formal-exhibit kind of feel."
'We need a territorial gallery'
The group made headlines shortly after opening a mobile art gallery in a trailer. At the beginning of the pandemic, the team took art to residents by accepting reservations through Facebook then driving the gallery to make house calls in different neighbourhoods.
"Because it's so small, we might be the only gallery in Canada that didn't have to close," said longtime board member Sarah Swan. "It has a limited capacity. We knew we could still operate it safely."
Yet the trailer's success simultaneously illuminated what YK ARCC's members believe is a glaring deficiency in the NWT: the absence of a territorial gallery.
The cost of rent makes it difficult for the non-profit to hold on to one space for any length of time. Many of the spaces that are available in Yellowknife don't work well for art shows.
"We need a territorial gallery," former board member Dan Korver said.
That doesn't mean a commercial gallery geared toward profit, he clarified. Instead, Korver wants a space where artists can show their work and engage with an audience "for art's sake."
The Prince of Wales Northern Heritage Centre is the only large-scale, non-commercial, gallery fitting that bill in the NWT. It hosts two fine art exhibits a year.
"It's just simply not enough," said Swan. "There are so many more artists and so much more work out there to show, so many more ideas."
"We created the mobile gallery in the first place to feel that exhibition gap, but also, we created it to be a piece of agitation in itself. That's why we called it the Art Gallery of the Northwest Territories.
"It's really pathetic that our territorial gallery is a trailer. We all joke that if there ever is a real gallery of the Northwest Territories that's not in a trailer, we'll happily give the name back."
Koyczan described obstacles in establishing his career that stemmed directly from the lack of a territorial art gallery.
"Back when I was showing at YK ARCC, it wasn't recognized by the Canada Arts Council," he said. "Therefore, when you go to apply for grants and funding … and you provide your CV saying that you showed work at YK ARCC, they check their records and say the show basically didn't exist because they don't recognize it as a legitimate gallery.
"I've had to work really hard on exporting myself and making artwork that is impactful so that, regardless of where I was located, it would be recognized by people in the south, or around North America, or internationally.
"The NWT needs a contemporary gallery. It's just holding us back, not having that space."
'No GNWT mandate' for a gallery
In a written statement to Cabin Radio, the territorial Department of Education, Culture, and Employment said it has no plan to create a territorial gallery.
The department said it "does not have a mandate to create physical infrastructure for the arts."
"However," the response continued, "the GNWT would be happy to work with regional organizations to see how the GNWT can support their plans."
Korver believes government involvement in creating an artist-run centre or non-commercial gallery should be limited to provision of funding, so any gallery can remain community-driven and independent.
"We need that physical space, but how do you run it?" he wondered. "Is it better to just provide a grassroots organization – or organizations, maybe there shouldn't just be one – with stable funding so they can provide those spaces and run those spaces?"
More spaces that can host art are on the way.
Makerspace YK moved into the old After 8 pub this January and is planning workshops and exhibits. The City of Yellowknife expects to open a visitor centre in the Centre Square Mall that would include art displays.
Meanwhile, the territorial government is set to release its updated NWT Arts Strategy this June. The previous territorial arts strategy, released in 2004, had identified a need for more arts spaces.
As a gallery owner, Mercredi said she is curious to see how the strategy is implemented.
"You can make a strategy but if the plan doesn't have an implementation idea behind it, then really just sits," she said. "How do you implement it when most of the arts organizations don't have enough infrastructure or people to put those things together?"
Swan said YK ARCC will continue to run its mobile gallery while celebrating its 10th anniversary this year. Members have applied for funding to run a series of "emerging curator workshops."
"Art is our passion," Swan said. "I think there's just this drive to share.
"Because we know how good art can be, or how amazing and fully developed it can be, we want to fight for that. We want to try to grow the art community in Yellowknife."
Related