'Art in the Age of Anxiety': Curator Omar Kholeif spells out ambitions | N.P. Krishna Kumar | AW – The Arab Weekly
The Sharjah Art Foundation is introducing the most ambitious exhibition of its kind in the Middle East, "Art in the Age of Anxiety," to explore ways everyday devices, technology and digital networks altered the collective consciousness.
The 3-month exhibition, which opens March 21, will showcase over 60 works by more than 30 international artists.
Sharjah Art Foundation (SAF) Director of Collections and Senior Curator Omar Kholeif, who also served as curator of Sharjah Biennial 14, calls himself a "digital centrist" or "a digital utopian."
"I do not believe that the digital creates endless doom and gloom," he said. "However, I do believe that if we do not pay attention to the changing nature of our everyday technologies — their propriety ownership, their algorithms or their changing apparatus — we could potentially be left in a dangerous situation in which we relinquish our own sense of self control."
Kholeif said he has always been interested in how the internet could be a unique form of digital distribution, linking artists across the world through shared networks.
Under "Art in the Age of Anxiety," there are sub-themes, including one focusing on the blurring of the virtual and the physical; how artists transform virtual icons into objects and vice versa.
The exhibition also explores how algorithmic culture is changing the ways narrative, storytelling and identity evolve and are presented.
"I always begin by looking at the art and I see how things come together to tell a story," Kholeif said on how he selected artists for the exhibition.
"I spent an extensive period researching artists I had worked with previously and many others whom I had dreamed of working with but whom I had never had the chance to before. Through studio visits, portfolio reviews and ongoing conversations, I came to a final list that tells a cohesive and collective story that, I believe, reflects on the current cultural moment in which we live."
The exhibition is global in scope. There are artists from China and South Africa to North America and the Middle East. Iraqi artist Wafaa Bilal and Lebanese-British artist Lawrence Abu Hamdan are two of the artists representing the Middle East.
The show also attempts to throw light on the global digital divide.
"The way that the exhibition addresses this issue is by imploring the viewer to connect to knowledge bases — structures that will enable them to understand the tools that they use. Internet penetration has exponentially grown with mobile telephony with more than 3 billion people online but is everyone using the internet aware of its implications, one must ask," Kholeif said.
The works of theoreticians largely influenced the curator's views on the subject.
"I have written or edited eight books on this topic and curated numerous exhibitions around it so to pivot one theoretician over another feels very difficult," he said. "I love Bruno Latour (French philosopher and sociologist) but I was also drawn to the work of political scientists like Will Davies."
He also mentioned: "Lawrence Abu Hamdan, whose research was instrumental to me; Christiane Paul, who has been a constant source of inspiration; Nora M Khan, a young writer who blurs the boundaries of fiction and reality; Jesse Darling, whose manifesto in my book 'You Are Here: Art After the Internet' completely opened up new trajectories of thinking for me."
Kholeif highlighted a few of the works at "Art in the Age of Anxiety" that can guide viewers in navigating through the huge show.
"I believe that the works of Trevor Paglen, which are diverse and varied in the exhibition, anchor the viewer," he said. "Here, we see algorithms shifting photographic practice alongside video work that reflects on the structures of power that control our media.
"Lynn Hershman Leeson's film 'Shadow Stalker' is also pivotal in that it reveals how the future of citizenship might look like in an era of algorithmic citizenship.
"Overall, it is an experience to enjoy and get lost and immersed in."
About his new role at SAF, Kholeif said: "Sharjah is one of the world's major cultural hubs. We stage exhibitions and collect art that you won't see anywhere else. I hope that, over the coming years, we will be able to continue to push the formal, conceptual and theoretical boundaries that make modern and contemporary art so exciting!"
This Old Thing: Striking portrait by Canadian artist and art teacher – Waterloo Region Record
Q. This painting has been in my family for the past 50 years. It was painted by Canadian artist Adam Sherriff Scott and the title on the canvas back is "Old Philosopher." The dimensions of the painting are 61 by 46 centimetres (24 x 18 inches). Can you tell me more about the painting and its value?
A. Adam Sherriff Scott (1887-1980) was born in Scotland. His initial studies included the Edinburgh School of Art and the Slade School of Art in London. With his arrival in Montreal in 1912, his career blossomed. He captured much of life in Canada with landscapes, genre scenes and portraits of all kinds. This often included winter scenes, Indigenous cultures, cityscapes, still lifes and interiors. Much of his portfolio was exhibited with the Art Association of Montreal and the Royal Canadian Academy of Arts. He also made a great contribution, teaching art and opening up his own school in Montreal. This striking portrait was painted circa the late 1940s or early 1950s. It certainly invokes deep thought. It is worth $750 today.
Q. I inherited this pair of 29-cm-high (11.5 inches) vases from my great-grandmother. They were a wedding gift and she was married in 1890 in New Glasgow, N.S. They have no cracks or chips. There are some painted underside markings. I would be delighted if you consider these for your newspaper column.
A. The 1895 Montgomery Ward & Co. of Chicago advertised your vases as "made of Bohemian glass of a milky white colour and beautifully decorated. This makes a handsome ornament, and would be appreciated as a wedding or birthday gift. There is nothing nicer to give as a holiday present." The vases were offered individually for 27 cents or the pair for 50 cents — a saving of four cents that, at the time would buy either a loaf of bread or a half-pound (225-gram) rib roast. Bohemia harboured some of the major glass-making centres of Europe. The markings on the base are those of the artist. Your vases are hand-blown opal glass. The hand-painted fruit, flowers and foliage might represent a member of the nightshade plant family, which includes plants used for ornament, food or even drugs. Your stately pair is worth $125.
Q. I have this blue glass lamp I found in the basement of an old house. It is 24 cm tall and 16.5 cm wide (9.5 by 6.5 inches). The house owner said it had been in her family since before hydro came in. I am wondering what you might know about the lamp and its value.
A. You have a kerosene oil lamp in one of the most popular selling patterns of its time — "Princess Feather." It was made primarily by the Consolidated Lamp and Glass Company in Coraopolis, Penn., from 1894 to 1900. The lamp is found in clear glass and several colours — sometimes just the founts (the oil reservoir) are in colour. But cobalt blue, as in your example was, by far the most popular colour sold. The proportions of your lamp are distinctive of the "sewing" size, which holds the largest amount of oil of any in the several sizes in which this pattern was produced. Originally, it was sold complete with a chimney for less than one dollar. It is one of the most elaborate patterns in glass stand lamps of this era. "Princess Feather" is still quite popular in this colour and it is very difficult to find examples that are free of chips since the foot edges are quite prone. It is worth $250 today.
SHARE:
Your hand-me-down art can be loved again: Art Attic is back – CambridgeToday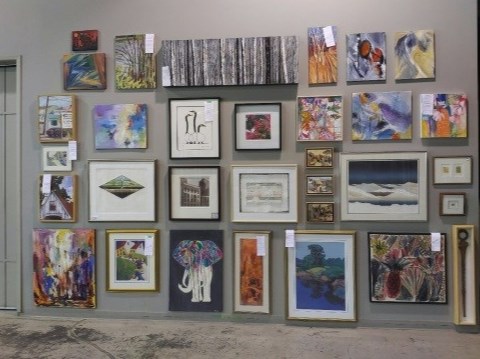 Is there something sitting in your closet collecting dust? The Cambridge Art Attic will take it.
The Cambridge Art Attic Silent Auction is back and looking for donations of art and home décor. As the Cambridge Art Guild's largest annual fundraiser, the event supports the Cambridge Centre for the Arts (CCA).
The 11th annual Art Attic Silent Auction will be held at the Cambridge Centre for the Arts on June 16, from 9 a.m.- 8 p.m., June 17, from 9 a.m.- 9 p.m. and June 18 from 9 a.m. – 1 p.m.
The Art Attic is accepting donations of art including prints, originals, and home décor, all priced to sell.
Visitors will have an opportunity to bid on and purchase art donated by local artists and the community.
The Cambridge Art Attic, an initiative of the Cambridge Arts Guild, is the primary fundraiser that supports the city's art scene.
"We are so excited to see the silent auction return this year," said Lori Bennett, chair of the Cambidge Art Attic.
"This is our major fundraiser that allows us to support our programs and events. Art Attic allows people to donate their previously loved art that they no longer use or have space for, and they know that someone else will love that piece of art again."
Art can be dropped off at 60 Dickson St. For hours visit here.
And for those doing some spring cleaning or decorating and have some art to donate, the Art Attic also accepts pieces year-round.
"We get some items and we think, this doesn't have much value, and then you find out it's an antique piece. Someone will come in and get really excited about it," Bennett said.
Proceeds from the Art Attic Silent Auction will support the Cambridge Arts Guild with local art initiatives including Cookies and Kids Theatre, Cambridge Studio Tour, the Juried Art Show, Artist in Residence, and Christmas in Cambridge. .
The Cambridge Centre for the Arts provides quality arts programming through classes, workshops, an art gallery, special events, and an artist in residence program.
The CCA is a municipally operated community arts centre that enriches and engages area residents, artists and organizations through quality artistic experiences and opportunities that stimulate, promote, and support the arts in Cambridge.
The CCA encourages participation and inspires an appreciation for the arts.
"Art speaks to people," Bennett said.
"You see people's faces light up at the auction when they see that special something that speaks to them. They can give it new life and enjoy it for years to come. It's a win win for everyone."
For more information, visit the Art Attic Facebook page. The Arts Guild is also looking for new volunteers or to help with the silent auction. To volunteer, contact Wanda Schaefer at 519-623-1340 ext. 4491.
For more information, visit here.
Goddesses, she-devils and a tangle with textiles – the week in art – The Guardian