Art in the time of COVID-19: Finding ways to 'render the invisible visible' – News@UofT
With much of the world locked down due to COVID-19, art and creativity has burst into living spaces through platforms like Zoom, livestreams and over social media – a development that does not surprise the University of Toronto's John Paul Ricco, who says social upheavals and health crises has historically inspired artists.
"I do think this speaks generally to the value of art in all of its various forms, and that it is probably our principal and most developed way of being attuned to the world," says Ricco, a professor in the department of visual studies at U of T Mississauga.
"It is a way to try to register, record and re-shape our perceptions and to really take stock. But also, I think art plays an incredibly important role in a moment when people are looking around and are really interested in art and humanities – and writing again – because when the world feels like it's imploding, art and aesthetics are there to save you."
Ricco, who has been on faculty at U of T Mississauga since 2006, is an art historian and queer theorist whose research closely examines the relationship between art and ethics.
Ricco's 2014 book The Decision Between Us: Art and Ethics in the Time of Scenes argues that scenes of intimacy are spaces of sharing, but that they are also spaces of separation, which has a particular resonance in the current climate.
He says the present situation is a time to ask how we can find ways of connecting while in solitude – space that allows the social to happen, but also the capacity for people to figure out how to deal with being physically separated from others.
Ricco points to past health crises that have led to exploring similar concepts in art, particularly the AIDS outbreak when he was an undergraduate student at New York University. That health epidemic in the 1990s influenced his path throughout his graduate studies and he became involved in AIDS activism, exploring ways in which contemporary artists were contending with the situation.
For example, Ricco curated a contemporary art exhibition in Chicago in 1996 titled Disappeared that brought together artists contemplating the question of representation in relationship to AIDS. There was the "disappearance" of the people who died from the disease, as well as the loss of aesthetics that resulted from not being able to fully represent AIDS in a visual form.
He also points to a past exhibit by artist Félix González-Torres that challenged the prohibitions on physical contact to avoid the spread of the disease.
When it comes to the current COVID-19 crisis, there is once again a warning to avoid physical proximity and it is also difficult to put a shape to the invisible virus. However, Ricco feels this is part of the challenge for visual artists: rendering the invisible visible.
He suggests we are all taking part in the process by our inadvertent choreography of physical distancing in our homes and out on errands or on walks.
"I think one of the most interesting things that art can help us contend with is exactly those things that cannot be seen and what we do with that difficulty or that problem," says Ricco.
"We can imagine art being made in the midst and in the wake of the COVID-19 crisis that takes up this prohibition of physical proximity – touching and contact – and uses that as the way to explore what it means to be in physical proximity, to have contact and how art can be a kind of stage that enables people to engage with that. I think one of the things that has happened in the midst of this is that there is a whole new awareness of ourselves in the world and with others."
Youth get creative at summer art camp – Lakeland TODAY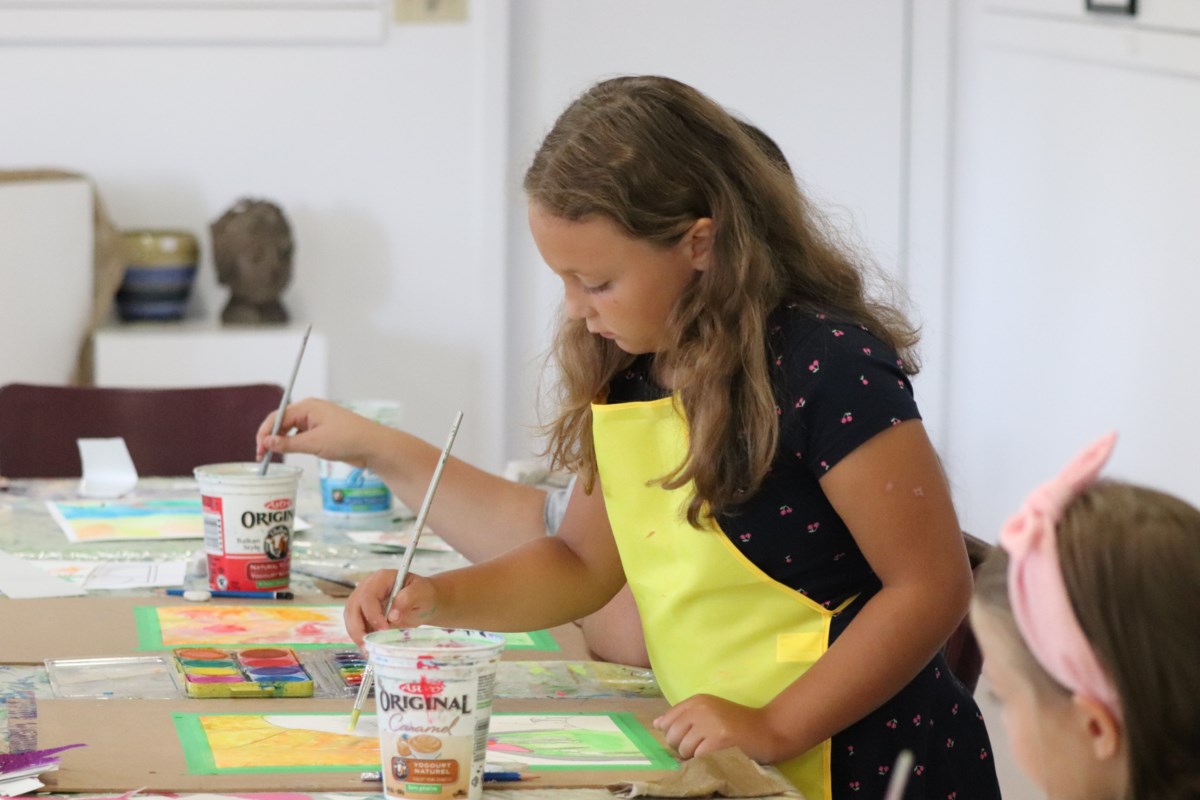 ST. PAUL – A variety of mediums were used to create unique works of art during a week-long Youth Art Camp held at the St. Paul Visual Arts Centre, last week.
Pam Bohn, the art instructor for the art camp, said the camp gives youth the chance to not only do art but form friendships.
"We also go outside to play and go to the park, and so it is also a day where they can make friends."
The art camp included acrylic painting, watercolour painting, mixed media projects, and much more.
"While I facilitate the classes, [the children] are free to create as they please," she said. "That allows those who like to do art that freedom to have different art mediums and try things that they may be unable to do at home."
Bohn said the participating youths have enjoyed the art camps, adding, "They all get excited when they come and take their [art] home to show their parents."
The Hive celebrates three new exhibitions at Art Gallery of Burlington | inHalton – insauga.com
Published August 15, 2022 at 2:41 pm
A special event celebrating three new exhibits is being hosted by the Art Gallery of Burlington.
The Hive is happening Saturday, Aug. 27, from 1 to 4 p.m. This free, all-ages event incorporates the organization, cooperation and energy of a beehive into an afternoon of art, activity, learning and fun.
The Hive will feature a special workshop led by Toronto's Clay and Paper Theatre, live arts and crafts demonstrations, a screen-printing presentation, live performance, food and drink.
The event is being held in celebration of the AGB's three new fall exhibitions:
The Future of Work, an exploration into how the pandemic has affected labour markets and our quality of life

ਨਜਰ ਨਾ ਲੱਗੇ

/Nazar na lage/Knock on wood, a vibrant and meaningful interpretation on the art of rangoli by artist Noni Kaur
Know your Place, an exhibit of cartoon-like clay sculpture that reveal the raw emotional experiences of the artist Sami Tsang
Known for work inspired by oral traditions, folk songs, poems and fables, Clay and Paper Theatre will charm participants and audiences with their original multi-disciplinary performance-based production. Guests who wish to participate with Clay and Paper Theatre should arrive early and be ready to create.
Visitors are invited to an interactive, screen-printing demonstration led by artist Jesse Purcell and are encouraged to bring any used clothing to be transformed into a bunting display to be hung in the gallery by the artist collective Works-in-Progress.
Arts Burlington will be opening its doors to guests with arts demonstrations and the Burlington Handweavers and Spinners Guild will guide guests through a natural plant-based dying demonstration, teaching attendees what they need to know to create from home.
The AGB parking lot will be free for the day. For more information, visit the AGB website.

insauga's Editorial Standards and Policies
Stay the know
Subscribe now to receive our daily email of today's top stories in your city!
advertising
'Miyo Nepin' (Good Summer) art show brings together Indigenous talent – battlefordsNOW
"[Nordstrom] contacted the artists; I contacted some. Then, she [decided] how it would look," Favel said.
"Miyo Nepin," which means Good Summer, is the theme of the show.
"We just came out of the pandemic, [so] it's a celebration of the freedom of movement, the freedom of the summer, and hopefully this freedom can stay in the future," Favel said.
He noted the theme is essentially about the freedom from health concerns, with the hope that everyone can enjoy good health again.
"It's a celebration of life and health," Favel said.
Some of the artists featured in the exhibition include Carl Thunderblanket from Sweetgrass, Meryl McMaster from Red Pheasant, Greg Tootoosis from Poundmaker, Charity Boxell from Poundmaker, and Dana Standinghorn from Sweetgrass.
The curators focused on showing pieces from artists with a substantial body of work.
Favel is particularly impressed with the calibre of the artists' projects in the show.
"We wanted to encourage, shed some light into this area of the talent that exists here," he said. "Hopefully, then, this work can keep going further, and their work can become more well-known provincially."
Favel added the artists are creating pieces of a national and international quality
"If you go to any gallery in Montreal or Toronto, you would see this is the quality of work we have here."
Favel hopes to keep putting the spotlight on many more of the Battlefords area's talented Indigenous artists going forward as well.
"In the future, like in my Performance Arts Festival, we will just keep going, and keep growing, and keep developing. That's our goal," he said.
The Miyo Nepin exhibition that features more than 20 pieces is on now through Sept. 4 at Fort Battleford.
–
Angela.Brown@pattisonmedia.com
On Twitter: @battlefordsNOW