Art Industry News: Financiers Are Investing Piles of Cash Into Immersive Art Centers Following Mass Layoffs in the Sector + Other Stories – artnet News
Art Industry News is a daily digest of the most consequential developments coming out of the art world and art market. Here's what you need to know on this Monday, January 11.
NEED-TO-READ
Louvre Sees 72 Percent Attendance Drop – The most visited museum in the world was visited… a whole lot less in 2020. Paris's Louvre museum welcomed 72 percent fewer visitors due to a drop in tourism and various lockdowns that forced it to close for nearly half the year. Far from the 9.6 million people it saw in 2019, the home of the Mona Lisa welcomed just 2.7 million visitors last year—and lost around €90 million ($109.3 million) in revenue. (The Art Newspaper)
US Theaters Could Reopen This Fall – Infectious disease expert Anthony Fauci told performing arts experts in a virtual conference over the weekend that theaters and other venues may be able to reopen in the US sometime this fall. But, he cautioned, it will only happen if 70 to 85 percent of the population has been vaccinated by that time, and audience members will still likely be required to wear masks. The prediction was welcome news for performing arts professionals, who have been hit even harder than museums by lockdown measures. (New York Times)
Immersive Art Is Still Big in the Social-Distancing Era – Investors are still interested in gambling on large-scale experiential art centers despite the coronavirus. Fotografiska—which laid off a third of its workforce in Stockholm and saw its founders resign—has just announced plans for a fourth location in Berlin. The immersive art house Meow Wolf is launching in four more cities despite laying off half its workforce. And after a delay, the Pace CEO-backed Superblue is expected to open in Miami in March, followed by further expansions. "There are tough times ahead, but if I look at the next 10 years, I'm confident," says Fotografiska's board chairman Yoram Roth. (NYT)
Prosecutors Investigate Artist Claude Lévêque – French prosecutors are investigating Claude Lévêque after sculptor Laurent Faulon came forward with allegations that the artist, who is known for his work in neon and represented France at the Venice Biennale in 2009, sexually abused him and his two brothers as minors in the 1980s. Lévêque's lawyer said that the artist has filed complaints for defamation, slander, and blackmail, and "reserves the right to bring any action against any person directly or indirectly harming him in order to assert his rights." (Le Monde)
ART MARKET
Moderna Vaccine Billionaire Is a Chinese Art Collector – Immunologist Timothy Springer, a founding investor in the biotech firm behind one of the COVID vaccines, is an avid collector of gongshi, or Chinese scholars' rocks. His collection of the objects, which are naturally sculpted by erosion over centuries, even inspired the name of one of his biopharmaceutical companies, Scholar Rock. (TAN)
Batman Comic Sets a Record at Auction – Heritage Auctions in Dallas, Texas, says that a Batman comic from 1940 has already secured a $1.53 million bid ahead of its inclusion in a planned live sale on January 14. The bid for the mint-condition comic surpasses the previous record for any Batman comic. (Monopol)
COMINGS & GOINGS
Landscape Architect Carol Johnson Dies – Johnson, who built one of America's largest landscape architecture firms owned by a woman, died at age 91 from complications of Alzheimer's disease. She was known for large-scale public projects that involved transforming dilapidated sites, like toxic landfills and an oil-soaked storage facilities, into lush parks. (NYT)
The Marcel Duchamp Prize Names Short List – Julian Charrière, Isabelle Cornaro, Julien Creuzet, and Lili Reynaud-Dewar have been nominated for the 2021 edition of the top French art prize. The shortlisted artists will be featured in a group exhibition at the Centre Pompidou beginning October 6; the winner will be named on October 18. (Le Monde)
FOR ART'S SAKE
Confederate Flag Found Tied to Jewish Heritage Museum – Vandals placed a banner depicting the Confederate flag onto New York's Jewish Heritage Museum last week following the violent events at the US Capitol. The museum's director has filed a police report and authorities are searching for the perpetrator of the "atrocious attack on our community and on our institution." (Hyperallergic)
The Lockdown's Toll on Cultural Heritage – Heritage sites around the world are at increased risk amid the pandemic as vital conservation work is interrupted and they become vulnerable to looting and funding cuts. Organizations such as the International Alliance for the Protection of Heritage in Conflict Areas and the World Monuments Fund are urgently working to raise and distribute funds to address these new dangers. (TAN)
Pinault's New Paris Museum Postponed Again – The opening of François Pinault's hotly anticipated Paris museum project, the Bourse de Commerce, has been postponed (again) due to the French lockdown. France's cultural institutions should be able to reopen next month; a new opening date for the mega-collector's museum will be evaluated on January 20. (TAN)
Follow artnet News on Facebook:
Want to stay ahead of the art world? Subscribe to our newsletter to get the breaking news, eye-opening interviews, and incisive critical takes that drive the conversation forward.
Rubbish fashion: street art costumes of Kinshasa – in pictures – The Guardian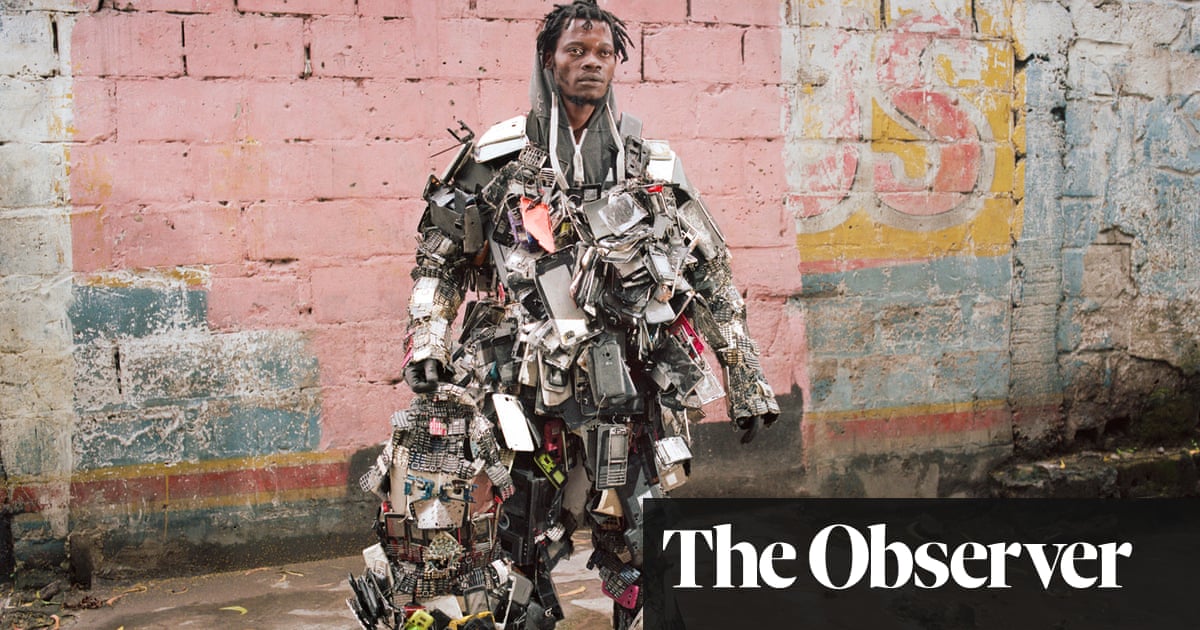 Falonne Mambu posing in her electric wires costume in Limete district, Kinshasa. As a performing artist, she raises issues about social development in her own country. The Democratic Republic of the Congo is potentially the biggest electricity provider in sub-Saharan Africa. Unfortunately, decay and corruption have crippled the national Inga dam, which only works to the minimum of its capacity. Nowadays, only 19% of Congolese people have access to electricity.
Montreal artist won't change puppet that community groups say looks like blackface
MONTREAL — A theatre performance for children featuring a puppet that has been described as racist is continuing in the Montreal area.
Several Black community organizations have criticized the puppet as being reminiscent of blackface minstrel shows — racist performances during which white people portrayed exaggerated stereotypes of Black people for laughs.
But the show's creator — Franck Sylvestre, who is Black — has no plans to change the puppet, which he said is a caricature of his own features. Sylvestre said in an interview he can't accept the idea that he's not allowed to create a caricature of someone who is Black because racists created caricatures of Black people in the past.
"That's unheard of for an artist," he said.
The play, called L'incroyable secret de barbe noire — French for The Incredible Secret of Blackbeard — first drew controversy in February.
A performance at a municipal theatre in the Montreal suburb of Beaconsfield, Que., was cancelled after complaints by Black community organizations. The neighbouring community of Pointe-Claire, meanwhile, removed the play from its official Black History Month programming but allowed the performance to go ahead.
Sylvestre, who wrote the one-man show in 2009 aimed at kids aged five to nine years old, said he had never received a complaint about his show before February.
A series of performances of the play, which combines theatre, storytelling, masks and puppetry, begins Sunday in Laval, Que., he said, before he takes it to France for 30 performances.
Sylvestre said the play tells the story of a young man who travels from Montreal to Martinique — the Caribbean island where Sylvestre's parents are from — at the request of his dying grandfather, who is haunted by his discovery of a mysterious wooden chest with a connection to the pirate Blackbeard.
Max Stanley Bazin, president of the Black Coalition of Quebec, describes the puppet's appearance as "very, very, very ugly" and said he worries that seeing a Black person presented in such a way could cause emotional damage to young audiences.
"It will have an impact on them, it will have an impact on the mind of the young people who see this puppet, and that's what we should think about," he said in an interview.
People are more likely to speak out about racism now than they were in 2009, Bazin said, adding that he thinks Sylvestre should listen to community members and replace the puppet with a less controversial creation.
"If there are people in society who have said this isn't right, you have to react," he said.
Philip Howard, a professor in the department of integrated studies in education at McGill University, said he's not sure the puppet is an example of blackface — but he said that's beside the point.
"There is still very much the matter of representation and the potential use of monstrous and grotesque representations of Black people as a source of entertainment and even humour," said Howard, who has studied contemporary blackface.
Howard said the intentions of the artist are less important than the impact of the performance on an audience.
"Here we have, in this particular instance, a whole community of folks that are responding and saying, 'Wait a minute, we don't love this, we don't think this is OK and we're particularly disturbed about it during Black History Month,'" he said.
Dismissing the opinions of Black people who have a problem with the performance demonstrates anti-Black racism, he said.
Sylvestre said he thinks much of the criticism comes from people who haven't seen the play.
"It's the job of the community to see what purpose these caricatures serve; are they, like blackface, denigrating Black people, or, as in my case, are they being elevated?" he said. "This character, he's a strong character for me personally, and when I made it, I was inspired by myself."
He said the puppet, named Max, is "like a great sage," whose interventions lead to the play's happy ending.
"Max, he was the voice of reason, he was the one who advised us, who mocked me when I made a bad decision, who was above me," he said.
Prof. Cheryl Thompson, who teaches performance at Toronto Metropolitan University, said she didn't like the puppet when she viewed a trailer for the play.
"I was extremely shocked," she said. "I just couldn't believe what I was seeing."
While blackface minstrel shows are primarily associated with the United States, Thompson's research has shown that blackface performances took place in Canada, with shows in Montreal as recently as the 1950s.
Even though blackface originated with white performers, Black actors in the 1800s would also don the exaggerated makeup and participate in the racist performances for white audiences.
"It actually didn't matter if it was a white actor in blackface or a Black actor in blackface, it was the caricature that audiences thought was funny," she said.
Thompson said there's room for theatre performances to be provocative. But performers, she said, need to engage with audiences and be willing to discuss artistic choices — especially when artists are performing for audiences whose histories might be different than their own.
"Why wouldn't this person at least try to hear the voices of people who maybe have a different experience to him?" she said.
She said she wouldn't take a child to see the show, especially during Black History Month.
"I just don't see the uplifting messaging," Thompson said. "I don't see the messaging of 'you matter,' I just don't see that celebration of life. I just see something that is steeped in a history of racial caricature and mimicry."
This report by The Canadian Press was first published March 25, 2023.
Jacob Serebrin, The Canadian Press
Vancouver to remove unsanctioned spider art creeping-out transit riders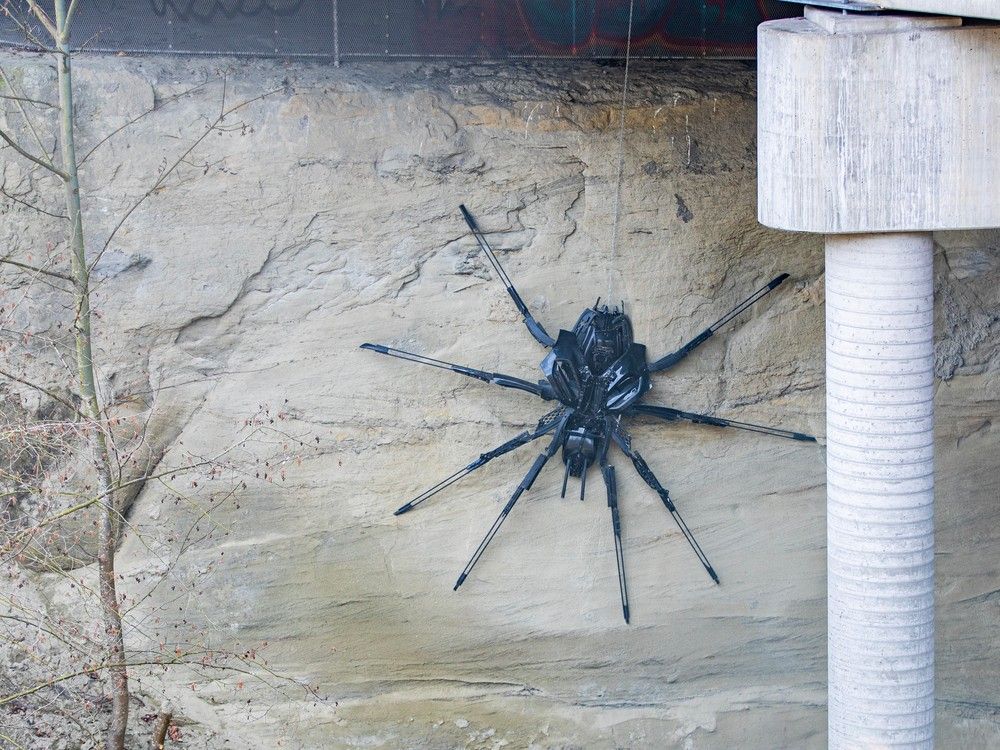 City staff are looking into how to remove a large metallic spider from under a high-traffic bridge on Commercial Drive in Vancouver.
The artwork, which startled some arachnophobic SkyTrain riders when it was installed earlier this month, was created by pop artist Junko Playtime.
In an email to Postmedia News on Friday, city staff say they were made aware of the unsanctioned spider artwork located in a corridor for SkyTrain and CN/BNSF Rail.
The installation wasn't done in consultation with the city or the rail corridor partners, city staff said. They're trying to figure out the best way to remove the artwork so there is no damage to the bridge structure or rail lines.
Staff said the artist will have the ability to claim the work through the city's impoundment process.
According to Playtime's Instagram page, the eight-foot-diameter spider was installed at night recently on the north bank below the bridge between North Grandview Highway and Broadway.
Playtime, from Montreal, has gained a reputation over the past two years for installing very large and far-out insect like futuristic sculptures from scrap metal and household items.
The artist called this latest spider creation "Phobia 2023. Time to face our fears."
— With files from David Carrigg