Art Industry News: The Locked-Down Super Rich Are Impulse-Buying Jewelry Through Online Auctions Like There's No Tomorrow + Other Stories – artnet News
Art Industry News is a daily digest of the most consequential developments coming out of the art world and art market. Here's what you need to know on this Thursday, April 23.
NEED-TO-READ
Gerhard Richter's Donation Raises More Than Half a Million – At a charity auction to raise money homeless aid, some 30 signed "Candle" prints by Gerhard Richter sold out almost immediately, raising €650,000 ($700,000) for the homeless in his home city of Cologne. Other famous artists also donated works to the "Art Helps" auction, including Rosemarie Trockel, Jeff Koons, and Markus Lüpertz. (Monopol)
Mike Kelley Foundation Revises 2020 Grants – In light of the current crisis, the Mike Kelley Foundation is lifting restrictions on how its grants, which are usually reserved for project-related expenses, can be used this year. The foundation's executive director Mary Clare Stevens said, "In the midst of a global crisis that is putting an unprecedented strain on our cultural community, grant-making in the arts has a heightened sense of urgency." Recipients include California Institute of the Arts/REDCAT; Human Resources LA; Los Angeles Filmforum; and the Vincent Price Art Museum. (Los Angeles Times)
Here's Why a New Deal-Style Public Art Program Is a Pipe Dream – In this moment of upheaval, many have called for a revival of the Federal Art Project, part of President Franklin D. Roosevelt's sweeping New Deal plan, which put thousands of artists to work. But politics and society were different then, and partisan divides did not run as deep. President Trump and other politicians, such as Nikki Haley, have targeted arts funding in particular as an extravagance. "I'm not sure you can get Congress to agree on anything," said Barbara Bernstein, founder of the New Deal Art Registry. "Especially not something as easy to make fun of as an art program." (New York Times)
Art-World Figures Protest Plan to Demolish Public Sculpture – The non-profit Cultural Landscape Foundation, with support from prominent art-world figures, is appealing to the National Geographic Society to cancel plans to remove the 1984 installation Marabar from its Washington, DC, campus as part of renovations. The 6 foot-by-60 foot reflecting pool by New York-based artist Elyn Zimmerman is lined by cut boulders, and was described by Whitney Museum director Adam Weinberg as an art historical "masterpiece" in an open letter. (The Art Newspaper)
ART MARKET
Will Art Fairs Return in 2020? – Sure, presumably you'll be able to hold an art fair at some point this year—but will anyone come? It is uncertain whether, even if lockdowns are lifted, international collectors (or dealers, for that matter) will jump on planes to pack into Art Basel this fall. Dealers have until May 1 to reconfirm their participation. (TAN)
Bored Rich People Are Spending a Lot on Jewelry Online – Collectible jewelry sales are doing well amid the current crisis. As Catherine Becket, a Sotheby's jewelry specialist, put it, wealthy clients "leading relatively dreary lives" are "wearing big diamonds inside their homes because it brings joy." Since the beginning of March, Sotheby's has launched four online jewelry sales, with 92 percent of lots sold and 61 percent exceeding their high estimates. Next up: a 1930s-era Cartier bracelet offered in a dedicated online sale, starting tomorrow, with an estimate of $600,000 to $800,000. (Bloomberg)
Artnet's Prints and Multiples Sale Exceeds $1 Million – Artnet Auctions's Premier Prints & Multiples sale brought in a total of $1.1 million, up 10 percent from the equivalent sale in 2019. The auction—which was led by Keith Haring's Retrospect, which sold for $180,000—also saw a boost in the average lot price, up 38 percent from the same sale last year. (Press release)
COMINGS & GOINGS
Renaissance Society Nabs Rising Star as Director – The curator and writer Myriam Ben Salah has been named the new executive director of the Renaissance Society at the University of Chicago. Ben Salah co-curated the now-delayed fifth edition of the Hammer Museum's Made in L.A. biennial. She will take up her new post on September 15. (Artforum)
Taipei Biennial Releases Artist List – The Taipei Biennial has released the artist list for its 2020 edition, "You and I Don't Live on the Same Planet," which is slated to run November 21 through March 14 at the Taipei Fine Arts Museum. Artists on the list include Mika Rottenberg, Hai-Hsin Huang, and the artist duo Cooking Sections. (Artforum)
Artist Lois Weinberger Dies at 72 – The Austrian artist as died at age 72 in Vienna. Weinberger was interested in nature's influence on migration and his most famous work, What is beyond plants is at One with Them, produced for Documenta X in 1997, saw him plant foreign weeds along 330 feet of an abandoned railway track. (ARTnews)
FOR ART'S SAKE
Vandals Target Berlin's Gay Museum – Anonymous vandals threw stones at the window of the Gay Museum in Berlin last weekend, damaging but not breaking the glass. Officials spotted the damage on Monday, but it remains unclear whether it was a targeted attack. (Monopol)
Gilbert & George Create a Free Coronavirus Work – Gilbert & George are the latest artists to offer up free downloadable posters for people to post in their living-room windows—but they are taking a slightly different tack from the colorful rainbow images put forth by others. The duo's slogans include "Gilbert & George say: Don't catch it!" and "Gilbert & George say: Don't get it!" (Guardian)
See Olafur Eliasson's Back to Earth Initiative – Yesterday, Olafur Eliasson unveiled his new artwork for Earth Day, which comprised nine animations of views over the Earth, released on the hour for nine hours. Now, you can see a sampling of the final product—produced as part of the Serpentine Galleries 'Back to Earth" initiative—below. "On Earth Day, I want to advocate—as on any other day—that we recognize these various perspectives and, together, celebrate their co-existence," Eliasson said of the work. (Press release)
Follow artnet News on Facebook:
Want to stay ahead of the art world? Subscribe to our newsletter to get the breaking news, eye-opening interviews, and incisive critical takes that drive the conversation forward.
Street art festival boosts LGBT visibility in Vancouver's Chinatown – CBC.ca
Pride in Chinatown is celebrating its third anniversary and, unlike the Vancouver Pride Parade and other major events across the Lower Mainland, the event is not going online because of the COVID-19 pandemic.
"The idea of Pride in Chinatown [is] to have a presence," said Paul Wong, the artistic director and curator of the month-long street art festival.
The festival features eight artists' projects scattered throughout the neighbourhood, meant to promote the inclusion of LGBT people in the community.
"Chinatown has been segregated through discrimination and racism and fear. Chinatown has evolved from being very conservative and being very repressed … and homophobic," Wong said to Stephen Quinn, host of CBC's The Early Edition.
Most of the festival's artworks are displayed at a single location. But artist Kendall Yan's creation Quarantine is a bit different — with several locations across Chinatown.
The drag performer — whose stage name is Maiden China and who has family ties to Chinatown — turned one of his Instagram self-portraits into a poster and put it up at multiple locations across the neighbourhood.
"It's very pleasing for my ego," Yan said about seeing his face all over Chinatown.
The project began after he uploaded 41 portraits to the photo-sharing platform while stuck at home during the height of the pandemic, one photo per day.
But what came after was an unpleasant experience.
Yan initially wanted to display all 41 of his self-portraits on a storefront. He approached three businesses near his studio, but said the responses were disappointing.
"People are very hesitant to give space that's very visible, in the fear that someone is going to vandalize their business," he said.
"That is a very homophobic thing in and of itself."
Wong faced similar resistance when he dispatched volunteers asking business associations and community service organizations to put "Pride in Chinatown" stickers on their doorways and windows.
"It's been an interesting way to see that kind of embracing or resistance to being queer out loud and proud in Chinatown," said Wong.
On Saturday, community organization Youth Collaborative for Chinatown had an anonymous artist present a floral installation at the Millennium Gate as a tribute to people of different races and sexualities.
Good morning, <a href="https://twitter.com/hashtag/ChinatownYVR?src=hash&amp;ref_src=twsrc%5Etfw">#ChinatownYVR</a>! You look beautiful today!! Celebrating launch of Pride in Chinatown today 2PM w/ <a href="https://twitter.com/paulwongproject?ref_src=twsrc%5Etfw">@paulwongproject</a>. We're proud to present Floral Installation by Anononymous Artist after their original action! Blooms by The Flower Factory. <a href="https://twitter.com/hashtag/pride?src=hash&amp;ref_src=twsrc%5Etfw">#pride</a> <a href="https://twitter.com/hashtag/strength?src=hash&amp;ref_src=twsrc%5Etfw">#strength</a> <a href="https://twitter.com/hashtag/resilience?src=hash&amp;ref_src=twsrc%5Etfw">#resilience</a> <a href="https://t.co/ffCzcdM6EZ">pic.twitter.com/ffCzcdM6EZ</a>

&mdash;@ycc_yvr
All the exhibits for Pride in Chinatown — except the artwork made of real flowers — will be displayed until Sept. 7.
Click the following link to listen to Paul Wong and Kendall Yan's interview on The Early Edition:
Solo exhibition "Pastel Stories" debuts at Quesnel Art Gallery – Quesnel Cariboo Observer
For Marcela Bodorikova, her first art gallery show is a celebration of texture and colour.
"Pastel Stories", which opened August 6, 2020 at the Quesnel Art Gallery, is the culmination of a year of work. Bodorikova has brought together 50 artworks, all rendered in pastels.
"About a year ago I discovered pastels, and I completely fell in love with the texture and the colours and how vibrant they are," said Bodorikova.
Her solo show is testament to that love. The images range in subject matter, from small landscapes to larger, close-up images of flowers or fruit; from colourful barnyard beasts to Bodorikova's latest works, a series of self-portraits. But a common theme is Bodorikova's exploration of the medium. "Because I just started [using pastels] a year ago, it's all a learning process," explained the artist.
Bodorikova, who moved to Canada from Slovakia in 2002, only began creating art in a serious way about five years ago. It was the gift of a colouring book that sparked her creativity.
"Somebody got me a colouring book, and I thought, 'This is cool, but also kind of boring to colour things. I'd rather create these pages,'" said Bodorikova. She began experimenting with an art form called Zentangle, in which the artist combines dots, lines, orbs, and other small shapes in an unplanned way on small pieces of paper. Bodorikova began to Zentangle on porcelain mugs, and she sold her creations in local shops, including Cariboo Keepsakes and Tiny Treats.
"At some point, the Zentangle started to be a little bit too repetitive for me," admitted Bodorikova, who then challenged herself with acryllics on canvas. Next came charcoals. "I thought, 'These are so cool to use, but I need more colour.'" So Bodorikova ordered a set of pastels, and stumbled onto her preferred medium.
Bodorikova favours a technique that showcases the mark-making process. "I prefer a non-smudging style, so you actually see the strokes of pastels." A piece titled Set Free, for example, depicts a horse rearing against a blue background made up of hundreds of pastel markings in different shades, densities and thicknesses.
Bodorikova said she is still learning about working with pastels, but hopes to continue evolving her style as she experiments. She takes online art classes, and every month there is a different topic to explore. These explorations have resulted in some of the works hung in the Art Gallery until August 28: an image series of different kinds of fruit, for example, showcases experimentation with blending the foreground and background. "The exercise with the pear and the apple, it's called 'lost and found edges' … the edges of the apple are lost at some point in the background; it's about making a joined impression with the background," said Bodorikova.
Above all, Bodorikova said she enjoys the tactile nature of working in pastels. "I like the feel of it. I like the messiness of it," she said. "It's part of the pleasure of painting with pastels."
"Pastel Stories" runs Aug. 6-28 at the Quesnel Art Gallery. For more information about this and other local art shows, visit quesenlartgallery.com.
---
Do you have a comment about this story? email:
editor@wltribune.com
Like us on Facebook and follow us on Twitter.
Local artists urge patio patrons to check out Arts District (4 photos) – OrilliaMatters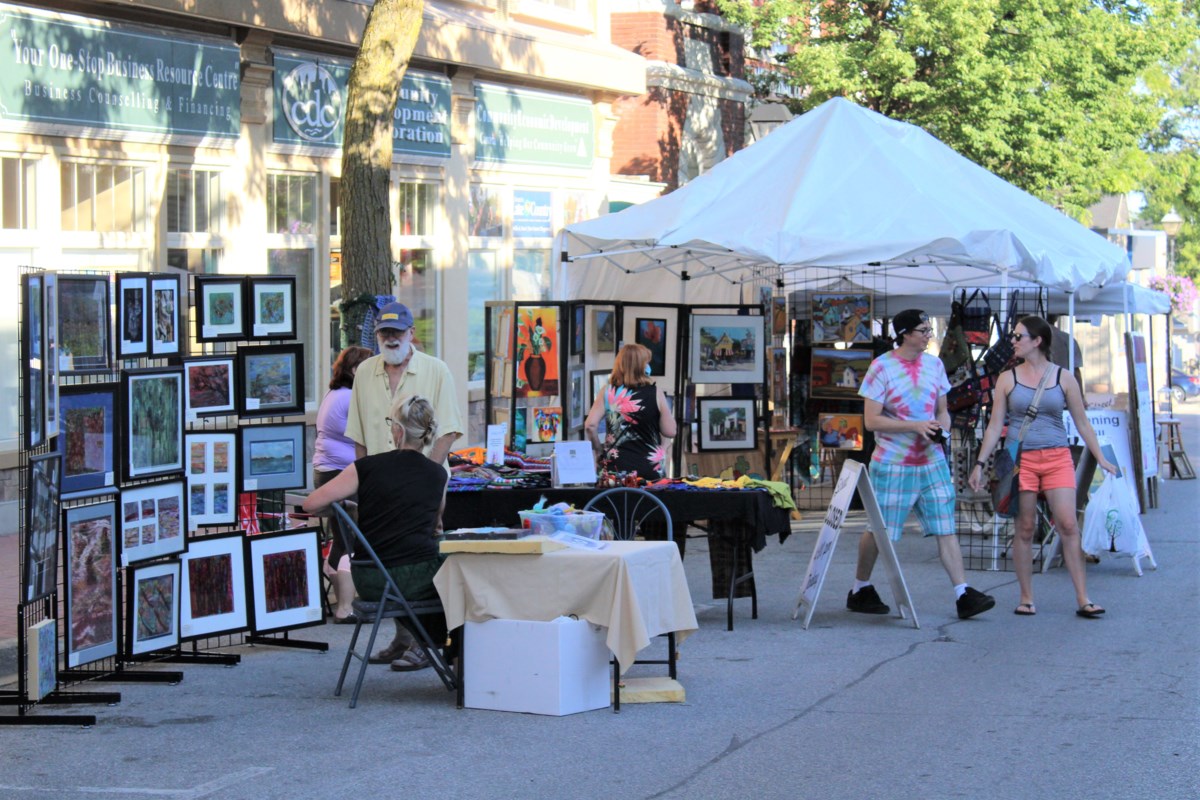 Local artists want to remind residents there's more than restaurants to explore on the weekend.
Every other Friday, the Peter Street Arts District hosts an Art Walk, during which Peter Street is closed to traffic from Colborne to Mississaga streets.
"The arts district gets dismissed sometimes. We are here," said Molly Farquharson, owner of Hibernation Arts, who helps organize the Art Walk.
The event sees artists bring their work onto the street. While the turnout has been increasing since the Art Walk began, artists would like to see more people stop by before or after enjoying dinner or drinks on a nearby patio.
"If people could buy art, we could afford to eat on the patios," Farquharson said with a laugh.
The final Art Walk of the season will take place Aug. 21 from 6 to 9 p.m. Organizers expect there will be more artists on the street and there could be interactive opportunities for kids.
Farquharson wants people to spread the word to help ensure the Art Walk series goes out with a bang.
"We're trying to toot our own horns, but we need others to help us toot them," she said.
Lucia McGarvey, who owns The Shadow Box, said she understands art might not be at the top of someone's shopping list right now, but she noted there are many affordable pieces for sale, and any purchase helps artists who have been struggling during the COVID-19 pandemic.
"It's really important that (restaurants) have this opportunity, but other small businesses need the community's support," she said. "If people are enjoying time on a patio, they can consider meandering into the arts district."
McGarvey encourages people to check out the Aug. 21 Art Walk, even if they don't purchase anything.
"Even positive comments to the artists go a long way," she said.