Art is a bittersweet process that connects past, present and future – Impartial Reporter
Artist Sinéad Breslin has created art in various countries across the world. Currently based in Fermanagh, she tells The Impartial Reporter what inspires her work, her favourite project to date and what her art means to her.
JC: What is your artistic background? Are you self-taught or did you go to art school/do courses?
SB: In my vault of childhood memories, of which most are inaccessible or irrelevant to the needs of everyday life, I see vividly in my mind's eye two large posters that were pinned to the wall beside my bed and recall clearly the curiosity they evoked. They were images of artworks by Vincent Van Gogh and Edgar Degas.
Great tutors and courses did indeed pave the way, from the art classroom at Erne Integrated College with the brilliant Johnny McKee who in turn encouraged me to do the foundation diploma in Art and Design at Fermanagh College. Then on to art school in Bristol where I completed a BA and MA in Fine Art under the stellar guidance of Roy Voss, great artist and advocate of all things facetious.
I spent a few years living and working in Moscow where the people, atmosphere and energy were certainly determining. In recent years I have spent much time in NYC learning the trade so to speak. Possibly one of the most important habits an artist can have is to visit shows of other artists in galleries or museums, and if this isn't feasible then acquire books and use the internet. Artist residencies in various places have also been a fundamental part of my development, and criticism from peers, curators, gallerists, friends, and collectors have been key throughout the years.
JC: What inspires your art?
SB: The want and will to paint stems from an innate compulsion that is perplexing, to say the least. Nevertheless, visually reflecting the obscurity of life, its mysticism and its mundanity brings satisfaction and revelations, both subtly and overtly. I draw inspiration from the complexity and simplicity of lived experience. I paint people within environments – people are fascinating, as is context. Life is an amalgamation of highs and lows, trauma and successes across vast spectrums of differences. Holding up a mirror to moments in time helps me live in the world. The depictions of settings within which my figures exist presents an opportunity to reflect and investigate our contemporary situation, and explore perceived reality. Painterly language allows me great freedom in the observing of psychology, emotion and circumstance. In the attempt to make decent paintings, I think the trick is to pose everlasting questions. My favourite works of art and literature are filled with ambiguity and wonder.
JC: Who/what are your biggest influences?
SB: In no particular order, a few of the greats; Gorgio Morandi, Nano Reid, Philip Guston, Kerry James Marshall, Alice Neel, Rirkrit Tiravanija, Elizabeth Peyton, Alex Katz, Peter Doig, Hope Gangloff, Chantal Joffe, Kara Walker, John Baldessari, Angus Fairhurst, Martin Creed, Leon Spilliaert and Mark Lecky.
JC: Is there a specific place that you do your work? Do you have a studio?
SB: Currently I have a studio in London and a small space in Fermanagh. I move around a lot to make bodies of paintings in different locations, this has been an integral part of my practise. I've just returned from Mexico City where I shared a studio with an incredible artist, Alvaro Ugarte, in the downtown region close to the historical district. I made a body of work in response to the city and those who dwell in her.
JC: What has been your most ambitious piece to date?
SB: The recent paintings I made in Mexico were for Latin America's leading art fair Zona Maco in February. A couple of these pieces could be viewed as more ambitious, although I feel most pieces were ambitious at the moment of execution. My practice is continually evolving and transforming – as it should – but I do feel that each new successful piece is as relevant as the last. Although of course, it's not important for audiences to take this position.
JC: What different artistic mediums do you use and which is your favourite?
SB: I paint primarily using oil on canvas or linen. I tend to paint on a larger scale. I'm interested in collage, as my works are collages of sorts, and photography, but I mainly use photography as source material. There are a range of methods I use when constructing a painting, but the process will always unveil the most glorious surprises.
JC: What are you currently working on?
SB: Real time context plays a major role when choosing focus and subject matter. I'm currently in Fermanagh and I'm working on small portraits depicting individuals within rural landscapes.
JC: Do you exhibit your work anywhere?
SB: Recent major exhibitions have taken place in NYC and Mexico City. I've also had important shows over the years in various galleries in the UK, Russia and Italy. I have been focused on the US for a while and I am currently represented by Marc Straus Gallery in NYC. Now I am keen to have a stronger presence in the UK and Europe.
JC: Any new artistic ventures planned for 2020?
SB: Make decent work and exhibit decent work, hope for works to find adoring homes.
JC: What has been your favourite project to date?
SB: I was selected to do a residency in Brescia, Northern Italy at Palazzo Monti at the end of 2018. I spent a few months living and working in this incredible palazzo that dates back to the 1200s. I had an exhibition in the most gorgeous space with frescoes on the ceiling and original features – this juxtaposition with my works was beautiful. The general atmosphere of the palazzo was incredibly stimulating due to the range of other artists from different countries that participated, the intrigue from the surrounding community and audience, and the gallerists, dealers, collectors and art lovers who dropped by.
JC: What are you up to when you aren't creating art?
SB: I love good food in unique settings. Intense exercise is an effective form of meditation for me and for a few years I have been an extremely inconsistent yet committed crossfitter. I attend a lot of exhibitions, openings and art fairs, which has also been an integral part of my progression in the art world.
JC: How would you describe your artistic style?
SB: I contextualise my work in terms of established contemporary painters who tend to employ a language that is a meld of what's gone before. Painting carries a lot of historical weight and when we talk about contemporary styles we sort of naturally reference moments and movements of the near and distant past. I've heard it said that it's possible to be innovative but not original. My particular meld is essentially Figuration that alludes to magical realism, they are at once representational and obscure. I follow in an Irish tradition of imbuing works with a sense of the unreal where magic, fable, allegory is explored. There is a strong sense of expressionism in terms of line, colour, and psychological discernment, and a salute to Primitivism in terms of the works being instinctive and sometimes unreasonable. There are moments of controlled paint application alongside movement and gesture. Perspectives are flattened, colours are exaggerated and settings are charged with symbolism.
JC: What does your art mean to you?
SB: It's a bittersweet process and a bittersweet career choice, but making art and living with art settles my mind and makes me feel connected to the past, present and future.
Where activism and art intersect – Art Critique
Activism takes on many forms. Currently, the world is watching as thousands band together to call for justice and reform after a white police officer in Minneapolis murdered George Floyd, a black man accused of using a counterfeit bank note, as three other officers stood by idly. In cities across the US and elsewhere, people have taken to the streets, others have donated to organizations, people have lent an ear or been a shoulder to lean on, and still, many have responded with art.
Art has a long history with activist movements of every kind and, in many cases, the art created to spread information and awareness are what linger when the day is done and protestors head home. According to Tate Galleries, the activist art is created to offer a "form of political or social currency, actively addressing cultural power structures rather than representing them or simply describing them." Ai Weiwei, Favianna Rodriguez, The Guerrilla Girls, Shepard Fairey, Paul Nicklen, Nan Goldin, Dadaists, Keith Haring, Diego Rivera, Kara Walker, Edgar Heap of Birds, and many more artists and artists groups have created such currencies through their art, visual and otherwise.
Museums and galleries have highlighted the posters, photographs, poems, and novels that have been the outcome of unrest. Just last year, the Victoria and Albert Museum began collecting artworks and items used by climate change activists to document living history. Earlier this year, protestors at the British Museum made a wooden Trojan Horse used during their demonstration against the museum's ongoing relationship with BP. Their symbolism and words become a touchstone for those searching for inspiration, resolve, and comfort during uprisings. Old works, like Zoe Leonard's 1992 poem I Want a President, are revived when society needs a reminder of the steps we've made and how much further we have to go. Themes of unity, despair, anguish, love, frustration, and exhaustion become prevalent in works from most any movement and are prevalent in today's protests.
In light of recent and ongoing events, we're highlighting works by some of the most influential artists, past and present, whose works are meant to serve an activist purpose. This is in no way an exhaustive list of those that might speak to you and the issues you hold near, but they are a tool in the fight to find common ground, unify, grow, and develop as members of our own communities.
Print by Gary Taxali whose works feature themes of frustration among others.
A silhouette by Kara Walker, whose works reflect issues of race, gender, sexuality, violence, and identity.
In his oeuvre, Edgar Heap of Birds often addressed lived experience of Native American peoples.
Nan Goldin began photographing her life in the 1980s and her subsequent portraiture highlighted life within the LGBTQ community, documented the AIDS epidemic, as well as the opioid crisis.
A poster presented by Amplifier Art, an arts organization seeking to boost Grassroots movements
Ai Weiwei, a Chinese artist in exile, creates works that centre on social issues and are often critical of the Chinese government.
Formed in 1985, The Guerrilla Girls is an anonymous group of female, feminist artists who worked to highlight sexism and racism within the art world.
Portuguese artist Paula Rego created artworks that portrayed life in Portugal but her series The Abortion Pastels created a particularly poignant image
Keith Haring created works that turned into activist works supporting safe sex during the AIDS crisis.
Nature photographer Paul Nicklen uses his works to raise awareness of climate change and its affects on the globe and the animals that call it home.
Art Gallery of Alberta offers pre-booked visits as it reopens during COVID-19 pandemic – Globalnews.ca
Another Alberta attraction is opening its doors with extra precautions to protect guests from the spread of COVID-19.
The Art Gallery of Alberta announced it would start welcoming members back on June 4 and all visitors the following week.
The gallery will be open Thursday to Saturday by "pre-booked tickets." The hours of 11 a.m. to 12 p.m. will be exclusively for vulnerable and at-risk people and all visitors will be welcome 12 p.m. to 5 p.m.
June 4 to 6 will be open only to AGA members for a preview and the wider opening will happen June 11.
Several increased health and safety measures have been put in place, including:
Reduced capacity in all spaces to ensure physical distancing
Guiding physical distancing with decals on the floor, directional markers and signage
Staff in public spaces will be wearing masks and/or face shields
Plexiglass barriers will be installed at key guest service areas
Handwashing or hand sanitizer stations will be put on every floor and at the main entrance
Increased cleaning and disinfecting throughout the AGA
Closing high-touch and interactive areas
Removing all furniture
Not providing wheelchairs at this time
Zinc Restaurant remains closed at this time
Art rental and sales are available by appointment only and with curb-side pickup
"Safety is our top priority and we are closely monitoring the situation each day and if warranted, may decide to take additional measures or close to the public," the AGA said in a statement on its website.
[ Sign up for our Health IQ newsletter for the latest coronavirus updates ]
Guests are asked to book their visit online in advance. Priority will be given to pre-booked visits with a small number of walk-ups allowed each hour.

2:07


Art Gallery of Alberta makes admission free for kids and students



Anyone with any COVID-19 symptoms — even minor — like fever, cough, sore throat, runny nose, chills, shortness of breath/difficulty breathing, aches, feeling unwell — must not visit.
Anyone who has been in contact with someone who had COVID-19 or had COVID-19 symptoms must not visit.
Anyone who has travelled outside Canada in the last 14 days or has been in contact with someone who has must not visit.
When visiting, guests are asked to wear a mask if they have one, stay two metres apart from other visitors, be patient while waiting their turn to see art and exhibits.
Guests are also asked to follow proper handwashing or hand sanitizing recommendations, avoid touching surfaces and following the direction indicators.
The AGA has also said it will be offering Pay what you May admission for the month of June to all essential service workers and those in the arts and culture sector.
People who aren't ready to visit in person can access #yourAGAfromhome online programming, with #AGAlive webinar events and hands-on art activities.
© 2020 Global News, a division of Corus Entertainment Inc.
Christo's place in art history is not without controversy – here's why – The Conversation UK
The history of art is written as if men of genius lead the rest of the world – us, the public – from an imagined position at the front of culture. Whenever another great man dies, his biography is fitted into the story of successive "great lives" and so the point is illustrated, furnished with examples of genius at the helm of progress. This is true of Christo.
Christo, who died aged 84 on May 31, is usually pictured as the quintessential genius. Most often he is pictured alone – the man with his monumental achievements. This has been the case throughout his career – as true of his most recent works as it was in the 1960s and 1970s: the solo man wrapping up nature and architecture (he also wrapped women in his earliest works).
But most of Christo's oeuvre was created working with his wife, the artist Jeanne-Claude, who died in 2009, as well as teams of experts. In all the reporting of the highly ambitious, eye-catching and popular interventions into urban and rural landscapes, his artist-wife collaborator is subsumed under his name. It exemplifies the cliché: "Behind every great man there stands a woman."
Christo and his wife produced a range of artistic experiments including piles of oil drums and miles of umbrellas in sculptural interventions. But their most famous artworks are impossibly large wrappers of urban monuments and rural environments. They wrapped a piece of Australian coast near Sydney in 1968-69, some islands in Miami in 1980-83, the Pont Neuf in Paris in 1985 and the Reichstag in Berlin in 1995, among other things.
Until plastic became justifiably unfashionable for environmental reasons, these artistic interventions were generally understood as aesthetically pleasing, a benign way of drawing attention to the adjacent and enveloped forms, namely the shoreline, the trees, the ancient bridge. The machismo of such large-scale work was fairly unexceptional in the context of "land art" staples at the time, such as Robert Smithson's Spiral Jetty (1970).
Christo's credentials as environmentalist lay in the fact that the work was temporary, and he and Jeanne-Claude went to lengths on their website to explain how the art is "clean". In the 20th century, their work was interpreted as environmentally sound and ecologically engaged, but in the 21st century the continued use of vast quantities of mined and man-made resources was met with criticism.
Context is everything
I note this to exemplify just one of the changes in the art's reception over time. Over Christo's long career, there have been other changes in how the work has been received and framed. Artists always work in contexts – and contexts change over time. Context informs how an artwork is understood. Once, Christo and other land artists were appreciated for their embodied anti-consumerism, anti-capitalist art practices – land art must be funded but it cannot be sold.
Today, this once integral part of its raison d'etre and context is eclipsed by a contemporary art world that embraces the market and the neoliberal idea that the market provides all that society and individuals need. Christo's anti-consumerism therefore is no longer part of his narrative. Changes in the accepted narrative are always worth pointing out.
"The past is a foreign country" is a cliché, but the idea that "they do things differently there" is often overlooked by art historians bent on furnishing a history with genius. For historians – and consequently for most members of the public – a great artwork is great because it is the embodiment of genius. This appears to be common sense, but it is worth noting that the idea of genius was defined at the birth of art history in the 18th century in reference to classical antiquity. Genius was the product of a particular location: Europe, and – notably – a particular gender: male.
Subsequently this narrow definition of genius was projected across the world and the rest of humanity was found lacking. The relationship between genius and progress is intertwined. Without genius we have no progress.
Art in a changing world
Achievements in art and science are driven by a notion of progress. Culture progresses, according to the narrative, from the primitive and unformed, the uninformed, towards enlightenment which, as this idea of progress is an Enlightenment one, is rather neat. Prior to the Modern period, there was a different understanding of progress. Progress was seen as being towards heaven and the value of human intellectual and artistic endeavour was to the glory of God.
The purpose of culture and art, its role and value in society, has changed over time. Cultures, attitudes – and even the very definition of words such as "art" – change. Yet, somehow today and since the invention of art history and the concept of aesthetics, our reception of an artwork is supposed not to change. We assume a great artwork is a great artwork forever and in all contexts, that it is universal and transcendent of time and space.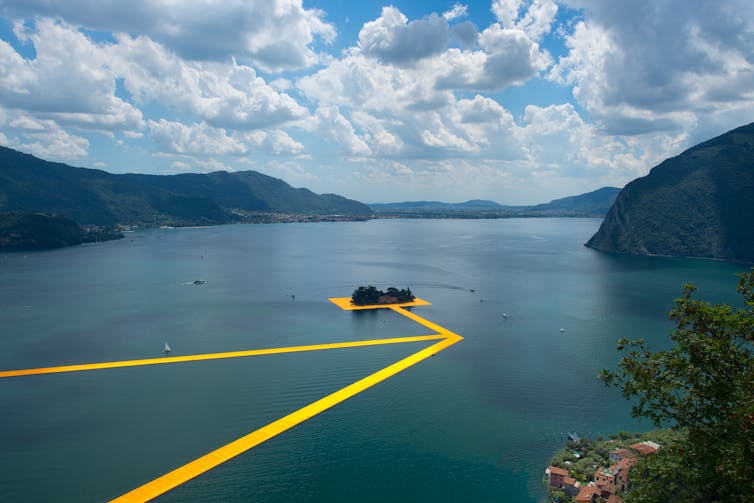 Christo's death serves as an example of how a history of progress is written. The genius of the artist exemplifies a given notion of progress. Progress is built on bigger, better, more expensive sole-authored achievements, a notion of genius that suppresses the collaborative and the complex.
In death, the artist is polished and their achievement is made glossy by smoothing out changes over time in the reception of the art and in the reasons for making art in the first place.
An impression is formed by the traditional art historian that, always and universally, the artist's contribution to cultural progress is fixed and unmistakable, a stable step forwards. In reality, it wasn't like that. It never is.