Art lovers rejoice, the Moostletoe Tour returns after three-year hiatus – Moose Jaw Today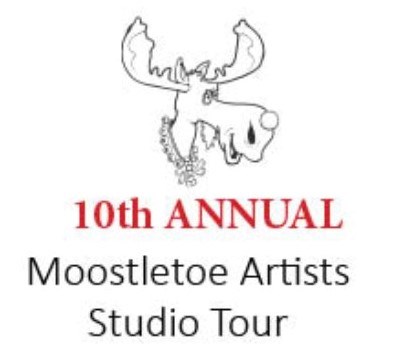 Start preparing those Christmas lists because The Moostletoe Artists Studio Tour returns after a three-year hiatus, with this year also its 10th anniversary.
The event occurs Saturday, Oct. 15, from 10 a.m. to 5 p.m. This self-guided tour features artists opening their studios and galleries — sometimes in their homes — for the public to visit. People can enjoy fine art of various materials, view their favourite artists' studios, and start their Christmas shopping early.
The event is free and is for all ages.
A map can be found on the group's Facebook page or at the Yvette Moore Gallery on Fairford Street. Pick up a tour passport at your first stop, receive a stamp at each location and leave your card at the last studio visited for a chance to win a $250 gift basket filled with homemade fine art from all the tour artists.
A list of artists can be found at the end of this article.
Laura Hamilton, one of the artists and event co-ordinator, explained that she attempted to organize a tour last fall, but many group members didn't want to proceed because COVID-19 was still happening and pandemic restrictions were still in place.
So, the Moostletoe Tour didn't happen, but she held a summer show this year to see what response she could receive. Some people wore masks, others didn't, but many people came to view her paintings.
"I kept hearing from people, 'Oh, it's so nice to do this again. It's so nice to get out,'" Hamilton said. "So when I approached the group this fall, I said I feel like people are craving just being able to get out in public and engage with others.
"Seems like we've been cooped up for the last two-and-a-half (to) three years. So it's nice to get back to it. And then everyone was excited."
Organizing the 2022 tour was extra work for Hamilton since three artists retired during the pandemic or moved on to other endeavours, which meant she had to find new people.
Hamilton immediately thought of Jess Zoerb and Erin Zimmerman since she had worked with the former on a previous show. Meanwhile, she knew two women from The River Street Potters and thought this group could replace Parsons Dietrich Pottery.
Having eight groups instead of nine this year still works, Hamilton continued. Several people told her they didn't want to make too many stops since they wanted to see all the sites in one day.
"It's good to do something new. It keeps it fresh," Hamilton added.
Hamilton — who joined the Moostletoe Tour in its fourth year — thought it was great that the event is celebrating its 10th anniversary this year but believes the celebration would be bigger if not for the pandemic. Yet, the group is finding its footing again, while she believes the event will run smoothly.
Hamilton wants to see people of all ages attend, even teenagers. She has a soft spot for them because she used to teach and wants them more involved in the community's arts scene. She noted that during her summer show, she found it fascinating that fathers brought their children to view her art.
"If you hold something, lots of people will come," she added.
2022 Moostletoe Tour artists
The Laura Hamilton Art studio is at 128 Blue Sage Drive. She paints nostalgic and whimsical oil paintings, while her signature collection includes limited edition reproductions, pillows, bags, notebooks, cards and the ever-popular calendars.
Bill and Laurette Keen of W.C. Keen Metal Artist are at 127 Calypso Drive. He has designed unique handmade metal sculptures for 40 years, while she provides the finishing touches of each piece.
Beth Barrett of One Sweet Dream Pottery is at 1211 Fifth Avenue Northwest. She creates functional stoneware that is dishwasher and microwave safe.
Artists Jess Zoerb and Erin Zimmerman are at The Art House on 720 Second Avenue Northeast. Attendees should park on Caribou Street or Athabasca Street that day because of area construction.
The Moose Jaw Museum and Art Gallery gift shop features basket weaver Beth Crabb and indigenous artist/beader Jazenta Saultier.
Artist Jude Radwanski of Firefly Art Jewellery is in the Hammond Building. Each piece of her wearable jewelry is hand-sculpted using polymer clay and accented in silver or gold. Her pieces are influenced by ancient artifacts, natural elements and age-old patinas.
The Yvette Moore Gallery features the exclusive art collection of artist Yvette Moore. It carries an extensive collection of handcrafted pottery and jewelry in Saskatchewan.
The River Street Potters are located downstairs at 337 River Street West. The group comprises Melanie McFarlane, Shannan Taylor, Faithe Sovdi and Dianne Newman.
Sights and Sound Volume VI brings immersive art experience to Welland – Welland Tribune
Colourful creations, music, and thought-provoking words are just some of what people who attend the Sights and Sound Volume VI art event can expect to experience throughout the night.
Sights and Sound will bring together many artists from across the Niagara region including visual artists, musicians, and writers and poets for an evening of displaying existing works and creating new ones.
The idea behind creating the event was to bring all types of creative individuals together.
"Musicians and writers never hang out. Musicians and artists never hang out. But we're all driven by this weird passion that we don't control, and it's great to get together and watch that," said musician Eric James, who helped to organize the event.
Many of the artists who attend the event will bring both finished works and works in progress, allowing the tone of the evening and other mediums to influence their art forms.
The unique nature of the event bringing many artists together also allows for audience members to get whatever experience they want over the course of the evening.
"Everybody is getting something out of it that is so unique to their experience. People might be standing and watching me draw, but when Taylor comes to the mic they go and they sit because they're pulled in. Then there's that freedom to get up and move again," said visual artist Heather Fraser, who also helped to organize the event.
This year marks the sixth volume of Sights and Sound, and the first event since before the pandemic, something the event will speak to.
"Our theme for this year is 'It's Great to be Alive.' I think we all need to remember that again. I think we need to be grateful. I think we need to start to live again," said James.
Tickets for the event will cost $10 at the door, with proceeds from the event being donated to Open Arms Mission in Welland.
"I think for us as creators we've done enough in the sense of taking from society. We've all done our tours, we've all made some money off our profession," said poet Taylor Peebles. "So I think we've all come to the conclusion it's time to give back as artists."
The organizers say they want to see as many people as possible, even those who aren't artists and are just curious about what bringing together various art mediums in one space looks like.
"A musician, a writer, and an artist gather. It's really just that simple, with a charitable component because that's what sits with our core values," said Fraser. "You can't put creative people together and not have magic."
Sights and Sound will be presented at the Bank Art House at 22 King St. in Welland from 7 to 11 p.m. on Dec. 3. Tickets cost $10 and will be available for purchase at the door.
SHARE:
Comox artist presents fabric art workshop
Kate Bridger's foray into fabric art began in the early-1980s when she lived with her husband and two small children in a remote pulp and paper town in Northern Ontario. The winters were long and nasty, and the summers were short and buggy; there was plenty of time to pursue new interests. Having enjoyed working with fabrics, she began making wall hangings for her children's rooms. When their walls were amply covered, she fine-tuned her techniques, tested the marketplace and developed the art form to which she has remained committed ever since.
More than three decades later, Bridger's work has appeared in magazines, won awards and is displayed in homes and businesses around the world. She has created well over 500 original pieces featuring landscapes, wildlife, house portraits, old cars, household objects and abstracts.
"I am as excited about classical architecture and pastoral vistas as I am about unkempt alleys, rusty trucks and crumbling barns," Bridger said in a news release.
She and her family moved to Nelson in 1994, and lived there for 25 years. During that time, she owned a gallery, worked in ad sales and real estate, conducted art workshops, wrote a few books, raised two sons and maintained her fabric art practice. Her work has evolved over the years and, presented professionally framed, is often mistaken for painting.
She moved to Comox in December 2019 — in time for a pandemic, she quips. Fortunately, exploring and stitching her new environs kept her occupied, and introduced her to like-minded people in the Comox Valley. Her work is available at The Old Schoolhouse Arts Centre in Qualicum Beach, The Salish Sea Market in Bowser, and in Comox.
Between her move to Vancouver Island, COVID and a few other interruptions, it's been a long time since Bridger has taught an in-person fabric art workshop. In February, she will conduct a two-day workshop — her second on Vancouver Island and first since moving to the Valley.
She has chosen to present 'Earth, Wind, Fire and Water' because it is a good introduction to all sorts of techniques and processes, and is suitable for most levels of art ability and experience. The only requirements are that participants are comfortably familiar with the workings of their sewing machines and have a rudimentary understanding of freemotion stitching.
The workshop is Feb. 4 and 5 at The Lion's Den (behind and beneath the Pearl Ellis Gallery at 1727 Comox Ave. in Comox). Registration is through the gallery. Contact: igadurand@hotmail.com
Registration deadline is Friday, Jan. 27.
Artists and community members want more art in the northeast. Here's how it could happen
Sumer Singh made his decision to go to architecture school while sitting at the Genesis Centre in Calgary's northeast.
Years later, he's being commissioned to bring more life into the city's most populated and most diverse area, with a sculpture that will be displayed at that same recreation and community centre.
Speaking to community members there on Wednesday, Singh shared his connection to the city, the northeast, and his hope for more art in the quadrant.
"I used to come here, to the YMCA, to the library, and I was lost in life," said Singh, explaining that he was at the time a working engineer, but felt he needed a change.
"This [place] is where I had moments of introspection … and decided that I was going to go into architecture," added Singh, who now has a thriving practice as an artist, architect, designer and engineer.
The artist will be creating a sculpture that will be displayed at the Genesis Centre in Martindale through the City of Calgary's northeast public art initiative.
It will be one of several projects through the initiative. Three initial works  — a bench, a picnic table and a bike rack created by, respectively, Day Pajarillo, Apiow Akwai and Vikram Johal — are expected to be installed early in 2023.
Members of the public were given the opportunity on Wednesday to meet Singh at the recreation centre and discuss and vote on elements of the sculptural design and materials he might incorporate.
In comparison to other quadrants, public art in the northeast is something more of a rare sight. There are murals across the city's downtown core, but one resident who attended the event said it's time his home community gets the same treatment as the rest of Calgary.
"It's not much artistic like, comparatively to downtown, to the southeast, to north, northwest and southwest," said Maninderpreet Singh, who lives in the northeast community of Skyview.
"You know like if even if you go to the southeast there's pictures on the walls, but there's no pictures in the northeast … all the walls are vacant. Those walls need to get painted."
In terms of ideas for his planned sculpture, Sumer Singh said that he's trying not to put too much of his own influence on the art. He said he wants the inspiration and the idea for the final piece to come from those in the community.
The Gensis Centre and the people who frequent the facility, Sumer Singh said, are a reflection of Calgary. With a library, a community gym and a centre for newcomers, it's somewhere that brings together people of all ages and from all walks of life.
He's hopeful that he can give back to the communities and its residents through his art.
"The real core is where the people are at, and the people in northeast are actually the people that are the backbone of the city," said Sumer Singh.
"I think we really need to give the northeast the same treatment that we give to the rest of the city as well."