Art Scene: Using found materials; images capture 100 years of ideas – Vancouver Sun
Gallery shows capture the world through the eyes of artists
Polygon Gallery
Vancouver artist Elizabeth Zvonar works extensively with collage techniques and sculpture, drawing material from a broad spectrum of sources. Her exhibition I Spy features two new large-scale murals and recent photographic collages.
Photography is Hard, a mural installed on the gallery's second-floor landing, makes reference to The Polygon as a place dedicated to the medium of photography. Another mural is a densely layered montage of images from magazine pages and postcards culled from Zvonar's personal archive.
The Polygon is also showcasing work by the finalists of the Philip B. Lind Emerging Artist Prize. Established in 2016, the prize is awarded annually to an emerging B.C.-based artist working in mediums of film, photography or video. Artists are nominated for the prize by staff and faculty from established arts institutions, organizations and post-secondary programs from across the province. The winner will be announced on February 12, and will receive a $5,000 prize toward producing a new project to be featured at the Polygon Gallery in 2021.
I Spy: Elizabeth Zvonar
The Lind Prize 2020
Until March 1
101 Carrie Cates Court, North Vancouver, 604-986-1351
Kurbatoff Gallery
Valerie Raynard is inspired by humanity's relationship with nature. In this series of paintings, the primarily self-taught, Vancouver-born artist aims to capture the quieter moments in the life of the coastal industry of B.C. The work explores the interplay of engineered geometric structures with the living, ever-changing rhythms of the sea, the mountains and the sky to create a unique language of shapes and colour.
Valerie Raynard: Harbour
Until February 18
2435 Granville Street, 604-736-5444
Burnaby Art Gallery
Using found materials, Genevieve Robertson links biology, geology and environmental studies with contemporary drawing. Looking Through a Hole in the Earth, her new exhibit, presents three series of recent explorations: works on paper composed with bitumen and seawater; forest-fire-derived charcoal and graphite; and silt, seaweed and limestone.
Working with found materials is the artist's way of implicating herself directly in the process of landscape representation, and of learning about the entanglement of non-human lifeforms and geologic landforms that coexist in our biosphere.
Genevieve Robertson: Looking Through a Hole in the Earth
February 7 to March 22
6344 Deer Lake Avenue, Burnaby, 604-297-4422
Vancouver Art Gallery
Shuvinai Ashoona combines traditional Inuit imagery with cultural references to horror films, comic books and television to develop her own iconography. In this exhibition, visitors will encounter examples of the Inuk artist's works from the past two decades, which blur boundaries between the worlds of reality and fantasy, past and future.
Shuvinai Ashoona: Mapping Worlds
February 22 to May 24
750 Hornby Street, Vancouver, 604-662-4700
Surrey Art Gallery
Susan Point: Spindle Whorl includes 38 screen prints on paper and two carved cedar spindle whorls. The dates range from 1981 to 2016 with works throughout every decade. The exhibit is organized and circulated by the Vancouver Art Gallery and curated by Grant Arnold, Audain Curator of British Columbia Art, and Ian M. Thom, former senior curator–Historical.
Don Li-Leger first came to fame for his detailed wildlife paintings, drawings and etchings, including images of B.C. birds, flora and fauna, such as his 1991 portrait Great Blue Heron, which is part of Surrey Art Gallery's permanent collection. In later years, Li-Leger adopted a looser, more meditative and innovative approach to art that included monoprint-making and larger, evocative pieces that incorporated colour fields, figurative and floral studies, calligraphy and even elements of collage.
This exhibit features paintings and video works by the South Surrey artist, who passed away last year. Many of the large paintings were inspired by Li-Leger's 2017 trip to the American Southwest to observe the rare "super-bloom" of wildflowers that follows an unusually wet rainy season.
Susan Point: Spindle Whorl
Don Li-Leger: Counting the Steps of the Sun
Until March 22
13750 88th Avenue, Surrey, 604-501-5566
Audain Art Museum
Organized by the Canadian Photography Institute of the National Gallery of Canada, The Extended Moment is a selection of over 80 photographs. Themes and ideas recur throughout images that are more than 100 years apart.
The Extended Moment: Fifty Years of Collecting Photographs
February 8 to May 24
4350 Blackcomb Way, Whistler,
604-962-0413 ext. 103
Youth get creative at summer art camp – Lakeland TODAY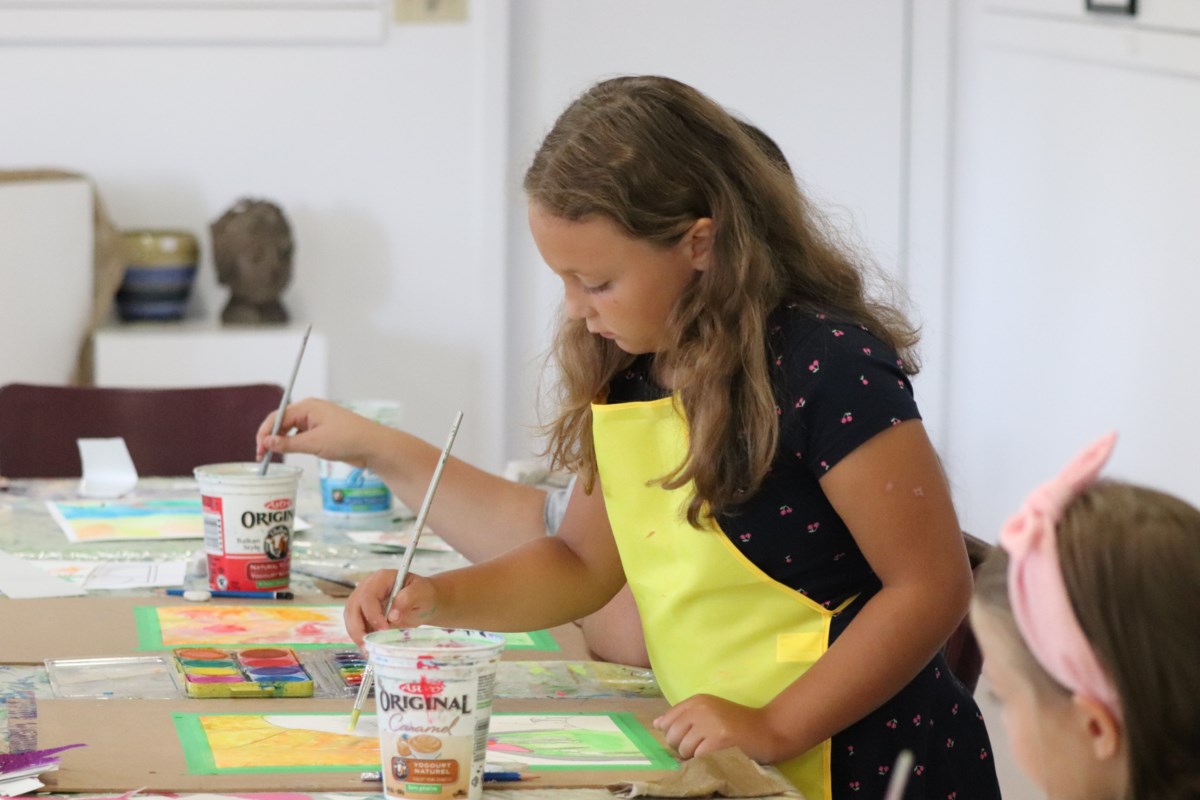 ST. PAUL – A variety of mediums were used to create unique works of art during a week-long Youth Art Camp held at the St. Paul Visual Arts Centre, last week.
Pam Bohn, the art instructor for the art camp, said the camp gives youth the chance to not only do art but form friendships.
"We also go outside to play and go to the park, and so it is also a day where they can make friends."
The art camp included acrylic painting, watercolour painting, mixed media projects, and much more.
"While I facilitate the classes, [the children] are free to create as they please," she said. "That allows those who like to do art that freedom to have different art mediums and try things that they may be unable to do at home."
Bohn said the participating youths have enjoyed the art camps, adding, "They all get excited when they come and take their [art] home to show their parents."
The Hive celebrates three new exhibitions at Art Gallery of Burlington | inHalton – insauga.com
Published August 15, 2022 at 2:41 pm
A special event celebrating three new exhibits is being hosted by the Art Gallery of Burlington.
The Hive is happening Saturday, Aug. 27, from 1 to 4 p.m. This free, all-ages event incorporates the organization, cooperation and energy of a beehive into an afternoon of art, activity, learning and fun.
The Hive will feature a special workshop led by Toronto's Clay and Paper Theatre, live arts and crafts demonstrations, a screen-printing presentation, live performance, food and drink.
The event is being held in celebration of the AGB's three new fall exhibitions:
The Future of Work, an exploration into how the pandemic has affected labour markets and our quality of life

ਨਜਰ ਨਾ ਲੱਗੇ

/Nazar na lage/Knock on wood, a vibrant and meaningful interpretation on the art of rangoli by artist Noni Kaur
Know your Place, an exhibit of cartoon-like clay sculpture that reveal the raw emotional experiences of the artist Sami Tsang
Known for work inspired by oral traditions, folk songs, poems and fables, Clay and Paper Theatre will charm participants and audiences with their original multi-disciplinary performance-based production. Guests who wish to participate with Clay and Paper Theatre should arrive early and be ready to create.
Visitors are invited to an interactive, screen-printing demonstration led by artist Jesse Purcell and are encouraged to bring any used clothing to be transformed into a bunting display to be hung in the gallery by the artist collective Works-in-Progress.
Arts Burlington will be opening its doors to guests with arts demonstrations and the Burlington Handweavers and Spinners Guild will guide guests through a natural plant-based dying demonstration, teaching attendees what they need to know to create from home.
The AGB parking lot will be free for the day. For more information, visit the AGB website.

insauga's Editorial Standards and Policies
Stay the know
Subscribe now to receive our daily email of today's top stories in your city!
advertising
'Miyo Nepin' (Good Summer) art show brings together Indigenous talent – battlefordsNOW
"[Nordstrom] contacted the artists; I contacted some. Then, she [decided] how it would look," Favel said.
"Miyo Nepin," which means Good Summer, is the theme of the show.
"We just came out of the pandemic, [so] it's a celebration of the freedom of movement, the freedom of the summer, and hopefully this freedom can stay in the future," Favel said.
He noted the theme is essentially about the freedom from health concerns, with the hope that everyone can enjoy good health again.
"It's a celebration of life and health," Favel said.
Some of the artists featured in the exhibition include Carl Thunderblanket from Sweetgrass, Meryl McMaster from Red Pheasant, Greg Tootoosis from Poundmaker, Charity Boxell from Poundmaker, and Dana Standinghorn from Sweetgrass.
The curators focused on showing pieces from artists with a substantial body of work.
Favel is particularly impressed with the calibre of the artists' projects in the show.
"We wanted to encourage, shed some light into this area of the talent that exists here," he said. "Hopefully, then, this work can keep going further, and their work can become more well-known provincially."
Favel added the artists are creating pieces of a national and international quality
"If you go to any gallery in Montreal or Toronto, you would see this is the quality of work we have here."
Favel hopes to keep putting the spotlight on many more of the Battlefords area's talented Indigenous artists going forward as well.
"In the future, like in my Performance Arts Festival, we will just keep going, and keep growing, and keep developing. That's our goal," he said.
The Miyo Nepin exhibition that features more than 20 pieces is on now through Sept. 4 at Fort Battleford.
–
Angela.Brown@pattisonmedia.com
On Twitter: @battlefordsNOW