Artist behind guerilla Vancouver art piece launches campaign to 'save spidey'
The artist behind a guerilla sculpture installation in East Vancouver that the city plans to remove is fighting to save the work.
The art work in question is a large, black spider made of recycled materials affixed beneath an overpass near Broadway and Victoria Drive, and visible from the SkyTrain Millennium Line.
The city says the work was unsanctioned, and that it is in the midst of plans on how to best remove the spider.
The anonymous Montreal-based artist who goes by the moniker Junko Playtime is calling on supporters to contact the city and ask it to leave the guerilla installation, titled Phobia, in place.
"I think it's a shame, there's are a lot of people that really enjoy the artwork and would love for it to stay there. Sure, there are some people that might not like it, but it's impossible to please everyone with public art," Playtime told Global News in an email.
"The work is positioned in a way that doesn't put anything or anyone in danger and can easily be ignored if someone doesn't want to look at it."
Junko Playtime contrasted the city's reaction to the spider to the mounting piles of trash along the rail line where it was installed, saying it doesn't make sense to remove the art but not the garbage.
"In terms of this piece, the city didn't pay a dime for it. It's built out of waste material collected in the streets so it's essentially cleaning up some of the litter and there's a huge amount of people that really enjoy it — seems like a pretty good deal to me," he said.
The City of Vancouver said the artwork was installed without review or approval, and that it began planning to remove it after complaints from the public.
It pointed to the city's official public art program, which selects works through a jury process or its Public Art Committee, and that all approved pieces are vetted by engineers to ensure safety, structural integrity, longevity and maintenance plans.
"The installation of public art on key infrastructure, such as a bridge, would require due process to ensure safety. The unsanctioned spider artwork has not been through this review process," it said in a statement Friday.
The cost of removing the spider remains unclear, according to the city.
The artist responded by suggesting leaving the piece in place was a chance for Vancouver to shake its dubious reputation as "no fun city," which he said it had earned "for a reason."
The spider is not the first artwork by Junko Playtime to appear in Metro Vancouver.
Last month, Habitat, a sanctioned piece he created from reclaimed materials appeared outside the Bentall Centre Gallery as a part of the Vancouver Mural Festival's Winter Arts Festival.
Last year, a large, yellow, insect-like sculpture he created called Queen BX1000 appeared in an empty lot near the Fraser River near the Canada Line.
The artist, who said his work revolves around themes of biodiversity and ecological responsibility, said he designed the spider installation specifically for the location where he placed it, telling Global News, "the cliff face covered overhead by the large metal and concrete bridge really felt like a fitting environment for a creation like this to inhabit."
'From shooting gallery to art gallery': the reverend saved from heroin and sex work by sculpting – The Guardian
Clay may have saved the Reverend Joyce McDonald. Addiction, abusive relationships and sex work blighted much of the first half of her life. Now, at 72, she is emerging as the celebrated artist it seems she was always destined to be. In just a few short years, McDonald's work has been added to the permanent collections of the Brooklyn Museum in New York and the Hammer in Los Angeles. The Brooklyn-based artist is now making her British debut – with her first solo show outside the US.
The exhibition, at Maureen Paley: Studio M in London, will include works going back to the 1990s. Mostly clay figurative sculptures, her work often incorporates other items including fake pearls, mirror and clothing. While her work is often biographical, suffused by her faith, and deals with difficult issues such as addiction and racism, there is something touchingly universal about it too. A hopefulness in dark times.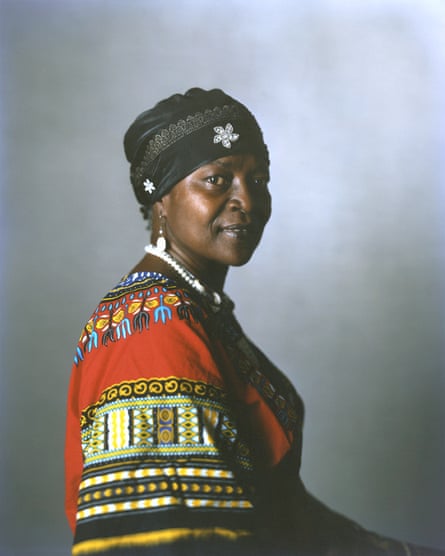 People's reactions to her work – even her own reaction – will vary, says McDonald. "For some people, it may be sad," she says. Others will see "peace, love, concern". Her inspiration comes "through spirit. I can look at it, key into what it is, and I believe other people will also choose how they see it." If there is a common theme running through her work, she says, then it is this: "Past pains, present victories."
For someone who has struggled so hard, McDonald shines bright. She shoots sharp, amused sideways looks over her high cheekbones. Her easy, infectious laugh fizzes with energy. As we sit in her studio, she traces her thoughts in the air with electric blue nail polish.
At her second show, held at the local church where she is now a reverend, someone asked McDonald what kind of artist she was. The question struck her as one she needed to answer, so she prayed. "And the answer was clear as day. I heard a whisper in my spirit, 'You are a testimonial artist.'"
She wrote her testimony down and had it laminated: "I praise the Lord for all he has done in my life," it reads. "From the shooting gallery to the art gallery. My art not only explores the pain and hurt of my former life, but the joy and triumph of my present one. My art has helped heal old wounds and has freed me from the bondage that once oppressed my mind."
McDonald comes from a loving, creative family. She grew up with her six brothers and sister in Brooklyn's sprawling Farragut Houses project. Her father was a postman and keen amateur photographer who also tailored and her mother made jewellery. They both doted on her. Her mother was fond of fake pearls: McDonald is wearing a chain when we speak and many of her pieces incorporate them. Her sister, Janet, who died in 2007, was the author of Project Girl, a well-received memoir about her early life in Brooklyn, among other books. "They called us the Black Brady Bunch," she laughs.
As a child, she drew a picture of her dad and he immediately recognised her talent. He bought her art books – Leonardo da Vinci and Picasso she thinks – that were almost as big as her. One of her most powerful pieces is a large bust of her father, a camera slung around his neck. His smile is beaming, a powerful testimony of a daughter's love.
But a darkness descended on her early in life. After playing outside with her brothers one day, McDonald – then five years old – headed back to the family's apartment. She got in the elevator alone. It stopped on the wrong floor and a neighbour approached her, took her to his apartment and sexually assaulted her. "We were taught to respect our elders," she says. "It was someone I thought was a good neighbour." She told no one. "That was the beginning of the keeping secrets."
It was also the beginning of a downward spiral that consumed decades of her life. After dropping out of school she ran away from home and fell into an abusive relationship. Sex work and drug addiction followed and she would hang out in "shooting galleries" in Harlem, sharing needles with other heroin addicts. In 1995 she was diagnosed as HIV positive. Her doctor said she had probably been infected for years.
Her family had supported her throughout her struggles and, in 1994, McDonald's daughters managed to convince her to go into detox. As she recovered, she started drawing. Dark drawings, she says. Then someone gave her clay to model. "Something happened!" she says, laughing and waving those expressive fingers. In her head, she heard Gene McDaniels singing his 1961 hit A Hundred Pounds of Clay.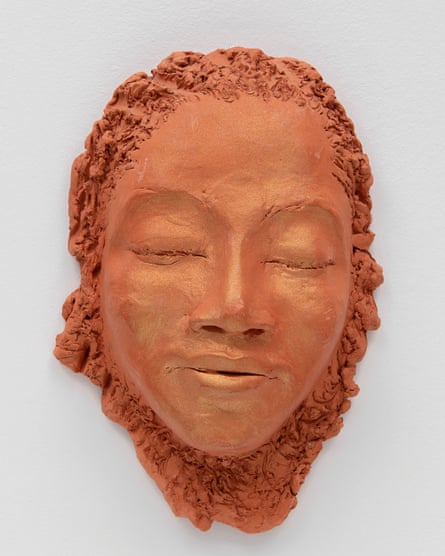 "All I remember is just making and making. Small figurines. I think the first I made were little clay figures of my family." The figures kept coming and they haven't stopped. McDonald was encouraged to show her work and won a prize at Visual Aids, a New York arts organisation that supports HIV-positive artists. The prize brought her to the attention of Gordon Robichaux, a New York gallery known for promoting under-recognised and emerging artists.
Her career took off but life's trials have continued for McDonald. The pandemic brought back memories of the Aids crisis – at least 10 people in her apartment block died and she caught Covid three times. While McDonald was happy to see the government swing into action to tackle the outbreak, it was also a galling reminder of how little was done to fight Aids and how people still discriminate against those living with HIV. "I have friends who I have known for 15, 20 years who still haven't told their families because of that stigma," she says.
And like Covid, she points out, HIV has not gone away. "It is a better time to have HIV," she says, with the improvement in medicines. But the support network for people living with the virus and access to testing and support are being reduced. "And that is not a popular conversation."
The coronavirus outbreak came as a spotlight was also shone on another injustice – the long history of systemic racism in the US and elsewhere. In May 2020, McDonald was working on a piece based on Colin Kaepernick, the football player who kneeled during the playing of the national anthem to protest against racial and social injustice. She had been working on it for months and had just taken the piece out to work on it again when she saw the news about George Floyd, whose murder by Minneapolis police sparked global protests and fired up the Black Lives Matter movement.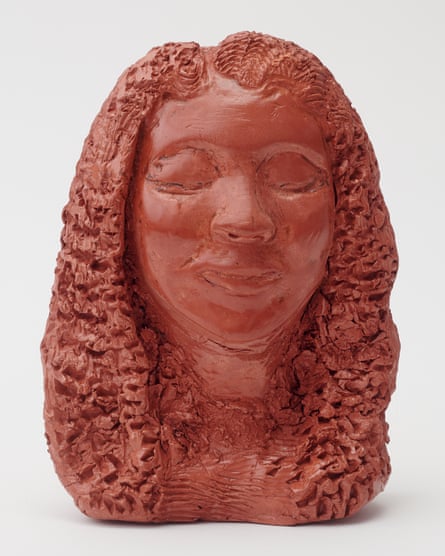 "Before I knew it I had a piece of clay," she says. "I began to go into it and I began to weep. I always feel the spirit when I am doing clay but this was like nothing else. It was very intense. That weekend, I didn't eat, I didn't shower, I had the same clothes on all the way to Monday."
She showed the piece to a nephew. "What about Breonna?" he asked, referring to Breonna Taylor, a 26-year-old Black woman shot dead by police in Kentucky during a botched drug raid.
McDonald went on to sculpt other victims of racist violence including Trayvon Martin, Eric Garner and Oluwatoyin "Toyin" Salau. When they were done, she noticed something. "All of their eyes were looking in the same direction. It was like – maybe things will get better in the future? I don't know if they did." She shakes her head.
Things have got better for McDonald, though. "It's humbling," she says. "For me it's about spreading hope through some of the worst situations, it's spreading the Gospel. I know without God I wouldn't have made it through everything. I was in a detox 60 times. There's hope after drugs, there's hope after rape, there's hope after kidnap. I've been through all of that."
Like her clay sculptures, experience has fired McDonald, made her durable. But it has not made her hard. She says she is "amazed" by her success and hopes that her belief in art – and her faith – can be a route others too can take. "For me, my art has never stopped being therapy," she says. "I just know when it's the time and I go get that clay."
Reverend Joyce McDonald is at Maureen Paley: Studio M, London, 1 June-30 July

Information and support for anyone affected by rape or sexual abuse issues is available from the following organisations. In the UK, Rape Crisis offers support on 0808 500 2222 in England and Wales, 0808 801 0302 in Scotland, or 0800 0246 991 in Northern Ireland. In the US, Rainn offers support on 800-656-4673. In Australia, support is available at 1800Respect (1800 737 732). Other international helplines can be found at ibiblio.org/rcip/internl.html

Information and support for anyone affected by addiction issues is available from the following organisations. In the UK, Action on Addiction is available on 0300 330 0659. In the US, SAMHSA's National Helpline is at 800-662-4357. In Australia, the National Alcohol and Other Drug Hotline is at 1800 250 015; families and friends can seek help at Family Drug Support Australia at 1300 368 186
Art Industry News: Celebrities Turned Out in Force for Billionaire Collector Joe Nahmad's Lavish Wedding in Sardinia + … – artnet News
Art Industry News is a daily digest of the most consequential developments coming out of the art world and art market. Here's what you need to know on this Wednesday, May 31.
NEED-TO-READ
Two Nazi Sculptures to Go on View at German Museum – On September 10, a horse sculpture will join another that is already on view at Germany's Historical Museum in Berlin as a part of efforts to confront the country's Nazi past. The works will be together on permanent display alongside other problematic works of art. The sculptures, The Sacrifice and Comradeship were commissioned by Adolf Hitler's chief architect, Albert Speer. (Deutsche Welle)
Francis Bacon Portrait to Be Fractionalized – ARTEX MTF, a stock exchange, has announced that it will list and trade the artwork Three Studies for a Portrait of George Dyer by Francis Bacon from 1963. The artwork, valued at around $55 million, will be offered to investors as ordinary shares of $100 through a public offering on the ARTEX MTF platform. The investment opportunity is expected launch June 19 and July 19. (Press release)
Inside Art Collector Joe Nahmad's $12.9 Million Wedding – Stars including Leonardo DiCaprio, Tom Brady, Serena and Venus Williams were among the guests of the wedding of billionaire art collector Joe Nahmad and model Madison Headrick the weekend of May 27 in Costa Smeralda, Sardinia. The lavish celebration cost €12 million (approximately $12.9 million), according to one Italian report. (Page Six)
Winston Churchill's WWII-Era Cigar Hits Auction Block – A cigar smoked by nearly 80 years ago, and kept in a glass jar since then, is set to be sold at auction. The wartime U.K. leader gave a half-smoked cigar to Hugh Stonehewer-Bird, consul general in Rabat, Morocco between 1943 and 1945. It is set to sell with Derbyshire-based Hansons Auctioneers on June 16 with a guide price of £600 to £900. (Evening Standard)
MOVERS & SHAKERS
Drew Sawyer Heads to Whitney to Helm Photo Department – Curator Drew Sawyer is leaving his post at the Brooklyn Museum to serve as the curator of photography of the downtown Manhattan-based museum starting in July. While in Brooklyn, Sawyer curated shows of artists including Jimmy DeSana and John Edmonds, and will open the forthcoming "Copy Machine Manifestos: Artists Who Make Zines" exhibition at the Whitney. (ARTnews)
Susumu Kamijo Joins Venus Over Manhattan – Japanese-born, New York-based artist Susumu Kamijo is joining the stable at the Manhattan gallery, where he most recently had a solo show in October 2022. The artist's playful and colorful compositions often incorporate poodles and other flora and fauna. (Press release)
Anicka Yi Joins Esther Schipper – In other gallery news, the conceptual artist is now represented by Berlin-based gallery in addition to New York's Gladstone Gallery. Yi was tapped for Tate Modern's esteemed Turbine Hall commission in 2021; her first solo show with the new gallery will be in September. (Ocula)
FOR ART'S SAKE
ARCOlisboa Concludes Successful 6th Edition – The Lisbon-based fair ended the sixth edition of its event, the most international to date featuring 86 galleries from 23 countries, a 32 percent increase from last year. More than 13,000 visitors attended the fair at the Cordoaria Nacional space, surpassing the pre-pandemic figures. (Press release)
More Trending Stories:
A British Couple Actually Paid Nearly $250,000 to Remove a Banksy Mural From Their Building Due to the 'Extremely Stressful' Upkeep
Archaeologists in Hungary Have Uncovered the Remains of an Ancient Roman Doctor Alongside His Surgical Toolkit
The World's First A.I.-Generated Statue, Cobbling Together the Styles of Five Celebrated Sculptors, Has Landed in a Swedish Museum
Meet the Young Collectors Calling the Shots at the Guggenheim, a Highly Placed Art Worlder's Anti-Woke Tweets, and More Art World Gossip
An Extraordinary Wristwatch Belonging to the Last Emperor of China Just Sold for $6.2 Million, Setting Multiple Auction Records
A Sculpture Depicting King Tut as a Black Man Is Sparking International Outrage
Archaeologists Have Found a 3,000-Year-Old Bakery in Armenia, After Realizing a Layer of Ash Was Actually Wheat Flour
Why the Supreme Court's Decision in the Andy Warhol Copyright Case Shows the Dangers of a Sympathy Vote
An Exhibition of Taylor Swift's Stuff Has Just Opened at the Museum of Arts and Design. Here Are 5 Must-See Displays, Swifties
Follow Artnet News on Facebook:
Want to stay ahead of the art world? Subscribe to our newsletter to get the breaking news, eye-opening interviews, and incisive critical takes that drive the conversation forward.
Art in the Park is back for 2023 | CTV News – CTV News Windsor
Windsor's "Art in the Park" is back again this Saturday and Sunday and preparations are ongoing at Willistead Manor.
The popular event last year saw 30,000 patrons over two days.
This is the 43rd year the Rotary Club of Windsor 1918 have hosted the event.
Hundreds of local artists and food vendors are on tap — plus live music and a kids zone.
Proceeds will support Willistead Manor and the Rotary Club's global humanitarian initiatives, such as proving clean drinking water in developing nations.
Allan Kidd of the Rotary Club 1918 is excited about the upcoming event – and what it will mean in terms of helping those in need here at home and around the world.
"People don't recognize that this art festival is all about raising money for charity. So the people that come here – this is kind of our gift to our community," he said. "People come and enjoy themselves but that money that they pay to come in here is used to feed hungry people, to buy wheelchairs, to buy books, and build schools and drill wells."