Artists to cash in when work is resold with update of copyright laws
OTTAWA — Artists are to get paid when their work is resold in a shakeup of copyright laws that would give them a slice of collectors' profits.
Painters, sculptors and other visual artists stand to get a payout when their work is resold at auction and by galleries, in a government move designed to help sustain thousands of artists currently working below the poverty line.
Under reforms of copyright law, being drafted by Innovation Minister François-Philippe Champagne and Heritage Minister Pablo Rodriguez, artists would get a "resale right" giving them a royalty during the term of copyright, according to Champagne's office.
Artists complain that they now get nothing if paintings and sculptures increase in value dramatically.
Montreal abstract artist Claude Tousignant, whose painting Accélérateur Chromatique 90 resold in 2012 for $110,000, is among the artists supporting reform of the law. He would have received $5,500 had changes to copyright law being prepared by Ministers, been in place when it was resold.
The late Inuk artist, Kenojuak Ashevak, sold a work called Enchanted Owl in 1960 for $24 and it was later resold for $158,500.
"Our government is currently advancing work on potential amendments to the Copyright Act to further protect artists, creators, and copyright holders," said Laurie Bouchard, a spokeswoman for Champagne. "Resale rights for artists are indeed an important step toward improving economic conditions for artists in Canada."
CARFAC, which represents Canadian artists, wants artists to get five per cent of the value of their work when it is resold, and for their estate to receive funds according to copyright rules decades after their death.
It says at least 90 countries, including the United Kingdom and France, already have resale rights for artists, but Canada is lagging behind, driving many artists to abandon their craft because they cannot make a living from it.
There are over 21,000 visual artists in Canada, and according to the 2016 census, their median income is $20,000 a year from all income sources.
"It's important to really acknowledge that half of our artists live in poverty," said April Britski, executive director of CARFAC. "We all benefit from arts and culture, and our creators deserve a better, more stable income."
The forthcoming change in the law follows years of campaigning by Sen. Patricia Bovey, the first art historian in the Senate.
Bovey, former director of the Winnipeg Art Gallery, said France has had resale rights for over 100 years and the change to copyright laws is far overdue in Canada.
The senator said she knew of many artists who had sold works at the beginning of their careers for small sums, and seen them appreciate "by 10 times or more."
Inuit artists, who often live in remote areas and sell locally, are among those who would particularly benefit if they get a slice of resale value at galleries and auctions.
"Artists are the group in Canada who make up the largest percentage of the working poor — below the poverty line," Bovey said. "It's our artists who tell us who we are, where we are, what we as a society face. If they can't financially support themselves we will lose that really important window on who we are as Canadians."
Paddy Lamb, an artist based in Edmonton, said it's very hard to make a living in the arts even for established artists.
He said he had seen works leap in value when artists become established and their art is sold at major galleries or auction rooms.
"For Inuit artists, as soon as their work leaves Nunavut it immediately appreciates in value … and (the artists) receive none of that," he said. "This is a tool to enable artists to make a living."
He said Canadian artists know from artists from countries where resale rights are already in place, how important the payouts are to "help people out."
"Most payouts in Britain come in smaller increments to artists who are not A-list artists," Lamb said. "In Australia, a lot of that goes to Aboriginal artists. What we are asking for is a real good level playing field."
CARFAC's vice-president, Theresie Tungilik, an artist who lives in Rankin Inlet, said it is "unfair" that artists who see work resold are not "getting a penny from it."
"I've been watching how the world has been treating its artists," she said. "France has done this over a hundred years ago and it is important for all Canadian artists, including Inuit artists, that they have the same right."
This report by The Canadian Press was first published Aug. 6, 2022.
Marie Woolf, The Canadian Press
Youth get creative at summer art camp – Lakeland TODAY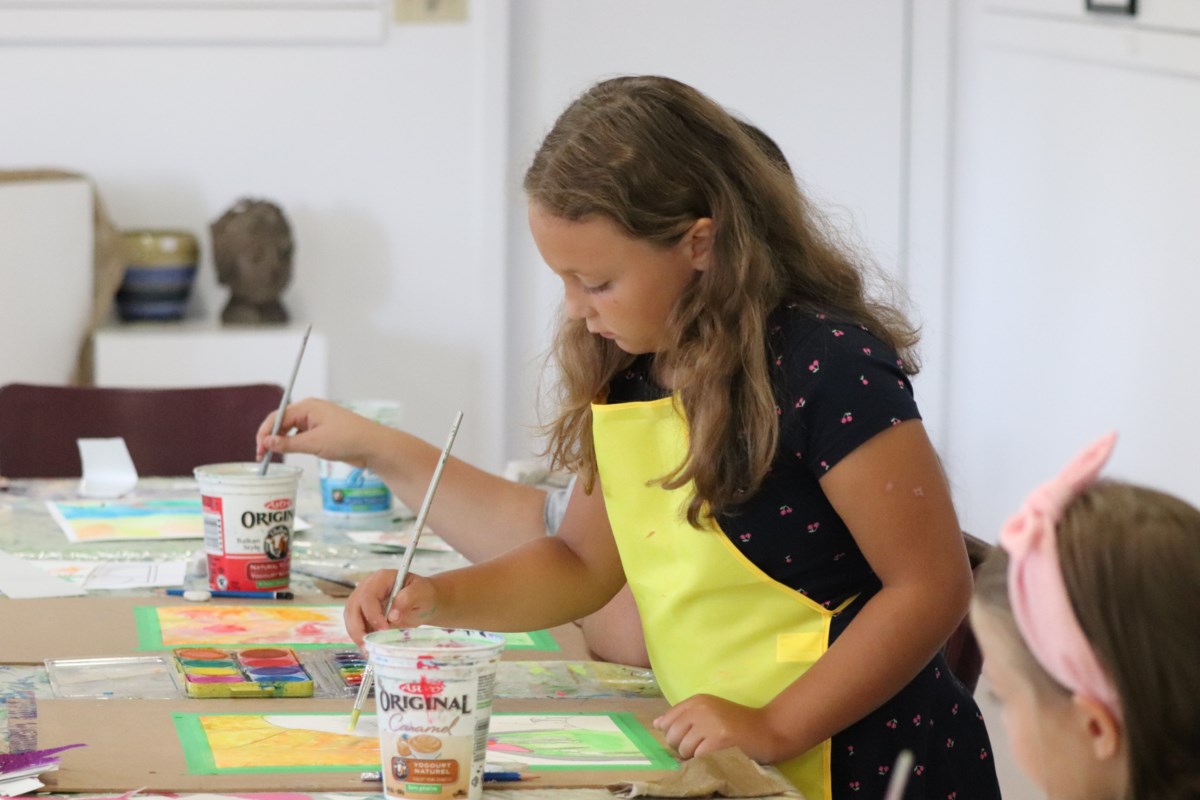 ST. PAUL – A variety of mediums were used to create unique works of art during a week-long Youth Art Camp held at the St. Paul Visual Arts Centre, last week.
Pam Bohn, the art instructor for the art camp, said the camp gives youth the chance to not only do art but form friendships.
"We also go outside to play and go to the park, and so it is also a day where they can make friends."
The art camp included acrylic painting, watercolour painting, mixed media projects, and much more.
"While I facilitate the classes, [the children] are free to create as they please," she said. "That allows those who like to do art that freedom to have different art mediums and try things that they may be unable to do at home."
Bohn said the participating youths have enjoyed the art camps, adding, "They all get excited when they come and take their [art] home to show their parents."
The Hive celebrates three new exhibitions at Art Gallery of Burlington | inHalton – insauga.com
Published August 15, 2022 at 2:41 pm
A special event celebrating three new exhibits is being hosted by the Art Gallery of Burlington.
The Hive is happening Saturday, Aug. 27, from 1 to 4 p.m. This free, all-ages event incorporates the organization, cooperation and energy of a beehive into an afternoon of art, activity, learning and fun.
The Hive will feature a special workshop led by Toronto's Clay and Paper Theatre, live arts and crafts demonstrations, a screen-printing presentation, live performance, food and drink.
The event is being held in celebration of the AGB's three new fall exhibitions:
The Future of Work, an exploration into how the pandemic has affected labour markets and our quality of life

ਨਜਰ ਨਾ ਲੱਗੇ

/Nazar na lage/Knock on wood, a vibrant and meaningful interpretation on the art of rangoli by artist Noni Kaur
Know your Place, an exhibit of cartoon-like clay sculpture that reveal the raw emotional experiences of the artist Sami Tsang
Known for work inspired by oral traditions, folk songs, poems and fables, Clay and Paper Theatre will charm participants and audiences with their original multi-disciplinary performance-based production. Guests who wish to participate with Clay and Paper Theatre should arrive early and be ready to create.
Visitors are invited to an interactive, screen-printing demonstration led by artist Jesse Purcell and are encouraged to bring any used clothing to be transformed into a bunting display to be hung in the gallery by the artist collective Works-in-Progress.
Arts Burlington will be opening its doors to guests with arts demonstrations and the Burlington Handweavers and Spinners Guild will guide guests through a natural plant-based dying demonstration, teaching attendees what they need to know to create from home.
The AGB parking lot will be free for the day. For more information, visit the AGB website.

insauga's Editorial Standards and Policies
Stay the know
Subscribe now to receive our daily email of today's top stories in your city!
advertising
'Miyo Nepin' (Good Summer) art show brings together Indigenous talent – battlefordsNOW
"[Nordstrom] contacted the artists; I contacted some. Then, she [decided] how it would look," Favel said.
"Miyo Nepin," which means Good Summer, is the theme of the show.
"We just came out of the pandemic, [so] it's a celebration of the freedom of movement, the freedom of the summer, and hopefully this freedom can stay in the future," Favel said.
He noted the theme is essentially about the freedom from health concerns, with the hope that everyone can enjoy good health again.
"It's a celebration of life and health," Favel said.
Some of the artists featured in the exhibition include Carl Thunderblanket from Sweetgrass, Meryl McMaster from Red Pheasant, Greg Tootoosis from Poundmaker, Charity Boxell from Poundmaker, and Dana Standinghorn from Sweetgrass.
The curators focused on showing pieces from artists with a substantial body of work.
Favel is particularly impressed with the calibre of the artists' projects in the show.
"We wanted to encourage, shed some light into this area of the talent that exists here," he said. "Hopefully, then, this work can keep going further, and their work can become more well-known provincially."
Favel added the artists are creating pieces of a national and international quality
"If you go to any gallery in Montreal or Toronto, you would see this is the quality of work we have here."
Favel hopes to keep putting the spotlight on many more of the Battlefords area's talented Indigenous artists going forward as well.
"In the future, like in my Performance Arts Festival, we will just keep going, and keep growing, and keep developing. That's our goal," he said.
The Miyo Nepin exhibition that features more than 20 pieces is on now through Sept. 4 at Fort Battleford.
–
Angela.Brown@pattisonmedia.com
On Twitter: @battlefordsNOW