Artists want to turn the Sunday after Thanksgiving into Black Friday for art – MarketWatch
Charissa Brock knew from a young age that she wanted to be an artist.
The Portland, Ore., based sculptor began sculpting with bamboo in 1999 and later incorporated glass into her pieces, a nod to her mother's work as a glass artist. Brock sells her work through her website and online platforms like Etsy
ETSY,
-1.86%
and Artful Home, and she also teaches out of her home studio.
But when the COVID-19 pandemic hit, Brock said, "it felt like the whole world was shutting down." She lost a chunk of income when she had to cancel a year's worth of classes indefinitely, and lost potential sales from galleries and art fairs.
"As an artist, I thought, 'Oh my gosh, nobody's going to buy art when they're going to be struggling to buy food,'" she said.
Brock said her business has been "greatly impacted" by the pandemic, but she's hoping a new campaign called Artists Sunday will give her bottom line a lift.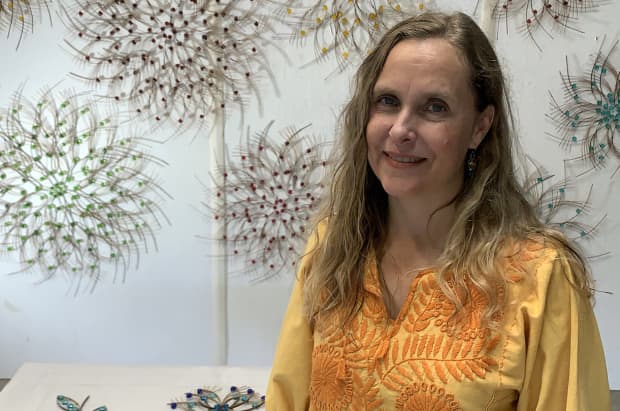 The nationwide initiative encourages consumers to do their holiday shopping with local artists and craftspeople. Photographer and entrepreneur Chris Sherman founded the movement when he noticed a bump in sales for his own photography on the Sunday after Thanksgiving last year.
Sherman started reaching out to recruit artists across the country in May, and now the campaign has brought together more than 3,000 participating artists and 400 arts, civic and economic development partner organizations who are promoting the idea of buying art this shopping season.
Sherman calls the art-focused shopping day, Nov. 29 this year, a virtual "national art fair with artists participating from all 50 states."
It's free for artists to join the online directory, and Sherman said the Artists Sunday team provides artists with a marketing toolkit and e-commerce tips.
"Artists love to be artists," he said. "Many of them don't want to focus on the business side — they'd rather be out there making art. We're trying to streamline that process for them so they can focus on their passion."
Sherman said Artists Sunday fits right in with all of the other shopping and spending events leading up to the holiday season, such as Black Friday, Small Business Saturday, Cyber Monday and Giving Tuesday. Sherman came up with the idea for Artists Sunday before the pandemic, but when state governments across the country started instituting lockdowns in the spring, he shifted his planning for the event into high gear.
"We know there's a lot of anxiety in the world right now, and many festivals and art fairs are being unilaterally canceled," he said. "Artists can't connect with consumers in a way that they would normally."
The creative economy has been hard hit by the pandemic
Creative industries nationwide have lost an estimated 2.7 million jobs and $150 billion in sales this year, according to an August study by the Brookings Institution.
"The creative economy is one of the sectors most at risk from the COVID-19 crisis," the report reads. "Arts, culture, and creativity are one of three key sectors … that drive regional economies. Any lasting damage to the creative sector will drastically undercut our culture, well-being, and quality of life."
The pandemic has put the fine and performing arts industries at a "crisis level," said Michael Seman, an assistant professor of arts management at Colorado State University and one of the authors of the Brookings report.
But, Seman said, it's not a total loss. The pandemic has shifted both artists' and art consumers' perspectives on the art business.
"We all know that the COVID-19 crisis has just devastated the arts," he said. "But what we are now learning is there are more channels to help fund the arts, and now we can embrace those."
He added, "I would have never thought of going to the internet to buy a piece from a gallery. But now that's definitely an option."
Some artists are offering discounted prices and free shipping
Sherman said he wants Artists Sunday to help artists compete with doorbuster deals at big-box stores that get the lion's share of sales during the holiday season.
One way to do that, he said, is to approach marketing and sales like these larger companies.
"Consumers react to a promotion, so the idea is to get artists to think that way as well," he said. Some artists participating in the campaign are offering deals such as discounts on their work and free shipping.
And even though people might have tighter holiday spending budgets this year, Seman said he still sees a demand for art.
"Some people are actually more interested in buying art because we're all stuck at home," he said. "People are inside and now they're reimagining their spaces."
Brock said her jewelry sales have been down since the pandemic because people aren't going out as much, but that her larger sculptures meant to display in homes are still relevant.
"Because people are in their homes more, and they're examining the spaces that they live in and trying to make them more compatible with being in their home for longer periods of time," she said.
A handmade gift can also serve to bring people together when everyone is so isolated, Sherman said.
"It allows you to maintain that connection with family in a very personal way, especially if you're social distancing," he said.
One Washington town is hosting an art walk
One town in Washington state is combining an already vibrant artist community with the Artists Sunday campaign to help bolster the local economy. In Issaquah, economic development leaders are making use of some shuttered storefronts and restaurants to showcase artists.
Corby Casler, the executive director and program manager of the Downtown Issaquah Association, said local artists will display their work on Artists Sunday, and that the city will provide a walking map so people know where to shop while still being safe.
In July, the Washington State Arts Commission designated Issaquah as a certified Creative District, so partnering with Artists Sunday "was a natural for us," Casler said.
"That designation not only helps us with grants, but it's also an acknowledgment that we can use art as an economic development tool," she said. "So that's exactly what we're doing for Artists Sunday."
A creative economy recovery strategy
While Artists Sunday could give a short term boost to artists, Seman said the United States will need a more substantial creative economy recovery strategy.
He called for a cabinet-level position in the White House for arts, culture and the creative economy to examine how the government can better integrate arts and culture within all aspects of American society like healthcare and housing and urban development. Seman also called for better economic support for artists.
"Artists are pretty much the poster children of the gig economy, so let's make them eligible for unemployment insurance," he said. "We're so far behind other countries in that situation, and yet we produce many of the leading creative minds in the world," he said. "If we just gave more support, it would be unbelievable what we could do."
For Brock, Artists Sunday means more visibility for her work. She said she looks forward to the opportunity to sell to a wider audience.
"I'm really hoping I get to use some of the cardboard boxes that I bought to ship things out in," she said.
10 year-old uses art and music as emotional outlet during pandemic – CTV Toronto
TORONTO —
The last 10 months haven't been easy for 10 year-old Anushka Sabeshan.
"It's been pretty hard. I get anxious about these things," she told CTV News Toronto. "My classmate tested positive, my dad tested positive, so it's just been like a whole rollercoaster for me. And I feel like a lot of kids around the world are feeling that way right now."
The Markham, Ont. girl has been channeling her feelings and emotions through different artistic platforms, like painting.
"This art like shows like how I want it to be, or how it is now, or how it's changed and they just really express my feelings," Sabeshan explained. "I've also been creating music."
It's Sabeshan's music that caught the attention of her teacher and classmates. As part of a school project, the students were tasked with creating a song about COVID-19. Sabeshan's song, 'Mayhem,' was so well received that her family allowed it to go public. A production team also helped her put together a music video.
"My song is about a child through the pandemic, and it shows how this can affect kids, too," Sabeshan said. "Not being able to see my friends and not being able to go out to restaurants and all that stuff, it sucks."
Sabeshan's younger brother Devin helped with the video The six-year-old says he shares many of his sister's emotions.
"I felt really bad about COVID," he told CTV News Toronto. "I wish it would go away."
The siblings hope 'Mayhem' brings a feeling of calm to other young people during this difficult time.
"I think my music people will help other people just to reassure them that they're not alone. Like, other people are feeling these feelings, too," Sabeshan said. "It also is to create awareness for everybody to stay safe so we can get through this faster."
"[Anushka] sings them a song to make them happy," Devin says. "That's what she does for other kids."
'Mayhem' was put together with the help of Enliven Entertainment and Steve Cliff Valentine, who produced the music, along with Jeysan Sivakumar, who directed the video.
Sabeshan's advice for other kids experiencing complex feelings during this time is to find something to do that makes them happy, or that they feel passionate about.
"I will definitely keep making paintings and making music," she told CTV News Toronto. "And I encourage all people around the world to find things like what they like and just do them, just to take your mind off the pandemic."
Outdoor Gallery Stratford project brings art to life – The Beacon Herald
Article content continued
"I want to flip that idea on its side and have the viewer engage in the evolution of the art piece itself – watching it change and seeing a bit of the creative process as it goes," Dunnem said.
Dunnem used hot and cold water and soap to turn natural wool from a stuffing-like texture to fabric that wouldn't fall apart. She used plant-based dye to colour the material and then cut more than 360 pieces that were affixed to the tree using its bark as a natural adhesive.
The project is similar to another soft sculpture piece Dunnem created in the summer that incorporated the gallery's trees.
"I've always had a close relationship with nature and trees," she said. "I spend a lot of time out in the woods and the forest. Even as a young child we spent our summers in a remote area where there were no other humans, so I adopted the trees as more than trees – as friends – and that's been ingrained."
After Dunnem has attached the last piece of wool Thursday, the project will live on – kind of.
"I think there is just as much beauty in the deterioration and in the decay as there is in the actual artwork," she said. "The sun, the light, the cold, the hot will start to break down the fibres, and bugs and spiders and natural material will start to hold on to the fibres as well, and it becomes its own piece of art without human intervention."
The project has garnered attention both in person and on social media for those who can't make it to the gallery, including someone from Austria, Dunnem said.
Gallery Stratford closed its doors to guests Dec. 24, and Brayham hopes to reopen in early April. Until then, outdoor artwork like Dunnem's is a chance to both engage the public and encourage mindfulness and physical activity.
"Many of us right now are spending so much time on screens," Brayham said, "so being present with the environment and present with art and with your feelings is so important right now."
Outdoor public art exhibit of painted canoe paddles comes to downtown Peterborough in February – kawarthaNOW.com
A new outdoor public art exhibit featuring 20 canoe paddles painted by volunteer artists in the community is coming to downtown Peterborough in February.
Presented by the Downtown Vibrancy Project, the Painted Paddle art exhibit will be installed in street-front windows at various locations through the downtown area, including the Peterborough & the Kawartha Tourism Visitor Centre, Le Petit Bar, St. Veronus, Boardwalk Game Lounge, Sam's Deli, Black Honey Bakery, Cork and Bean, B!KE, Watson and Lou, Cottage Toys, By The Bridge, GreenUp Store, Night Kitchen, Peterborough Downtown Business Improvement Area office, Meta4 Gallery, The Avant-Garden Shop, Sustain, Bluestreak Records, and Peterborough Social Services.
For those interested in taking a self-guided tour of the Painted Paddle exhibit, a map of all locations will be available at linktr.ee/LoveForTheBoro.
Advertisement – story continues below
"Art brightens the spirit and has a way of making people feel good," says Tracie Bertrand, director of tourism at Peterborough & the Kawarthas Economic Development. "The Painted Paddle art project will put a smile on people's faces as they fondly reflect on their memories of being outdoors here in Peterborough and the Kawarthas."
Some of the people and organizations who have contributed paddle art for the project include Peterborough mayor Diane Therrien, Hiawatha First Nation, Wiigwaas Hiawatha Store, Peterborough Police Service, Peterborough DBIA, GreenUP, Trent Gzowski College, Trent Veg Garden, Peterborough Pollinators, Princess Gardens Retirement Residence, Empress Gardens Retirement Residence, St. Anne's School, VegFest, B!KE, the Art School of Peterborough, city councillors Kim Zippel and Kemi Akapo, mother-and-daughter team Eileen and Kendron Kimmett, local Anishinaabe artist Kyler Kay, and local artist Tiphaine Lenaik.
"The paddle creates a unique way to honour and acknowledge the original families in Treaty 20," says Tim Cowie, lands and resource consultant with Hiawatha First Nation, one of many creative community members who lent their artistic skills to the Painted Paddle project. Cowie painted his paddle to look like a piece of birch bark (wiigwaas) and painted the clans (dodems) on his paddle to showcase the family ties of the Michi Saagiig.
Jill Stevens, economic development officer of Hiawatha First Nation, incorporated Michii Saagiig culture as part of their painted paddle installation.
"Having a paddle as the canvas was the perfect backdrop for the Hiawatha logo, which depicts someone paddling through manomin (wild rice) stands," Stevens says.
The Painted Paddle exhibit will be on display in downtown Peterborough from Monday, February 1st until Friday, March 5th.
Advertisement – story continues below
Painted paddles from the exhibition will be available in a virtual auction beginning at 8 p.m. on Friday, February 19th and continuing until 8 p.m. on Thursday, March 4th, just before the March First Friday Peterborough art crawl.
Proceeds from the auction at www.32auctions.com/paintedpaddles will go towards the One City Employment Program, which provides meaningful work to those with barriers to traditional employment.