Arts community mourns death of Winnipeg's Cliff Eyland, known for transforming libraries with tiny paintings – CBC.ca
A prominent artist from Winnipeg who transformed public spaces across Canada with thousands of pieces of tiny artwork has died.
Cliff Eyland's family announced the 65-year-old teacher, husband, painter and writer had died on Saturday.
He may be best known for works of art containing hundreds of index card-sized paintings and drawings dotting the walls of Winnipeg's downtown Millennium Library and the Halifax Central Library, which welcome visitors to common areas in those spaces.
Untitled, his work at the Millennium Library, was originally made up of 1,000 three inch by five inch paintings, but he continually added to the work, according to the Winnipeg Arts Council.
He spent nearly two years creating the 6,000 paintings for the Halifax library work.
While his artwork has been showcased across the country, from the National Gallery of Canada to the art galleries of Ontario and Nova Scotia, his wife said he was most proud of his work at the two Canadian libraries.
"He just really liked working with libraries," Pam Perkins, 56, said in a phone interview on Saturday afternoon.
"He developed a love of libraries as a child, it's a story he always told," she said.
Eyland grew up in Dartmouth, N.S., where he turned to libraries "for information, for reading, for pleasure," she said, before he later moved to the Prairies.
In art school he became fascinated with library file cards — soon to be obsolete technology, she said, which he found inspiring.
"So he conceived of his paintings, which were all, you know, file card-sized, as sort of little disparate pieces of information, like you'd find in a library file card," she said.
Lung transplant survivor
Eyland and Perkins would have celebrated 30 years together next year.
Perkins said her husband lived with sarcoidosis that "basically damaged and destroyed" his lungs. As a survivor of a lung transplant in 2016, he was spending increasing amounts of time in and out of the hospital due to infections that kept developing, especially over the last two years.
He had a long hospitalization from August until December 2019.
He had been home since then, said Perkins, and "not able to do much other than just be around at home and do a little drawing and keep in touch with friends. But he enjoyed being at home these last few months."
On Wednesday morning, he was taken to Winnipeg's Health Sciences Centre with severe shortness of breath. His health took a sudden turn on Friday, and he died early Saturday morning.
'Not just the walls'
His death has left a huge hole in the arts community.
As an associate professor in the University of Manitoba's school of art, Eyland was invested in the success of younger artists and those he felt "were getting enough attention," Perkins said.
Winnipeg artist KC Adams wrote on Facebook that Eyland had recognized her talents and helped further her career, and the careers of others.
"For years he had a small gallery and a large studio that he rented, and he would use that space to host shows by developing artists, artists who were being overlooked [and] artists who were developing their careers, and this was at his own expense," Perkins said.
"He's generous with his support for others."
Hundreds of posts, comments and reactions are being shared on social media, including from family, friends and colleagues who say they will pay tribute by visiting his library installations.
In a Facebook post, Winnipeg Art Gallery CEO Stephen Borys recognized the way Eyland's work transformed how "we see and engage with art."
"His approach has penetrated museums, libraries, and public spaces across the country — not just the walls but the spaces between the object and the viewer," reads the post from the gallery director.
Incoming Nanaimo Art Gallery executive director excited for new role – Nanaimo News Bulletin
The Nanaimo Art Gallery's new executive director says she's looking forward to the challenge and opportunity to come to a new place, get to know people and make an impact.
On May 29 the Nanaimo Art Gallery announced that this summer Carolyn Holmes, who spent the past four and a half years as executive director of the Two Rivers Gallery in Prince George, will be taking the helm of the NAG.
Holmes said she's been following the NAG for years and that it has a reputation for being innovative and community-minded.
"I know that there's a great exhibition program there and also there's lots of ties to the local community and to the indigenous community as well, which is all important to me," she said. "I think not every art gallery should be the same. Each art gallery needs to respond to their community and work with the community and grow with the community."
Holmes was born in England but raised in Whitby, Ont. As a youth she made art "all the time," leading her to pursue a degree in fine arts at Queen's University and a masters in museum studies at the University of Toronto.
"I always knew I was going to do something with art," she said.
When she moved to P.G. 20 years ago to serve as the gallery's inaugural education programmer the building was still under construction. Holmes said she got to develop the gallery's programming from scratch and build a team around her vision. She said it's "bittersweet" to be leaving the TRG after two decades, but "it'll be nice to have some new ideas come into the organization."
"A lot has happened in that time, along with me having two children and growing a family, so it's been a big part of my life, the gallery, and Prince George as well, so it will be hard to leave," she said.
Before becoming executive director, Holmes served as the director of public programs. She said one of her proudest accomplishments is establishing the gallery's MakerLab, an education and workshop space meant to "connect the community with creativity and not just art."
"Sometimes people think, 'I'm never going to be a painter or a drawer,' or, 'These exhibitions aren't for me,' and so it was a way to have everybody embrace what they might be doing creatively…" she said. "We were trying to teach skills and share ideas and also get people who were making things in their houses, kitchen tables, in their wood shops and bringing them together to share ideas and building a community."
Holmes said moving to Nanaimo will bring her closer to her parents who live in Qualicum Beach. And while she said her familiarity with the Harbour City is limited to that of a summer tourist, Holmes is excited for her and her husband and teenage sons to "find our place" in Nanaimo.
Holmes expects the first few months of her directorship will be spent familiarizing herself with the gallery and getting a sense of what the NAG staff and board are working on, their priorities and their plans for the future.
"I know eventually the board would like to grow the gallery and that's exciting, I think, for everyone, but I think there's a lot of listening and learning that needs to take place," she said. "For me, engaging with the community is my priority. I want people to recognize that Nanaimo Art Gallery is their art gallery and feel a connection to that."
---

arts@nanaimobulletin.com
Like us on Facebook and follow us on Twitter
You may have seen focaccia edible art on instagram… now learn to make it at home – iNFOnews
Focaccia is a type of Italian flatbread and one of the easiest breads to make at home. This no-knead bread is made in a single bowl with a rubber spatula and requires only flour, salt, yeast, water and olive oil.
Dating back to ancient times, focaccia, which means "cooked on fire", is considered to be the precursor to the modern day pizza. Focaccia can be made with just olive oil and salt or with hundreds of toppings ranging from sweet to savoury.
The ingredient combinations are endless – be creative.
Image Credit: Claire Sear
One of the biggest Instagram food trends of 2020 is beautiful focaccia bread art. Teri Culletto, a home baker from Martha's Vineyard is credited with starting the focaccia art trend via her instagram account @vineyardbaker. Using raw vegetables and fresh herbs, Teri has created a series of Vincent van Gogh-inspired bread loaves she calls "Van Dough" and inspired thousands of home bakers around the world to create focaccia art.
Unleash your inner artist and enjoy creating your own delicious focaccia art at home. This is a great recipe to make with kids as they love decorating the focaccia.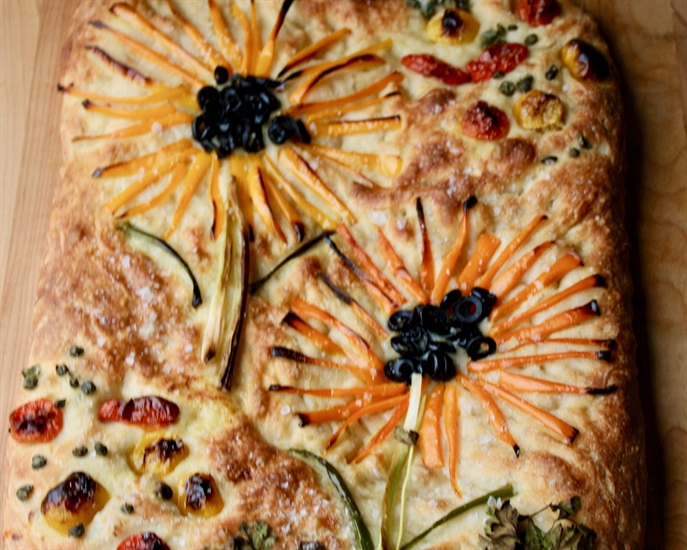 The baked version of the beautiful focaccia edible art!
Image Credit: Claire Sear
Focaccia
Ingredients:
3 1/2 cups all purpose flour
1 Tbsp kosher salt
1 tsp active dry yeast
2 – 3 cups warm water
4 Tbsp extra-virgin olive oil, plus more for greasing
1 ½ tsp Maldon Sea salt (Coarse sea salt can be substituted)
Suggested toppings: little sweet peppers, black olives, fresh chives, parsley, basil, capers, grape tomatoes, red onions, edible flowers, sesame seeds, and nuts. Tip: dipping herbs in lemon water can help keep them greener in the oven.
Directions:
In a large bowl, whisk together the flour, kosher salt and yeast. Slowly add 1 1/2 cups of warm water to the flour mixture and stir. Add additional water as needed until all the flour is incorporated and a sticky dough forms. Dough should be wet.
Tip: Weather affects the amount of water and flour needed. Recipe measurements for water are general guidelines. You need to add as much water as needed to make a wet sticky dough. Do not be alarmed if you need more or less water than the recipe indicates.
Pour two tablespoons of olive oil into a medium bowl. Transfer the dough to the bowl and roll and turn the dough over so that it is coated with the olive oil. Cover tightly with plastic wrap. Place in the refrigerator for at least 24 hours or up to two days.
When you are ready to bake the focaccia, line a 9 x13 inch baking sheet with parchment paper. Brush the parchment paper with olive oil. Remove the dough from the refrigerator and transfer to the prepared baking sheet. Tip: parchment paper just adds another level of guarantee that the focaccia won't stick to the pan. If you don't have parchment paper, brush the baking sheet generously with olive oil.
Using your hands, spread the dough out as much as possible to the edges of the baking sheet. If the dough is sticking you can add additional olive oil. Do not worry if dough doesn't cover the full pan, it will once the dough has time to rise.
Place the dough in a warm place and let it rise until it has doubled in size. In the summer it may only take 30 minutes for the dough to rise. In the winter it can take over an hour. You want the dough to be room temperature and fluffy.
Preheat the oven to 410°F.
Using your palms, pat down the dough down to an even thickness of about 1 inch and then use your fingertips to dimple the entire dough. Drizzle with olive oil. Isn't this is fun?
Unleash your inner artist and decorate your focaccia. Sprinkle with Maldon sea salt.
Place in the oven. Bake for 10 minutes and then rotate the pan back to front. If the bread is already starting to brown, turn the heat down to 375°F. Bake for an additional 10-15 minutes until the top is golden brown. Transfer the focaccia on the baking sheet to a wire rack to cool. Slide the focaccia out of the pan, cut into generous slices and serve.
Focaccia is best eaten the day it is made. If you do have leftovers, the focaccia can be frozen and then reheated. It is also excellent the next day served in soup.
Serve with a glass of B.C. rosé.
— Claire Sear is a Vancouver-based food, drink & lifestyle writer
---
We welcome your comments and opinions on our stories but play nice. We won't censor or delete comments unless they contain off-topic statements or links, unnecessary vulgarity, false facts, spam or obviously fake profiles. If you have any concerns about what you see in comments, email the editor.
PHOTOS: Thousands gather at Vancouver Art Gallery to protest racism – Vernon Morning Star
A protest against anti-black violence and racism took over the grounds in front of the Vancouver Art Gallery on Sunday night.
Thousands attended the rally, which Vancouver Police Chief Adam Palmer said was peaceful.
The protest Sunday (May 31) comes after nearly a week of protests in the United States, which were sparked by a Minneapolis police officer seen on video kneeling on the neck of George Floyd, a handcuffed black man who died in custody after pleading that he could not breathe. Derek Chauvin was charged with murder Friday, and all four police officers present during Floyd's death have been fired.
Floyd's death was the latest in a series of confrontations, assaults and deaths of black Americans. On Feb. 23, Ahmaud Arbery, 25, was fatally shot in Georgia while jogging. On March 13, Breonna Taylor, 26, was killed during a nighttime "no-knock warrant" by plainclothes Louisville police officers. On May 25, a woman called the police on Christian Cooper to tell them he was "threatening [her] life" when Cooper asked the woman to put her dog on a leash in New York's Central Park.
In Canada, protesters also want answers about Regis Korchinski-Paquet, a black woman fell to her death from a 24th-floor apartment when police responded to a 911 call. Korchinski-Paquet's death is being investigated by the police watchdog.
TY #Vancouver for exercising your right to lawful #PeacefulDemonstration at the #VAG! #ProudCanadian

TY to our #VPD officers for your professionalism & committment to #CommunityWellbeing! #ProudChief

Everyone went home safely #HowWeDoit in #YVR @VancouverPD pic.twitter.com/CEwYwlp6Sz

— Adam Palmer (@ChiefPalmer) June 1, 2020
..It's a big crowd at the Vancouver Art Gallery for #BlackLivesMatter #protest #GeorgeFloyd #vanpoli #bcpoli pic.twitter.com/VfX93BjF6l

— Lindsay Brown (@Lidsville) June 1, 2020
Incredible, hopeful, peaceful, determined crowd (masks on, 2m apart) at #Vancouver Art Gallery to protest racism and creeping fascism. 10,000 I guess. Lots of antifascists here @realDonaldTrump, ya can't arrest us all ✊✊ pic.twitter.com/KshneDRpU8

— Jim Stanford (@JimboStanford) June 1, 2020
Here's an amazing shot of the crowd outside the Vancouver Art Gallery today. Everyone of you that was there deserves a standing O for showing solidarity with our Black brothers and sisters. #GeorgeFloyd #BlackLivesMatter pic.twitter.com/bNHKdtVd5r

— Tej Dhaliwal (@DrDangles87) June 1, 2020
this is the #vancouverprotest at the Vancouver Art Gallery downtown. #GeorgeFloyd #NoJusticeNoPeace pic.twitter.com/jrFswmjxn6

— S⃣UMMER ✊🏽✊🏾✊🏿 (@summersincities) June 1, 2020
Jacob Callender-Prasad, the organizer of the event, had called for Sunday rally to be peaceful.
"We do not need to riot in Vancouver, we do not need to destroy our community – that's not needed here," Callender-Prasad said in a video posted to the Black Vancouver Instagram page.
"It's not the same as the United States. We don't have cops going around causing damage here."
Callender-Prasad has asked attendees to wear face masks and practice social distancing as COVID-19 precautions remain in effect in B.C. Organizers had expected about 1,000 to 2,000 people
Callender-Prasad said Sunday's event would include a social media shoutout to U.S. President Donald Trump "to ask him to actually push the governor in Minnesota, to push them to charge those other three officers."
Callender-Prasad said that although police brutality may be more prevalent south of the border, there are still issues in Canada to address.
"We still have instances in Canada of these unwanted and unfortunate events."
The Vancouver chapter of Black Lives Matter said it was not the organizer of the event but stood in solidarity with those protesting.
---
Like us on Facebook and follow us on Twitter.
Want to support local journalism during the pandemic? Make a donation here.