Astronauts in space pay tribute to 9/11 victims on 20th anniversary of attacks – Space.com
As solemn ceremonies across the United States mark the devastating terrorist attacks 20 years ago today on Sept. 11, 2001, astronauts in space are also paying tribute from the International Space Station.
NASA astronaut Shane Kimbrough, one of seven crewmembers on the station representing the U.S., Russia, Japan and France, beamed a memorial video message to Earth to honor those lost and affected by the 9/11 attacks on the World Trade Center in New York City, Pentagon in Washington, D.C. and the Flight 93 crash in Pennsylvania.
"To the victims and their families, survivors and first responders, we remember," Kimbrough said with an American flag floating in the background as he spoke from the station's Japanese Kibo laboratory. "The horrifying images of that day are still present in so many of our minds."
Related: 9/11 remembered in space photos
More: 20 years after 9/11: How satellites tracking disasters have changed
Kimbrough said that while many others struggled to comprehend the impact of the attacks, the events also spawned a wave of patriotism among Americans in support of the attacks' victims and first responders. He thanked those in the military service and elsewhere who worked to prevent such attacks in the future.
"As we remember 9/11 20 years later, despite that time of tragic loss and grief, it was also a time we saw the strength and resilience of our a nation, and the incredible support from people all around the world," Kimbrough said. "For those of us who lived through that painful time, we've had the opportunity to share what we have learned and what we can accomplish together as a country, and for all of humanity."
.@NASA astronaut @Astro_Kimbrough marks the 20th anniversary of the September 11 terrorist attacks with remarks from the International Space Station. "We will never forget," says Kimbrough. pic.twitter.com/O2d8LAM46WSeptember 11, 2021
See more
NASA and its partners have repeatedly honored the memory of those lost in the 9/11 attacks with ceremonies on Earth, in space and memorials on other planets.
As the attacks unfurled in 2001, American astronaut Frank Culbertson watched with horror from aboard the International Space Station as he recorded videos and photographs of vast plumes of smoke from the World Trade Center site in New York City. The camera he used for those photographs is now in a museum display in Kansas.
Related: Astronaut Frank Culbertson Reflects on Seeing 9/11 Attacks from Space
"The world changed today. What I say or do is very minor compared to the significance of what happened to our country today when it was attacked," Culbertson wrote in a letter a day after the attacks. "It's horrible to see smoke pouring from wounds in your own country from such a fantastic vantage point. The dichotomy of being on a spacecraft dedicated to improving life on the Earth and watching life being destroyed by such willful, terrible acts is jolting to the psyche, no matter who you are."
Culbertson used a trumpet aboard the station to play Taps for his Naval Academy classmate Charles F. "Chic" Burlingame, who had been the pilot of the hijacked airliner that crashed into the Pentagon.
In December 2001, NASA flew 6,000 small American flags on the space shuttle Endeavour's STS-108 mission as part of its Flags for Heroes and Families campaign victims of the attacks in New York, Washington, D.C. and Pennsylvania. The flags were later distributed to victims on Flag Day (June 14) in 2002.
Honeybee Robotics, which built instruments on NASA's Mars rovers Spirit and Opportunity, used aluminum recovered from the World Trade Center site as cable shield cuffs on the rovers. "The metal bears the image of an American flag and fills a renewed purpose as part of solar system exploration," NASA wrote in a statement.
NASA's Kennedy Space Center also contributed American flags that were sewn into a larger, tattered flag now known as the National 9/11 Flag that was recovered near the World Trade Center site after the attacks.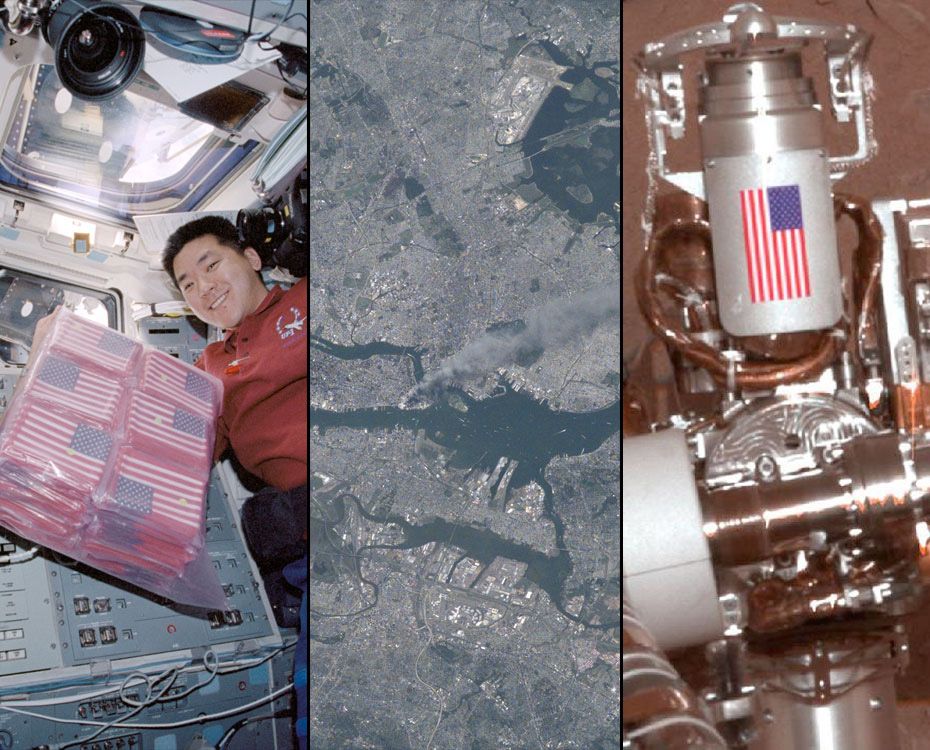 Kimbrough said the International Space Station, the largest human-built object in space and the product of five different space agencies and over 15 countries, is an example of what humanity can do when it works together.
"Here on the International Space Station over the last 20 years, we've been continuously living together in space, while operating among many nations to improve lives for all of us back on Earth," Kimbrough said. "People from all over the world and from all walks of life joined together to accomplish the incredible engineering feat of building an international space station in low Earth orbit.
"The space station is now entering its third decade in the era of full scientific utilization expanded commercial value and global partnership. We will never forget."
Email Tariq Malik at tmalik@space.com or follow him @tariqjmalik. Follow us @Spacedotcom, Facebook and Instagram.
A 900-year-old cosmic mystery has been solved by astronomers – CTV News
TORONTO —
The mystery behind the origins of a supernova first spotted by 12th-century Chinese and Japanese astronomers has been solved, according to an international team of 21st-century astronomers.
New research, published Wednesday in The Astrophysical Journal, has linked astronomical reports from more than 800 years ago with a faint, fast-expanding nebula surrounding Parker's Star, one of the hottest stars in the Milky Way galaxy.
The nebula, dubbed Pa30, fits the profile, location and age of the supernova, which was originally documented in 1181 AD.
"The historical reports place the guest star between two Chinese constellations, Chuanshe and Huagai," Albert Zijlstra, astrophysics professor at the University of Manchester, said in a news release. "Parker's Star fits the position well. That means both the age and location fit with the events of 1181."
The first astronomers to lay eyes on the supernova, referred to as SN 1181, described it being as bright as the planet Saturn and remaining visible for six months, the authors of the study said.
Previous research has suggested Parker's Star and the Pa30 nebula may be the result of the merging of two white dwarf stars. Such events are thought to lead to a rare and faint type of supernova called a "Type Iax" supernova.
"Only around 10 per cent of supernovae are of this type and they are not well understood. The fact that SN 1181 was faint but faded very slowly fits this type," Zijlstra said. "It is the only such event where we can study both the remnant nebula and the merged star, and also have a description of the explosion itself."
The key to unlocking the mystery of this historical supernova was the discovery that the Pa30 nebula is expanding at a velocity of more than 1,100 kilometres per second. From this, researchers were able to calculate the nebula's age to be around 1,000 years old, which coincides with the events of 1181 AD.
"Combining all this information such as the age, location, event brightness and historically recorded 185-day duration, indicates that Parker's Star and Pa30 are the counterparts of SN 1181," Zijlstra said. "This is the only Type Iax supernova where detailed studies of the remnant star and nebula are possible."
There have been five supernovae in the Milky Way in past millennium, and up until now, SN 1181 was the only one whose origins remained unknown.
"It is nice to be able to solve both a historical and an astronomical mystery," Zijlstra said.
The team of astronomers who made the discovery hail from Hong Kong, the U.K., Spain, Hungary and France.
SpaceX launches amateur crew on private Earth-circling trip – Al Jazeera English
SpaceX's first private flight has been launched into orbit with two contest winners, a healthcare worker and their rich sponsor on board, the most ambitious leap yet in space tourism.
The launch on Wednesday night was the first time a spacecraft circled Earth with an all-amateur crew and no professional astronauts.
"Punch it, SpaceX!" the flight's billionaire leader, Jared Isaacman, urged moments before liftoff.
The Dragon capsule's two men and two women are looking to spend three days circling the planet from an unusually high orbit – 160km (100 miles) higher than the International Space Station – before splashing down off the Florida coast this weekend.
It is SpaceX founder Elon Musk's first entry in the competition for space tourism dollars.
Isaacman is the third billionaire to launch this summer, following the brief space-skimming flights by Virgin Galactic's Richard Branson and Blue Origin's Jeff Bezos in July. Only 38, Isaacman made his fortune from a payment-processing company he started in his teens.
Joining Isaacman on the trip dubbed Inspiration4 is Hayley Arceneaux, 29, a childhood bone cancer survivor who works as a physician assistant where she was treated – St Jude Children's Research Hospital in Memphis, Tennessee. Isaacman has pledged $100m out of his own pocket to the hospital and is seeking another $100m in donations.
Arceneaux became the youngest American in space and the first person in space with a prosthesis, a titanium rod in her left leg.
Also along for the ride are sweepstakes winners Chris Sembroski, 42, a data engineer in Everett, Washington, and Sian Proctor, 51, a community college educator in Tempe, Arizona.
Once opposed to space tourism, NASA is now a supporter.
"Low-Earth orbit is now more accessible for more people to experience the wonders of space," tweeted NASA Administrator Bill Nelson, who was a congressman when he hitched a ride on a space shuttle decades ago.
Researchers create a novel method of bioprinting neuron cells – Medical Xpress
A group of researchers including a Concordia Ph.D. student have developed a new method of bioprinting adult neuron cells. They're using a new laser-assisted technology that maintains high levels of cell viability and functionality.
Ph.D. candidate and 2020-21 Public Scholar Hamid Orimi and his co-authors present the feasibility of a new bioprinting technology they developed in a recent paper published in the journal Micromachines. They demonstrate how the methodology they created, called Laser-Induced Side Transfer (LIST), improves on existing bioprinting techniques by using bioinks of differing viscosities, allowing for better 3D printing. Orimi, his Concordia co-supervisor Sivakumar Narayanswamy in the Gina Cody School of Engineering and Computer Science, CRHMR co-supervisor Christos Boutopoulos and co-authors at the Université de Montréal first presented the method in the Nature journal Scientific Reports in 2020.
Orimi co-wrote the newer paper with lead author Katiane Roversi, Sebastien Talbot and Boutopoulos at UdeM and Marcelo Falchetti and Edroaldo da Rocha at Federal University of Santa Catarina in Brazil. In it, the researchers demonstrate that the technology can be used to successfully print sensory neurons, a vital component of the peripheral nervous system. This, they say, is promising for the long-term development of bioprinting's potential, including disease modeling, drug testing and implant fabrication.
Viable and functional
The researchers used dorsal root ganglion (DRG) neurons from the peripheral nervous system of mice to test their technology. The neurons were suspended in a bioink solution and loaded into a square capillary above a biocompatible substrate. Low-energy nanosecond laser pulses were focused on the middle of the capillary, generating microbubbles that expanded and ejected a cell-laden microjet onto the substrate below it. The samples were briefly incubated, then washed and re-incubated for 48 hours.
The team then ran several tests to measure the printed cells' capacities. A viability assay found that 86 percent of the cells remained alive two days after printing. The researchers note that viability rates improved when the laser used lower energy. The thermomechanics associated with higher laser energy use was more likely to damage the cells.
Other tests measured neurite outgrowth (in which developing neurons produce new projections as they grow in response to guidance cues), neuropeptide release, calcium imaging and RNA sequencing. Overall, the results were generally encouraging, suggesting that the technique could be an important contribution to the field of bioprinting.
Good for people and animals
"In general, people often leap to conclusions when we talk about bioprinting," Orimi says. "They think that we can now print things like human organs for transplants. While this is a long-term objective, we are very far from that point. But there are still many ways to use this technology."
Nearest at hand is drug discovery. The team hopes to get approval to continue their research into cell grafting, which can assist greatly in drug discovery, such as for nerve recovery medicines.
Another advantage to using this technology, Orimi says, is a decrease in animal testing. This not only has a humanitarian aspect—fewer animals will be euthanized to carry out experiments meant to benefit humans—but it will also produce more accurate results, since testing will be carried out on human, not animal, tissue.
---
---
More information:
Hamid Ebrahimi Orimi et al, Drop-on-demand cell bioprinting via Laser Induced Side Transfer (LIST),
Scientific Reports
(2020).
DOI: 10.1038/s41598-020-66565-x
Citation:
Researchers create a novel method of bioprinting neuron cells (2021, September 15)
retrieved 15 September 2021
from https://medicalxpress.com/news/2021-09-method-bioprinting-neuron-cells.html
This document is subject to copyright. Apart from any fair dealing for the purpose of private study or research, no
part may be reproduced without the written permission. The content is provided for information purposes only.