At least 26 flights have arrived in Canada with COVID-19 cases in last two weeks – CTV News
TORONTO —
Within the last two weeks — the 14-day window believed by scientists to be the incubation period of COVID-19 — at least 26 flights have arrived in Canadian airports with confirmed cases of the virus onboard.
According to the federal government, COVID-19 cases have been reported among passengers on 10 domestic flights and 16 international flights since June 29. It advises the list is not exhaustive and is based on information from "provincial and territorial health authorities, international health authorities and public websites."
The affected international flights arrived in Canadian airports from Mexico City, Cancun, Zurich, Paris, Addis Ababa, Islamabad, Lahore, Qatar, San Francisco, Washington, D.C., Dallas, Detroit, and three flights from Charlotte, N.C.
Health officials in British Columbia, Manitoba and Saskatchewan are advising those on board 11 flights into those provinces in the last two weeks that fellow passengers have since tested positive for COVID-19.
Manitoba health officials said Tuesday that one of five new positive cases in the province was a passenger on WestJet flight 261 from Winnipeg to Calgary on June 27 and on WestJet flight 526 from Calgary to Winnipeg on July 2.
Officials said those who sat in rows 7 to 22 on the Winnipeg to Calgary flight and rows 4 to 10 on the Calgary to Winnipeg flight are considered close contacts of the infected passenger. They must self-isolate for 14 days following the flight and monitor for symptoms.
Those not sitting in the affected rows should self-isolate if they develop any symptoms of COVID-19: fever/chills, cough, headache, muscle aches, sore or hoarse throat, shortness of breath or breathing difficulties, loss of taste or smell, unusual fatigue, nausea, vomiting, diarrhea, loss of appetite or lesions or rashes without clear cause.
Saskatchewan has red-flagged five flights since June 11 and two in the last two weeks: WestJet flight 296 from Calgary to Regina on July 6 (no information on affected rows is available) and July 4: Air Canada 7947 from Toronto to Regina, rows 14 to 20.
Health authorities in B.C. say four affected flights have landed in Vancouver in the last two weeks.
They are: Air Canada 8421 from Kelowna on July 6; Air Canada 311 from Montreal on July 8; American Airlines 1270 from Dallas on July 6; and, United Airlines 375 from San Francisco on July 7. Affected rows are not listed for any of these flights.
Manitoba has kept a running tally of affected flights since the beginning of March that includes 43 domestic and international flights either departing from or landing at a Canadian airport that have had one or more passengers test positive for COVID-19.
Alberta, Ontario, Quebec and the Atlantic provinces don't specifically post information about flights affected by COVID-19.
On July 8, the Nova Scotia Health Authority did warn of potential exposure on a June 26 Air Canada flight (AC 626) from Toronto to Halifax.
62 cases of COVID-19 linked to outbreak at window factory in Vaughan – CP24 Toronto's Breaking News
York Region Public Health says 62 confirmed cases of COVID-19 have been linked to an outbreak at a window manufacturing and installation facility in Vaughan.
In a public notice posted on Sunday, public health officials said they were notified of the first case at State Window Corporation located on Hunter's Valley Road, just east of Highway 50, on Nov. 10.
Since then, 61 other cases have been identified, prompting York Region Public Health to declare an outbreak on Nov. 20.
"York Region Public Health continues to investigate this workplace outbreak and conduct case management and contact tracing. As the workplace is not open to the general public, the risk is considered low to York Region residents," officials said.
Also, there are five probable cases and one case under investigation.
Of the 62 individuals, 28 are from Peel Region, 22 are from Toronto, seven are from York Region, and five are from Simcoe-Muskoka.
"Public Health conducted an on-site inspection and continues to work with the employer to identify additional cases and identify close contacts associated with the confirmed cases," officials said.
York Region said this is the second outbreak at the facility. A total of 17 cases were reported during the initial outbreak that was declared on May 17 and lasted until July 6.
York Region said the outbreak is showing signs of improvement after prevention measures were taken.
The employer has also taken some actions, York Region said. They include providing face shields, hand sanitizers and disinfecting wipes to workers, increasing monitoring of adherence to physical distancing, clearing of lunchroom tables after every use, and introducing multi-lingual screeners to address language barriers.
N.S. reports 11 new COVID-19 cases; active cases rise to 126 – CTV News Atlantic
HALIFAX —
Nova Scotia reported 11 new cases of COVID-19 on Sunday, bringing the total number of active cases to 126.
Ten of the cases are in the Central Zone, one case is in the Western Zone.
With new COVID-19 restrictions having come into effect on Thursday, Nova Scotia Premier Stephen McNeil says it's crucial that residents make a collective effort.
"By following the new restrictions in the greater Halifax area, we are working together to contain the spread of the virus," said McNeil in a press release on Sunday. "And wherever you live in the province, we all have a role to play, by limiting non-essential travel and following all the protocols – limit social contacts, practise social distancing, wear a mask and wash your hands. This is how we will flatten the curve."
"No matter where you live in Nova Scotia, it is important to follow all public health measures," said Nova Scotia's chief medical officer of health Dr. Robert Strang. "While the majority of the cases are in the Central Zone, COVID-19 can easily find its way into other parts of the province. We must all remain vigilant and continue working to limit spread within, and beyond, Halifax."
NEW SCHOOL-BASED CASE
On Sunday evening, the province noted an additional case was identified. The case is connected to the Northeast Kings Education Centre in Canning, N.S., located in the Western Zone.
Northeast Kings Education Centre has been closed since its first case of COVID-19 was announced on Tuesday. The province says a public health investigation in the coming days will determine whether the latest case was a close contact of the first confirmed case. The province notes that given the school has been closed, the new case is not believed to have been in school while infectious.
To allow for completion of contact tracing and testing, and out of an abundance of caution, Northeast Kings Education Centre will remain closed for the week and students will be supported while they learn at home.
As with any positive COVID-19 case, public health will be in touch with any close contacts of the case and advise them on next steps. Everyone who is a close contact will be notified, tested and asked to self-isolate for 14 days.
CASE BREAKDOWN
On Saturday, Nova Scotia Health Authority's labs completed 2,254 Nova Scotia tests.
Since October 1, Nova Scotia has had 44,909 negative test results and 201 confirmed cases of COVID-19. Of those cases, 75 cases are considered resolved and no one has died as a result of the novel coronavirus, leaving 126 active cases in the province.
There is no one in hospital due to COVID-19.
The province's confirmed cases range in age from under 10 to over 70.
There are cases confirmed across the province, but most have been identified in the Central Zone, which contains the Halifax Regional Municipality.
The provincial government says cumulative cases by zone may change as data is updated in Panorama, the province's electronic information system. On Sunday, the province noted the website would not be updated on that day due to technical difficulties.
RAPID TESTING
On Saturday, 540 tests were administered at a rapid-testing pop-up site in Dartmouth with one positive result. The individual was directed to self-isolate and has been referred for a standard test.
Despite seeing only one positive result during Saturday's rapid testing and lower new case numbers, Microbiology expert, Dr. Todd Hatchett, continues to urge caution.
"There is usually a two-week lag from a peak," says Hatchett, who was present at a rapid testing event at the Woodlawn Public Library in Dartmouth on Sunday. "We are not past that point where we can say those people who had contacts cannot spread those infections."
Hatchett says a lot of the success in fighting COVID-19 is happening on the front lines of community-based rapid testing sites.
At rapid testing sites, volunteers ask individuals a series of questions, including questions about the COVID-19 status of their close contacts and family. After being questioned, individuals take a rapid test.
"I think it's wonderful that they put this together," says resident Ruby Blois. "It's a lot of amazing volunteers. I'll give them full marks for a great effort."
Rapid testing site volunteer Patrick LeClair – who has no medical science background – signed up to help as a form of community service. He notes training for volunteers is thorough.
"Every time I come in, they run us through the training," says LeClair. "This is a great opportunity to be a part of this; this is a great opportunity and a historic moment here in Nova Scotia and across the world."
Dr. Lisa Barrett says the sites are staffed and managed by doctors and trained medical professionals; however, to be successful, they rely on volunteers.
"We asked for volunteers from the community, and we have got them, overwhelmingly," says Barrett.
Volunteer duties include asking screening questions, processing results, and administering the actual COVID-19 test.
"A week ago, if you told me I would be swabbing people for COVID-19, I would not have believed that," says LeClair. "It's great to be here to help people through the process."
Barrett notes volunteers range from younger people to older people from diverse career backgrounds – all appreciated for their efforts.
"People learn very quickly, and they are good at it," says Barrett. "There is no one who has trained to be a swabber or tester who has actually not performed really, really well."
Meanwhile, rapid testing sites are planned at various locations throughout the HRM in the coming weeks, as well as select parts of Nova Scotia outside of the city.
COVID ALERT APP
Canada's COVID-19 Alert app is available in Nova Scotia.
The app, which can be downloaded through the Apple App Store or Google Play, notifies users if they may have been exposed to someone who has tested positive for COVID-19.
LIST OF SYMPTOMS
Anyone who experiences a fever or new or worsening cough, or two or more of the following new or worsening symptoms, is encouraged to take an online test or call 811 to determine if they need to be tested for COVID-19:
Sore throat
Headache
Shortness of breath
Runny nose/nasal congestion
SELF-ISOLATION AND MANDATORY MASKS
Anyone who tests positive for COVID-19 is required to self-isolate at home, away from the public, for 14 days.
Anyone who travels to Nova Scotia from outside the Atlantic region for non-essential reasons is required to self-isolate for 14 days and must fill out a self-declaration form before coming to the province. Travellers must self-isolate alone, away from others. If they cannot self-isolate alone, their entire household must also self-isolate for 14 days.
Residents of New Brunswick, Prince Edward Island and Newfoundland and Labrador are not required to self-isolate when travelling to Nova Scotia, but they must be prepared to provide proof of their place of residency at provincial borders.
Visitors from outside the Atlantic region who have already self-isolated in another Atlantic province for 14 days may travel to Nova Scotia without having to self-isolate again.
It is mandatory to wear a face mask in indoor public spaces in Nova Scotia.
Coronavirus: What's happening in Canada and around the world on Sunday – CBC.ca
The latest:
Canada's death toll from COVID-19 passed 12,000 on Sunday as the country's chief public health officer said "rapid growth will continue" if Canadians don't reduce their close contacts.
The country remains on a troubling path for new infections as case counts continue to mount, Dr. Theresa Tam tweeted on Sunday, adding "increasing contacts will be an even worse scenario."
Her tweet reiterated the stark warning she made on Saturday, saying the country could see up to 10,000 cases a day in mid-December "if we continue on the current pace" of infection.
Canada is currently recording caseloads at about half that level, with the most recent seven-day average standing at 5,335 between Nov. 20 and Nov. 26.
1/2 To date, labs across 🇨🇦 have tested 11,344,925 people for <a href="https://twitter.com/hashtag/COVID19?src=hash&amp;ref_src=twsrc%5Etfw">#COVID19</a>, w an average ~3.1% positive overall, for a rate of 301,813 people tested per million population in Canada. <a href="https://t.co/jrZH3tHRUo">https://t.co/jrZH3tHRUo</a>

&mdash;@CPHO_Canada
Also on Sunday, the federal government extended existing international travel restrictions to prevent the spread of COVID-19, barring entry to most travellers who are not Canadian citizens, permanent residents or people entering from the U.S. for "essential" reasons.
In a news release issued Sunday, Minister of Public Safety and Emergency Preparedness Bill Blair and Health Minister Patty Hajdu announced that travel restrictions on U.S. citizens and foreign nationals seeking to enter Canada from the U.S. will be extended until Dec. 21.
Similarly, restrictions on travellers arriving from other countries will be extended until Jan. 21, as will the mandatory requirement for anyone who is granted entry to self-isolate for 14 days upon arrival.
Emergency orders brought forward on Mar. 16 banned most foreign nationals from entering Canada for non-essential travel. There are a number of exceptions for immediate family members of citizens, essential workers, seasonal workers, caregivers and international students, to name a few.
By extending the expiration dates to the 21st of the month, today's change brings the timing of the international travel restrictions in alignment with those governing the Canada-U.S. land border. Previously, international restrictions expired on the last day of each month while the Canada-U.S. border restrictions expired on the 21st.
What's happening across Canada
As of 3 p.m. ET on Sunday, Canada's COVID-19 case count stood at 368,670, with 63,074 of those considered active cases. A CBC News tally of deaths based on provincial reports, regional health information and CBC's reporting stood at 12,023.
In British Columbia, two Chilliwack churches have vowed to hold in-person services in defiance of the province's public health order barring gatherings. Chilliwack RCMP spokesperson Cpl. Mike Rail told CBC News that the orders "are not optional," but that education rather than enforcement was the focus for officers.
Saskatchewan reported 351 new cases, but no new deaths.
Meanwhile, the number of cases amid an outbreak at the Saskatoon Correctional Centre has risen to 128. Inmates at the facility have launched a hunger strike to protest what they say are poor conditions that have exacerbated the outbreak.
Manitoba recorded 365 new cases of COVID-19 and 11 more deaths on Sunday.
Meanwhile, RCMP officers prevented people from accessing the parking lot of the Church of God south of Steinbach, Man. Police recently issued two fines to a minister at the church for attending a protest against COVID-19 restrictions and being at a Sunday religious service.
WATCH | Churchgoers near Steinbach, Man., met with police blockade:
More than 100 cars sat along a rural Manitoba highway as RCMP blocked the entrance to the parking lot for the Church of God's planned drive-thru service. 1:36
Ontario reported 1,708 new cases of COVID-19 and 24 deaths on Sunday, with nearly 54,000 tests completed. Locally, there were 503 new cases in Peel Region, 463 in nearby Toronto and 185 in York Region.
Officials in the province have said it could take at least two weeks to see some improvements after the added restrictions were imposed on Monday.
Quebec reported 1,395 new cases and 12 deaths.
Meanwhile, the Maimonides Geriatric Centre in Montreal is transferring dozens of patients with COVID-19 to local hospitals on Sunday in an effort to contain an outbreak that has already killed 10 people.
New Brunswick recorded 14 new cases. An outbreak at a retirement-living complex in Saint John worsened after tests on all staff and residents found six more infections, bring the total to 15.
Newfoundland and Labrador reported four new cases.
Nova Scotia's caseload increased by 10, while Prince Edward Island's remained the same after reporting no new cases.
Nunavut reported 13 new cases — including 11 in the hard-hit community of Arviat — but the number of active cases declined to 112 after 32 people recovered.
---
What's happening around the world
As of Sunday, there were more than 62.4 million cases of COVID-19 recorded worldwide, with more than 39.9 million of those considered recovered or resolved, according to a coronavirus tracking tool maintained by Johns Hopkins University in Baltimore. The global death toll stood at more than 1.4 million.
In Asia, South Korea is shutting down indoor gyms offering intense workout classes and banning year-end parties at hotels in the greater Seoul area to fight the virus. The country reported 450 new cases on Sunday. South Korea on Thursday registered more than 500 new virus cases for the first time in eight months.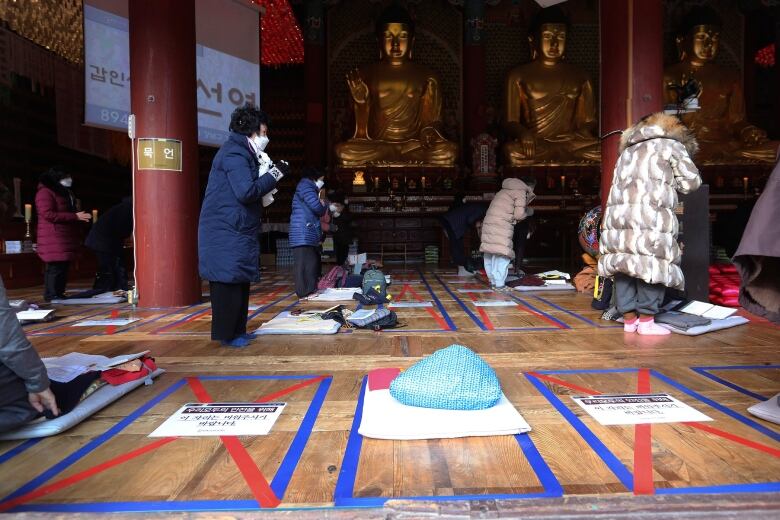 In Europe, the Czech government said Sunday it is easing measures imposed to contain the new coronavirus due to falling numbers of new confirmed cases. All stores, restaurants and bars can reopen on Thursday in the country, which was among the hardest hit by a new wave of infections in the fall.
In the Americas, New York City Mayor Bill De Blasio announced the city will reopen its school system to some in-person learning and increase the number of days a week many children attend class.
In Africa, the continent has seen more than 2.1 million confirmed cases and more than 51,000 deaths. South Africa leads the continent on both counts, with more than 785,000 infections and more than 21,000 fatalities.