At the open: TSX jumps on strong retail sales data – The Globe and Mail
Canada's main stock index rose on Friday as data showing a rise in retail sales and an uptick in house prices helped offset fears of prolonged economic recovery as coronavirus cases rise globally.
At 9:33 a.m. ET, the Toronto Stock Exchange's S&P/TSX composite index was up 51.34 points, or 0.32%, at 16,298.06.
Canadian retail sales in July rose by 0.6% and are now higher than they were before the coronavirus pandemic struck, Statistics Canada said on Friday, adding that August sales probably gained 1.1% on the month.
Analysts in a Reuters poll had forecast retail sales would increase by 1.0% from June, when trade jumped by 22.7% as restrictions imposed to fight the outbreak were removed.
"The data continue to suggest that the pace of growth seen in June wasn't sustained early in the third quarter," said Royce Mendes of CIBC Economics.
Sales grew in six of the 11 subsectors, with motor vehicles and parts contributing the most. Gas sales also posted gains.
The Nasdaq rose at the open on Friday, shaking off a two-day decline in heavyweight technology stocks, while worries about rising coronavirus cases and a patchy economic recovery weighed on the S&P 500 and Dow.
The Nasdaq Composite gained 63.17 points, or 0.58%, to 10,973.45 at the opening bell. The Dow Jones Industrial Average fell 37.11 points, or 0.13%, at the open to 27,864.87, while the S&P 500 opened higher by just 0.37 points, or flat, at 3,357.38.
Wall Street's three main indexes bounced earlier this week as investors bet on a loose monetary policy by the Federal Reserve, but gains petered out in the absence of firm details on the central bank's stimulus plan.
The S&P 500 and the Nasdaq have also come under pressure from investors rotating out of high-flying tech-related stocks and into industrial and transportation firms.
"The market's in a vacuum right now," said Thomas Hayes, managing member at Great Hill Capital LLC in New York.
"Anytime you have news or perception that things are going to be delayed or (you have a) slow growth economy, those (technology-related) stocks get bid. You'll get these technical bounce days when coronavirus cases spike up and money will move back into tech."
Oil prices were mixed on Friday after Libyan commander Khalifa Haftar said a blockade on Libyan oil exports would be lifted for one month, countering more bullish signals from an OPEC meeting on Thursday.
Brent crude was down 17 cents at $43.13 a barrel by 1321 GMT while U.S. oil futures ticked up 6 cents to $41.03.
The benchmarks were still set for weekly gains after Hurricane Sally cut U.S. production, Saudi Arabia pressed allies to stick to production quotas and banks including Goldman Sachs predicted a supply deficit.
Pre-blockade Libya was producing around 1.2 million bpd, compared with just over 100,000 bpd now. It is unclear how quickly Libya could ramp up production.
Earlier, Goldman Sachs predicted a market deficit of 3 million barrels per day (bpd) by the fourth quarter and reiterated its target for Brent to reach $49 by the end of the year and $65 by the third quarter of 2021.
Swiss bank UBS also pointed to the possibility of undersupply, forecasting Brent would rise to $45 a barrel in the fourth quarter and to $55 by mid-2021.
The Organization of the Petroleum Exporting Countries and other producers, a group known as OPEC+, are cutting output by 7.7 million bpd and stressed at a meeting on Thursday that it would take action against members not complying with the deal.
"We think (OPEC+) will put on hold plans to taper the cut down to 5.8 million bpd … when the entire group convenes again in December," RBC analysts said.
Saudi Arabia said an earlier meeting was possible if oil prices fell alongside demand because of a second wave of coronavirus cases.
"The market now feels the ground more stable to maintain $40+ price levels," said Rystad's Head of Oil Markets Bjornar Tonhaugen.
Reuters
Le Chateau closing all 123 stores, including Thunder Bay location – Tbnewswatch.com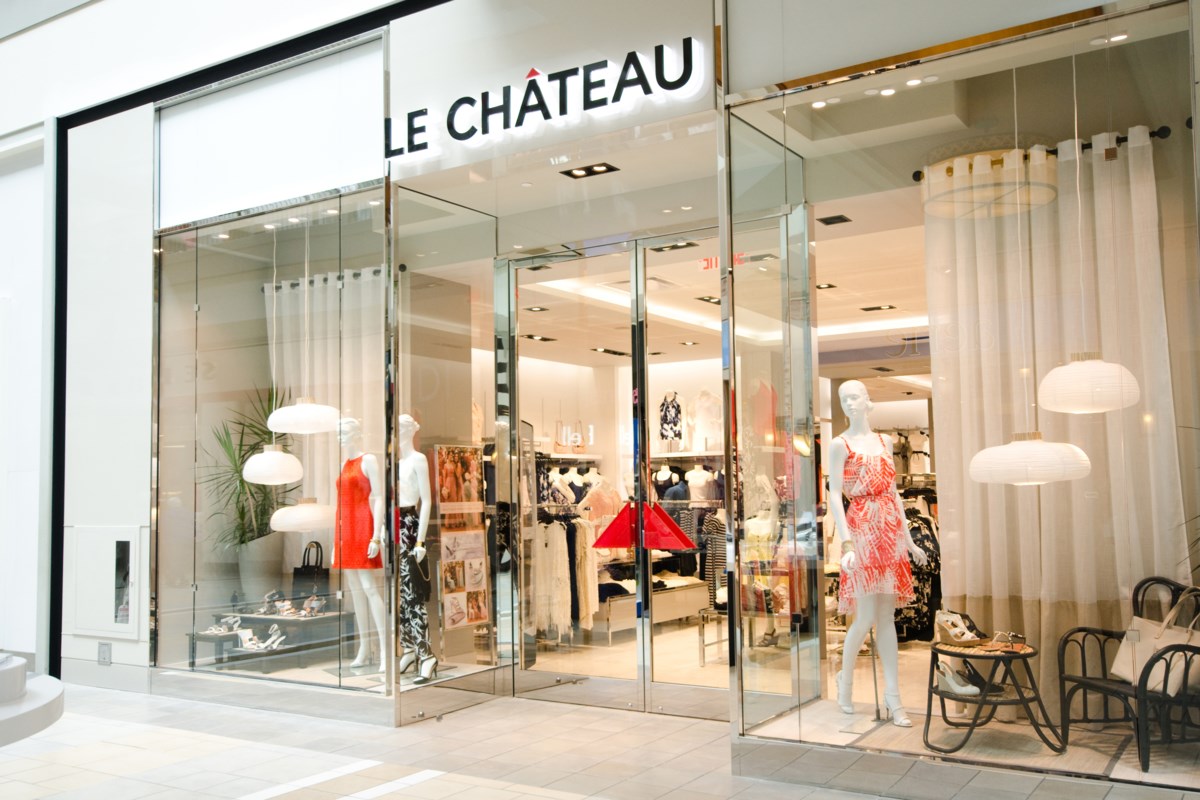 THUNDER BAY — The city is losing another long-standing national clothing outlet.
The Montreal-based company on Thursday announced its intention to seek protection under the Companies Creditors Arrangement Act and plans to close all 123 of its locations, including one at Intercity Shopping Centre. The company cited the challenges of the pandemic and the second wave of COVID-19 hitting many communities as an underlying factor.
"Its already evident impact on consumer demand for Le Chateau's holiday party and occasion wear, which represents the core of our offering, has diminished Le Château's ability to pursue its activities. Regrettably, these circumstances leave the Company with no option other than to commence the liquidation process," reads a statement posted on the company's corporate website.
About 1,400 people are expected to lose their job as a result.
Stores are expected to remain open through the liquidation process.
The mall has been hard hit in recent years, losing anchor tenants Lowe's and Sears. Marshalls did take over a portion of the former Sears location.
Le Chateau says it looked into means of refinancing or finding a third party to operate th company, but was unsuccessful. The company has been in business since 1959.
Alberta ends OPEC-style curbs after COVID-led oil sands retreat – BNN
Alberta's two-year experiment with OPEC-style crude production curbs is coming to an end after a COVID-driven collapse in demand led the province's battered oil-sands industry to idle more output than required.
A cap on production that's currently at 3.81 million barrels a day will no longer be in effect in December, with output below the limit for several months, the provincial government said in a release on Friday. An increase in pipeline capacity this year also means the province is no longer struggling to store stranded crude.
"Current forecast show that inventories are expected to remain low, with sufficient export capacity to allow the system to operate efficiently on its own well into 2021," the Alberta government said in the statement.
Home to the world's third-largest crude reserves, the Canadian oil sands have been hit hard by this year's virus-driven market crash after years already struggling with insufficient pipeline capacity and competition from U.S. shale.
Alberta imposed output limits on large oil producers at the beginning of 2019 after a storage glut formed due to a pipeline shortage, causing local oil prices to plummet. The move was controversial: welcomed by some oil-sands companies such as Cenovus Energy Inc., while criticized by others including Imperial Oil Ltd.
Oil's crash prompted local producers to shut almost a million barrels a day of production earlier this year.
The government said experts don't expect production in Western Canada to be above pipeline capacity before the middle of 2021 at the earliest, and storage levels are expected to remain low. As of the end of last week, inventories were at about 20 million barrels, according to data-provider Genscape Inc. When production limits were introduced in 2019, inventories had been approaching 40 million barrels.
The lifting of quotas could widen heavy Canadian crude's discount to benchmark West Texas Intermediate futures to US$14 to US$16 a barrel as an incremental 120,000 to 150,000 barrels a day of crude production comes online, Manav Gupta, an analyst at Credit Suisse Group AG, said in a note. The discount has been near US$10 for the past several months.
A challenge for Alberta has been limited pipeline space for export capacity. While no new export pipelines have been built since the quotas were imposed, three major projects are under construction and existing pipelines are shipping out more oil than in the past. TC Energy Corp.'s Keystone pipeline will be able to export an additional 50,000 barrels a day next year using so-called drag resistance agents.
In addition, oil companies have secured long-term contracts to ship crude by rail. While exports on trains collapsed to an eight-year low in July, the rebounded 30% in August to more than 51,000 barrels per day in August 2020, government data show.
The government will continue to monitor inventories and may resume monthly oil production limits "if emerging market conditions make it absolutely necessary," the provincial government said. If forecasts show inventories approaching maximum capacity in the upcoming four to six months, the government will implement output limits again. In this scenario, the industry will receive 30 to 60 days of advance notice so companies can plan their production.
Top 30 Ontario long-term care homes with most reported violations – CBC.ca
When a home is caught violating the Long-Term Care Homes Act during an inspection, it is issued a written notice that appears on its inspection report. Sometimes a written notice is accompanied by another notation that may require or recommend action by the home.
The following table shows Ontario's long-term care homes with the most written notices cumulatively from Jan. 1, 2015 to Dec. 31, 2019:
These numbers are aggregated from inspection reports pulled from the Ministry of Long-Term Care's website on Aug. 20, 2020. The "written notices" issued in those reports are sometimes accompanied by other notations that may require action from the home.
The harshest punishment that can be issued against a long-term care home at this time is a "director's order," which could include a temporary management takeover or a cease admissions order, which can cost a home money if the order sticks long enough to result in empty beds.
Those orders are very rare — there are less than 40 posted on the government's website since 2015.
More often, homes receive a "voluntary plan of correction," (VPC) meaning they have to write a plan to correct the issue, which they can choose whether or not to carry out.
Data analysis
Over 10,000 inspection reports from approximately 632 long-term care homes (626 current and 6 closed) with posting dates between Jan. 1, 2015 and Dec. 31, 2019 were scraped for total counts of violations of the Long-Term Care Homes Act. The reports came from the government website.
To examine the most serious safety offences, 21 specific violation codes were scraped to identify repeat offenders. The codes chosen were related to abuse, failure to report abuse, reporting abuse; infection control and prevention; medication errors, storage or management; neglect, indicators of neglect like failure to provide baths, insufficient hydration, poor oral care and nutrition violations.
Not all violations are dangerous. Some may be related to lesser violations like food substitutions, etc. To account for this, we only included repeat offenders for the 21 most egregious violations in our analysis of repeat offenders.
The government can add or take down reports from the website at any time, to amend a deadline within the report for example. Therefore, numbers can fluctuate slightly from day to day.
This data was last scraped Aug. 20, 2020 and is accurate to that date. At least 5 homes in the database are currently closed. We have included their data in our analysis because they were open for all or part of the five year window.
Click here to see the methodology of our investigation and statements from those featured in our story.