Auf Wiedersehen, 'Mutti': How Angela Merkel's centrist politics shaped Germany and Europe – The Conversation Australia
Since 2005, Germany's Chancellor Angela Merkel has been one of the most stable and enduring of political forces, both in Europe and on the global stage. During her 16 years as leader, she has won four elections for her conservative Christian Democratic Party (CDU), faced the European refugee crisis, the global coronavirus pandemic, the threat of European populism, and challenging leaders such as US President Donald Trump and Russia's Vladimir Putin.
In September 2021, when the German elections will be held, one of the longest serving leaders of postwar Europe will leave office. She does so having steered Germany from being a "sick man of Europe" to becoming the world's fourth largest economy.
She leaves her country and Europe with her own singular brand of "Merkelism": the pragmatic politics of the centre marked by managing alliances and eliminating rivals; a considered pro-Europeanism and a belief in transatlantic relations; and a specific form of at times indecisive incrementalism.
---


Read more:
How Angela Merkel has become – and remains – one of the world's most successful political leaders


---
She 'waits and waits'
For sociologist Wolfgang Streeck, Merkel is
a postmodern politician with a premodern, Machiavellian contempt for both causes and people.
Educated in the communist former East Germany (DDR), she mastered the art, claimed biographer and Der Spiegel deputy editor-in-chief Dirk Kurbjuweit, of governing by silence, being cautious, and at times inscrutable, with her words:
She waits and waits to see where the train is going and then she jumps on the train.
In 2003, she pushed her conservative party into the choppy waters of deregulation and neo-liberal economics, a move that almost lost her the election to the Social Democrat Gerhard Schröder, another market "reformer" who arguably set the conditions she would thrive in. After becoming chancellor, she proceeded to clean the party stables of neo-liberals and become a key centrist, with the assistance of the Grand Coalition comprising the remains of the Social Democratic Party (SDP).
In domestic policy, she abolished military conscription, accepted, after initial reservation, single-sex marriage, and supported the introduction of a minimum wage in 2015. In approaching COVID-19, she demonstrated enviable skills in crisis management, leading to approval ratings of 72%.
Crisis management also marked her European policy, notably in saving the euro during the global financial crisis of 2009. But this came with its costs, with Merkel devoted to balancing the books and maintaining tight budgets to preserve the monetary union. Indebted countries such as Greece risked bankruptcy and a possible exit from the Eurozone.
Merkel, through her stern Finance Minister Wolfgang Schäuble, insisted on austerity measures in bailout negotiations. Greece would eventually be aided at the expense of its financial sovereignty.
Merkel's ability to morph has served her well
Throughout her chancellorship, Merkel has been able to change course abruptly to suit the political mood. Having convinced the Bundestag that phasing out nuclear energy born from the Red-Green coalition of 2001 was bad (an extension of operating times by eight to 14 years was proposed), Merkel proceeded, in the aftermath of the 2011 Fukushima Daiichi nuclear disaster, to order the closure of eight of the country's 17 nuclear plants with a despot's urgency.
This became the prelude to the policy of Energiewende, the "energy transition" aimed at phasing out all nuclear power plants by 2022 and a sharp shift towards decarbonising the economy.
Merkel the shape-changer was again on show during Europe's refugee crisis. She showed much initial enthusiasm in 2015 for new arrivals, ignoring both German and EU law mandating registration in the first country of entry into the EU before seeking resettlement within the zone. Refugees gathered in Budapest were invited into Germany as part of "showing a friendly face in an emergency".
This friendly face did not last long. A riot marked by rampant sexual assault at Cologne Central Station on New Year's Eve in 2015, a good deal of it captured on smart phones, served to harden her approach to the new arrivals. She promised more deportations and reining in family reunification rules.
Germany's place in the world
In various areas of foreign policy, Merkel has also left her centrist, and at times inconsistent, mark. Russia's annexation of Crimea in 2014 led to her persuading the EU to impose sanctions on Moscow. She has also been a critic of Putin's human rights record, notably towards dissident and opposition figures. But such human rights criticism comes with limits. The controversial Nord Stream 2 gas pipeline, which will increase German dependence on Russian energy, has not been stopped.
---


Read more:
Germany's (not so) grand coalition may cause ripple effects on European refugee policy


---
Towards China, the chancellor has also taken divergent, at times eyebrow-raising approaches. The security risks of Chinese 5G telecommunications have been rebuffed, with Germany making an agreement with Huawei to build 5G networks in the country subject to safeguards. Merkel was also instrumental in pushing through an EU-China investment deal, despite criticism of Beijing's human rights record towards Hong Kong protestors and the long-suffering Uighur minority. As Judy Dempsey observes,
Merkel's support for human rights and the rule of law doesn't square with her policy towards China.
Like Merkel's mentor Helmut Kohl was to discover, staying power is never eternal. Kohl lasted eight years as chancellor of West Germany before leading a united Germany for another eight. It is worth recalling who laid the final, cleansing blow to Kohl's leadership in the wake of the anonymous donations scandal known as the Schwarzgeldaffäre: a certain Angela Merkel's December 1999 contribution to the Frankfurter Allgemeine Zeitung calling for her former patron's resignation and political banishment. "I brought my killer," reflected Kohl ruefully. "I put the snake on my arm."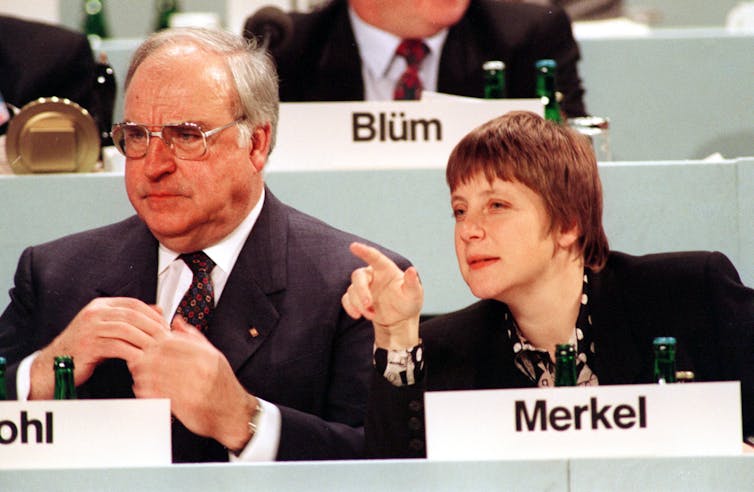 Merkel has also found that power, in time, wears out those who wield it. Critics, such as Friedrich Merz, former leader of the chancellor's parliamentary caucus, and Roland Koch, former minister president of Hesse, became bolder. Interior Minister Horst Seehofer was particularly critical of Merkel's refugee policies.
The far-right Alternative für Deutschland (AfD) now has a foothold in all 16 regional parliaments. The Greens have been polling strongly, while the Left Party and Free Democrats have doggedly maintained their presence. The day after the poor showing in the state elections in Hesse, Merkel announced she would not be seeking re-election as leader of the Christian Democrats. Nor would she be running again as chancellor in 2021.
Now, the CDU has another leader, Armin Laschet, who is very much committed to the centrist brand of politics Merkel made famous. Whether he becomes the next chancellor is far from assured. Markus Söder, the Bavarian premier, is far more popular.
However, Laschet's presence suggests that Merkelism, despite the departure of the leader many Germans call Mutti (mother), will continue in some form.
The politics of climate change | TheRecord.com – Waterloo Region Record
In her brilliant 2019 article "The challenging politics of climate change," Elaine Kamarck, a senior fellow with the Washington-based Brookings Institution, explores how "the lack of intensity around (climate change) is simultaneously incomprehensible and totally understandable."
She offers four explanations: "complexity; jurisdiction and accountability; collective action and trust; and imagination."
Our climate crisis is a political hot potato because it is complex and voters don't like complexity. As well, it isn't obvious how our actions impact the climate — for good or bad. We can't see greenhouse gas emissions the way we can see water pollution from a chemical plant, or toxic smoke pouring out of a smokestack.
Kamarck says climate change and cybersecurity are "two of the stickiest problems of the 21st century … because it's so difficult to nail down jurisdiction." Who is responsible for what? Where does the buck stop? And do we trust our government and politicians to do the right thing?
A half-credit of Civics in high school is not enough for most of us to untangle the Gordian knot of responsibilities in the multiple levels of government impacting our lives.
The politics of climate change is about government action, or the lack of it, but it's also about navigating the strategies we use to tackle the issue. Since we politicized climate change in the 1970s, our response has been highly divisive. This has to change because everyone is affected and a vigorous and collaborative political response is essential.
Despite the sound science, we still have climate deniers and liars, who come in many forms. The Guardian's environment editor, Damian Carrington, categorizes them as "the shill, the grifter, the egomaniac and the ideological fool."
In a Scientific American interview, climate scientist Michael Mann, famous for his hockey stick graph showing the exponential growth in carbon dioxide in our atmosphere from human activity, said that climate deniers have been replaced by inactivists. The deep pockets from the fossil fuel industry are now funding "legislative efforts blocking clean-energy policies" through "deflection, delay, division, despair mongering, doomism."
Both the oil and tobacco industries share the same devious strategy to shift the blame and responsibility from the corporation to the individual. In 2005, British Petroleum created a marketing campaign for people to calculate their personal carbon footprints. There is no question that we each bear responsibility for our own actions to live sustainably, but who is holding corporations to account?
For the past 10 years, Ottawa-based Gerald Kutney has taken on the climate denialists, bots and trolls to clean up the Twitter-verse. His goal is to stop the propaganda and lies being repeated by the "denial-saurs" from becoming the truth.
Kutney picked Twitter because it's "the best, ongoing teaching ground about climate denialism in the world, day in and day out." To counter the piling on from followers of the biggest climate deniers, Kutney introduced #climatebrawl. Just like the bat signal in Batman's Gotham City, the hashtag alerts an international support system prepared to do battle, armed with the truth about our climate crisis.
We have to trust the evidence-based solutions from our best climate scientists and not the ramblings and rants of disbelievers. Denial-saurs, like most of the contenders for the Canadian Conservative party leadership, are treating our future like a political football.
Kutney's best advice is "Vote. Just vote," and hold our elected officials to effective climate-action plans. We cannot afford to be silent in our winner-take-all electoral systems unless we want to be governed by the choices of a minority of climate denialists.
This goes for municipal politics as well. There will be many new faces on councils after this fall's municipal elections. Our future depends on their commitment to climate action.
SHARE:
Afghans are suffering and dying while Canada plays politics, says aid worker – CBC.ca
Aid worker Samira Sayed Rahman was in eastern Afghanistan recently, where she met a woman struggling to survive in a one-room mud structure that she shared with her six children.
"If she is able to get food on the table, it is because she's picking from the garbage. And if she can get enough of the hair and dirt off, she brings it home for her six children," said Sayed Rahman, a Canadian who has been in Afghanistan for seven years, and works with the NGO International Rescue Committee (IRC).
"Otherwise [they] go days without eating," she told The Current's guest host Michelle Shephard.
The IRC was in the area to provide economic training to locals; this particular woman learned how to make pickles, as a source of income for her family.
Sayed Rahman said her story of deprivation is the story of millions of Afghans, who are having to resort to "horrific means to survive" since the Taliban's resurgence in the country sparked a humanitarian crisis. And she added that it's fuelled by an economic crisis that "is a direct result of the decisions of the international community."
Afghans are resorting to "skipping meals, taking on debt, pulling children out of school — and … extreme measures, such as selling daughters into marriage or selling organs," she said.
WATCH | Afghanistan gripped by humanitarian crisis
Afghanistan is marking a year under Taliban rule. While the repressive regime is celebrating the anniversary, the country is now facing a humanitarian crisis with millions of ordinary Afghans struggling to find food, while women and girls have been stripped of their basic rights.
The humanitarian crisis is being fuelled by economic sanctions levied by the international community after the U.S. and its allies pulled out of Afghanistan last summer, and Kabul quickly fell into the hands of the Taliban. Funding and aid to the country was widely suspended in line with international policies around interacting with the Taliban, designated by many countries as a terrorist organization.
The UN estimates that of Afghanistan's population of 38 million, roughly 25 million people are living in poverty, in need of humanitarian assistance. That number has risen from 14 million in July 2021, just before the Taliban's takeover.
Some countries have created exceptions to their laws, to allow the delivery of aid to ordinary Afghans — but Canada's strict policies remain in place. Last week, Canada-based aid agency World Vision cited the ban when it cancelled a large shipment of food to Afghanistan, which the charity said could have fed around 1,800 children.
"Aid organizations in Afghanistan that are heavily dependent on Canadian foreign aid are now struggling," said Sayed Rahman, adding that policies intended to "isolate the Taliban" have instead "punished the Afghan people."
"We are punishing 38 million people just because a few hundred are in power."
WATCH | Deputy Prime Minister Chrystia Freeland discusses Afghan refugees
Deputy Prime Minister Chrystia Freeland says Canada's priority is to focus on the women and children of Afghanistan 'who have suffered real setbacks.'
Taliban 'remains a terrorist group': GAC
In an emailed statement to The Current, a spokesperson for Global Affairs Canada (GAC) said that "Canada remains committed to facilitating life-saving assistance to vulnerable Afghans."
"In 2022, Canada has allocated $143 million in humanitarian assistance to support vulnerable populations in Afghanistan and neighbouring countries," the statement read.
But the statement added that "although the Taliban has taken over as the de facto national authority of Afghanistan, it remains a terrorist group and is a listed terrorist entity under the Criminal Code."
Departments across the federal government are "working to identify a solution that upholds Canada's national security interests while facilitating the effective delivery of assistance to the Afghan people in this unprecedented situation," it said.
The Taliban's early assurances that it would not row back progress for Afghan women and girls have not been borne out in the last 12 months. In March, the group decided against reopening schools to girls above the sixth grade.
GAC said that "Canada continues to engage with international partners to hold the Taliban to account for its horrific treatment and discrimination of women and girls."
Last year, Canada's then-minister of foreign affairs Marc Garneau said Canada could exert economic leverage over the Taliban, citing international aid earmarked for the country.
WATCH | Afghans urgently need help, says UN co-ordinator
The world should find ways to get more medicine and food deliveries into Afghanistan, says Ramiz Alakbarov, the UN humanitarian co-ordinator based in a country where he says people are selling their belongings to survive.
Speaking to The Current on Tuesday, former member of Afghanistan's parliament Fawzia Koofi said the Taliban too was exerting leverage, by weaponizing the rights of women and girls in their quest for international legitimacy.
"They are bargaining our rights for their political interests," said Koofi, who was the country's first female deputy parliamentary speaker.
Sayed Rahman agreed that the issue of girls' education is important, but the humanitarian crisis is "a matter of survival for the Afghan people."
She argued that Afghanistan's population has relied on international aid and funding for years, only to have it suddenly removed in the last 12 months.
"Are we going to let more Afghans die in the meantime while we play our politics?" she said.
---
Written by Padraig Moran. Produced by Samira Mohyeddin and Niza Lyapa Nondo.
Politics Briefing: Trudeau says approval of U.S. Inflation Reduction Act 'is good news for Canadians' – The Globe and Mail
Hello,
Prime Minister Justin Trudeau is praising the approval of major new climate-focused legislation south of the border, calling it "good news" for Canadians.
U.S. President Joe Biden signed the landmark Inflation Reduction Act on Tuesday, which is a watered-down version of the Democrats' original "Build Back Better" plan.
From a Canadian perspective, the most significant change to the bill is the fact that the final version removed an earlier provision that would have excluded vehicles made outside of the U.S. from qualifying for generous new consumer tax incentives. The final version allows those incentives to apply to North American-made vehicles, which was a big win for Canadian officials and industry leaders who had lobbied Congressional decision makers for the change.
"It's official: @POTUS signed legislation that will include Canada in a new tax incentive for electric vehicles purchased in the US," Mr. Trudeau tweeted Tuesday evening. "This is good news for Canadians, for our green economy, and for our growing EV manufacturing sector."
The U.S. plan is widely viewed by climate advocates as a serious effort to reduce emissions, but its incentive-focused approach is very different from Canada's plan, which is based on imposing a growing price on carbon emissions via a patchwork of provincial programs and federal backstops.
The Globe and Mail's Adam Radwanski recently wrote a detailed analysis of what the new U.S. bill means for Canada's climate plans.
"What the breakthrough south of the border does demand is swift movement on policies that Prime Minister Justin Trudeau has promised but not yet acted on, especially to use public dollars to attract private capital for clean technology," he wrote. "It also requires a sharpening of existing programs with that aim. And it underscores the need to plug major gaps in Canada's current climate strategy – especially when it comes to the cleanliness and reliability of the electricity grid, which is by far the biggest focus of the U.S. package."
The Globe also recently reported that the substantial tax changes in the U.S. bill that will be imposed to cover some of the cost of the new incentives present tax policy challenges for Canada.
While the U.S. changes are substantial, they are not currently in line with OECD-led efforts to forge a common front on corporate taxation, especially with respect to large multinationals in the technology sector.
Finance Minister Chrystia Freeland has said Canada strongly supports the OECD plans, but is prepared to go it alone in 2024 with a digital sales tax on foreign multinationals if the global talks are not finalized by then.
This is the daily Politics Briefing newsletter, written by Bill Curry, who is filling in for Ian Bailey. It is available exclusively to our digital subscribers. If you're reading this on the web, subscribers can sign up for the Politics newsletter and more than 20 others on our newsletter signup page. Have any feedback? Let us know what you think.
TODAY'S HEADLINES
MOUNTIES STAND BY POLITICAL-INTERFERENCE ALLEGATIONS: Nova Scotia Mounties have told Parliament that RCMP Commissioner Brenda Lucki put politics ahead of policing after Canada's deadliest mass shooting when she pressed her investigators to make disclosures about firearms in a bid to reinforce the Liberal government's gun-control agenda. Story here.
PROPORTION OF FRENCH SPEAKERS IN DECLINE: CENSUS – The proportion of Canadians who predominantly speak French at home declined in all provinces and territories except Yukon between 2016 and 2021, according to the latest census release. That includes Quebec, where a provincial election is scheduled for Oct. 3. Story here.
WASHINGTON POST FEATURE DESCRIBES STEVEN GUILBEAULT AS "CANADA'S ONETIME 'GREEN JESUS' WHO OKAYS OIL MEGAPROJECT": "Guilbeault, now 52, is under fire for his decision in April to greenlight the Bay du Nord deep-sea oil drilling project off the coast of Newfoundland and Labrador, finding that it is 'not likely to cause significant adverse environmental effects.' He says that — to his knowledge — it will be the lowest-emitting project of its kind in the world." Feature story on the federal environment minister is here.
INTELLIGENCE REPORT FLAGGED POSSIBLE 'VIOLENT REVENGE' AFTER OTTAWA CONVOY PROTEST SHUTDOWN: Newly disclosed documents show federal intelligence officials warned decision-makers that the police dispersal of "Freedom Convoy" protesters in Ottawa last winter could prompt an "opportunistic attack" against a politician or symbol of government. Story here.
ANTI-TERROR LAW CAUSING PROBLEMS: Humanitarian groups say the federal government should exempt their on-the-ground work in Afghanistan from its anti-terror law, warning that Ottawa's current policies are preventing them from delivering crucial aid to people in desperate need. The law also hinders the work of groups helping evacuate Afghans to Canada. Story here.
CARDINAL OUELLET ACCUSED OF SEXUAL ASSAULT: A prominent Vatican cardinal from Quebec, long considered a top candidate for the papacy, is one of dozens of clergy members facing allegations of sexual assault as part of a class-action lawsuit against his former diocese. Story here.
LAFLAMME'S CTV NEWSCAST ONE OF CANADA'S MOST POPULAR, RATINGS SHOW: Before her ouster as anchor of CTV National News this week, Lisa LaFlamme presided over one of the most-watched newscasts in Canada, whose ratings significantly outpaced competitors – raising questions about the rationale presented by CTV's parent company, Bell Media, which referred to the abrupt change as a business decision. Story here.
CANADIAN PARLIAMENTARIANS HEADING TO TAIWAN: Liberal MP Judy Sgro, who chairs the standing committee on international trade, told CBC News that a group of MPs and Senators may visit Taiwan this fall. Story here.
NORTHERN NURSES GET A BOOST: Indigenous Services Canada will nearly triple incentives for nurses who work on remote Manitoba reserves, the Winnipeg Free Press reports here.
NEW PASSPORT OFFICE LOCATIONS ANNOUNCED: The federal government is adding new passport service locations across Canada as a backlog in processing applications continues. Story here.
THIS AND THAT
The House of Commons is not sitting again until Sept. 19. The Senate is to resume sitting on Sept. 20.
RBC CEO SAYS EMPLOYEES SHOULD BE IN THE OFFICE MORE OFTEN: Dave McKay says in an internal memo to staff that more frequent office attendance is needed. He said technology can't replicate the "energy, spontaneity, big ideas or true sense of belonging" that come from working together in person. He added that mentorship and skills development, critical parts of the bank's culture, are challenging when done through video screens. Globe story here.
THE DECIBEL
The Globe's Asia correspondent James Griffiths is on the show to talk about how Taiwan came to dominate the semiconductor and microchip industry and why it's crucial to the delicate geopolitical situation today. A link to Wednesday's podcast, as well as earlier episodes, can be found here.
PRIME MINISTER'S DAY
The Prime Minister's public itinerary says he is in private meetings Wednesday in the National Capital Region.
OPINION
Andrew Coyne (The Globe and Mail) says the proposed Alberta Sovereignty Act places the province on the verge of the constitutional abyss: "We are potentially seven weeks away from a constitutional crisis, the likes of which this country has not seen. Because the front-runner for the UCP leadership is Danielle Smith, and because the centrepiece of her campaign is a wholly unworkable, flagrantly unconstitutional and massively destabilizing proposal called the Alberta Sovereignty Act."
Matt Gurney (TVO) wades into Toronto's Car vs. Bike debate raging in High Park and concludes it's time for widespread photo radar: "Put a robot on every corner. In every park. Or at least have enough of them that they can be rotated through all of the city, ensuring coverage in all areas on a regular basis. I really wish this weren't necessary. Really. But no one can spend any time at all on Toronto's roads and walk away unconvinced that they are necessary. Toronto drivers are terrible. The police have more important stuff to do than hand out tickets. Neighbourhoods need help controlling reckless drivers. And we have a ready-made, proven technological solution that will eventually pay for itself. Not every problem in life has such a clear solution. This one does. What the hell are we waiting for? Bring on the robots."
The Globe and Mail's editorial board says Canada's Conservative Party should not be drawing inspiration from U.S. Republicans: "What happens in Vegas may stay in Vegas, but what happens in American politics does not remain in the United States. It drifts across the world's longest undefended intellectual border, and it falls like acid rain. Prolonged exposure – too much MSNBC or Fox News – can lead to hallucinations, delusions and loss of contact with (Canadian) reality. Voters and politicians are both susceptible to infection … But the party most at risk from cross-border emissions these days is the Conservative Party. There's a lot of crazy in American politics right now, and the majority of it is coming from the people that Conservatives think of as their American cousins. The Republican Party is increasingly going off the deep end."
Got a news tip that you'd like us to look into? E-mail us at tips@globeandmail.com. Need to share documents securely? Reach out via SecureDrop.