Australia must commit to carbon cuts to keep green energy advantage -Fortescue's Forrest
Australia risks losing its advantage in the green energy revolution if its leaders don't promptly commit to cutting carbon emissions by 2050, the country's richest man, Fortescue Metals Group founder Andrew Forrest said on Monday.
Forrest, who grew Fortescue from a minnow to rival the world's biggest mining giants in less than two decades, has spearheaded his company's global green energy drive, signing deals from Brazil to Indonesia to Democratic Republic of Congo.
The company aims to build a 250 megawatt hydrogen electrolyser at Bell Bay in Tasmania — 25 times the size of the biggest existing electrolysers in the world — for less than A$1 billion ($740 million), Forrest said, putting a price on the project for the first time.
Fortescue is ready to make a final investment decision this year, as promised, but is waiting for support from the state government before going ahead with the project.
While Forrest told Reuters that Australia is the best place to realise his green vision, the country's failure to commit to a policy to cut emissions is risking that advantage.
"I would say 2050 neutrality is a certainty for Australia. If we support it by COP26 the dividend flow to regional Australia will be substantial. If we don't support it by COP26, the future will remain uncertain," Forrest said, referring to the COP 26 climate conference in Glasgow at the end of October.
"The renewable energy, green hydrogen, green ammonia, green electricity industry is very, very mobile," he said.
"It is where the will is strongest – they will be the first to be developed."
Australia's energy policy is again in the spotlight as Prime Minister Scott Morrison prepares to attend the conference, where global leaders will meet to set further climate goals to follow on from the landmark 2015 Paris accord.
But Morrison is short on updated climate ambitions to bring to the table given his reliance on the junior partner in Australia's coalition government which said it would not be rushed into a decision on whether to support a target of net zero emissions by 2050.
The Nationals who represent coal and farming heartlands worry that stronger emissions targets will cost jobs. Coal is the country's second biggest export earner.
But Forrest, speaking to Reuters from London, said that rural Australians were set to be the biggest winners in the move to green energy – if agreements are made in time.
"I have demonstrated investment into the regions despite the fact Australia is dragging the chain," Forrest told Reuters.
Fortescue is investigating the potential to convert top Australian fertiliser maker Incitec Pivot's Brisbane ammonia plant to use green hydrogen as a feedstock instead of natural gas, with an on-site electrolysis plant that will produce up to 50,000 tonnes of hydrogen a year.
The plant's future had been under threat due to soaring gas prices, however setting up a green hydrogen production site to feed the existing plant could save 400 jobs and create many more, Forrest said.
At the same time, the product from the plant will be cheaper for local farmers.
"So farmers in Australia long into the future can plan for the next season, or even for the next generation … knowing that fertilisers are coming from a hydrogen molecule that is infinite," Forrest said.
(Reporting by Melanie Burton and Sonali Paul; Editing by Kirsten Donovan)
Study suggests Arctic to see more rain than snow earlier than expected – Williams Lake Tribune
Research suggests that rain will become more common in the Arctic than snow and, because of climate change, it could happen earlier than predicted, with severe consequences for the region's environment, its people and its animals.
A study led by University of Manitoba researchers published Tuesday in the journal Nature Communications says greater average rainfall amounts than previously projected are possible by 2100. And autumn rains could overtake snowfall 20 years earlier than first thought because of rapid global warming and loss of sea ice.
"When we talk about this happening in 2100, it seems like such a long time away, but it's only 80 years," said Michelle McCrystall, the study's lead researcher and a post-doctoral fellow at the university.
"That's the next generation. And if we continue the trajectory that we're going, a lot of issues might happen even faster than what we've projected."
McCrystall said the consequences of increased rain in the Arctic are huge, including flooding and melting of permafrost upon which homes, roads and airstrips are built. A rainy North would also have devastating consequences for people and wildlife.
The study says it could bring "catastrophic starvation events" to caribou, reindeer and muskox, because thick ice crusts would form from the moisture when the air cooled, making it impossible for the animals to forage.
"It's not just a problem for the reindeer, caribou and muskox, but for the people of the North that depend on them as well," said Mark Serreze, co-author of the study and director of the National Snow and Ice Data Center in Boulder, Colo.
Some of the changes are already happening, McCrystall said. In August, rain fell for the first time in recorded history on the highest point of the Greenland ice sheet.
"The fact that we're getting rainfall on the summit of Greenland right now, and that we're maybe going to get more rainfall into the future — it kind of staggers me."
McCrystall said it has always been known that precipitation patterns will change in the Arctic because of climate change, but not at the rate that's being seen now.
"Our projections show this will be much more intense and much more extreme than we previously thought it might be."
McCrystall said the implications of more rain in the Arctic mean that mitigating measures, including the Paris agreement's target of limiting global warming to 1.5 degrees Celsius, are even more critical.
"If we can fall within this 1.5-degree limit, most of the Arctic at least will remain snowfall-dominated," she said.
McCrystall said she wants the study to serve as a further wake-up call for world leaders to meet global climate targets.
"I don't want this to be all doom and gloom. I want this to provide some incentive, that if we stay within these limits as set out by our global leaders, these changes won't happen," she said.
"Hopefully, this is a further example of why we need these global climate policies."
—Emma Tranter, The Canadian Press
SpaceX Falcon 9 rocket launches 50 satellites to orbit for Starlink megaconstellation, BlackSky – Space.com
CAPE CANAVERAL, Fla. — SpaceX just launched the first of four planned Falcon 9 rocket launches this month, with its workhorse rocket carrying a stack of 48 Starlink satellites and two BlackSky Earth observation satellites into orbit, before sticking a booster landing at sea.
The previously-flown Falcon 9 rocket blasted off from Space Launch Complex 40 here at Cape Canaveral Space Force Station at 6:12 p.m. EST (2312 GMT), marking this particular booster's ninth flight.
"The Falcon has landed," SpaceX representatives said on the live broadcast. "You can hear the cheer and applause and there's the visual; this first stage booster has landed a total of nine times."
Related: SpaceX's Starlink satellite megaconstellation launches in photos
The successful liftoff marked the second upgraded batch of Starlink satellites to launch from Florida on one of its 229-foot-tall (70 meters) workhorse Falcon 9 rockets in six months. (SpaceX also launched a Starlink mission from its California-based launch pad in September.)
The company set a rapid launch pace earlier this year but briefly paused for a few months to upgrade its own broadband internet satellites, which are now equipped with laser-based systems to communicate with each other in orbit, and less with the ground, the company has said.
About nine minutes after liftoff, the rocket's first stage returned to Earth, touching down on SpaceX's drone ship "A Shortfall of Gravitas" for a successful upright landing. The ship is the newest member of SpaceX's recovery fleet, bringing the total number of mobile landing platforms up to three. It resides in Port Canaveral, supporting East Coast launches alongside its counterpart "Just Read the Instructions." (The company's drone ship "Of Course I Still Love You" is currently based in California, catching rockets that return to Earth off the coast of California.)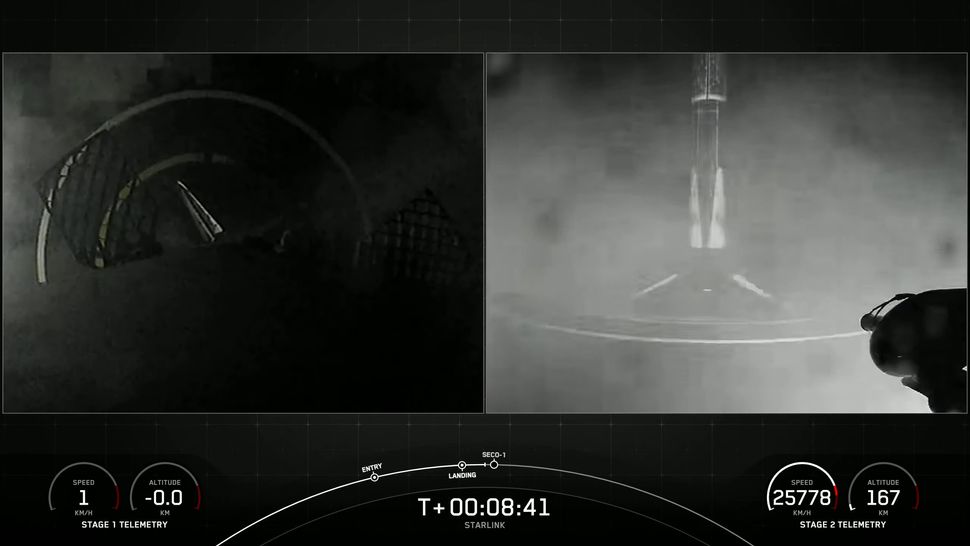 SpaceX officials said that due to the delays with its most recent crew launch to the International Space Station, Just Read the Instructions was forced to stay out at sea, braving waves ranging from 20 feet to 25 feet (6 to 8 m) high. Although the drone ships are designed to withstand those wave heights, the teams opted to switch out the ships (and the crew) so teams would be fresh for both launches.
Starlink soars
SpaceX's Starlink megaconstellation is designed to provide high-speed internet coverage to users around the world below, particularly those in remote and rural areas that do not have access to traditional internet connections.
To date, SpaceX has launched almost 1,900 flat-paneled broadband satellites, with just under 900 launched in 2021 alone. The company has approval for 30,000 more satellites, with the option for as many as 42,000.
Today's flight is the third batch of the company's recently upgraded Starlink internet satellites, with a stack of 48 Starlink satellites sharing a ride with two Earth-observing satellites for BlackSky. The two BlackSky satellites successfully separated from the rocket's upper stage about an hour after liftoff, and the 48 Starlink satellites separated about a half-hour later, the company confirmed during a live broadcast of the launch and on Twitter.
This mission marks the second rideshare mission for BlackSky, and the two optical satellites onboard each weigh approximately 121 pounds (55 kilograms). They will join eight others to help fill out BlackSky's planned constellation. A total of 12 satellites will eventually make up the company's planned constellation with two additional satellites scheduled to launch on an upcoming Rocket Lab mission.
Starlink review: How good is Elon Musk's satellite internet service?
A reused rocket
The Falcon 9 rocket on today's launch, called B1060, is a flight-proven booster that has now flown nine times. It made its debut in June 2020, carrying an upgraded GPS satellite into space for the U.S. Space Force. Its other payloads have included another rideshare mission called Transporter-2, a communication satellite for Turkey and five additional Starlink missions.
The flight marked the 27th launch of 2021 for SpaceX and the 32nd dedicated Starlink launch for the company's burgeoning constellation. It also marks the 130th overall flight of a Falcon 9 rocket, and the 115th from Florida.
Along with the rocket's first stage, SpaceX also recycled the clamshell-like protective hardware that encases the payload. Called a payload fairing (or nose cone), the two pieces account for one-tenth of the rocket's cost SpaceX officials have said. Each piece fetches $3 million, so reusing them helps keep down costs.
Equipped with navigation software and parachutes, the fairings will gently splashdown in the Atlantic Ocean where they will be retrieved by one of SpaceX's recovery vessels to be refurbished for a future flight.
Launches galore
Tonight's SpaceX launch is the first of a global launch doubleheader. Just over 24 hours later, at 7:23 p.m. EST on Friday, Dec. 3 (0023 Dec. 4 GMT), an Arianespace Soyuz rocket will carry two new Galileo navigation satellites into space from French Guiana. The satellites are the European counterpart to the Global Positioning System (GPS) satellites we use here in the U.S.
That launch was delayed 24 hours due to an issue with a tracking station downrange of the launch, Arianespace officials said on Twitter.
Tonight's Falcon 9 launch marks the first of five launches planned to lift off from Florida in December. The next mission, scheduled for Sunday morning (Dec. 5), features a United Launch Alliance (ULA) Atlas V rocket carrying a mix of payloads for the U.S. Space Force. One such payload features a new laser communication system for NASA called the Laser Communications Relay Demonstration.
Also on deck is NASA's Imaging X-ray Polarimetry Explorer (IXPE) mission, scheduled for Dec. 9; a communications satellite for Turkey (Turksat 5B), scheduled for Dec. 18, and finally a cargo resupply mission which is slated to carry cargo to the International Space Station on Dec. 21.
Follow Amy Thompson on Twitter @astrogingersnap. Follow us on Twitter @Spacedotcom or Facebook.
Spacewalking astronauts replace antenna after debris scare – CP24 Toronto's Breaking News
Marcia Dunn, The Associated Press

Published Thursday, December 2, 2021 4:50PM EST

CAPE CANAVERAL, Fla. (AP) – Spacewalking astronauts replaced a broken antenna outside the International Space Station on Thursday after getting NASA's all-clear for orbiting debris.
U.S. astronauts Tom Marshburn and Kayla Barron were supposed to complete the job Tuesday, but NASA delayed the spacewalk because of potentially threatening space junk. NASA later determined the astronauts were safe to go out, despite a slightly increased risk of a punctured suit from satellite wreckage.
But soon after the spacewalk ended, Mission Control notified the crew that the station would need to move into a slightly lower orbit Friday to avoid an old U.S. rocket fragment.
Last month, Russia destroyed an old satellite in a missile test, sending pieces everywhere. NASA isn't saying whether that event was the source of the junk that delayed the spacewalk.
During the first National Space Council meeting under Vice President Kamala Harris this week, top U.S. government officials joined her in condemning Russia's extensive debris-scattering last month. More than 1,700 sizable pieces of the shattered satellite are being tracked, with tens if not hundreds of thousands too small to see.
Barron reported at least 11 small debris strikes to the failed antenna that was removed during the spacewalk, with some of the holes looking old. The device – up there for more than 20 years – malfunctioned in September.
Marshburn, 61, became the oldest person to conduct a spacewalk. It was the fourth of his career. Barron, a 34-year-old space rookie, ventured out on her first. They flew up on SpaceX last month for a six-month stay. Two other Americans are aboard the space station, along with two Russians and one German.