Australian media companies admit breaching Pell gag order – The Tri-City News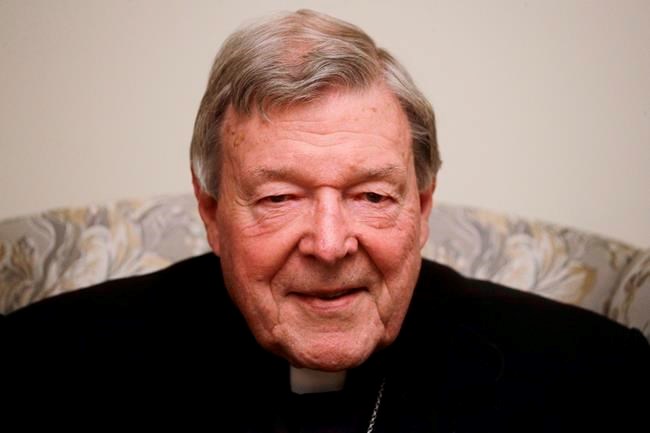 CANBERRA, Australia — Australian media companies admitted in court Monday they breached a gag order in publishing references to Cardinal George Pell's since-overturned convictions in 2018 for child sexual abuse. The plea agreement avoids any journalist being sent to prison.
Dozens of companies, reporters and editors were charged with contempt and breaching a suppression order over their coverage of the convictions, which were banned from publication in Australia until February 2019.
Such suppression orders are common in the Australian and British judicial systems. But the enormous international interest in an Australian criminal trial with global ramifications highlighted the difficulty in enforcing such orders in the digital age.
No foreign news organization has been charged with breaching the suppression order. The U.S. Constitution's First Amendment would prevent such censorship in the United States, so attempting to extradite an American for breaching an Australian suppression order would be futile.
Pell's five convictions have since been overturned by the High Court and he has returned to the Vatican after spending 13 months in prison.
The media businesses and journalists had been on trial in the Victoria state Supreme Court in Melbourne since November last year. The trial began two years after charges were first laid.
But the case was resolved on Monday after the 12 corporations agreed to plead guilty to 21 charges of breaching a suppression order made by the trial judge.
Lawyers entered formal guilty pleas on behalf of companies including News Corp., Nine, former Fairfax publications, Mamamia and Sydney Radio 2GB.
In exchange, prosecutors agreed to drop the remaining 58 charges, including 46 against individual reporters and editors.
No Australian media company published a straight news report of Pell's convictions, but some directed their audiences to international online reports.
Melbourne's most popular newspaper, Herald Sun, published a white headline "CENSORED" across a black front page.
"The world is reading a very important story that is relevant to Victorians," the newspaper said, referring to residents of Victoria state.
The newspaper said it was prevented from "publishing details of this significant news."
Prosecutor Lisa Di Ferrari told Justice John Dixon, who had been hearing the trial without a jury, that given the acceptance of responsibility by the corporations, it was in the public interest to withdraw the remaining charges.
The court was told the media companies would pay the legal costs of the prosecution. A pre-sentence hearing will begin next week on Feb. 10.
It is not clear what financial penalties the businesses could face. But several high-profile journalists had faced the prospect of serving prison sentences if they had been convicted.
The details of Pell's first trial were suppressed to prevent prejudicing jurors in a second child abuse trial that Pell was to face three months later.
That second trial was cancelled due to a lack of evidence so the suppression order was lifted.
Because there was no second trial, no one is alleging that breaching the suppression order caused any harm. But lawyers agree that an absence of harm will not be a factor in determining punishment.
Rod McGuirk, The Associated Press
Texas shooting: Social media and the shooter's messages – CTV News
Could technology companies have monitored ominous messages made by a gunman who Texas authorities say massacred 19 children and two teachers at an elementary school? Could they have warned the authorities?
Answers to these questions remain unclear, in part because official descriptions of the shooting and the gunman's social media activity have continued to evolve. For instance, on Thursday Texas officials made significant revisions to their timeline of events for the shooting.
But if nothing else, the shooting in Uvalde, Texas, seems highly likely to focus additional attention on how social platforms monitor what users are saying to and showing each other.
A day after the Tuesday shooting, Texas Gov. Greg Abbott said this: "There was no meaningful forewarning of this crime other than what I'm about to tell you: As of this time the only information that was known in advance was posted by the gunman on Facebook approximately 30 minutes before reaching the school."
Facebook posts are typically distributed to a wide audience. Shortly thereafter, Facebook stepped in to note that the gunman sent one-to-one direct messages, not public posts, and that they weren't discovered until "after the terrible tragedy."
HOW DID THE GUNMAN USE SOCIAL MEDIA?
By Thursday, new questions arose as to which and how many tech platforms the gunman used in the days before the shooting. The governor's office referred questions about the gunman's online messages to the Texas Department of Public Safety, which didn't respond to emailed requests for comment.
Some reports appear to show that at least some of the gunman's communications used Apple's encrypted iPhone messaging services, which makes messages almost impossible for anyone else to read when sent to another iPhone user. Facebook parent company Meta, which also owns Instagram, says it is working with law enforcement but declined to provide details. Apple didn't respond to requests for comment.
The latest mass shootings in the U.S. by active social-media users may bring more pressure on technology companies to heighten their scrutiny of online communications, even though conservative politicians — Abbott among them — are also pushing social platforms to relax their restrictions on some speech.
COULD TECH COMPANIES HAVE CAUGHT THE SHOOTER'S MESSAGES?
It would depend on which services Salvador Ramos used. A series of posts appeared on his Instagram in the days leading up to the shooting, including photos of a gun magazine in hand and two AR-style semi-automatic rifles. An Instagram user who was tagged in one post shared parts of what appears to be a chilling exchange on Instagram with Ramos, asking her to share his gun pictures with her more than 10,000 followers.
Meta has said it monitors people's private messages for some kinds of harmful content, such as links to malware or images of child sexual exploitation. But copied images can be detected using unique identifiers — a kind of digital signature — which makes them relatively easy for computer systems to flag. Trying to interpret a string of threatening words — which can resemble a joke, satire or song lyrics — is a far more difficult task for artificial intelligence systems.
Facebook could, for instance, flag certain phrases such as "going to kill" or "going to shoot," but without context — something AI in general has a lot of trouble with — there would be too many false positives for the company to analyze. So Facebook and other platforms rely on user reports to catch threats, harassment and other violations of the law or their own policies.
SOCIAL PLATFORMS LOCK UP THEIR MESSAGES
Even this kind of monitoring could soon be obsolete, since Meta plans to roll out end-to-end-encryption on its Facebook and Instagram messaging systems next year. Such encryption means that no one other than the sender and the recipient — not even Meta — can decipher people's messages. WhatsApp, also owned by Meta, already uses such encryption.
A recent Meta-commissioned report emphasized the benefits of such privacy but also noted some risks — including users who could abuse the encryption to sexually exploit children, facilitate human trafficking and spread hate speech.
Apple has long had end-to-end encryption on its messaging system. That has brought the iPhone maker into conflict with the Justice Department over messaging privacy. After the deadly shooting of three U.S. sailors at a Navy installation in December 2019, the Justice Department insisted that investigators needed access to data from two locked and encrypted iPhones that belonged to the alleged gunman, a Saudi aviation student.
Security experts say this could be done if Apple were to engineer a "backdoor" to allow access to messages sent by alleged criminals. Such a secret key would let them decipher encrypted information with a court order.
But the same experts warned that such backdoors into encryption systems make them inherently insecure. Just knowing that a backdoor exists is enough to focus the world's spies and criminals on discovering the mathematical keys that could unlock it. And when they do, everyone's information is essentially vulnerable to anyone with the secret key.
Amherstburg man shares EV car experience on social media | CTV News – CTV News Windsor
When Eric Wortley became the new owner of an electric vehicle, the Amherstburg, Ont. resident never planned on documenting what it's like on social media.
But as Windsor's auto sector started moving toward electrification, he noticed more of his friends debating the pros and cons of EVs over social media.
"When I got my Tesla, [I decided] to just document everything," he said. "Show everyone the good, the bad, the ugly — and let people make their own opinions on it."
Like many others in recent months, Wortley considered going electric for his next vehicle due to rising gas prices. He bought a Jeep Gladiator last year but noticed fuel was starting to cost more than the payments for the truck itself.
In February, Wortley made the switch and bought a fully-electric, pre-owned Tesla vehicle.
He's also started providing occasional updates on his social media, sharing details such as charging time, distance travelled and money saved compared to driving a gas-powered vehicle.
So far, Wortley's experience with his electric vehicle has been positive. The biggest benefit, he said, is being able to charge his vehicle overnight at home, eliminating the need for him to stop at gas stations. On the rare occasion, Wortley added, he may plug his EV in at the charging stations at Devonshire Mall.
In one of his social media updates, Wortley recalls a recent drive to Point Pelee which cost him virtually nothing in terms of fuel because the area has free EV charging stations.
From his home to Point Pelee, the distance is about 120 kilometres. Wortley estimates the same drive in his former pickup truck would have cost him about $35 just in gas.
Wortley said he mainly charges his EV at home and rarely plugs into a supercharger, which allows for faster charging at a premium rate. But despite the extra cost, Wortley said it still works out cheaper than filling up a gas-powered vehicle at current prices.
"To plug in and charge at home, it's $10 a week. If I go to a supercharger, which I did a couple days ago, it still only cost me $18 to charge it from 15 per cent.
While charging his electric vehicle at the mall, Wortley said he paid just a few dollars to increase the charge on his EV battery by about 30 per cent. It took him about two hours, but Wortley said the cost savings is worth it.
"I went shopping. I worked out at the gym," said Wortley on what he did while his EV was charging at the mall. "I don't have to worry about having to fill up now. It's pennies, whereas if I wanted to fill up to drive to Amherstburg, 20 bucks is down the drain."
Peter Hatges, national automotive sector leader for KPMG Canada, says the extra time needed to charge an electric vehicle can be an issue for some drivers who quickly need to get from place-to-place. (Sanjay Maru/CTV News Windsor)
But according to Peter Hatges, national automotive sector leader for KPMG Canada, the extra time it takes for electric vehicles to charge can be an issue for drivers who are very busy or often travel long distances.
"In our surveys and the polls that we've done across Canada, most Canadians expect to go and refuel a car in about five to seven minutes. That's how long it takes for you to go to the gas station. It can take 10 minutes if you're waiting in line for coffee, but that's about it," said Hatges.
In comparison, Hatges said it can take 45 minutes for an electric vehicle to increase the charge in an electric vehicle battery by 80 per cent, even when plugged into a supercharger.
"I think the range anxiety really impacts people that use the vehicles like we do in North America," he said.
"People aren't thinking about when and where to charge the battery. They're thinking about what they got to do next and if they have to travel a long distance," Hatges added. "That is going to be an impediment to the widespread adoption of electric cars, at least for now."
But for early adopters like Wortley, the extra wait isn't too much of an issue for him. On long drives, he said 45 minutes gives him enough to stop for a bathroom break, sit down for a meal and stretch his legs out
Searching for an EV charger isn't a problem for Wortley either. That's because his in-car GPS will show him where to find superchargers along his route, after he enters his destination on the centre console.
Take a look at the tweet below to see that feature in action:
Wortley also addressed concerns he's received from others on his social media updates regarding the battery's total lifespan and the financial ramifications that could arise if it fails altogether. Wortley said his warranty fully covers any fixes needed to the battery and allows for a full replacement if its total capacity falls below 70 per cent.
But the warranty does not apply if the vehicle has been driven for eight years or has amassed 160,000 kilometres.
Social Media Increasingly Linked With Mass Shootings – Forbes
On Wednesday, authorities in Texas identified Salvador Ramos as the 18-year-old shooter who had opened fire in Robb Elementary School in Uvalde, Texas. Ramos, who had killed at least 19 students and two teachers during his shooting spree on Tuesday, had allegedly posted disturbing images online prior to carrying out the senseless attack.
According to reports, an Instagram account allegedly connected to Ramos featured disturbing photos. That account has since been taken down.
It was just last week that New York's attorney general, Letitia James, announced that her office was investigating social media companies after another mass shooter had used the online platforms to plan, promote and stream a massacre in a Buffalo grocery store that left 10 dead. James said her office would investigate Twitch, 4chan, 8chan and Discord along with other platforms that the shooter used to amplify the attack.
Many are asking if warning signs were missed.
"It is impossible to prevent people from making threats online," explained William V. Pelfrey, Jr., Ph.D., professor in the Wilder School of Government and Public Affairs at Virginia Commonwealth University.
Yet he suggested that social media organizations do have a moral responsibility to identify and remove threatening messaging.
"They are generally abysmal at this task. Direct threats (i.e. I want to shoot the President, I want to kill myself) frequently are flagged and investigated. Indirect threats are much harder to identify and rarely receive any attention," Pelfrey continued. "Many social media companies will need to make decisions – protect individual's rights to make oblique threats or protect safety. Compromising freedom of speech seems abhorrent until we weigh that compromise against the lives lost in Buffalo or the many other places where radicalized violent extremists found their motivation to kill."
The Anti-Social Networks
As the United States remains very much in what President Joe Biden has identified as an "Uncivil War," where the country remains so politically divided, the platforms that were once about friendly discussions have evolved very much into "anti-social networks" where people now find themselves in echo chambers that support their opinion and views.
"Social media has compounded a growing racial, cultural and gender divide in America and the world," explained Anthony Silard, professor at the Luiss Business School, Rome, and the author of The Art of Living Free in the Digital Age.
Social media has enabled the actions of extremists to be live-streamed to the masses.
"One facet of the Buffalo shooting that is critical for understanding its conception and operation is that it was not the work of one person," added Silard. "The shooter brought his thought community with him via live stream. They were poised and ready to send out the horrific imagery of innocent people being slaughtered before the social media site, Twitch, could take it down, in an impressive two minutes. They succeeded, yet millions watched from the comfort of their screens.
"With his thought community virtually present and at the ready, the shooter felt less alone and propped up by the hate-imbued ideology of his group," Silard added. "Herein lies an important point for lawmakers to consider about the role of social media in this tragedy: it enabled rapid, collective action by a hate group."
Lack Of Empathy
Social media has also been seen as responsible in lowering the empathy of most Americans. It is easy to "speak your mind" about someone on social media based on a tweet they made or something they posted on Facebook. Even like-minded individuals with similar interests can find themselves in serious flare ups that turn hostile.
This has been common with email, posts on Newsgroups and online forums, but has increased significantly in the era of social media.
"One of the primary reasons social media has become so dangerous to a healthy society is that it erodes empathy. The reason town hall meetings became a healthy medium for cross-aisle conversations is that people had to listen to each other, even when they disagreed," said Silard."Now that these conversations have gone online, empathy has fallen to the wayside. A recent meta-analysis of seventy-two studies conducted between 1979 and 2009, for instance, found that the empathy levels of American college students have dropped 40 percent, which the authors primarily attribute to the rise of social media."
The social media platforms have largely failed to address the issue, and in some cases it has only served to radicalize individuals, such as the recent mass shooters.
"Social media companies like Facebook promised us that its services would encourage people to care more for each other and express their authentic views more both online and in person. None of this has happened," warned Silard. "Instead, recent Pew research has found that people speak up less in person now for fear of retribution. Why? Social media has helped them realize there are many opposing views out there they would prefer not to confront."