Austria: Compulsory vaccination to supercharge the economy – ING Think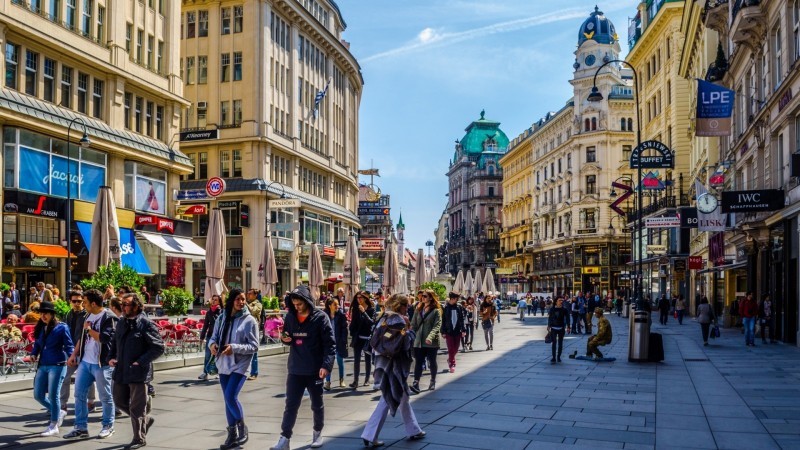 The Austrian economy was on its way back to pre-crisis levels just before the fourth Covid-wave hit the economy. On the back of a full lockdown, the alpine country's economy contracted by 2.2% quarter-on-quarter in the fourth quarter of 2021. In the full year of 2021, the Austrian economy grew by 4.9%.
By the end of 2021, new infections were on the rise again across the eurozone, and Austria was no exception. In fact, Austria was the first country in the region to tighten containment measures and to bring compulsory vaccination into play to help control the pandemic. A lockdown for both the vaccinated and unvaccinated population was introduced in November, hitting the economic performance during the last three months of 2021.
Fortunately, looking ahead, it can only get better. The implementation of compulsory vaccination on 4 February will be followed by a far-reaching easing of restrictions – the closing time in hospitality will be shifted from 10 pm to midnight, from 12 February onwards the 2G obligation will no longer apply in retail shops and a week later, hotels and restaurants will again be subject to the 3G instead of the 2G rule. This should provide a tailwind for both private consumption and tourism. Industry is also in a relatively good position. As shown from Statistic Austria's industrial production index, despite ongoing supply chain disruptions, industrial production increased in October and November.
However, persistently high inflation remains a risk. For the entire year 2021, inflation came in at 2.8% and in January this year headline inflation accelerated to 4.6% YoY, the highest inflation reading since the beginning of the timeline in 1990. And inflationary pressures are unlikely to abate any time soon as the introduction of a carbon tax (in July) is likely to push inflation higher in the second half of 2022. However, despite high inflation, household net income should rise on the back of both the tax reform that came into force on 1 January and expected wage increases in 2022 and 2023. We expect the Austrian economy to grow by 3.9% in 2022.
The tax reform, which also includes a reduction in corporate income tax, shows that the government is trying to lower the public debt ratio via higher growth rather than via higher revenues. The government debt ratio is estimated to drop from 84% of GDP in 2021 to 80% in 2022.
The seasonally-adjusted unemployment rate (Eurostat) stood at 5.3% recently, which is 0.8 percentage points above pre-crisis levels. Unemployment has recently been declining and until the fourth lockdown, short-time work was also on the decline. This brings the structural problems in the labour market into focus for the post-pandemic period, especially due to the ongoing shortage of skilled workers. A relatively high number of long-term unemployed, as well as older unemployed, who are having trouble finding their way back into employment, pose a challenge to the labour market. The large share of female employees working part-time also continues to be a structural problem. Thus, the Austrian labour market will need strong reforms post-pandemic, but for the moment, a further stabilisation and reduction of unemployment can be expected.
Compulsory vaccination will be helium to the economy, as it should boost both private consumption and tourism activity, although it could take until the second quarter for the effect to fully materialise. Looking ahead, the Austrian economy is expected to rise strongly and hopefully with plenty of strength to implement postponed reforms after the latest series of pandemic and political challenges.
How the housing slowdown could hobble Canada's economy – The Globe and Mail
The housing downturn that's taking root across Canada will act as a headwind to economic growth this year, following a period in which real estate powered the economic recovery from COVID-19, but was also characterized by fervent speculation and worsening affordability amid ultralow interest rates.
Nationwide home sales fell 12.6 per cent in April from March, with even steeper pullbacks seen in the frothy markets of Toronto and Vancouver. The national home price index, which adjusts for volatility, fell just 0.6 per cent last month, although price drops were larger in some parts of Southern Ontario.
Rising interest rates have put a quick chill on a feverish rally. Given that more rate hikes are on the way, many economists say Canada could be in the early stages of a protracted housing slump, albeit one welcomed by would-be buyers who got priced out.
For an economy that increasingly relies on housing, the downturn will likely weigh on economic growth in the near future – not only through direct channels, such as reduced real estate commissions, but in indirect ways, such as weaker spending from households that gorged on mortgages and now face higher debt-servicing costs.
The pandemic housing boom is winding down. Economists forecast a 10-20% price correction
Toronto housing market 'suddenly getting into buyers market terrain': BMO chief economist
"Unfortunately for Canada, we're in a pretty perilous situation now where our housing activity measures are extremely stretched. … The pandemic basically put what was already stretched on steroids," said David Doyle, head of economics at Macquarie Group.
As home sales drop and interest rates head higher, "that does create significant downside risks for Canada's economy," he added.
Already the largest industry in Canada, real estate became an even bigger chunk of the economy during the pandemic, largely due to record-low mortgage rates that encouraged rabid buying.
Residential investment, as a share of nominal gross domestic product, soared to about 10 per cent at peak times over the past two years, amounting to more than $240-billion in 2021. That's up from about 7 per cent of GDP before the pandemic – or double the equivalent rate in the United States. For housing bears, it's a sign that Canadians have become far too infatuated with real estate, and that the country's economic fortunes are too tied up with those of the sector.
Total residential investment is comprised of three items: new construction, renovations and ownership transfer costs, which include fees to realtors, land transfer taxes and other transaction costs.
This final aspect of investment is most directly exposed to a slump. Mr. Doyle said the April sales drop, if followed by flatter activity in May and June, could curb GDP growth in the second quarter by as much as 1.5 percentage points, on an annualized basis. If sales continue to drop, the drag would be larger.
And that's before accounting for the potential knock-on effects of weaker home-buying activity, such as fewer renovations and purchases of household appliances.
In its latest forecast, the Bank of Canada estimated the economy would grow by 6 per cent in the second quarter on an annualized basis. "That feels like a stretch to me," Mr. Doyle said.
Home construction is an aspect of GDP that could hold up well. The federal government wants to double the pace of home building over the next decade, and other levels of government say they also want to add supply. However, Bank of Montreal senior economist Robert Kavcic doubts construction can get much bigger. He pointed to already strong housing starts and a shortage of available workers.
"Physically, there's no way we can actually double the rate of home construction from what is already the maximum amount of home construction that we can do in this country," he said.
That said, Mr. Kavcic doesn't see residential investment, as a percentage of the economy, heading back to the tepid levels of the 1990s. The fundamentals for housing demand are still strong, he said, in part because Canada is targeting a record intake of permanent residents in the coming years.
"I think the issue here is that through 2021, monetary policy was just too easy for too long," he said. "So, the asset price just ran ahead of what was fundamentally justified."
The Bank of Canada has raised its policy rate twice this year, taking it to 1 per cent from a pandemic low of 0.25 per cent. Bank officials have said they intend to raise the benchmark rate into a "neutral" range – which neither stimulates the economy nor inhibits it – of 2 per cent to 3 per cent in fairly short order.
The central bank has warned the Canadian economy is likely more sensitive to rising borrowing costs than it used to be. After taking on loads of new mortgage debt over the past two years, the average household now owes a record $1.86 for every dollar of disposable income. During the pandemic, investors have plowed into the housing market, and a growing share of borrowers have steep loan-to-income ratios.
Ultimately, the concern is that debt-addled households will be forced to tighten their belts and drastically reduce their spending.
"Rising interest rates are designed to slow the economy by making borrowing more expensive. That tends to slow sectors like housing," said Toni Gravelle, a deputy governor at the Bank of Canada, in a speech last week.
"But this slowing might be amplified this time around because highly indebted households will face high debt-servicing costs and will likely reduce household spending more than they would have otherwise. Our base-case scenario includes a slowdown in housing activity. But we could see a larger-than-expected slowdown due to higher indebtedness and unsustainably high housing prices."
How those financially stretched households react to higher interest rates could force the Bank of Canada to "pause" its rate-hike cycle, Mr. Gravelle noted.
Your time is valuable. Have the Top Business Headlines newsletter conveniently delivered to your inbox in the morning or evening. Sign up today.
China calls for urgent boost to virus-hit economy – FRANCE 24 English
Issued on: 18/05/2022 – 15:36Modified: 18/05/2022 – 15:35
Beijing (AFP) – China's premier called for greater "urgency" in rolling out measures to support the virus-battered economy, state media reported Wednesday, days after data highlighted the stark impact of Covid-19 restrictions.
China — the last major global economy sticking to a rigid zero-Covid policy — is battling an economic slump due to prolonged virus lockdowns that have constricted supply chains, quelled demand and stalled manufacturing.
"All localities and departments should step up their sense of urgency, and new measures that can be used should be used," Li Keqiang said at a symposium on Wednesday, according to state broadcaster CCTV.
He added that efforts to support the economy should bring it "back to normal quickly" after admitting that indicators have "weakened significantly" since March, with a particular dip in April.
On Monday, data showed retail sales and factory output last month had slumped the most since the start of the pandemic, while unemployment edged back toward its February 2020 peak.
Beijing's unrelenting approach to Covid-19 outbreaks has snarled supply chains and locked down tens of millions of people, hitting major financial, industrial and tourist hubs.
The country's borders also remain closed to most foreign travellers and a slew of international sports events have been scrapped over pandemic concerns.
China has targeted full-year growth of around 5.5 percent, but data published in April showed that first-quarter growth slowed to 4.8 percent after the world's second-biggest economy lost steam in the latter half of last year.
And the economic targets have a political dimension for Chinese leader Xi Jinping, who is eyeing another term in power.
Xi has pinned his legacy to China's strong economic growth and winning the "battle" against Covid.
But the current outbreak is the country's worst since the virus emerged in Wuhan in late 2019, and the economy is beginning to weaken.
Tech support
Li also called Wednesday for backing Chinese tech companies' bids to list domestically and abroad, a day after Communist Party leaders doubled down on support for the tech sector in a rare meeting with executives.
China's economic slowdown appears to have motivated a softer approach toward the vast, money-spinning tech sector, after an 18-month clampdown driven by fears massive internet companies control too much data and expanded too quickly.
Vice Premier Liu He and other Communist leaders addressed executives, including Robin Li of Baidu — universally used for its search engine and mapping service — and Zhou Hongyi of internet security firm Qihoo 360, state media reported late Tuesday.
Liu offered support for "the sustainable and healthy development of the platform economy and the private economy," CCTV said.
During the tech crackdown, overseas IPOs from Alibaba's Ant Group and Didi Chuxing — China's Uber — were spiked, while millions of dollars of fines over anti-trust and data breaches were ladled out to tech giants.
Chinese tech shares surged late April after officials pledged support for internet firms at a Politburo meeting.
Tech giants including Alibaba, Tencent and Baidu were marginally lower Wednesday morning, with e-commerce behemoth JD slumping over 4 percent after it recorded a 3 billion yuan ($444 million) loss in first-quarter earnings.
On Wednesday, Tencent reported record-low quarterly revenue growth at nearly zero, reaching the slowest pace since the company went public in 2004.
© 2022 AFP
IDB Sees Latin America's Moment to Shine: New Economy Update – BNN
(Bloomberg) — With supply chains and the war in Ukraine disrupting trade and investments globally, Latin America and the Caribbean have an opportunity to shine, the head of the Inter-American Development Bank Mauricio Claver-Carone said.
He spoke on the sidelines of Bloomberg's inaugural New Economy Gateway Latin America event in Panama City that kicks off Wednesday with speakers discussing the post-pandemic economic growth challenge, preparing for the next public health crisis, the transition to green energy and the case for cryptocurrencies in the region, among other topics.
"I don't want a single company to look at China before it looks at any country in Latam and the Caribbean," Claver-Carone said.
The supply chain disruptions have cast a light on the issue of near-shoring, or placing manufacturing facilities closer to US consumers, with many Latin American countries lobbying for those investments.
You can follow the agenda here and the event will be streamed on the terminal at LIVE GO and on the web.
©2022 Bloomberg L.P.