B.C. judge rules in favour of Edward Rogers' board control – CTV News Atlantic
VANCOUVER —
The head of the Rogers family trust says a British Columbia judge's ruling in his favour resolves important governance issues at Rogers Communications Inc. after a court battle that pitted three of his family members against him.
"I take no joy in the decision or the events of past weeks," Edward Rogers said in a written statement Friday, reacting to the court's ruling over the legitimacy of the company's board after he replaced five independent directors.
"The judgment confirms I acted appropriately, in accordance with (Rogers Communications Inc.'s) articles and applicable corporate law."
Justice Shelley Fitzpatrick's ruling validated the changes made by Rogers in opposition to the wishes of his mother and two sisters, who are also members of the board and the respondents in the case, which led to a power struggle over control of the board.
Lawyer Stephen Schachter, who represents family matriarch Loretta Rogers and her daughters Melinda Rogers-Hixon and Martha Rogers, told the court they will appeal the ruling.
Edward Rogers said in his statement that the company's focus must be on the business, a return to stability and closing negotiations on the purchase of Shaw Communications Inc. Rogers announced its plan to buy Shaw in a $26-billion deal earlier this year, which is still subject to regulatory approval.
"Our family has disagreements like every other family. I am hopeful we will resolve those differences privately, as any family would," he said. "I know every member of our family wants the brightest future for Rogers Communications."
Fitzpatrick said in her written ruling that the fact that Rogers Control Trust had 97.5 per cent of the votes meant that a consent resolution to reconstitute the board with nominees picked by Edward Rogers "easily passed" by a special majority of Class A shareholders.
A lawyer for Rogers Communications had argued all shareholders should have been provided a notice of a meeting where they could vote on changes to the board, including the 70 per cent who hold Class B shares.
However, Fitzpatrick said Edward Rogers acted in accordance with clear provisions in the company's governance articles and the British Columbia Corporations Act — the province where the company is incorporated — and was not required to provide notice of a meeting to all shareholders.
"If (Rogers Communications Inc.) wished to invoke a more rigorous process for notice to shareholders in the circumstances of this case, it could have done so. It did not and it must be taken to have done so deliberately."
Fitzpatrick also said there's no evidence that any Class A shareholder responded to the consent resolution, either consenting or objecting, except for Loretta Rogers, who wrote of her objection in an affidavit.
Schachter argued in court Monday that his clients questioned Edward Rogers' leadership because his arbitrary ousting of independent directors violated the company's governance practices.
Ken McEwan, a lawyer for Edward Rogers, told the court his client's actions are the "default mode" of resolution offered by the law in B.C.
Loretta Rogers said in her affidavit filed last week that her son "secretly" planned to remove the majority of independent directors with his own nominees and failed to abide by her late husband's 2006 "memorandum of wishes," complete with checks and balances aimed at preventing such problems by the chair of the family trust. Ted Rogers died in 2008.
"Nothing worried him more than a needless public spectacle," she said.
Carol Liao, associate professor at the University of British Columbia's Allard school of law and director of its Centre for Business Law, said Fitzpatrick's ruling was not surprising because corporate law provides room for companies to design their own governance mechanisms.
"We have many corporate statutes that provide default provisions, with a choice for businesses to vary things in their governance documents, in their bylaws," Liao said. "Here's where you see these black and white laws permitting companies to design mechanisms that may butt up against what are deemed as good governance practices."
As for the Ted Rogers' memorandum, Liao said a publicly traded company can't be controlled from the grave.
McEwan also told the court earlier that the family patriarch's document had been treated as confidential up until the hearing, that it wouldn't meet a legal test and wasn't known to all shareholders.
However, Loretta Rogers maintained in her affidavit that her son had waged an "unconscionable" campaign to oust board members, which was inconsistent with his duties and limited authority as chair of the family trust.
She also said her son planned to fire CEO Joe Natale without the board's input and misled her about Natale's job performance as a reason to replace him with chief financial officer Tony Staffieri.
Natale was terminated before ultimately being reinstated and Staffieri was fired, further rocking the executive team at the telecommunications empire.
Rogers Communications Inc. said in a statement Friday that Natale is on the board of directors, and Edward Rogers is its chair.
This report by The Canadian Press was first published Nov. 5, 2021.
U.S. stock futures rise following Friday's omicron-sparked selloff – MarketWatch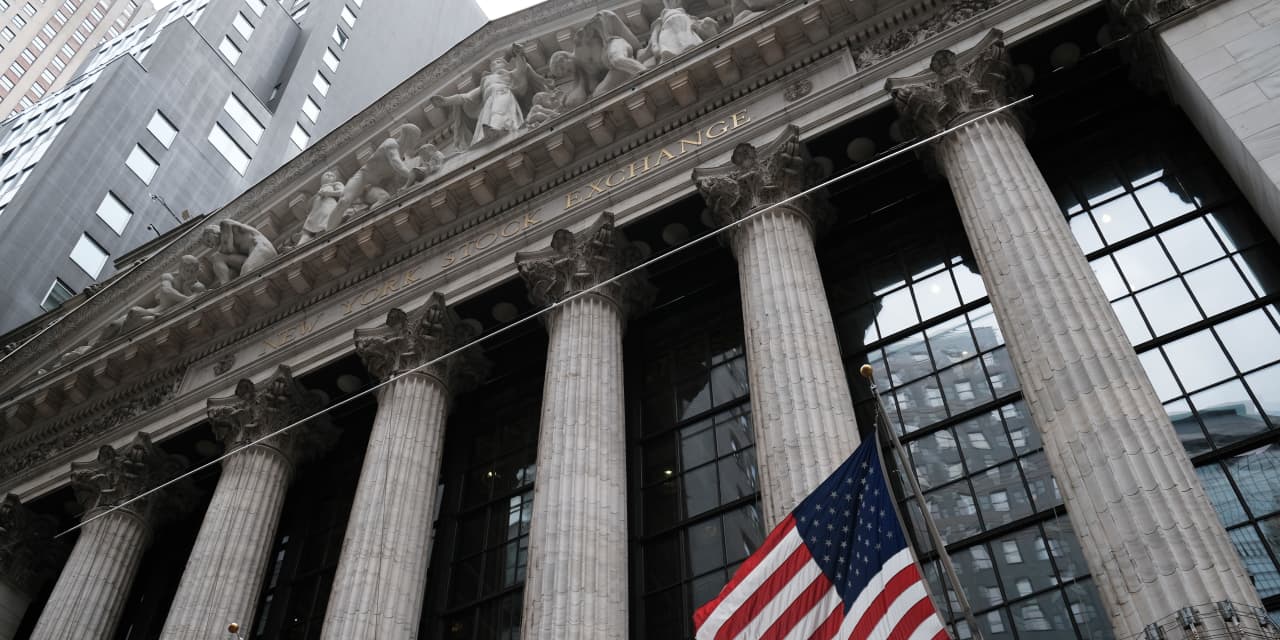 U.S. stock futures rose late Sunday, following a steep selloff Friday sparked by fears of the global economic impact of a worrisome new strain of COVID-19.
Dow Jones Industrial Average futures
YM00,
+0.70%
gained about 230 points, or 0.7%, as of 9 p.m. Eastern. S&P 500 futures
ES00,
+0.92%
and Nasdaq-100 futures
NQ00,
+1.14%
also showed solid gains.
Crude oil futures also rebounded Sunday from a Friday plunge, with benchmark U.S. crude
CLF22,
+5.24%
and Brent crude
BRNF22,
+4.70%,
the international benchmark, jumping roughly 4% higher.
On Friday, Wall Street suffered its worst day in more than a year amid growing concerns over the new omicron variant of COVID-19. The World Health Organization's technical advisory group on Friday declared it a "variant of concern," and a number of countries imposed flight bans from countries in southern Africa, where the variant was first discovered.
Little is known about omicron, but investors Friday braced for bad news.
Read: U.S. health officials urge caution, but not panic, over omicron variant
In a holiday-shortened session, the Dow Jones Industrial Average
DJIA,
-2.53%
slumped 905.04 points, or 2.5%, to 34,899.34, with the index logging its worst daily drop since Oct. 28, 2020, according to FactSet data. The S&P 500
SPX,
-2.27%
fell 106.84 points, or 2.3%, to 4,594.62, and the Nasdaq Composite Index
COMP,
-2.23%
sank 353.57 points, or 2.2%, to 15,491.66.
"The pandemic and COVID variants remain one of the biggest risks to markets, and are likely to continue to inject volatility over the next year(s)," Keith Lerner, co-chief investment officer and chief market strategist at Truist Advisory Services, wrote in a Friday note. "It's hard to say at this point how lasting or impactful this latest variant will be for markets."
Canada to Tap Maple Syrup Reserves to Combat Supply Crisis – TMZ
If your short stack has been feeling a little dry lately due to a lack of (affordable) syrup — that's all about to change … because Canada is tapping its stockpile of sweet nectar.
Quebec Maple Syrup Producers — a quasi-government-sanction agency accounting for over 70% of the world's maple syrup production — just announced they're going to start draining upwards of 50 million pounds of syrup from barrels they have in their strategic reserve.
Yes, strategic reserve … just like the ones we're about to tap to help lower gas prices here in the States. Apparently, Canada has a sea of this condiment at the ready for emergencies.
Welp, that emergency is here … as the global economy deals with a supply crisis — due, in part, to the pandemic among other factors — QMSP says it's time to dip into what they have on hand to make sure countries around the world, especially its #1 customer in the U.S., can keep on drizzling their waffles and pancakes with ease and within reasonable price ranges.
Word is … this harvest season made for a bad batch of syrup, meaning not nearly enough was produced due to a warmer/shorter spring season … the ideal conditions for which are needed to see a solid yield. Add in the fact more people are cooking from home right now — and you have a lopsided supply/demand equation … hence them going to the reserves.
This will be the most syrup they've tapped since 2008. A rep for the org says, "The reserve is there to make sure that we are always able to sell and offer this product."
In anticipation for next year … a reported 7 million additional syrup taps have been OK'd.
Canadians to get biggest drop in gasoline prices since 2009 over COVID variant fears – Yahoo Canada Finance
Canadians should experience the fastest drop in gasoline prices in nearly 13 years on Sunday as fears about a virulent new COVID-19 variant are expected to provide a break of 11 cents per litre at the pumps.
Dan McTeague, president of Canadians for Affordable Energy, said the national average price could drop to about $1.32 per litre but begin to rise again midweek.
"(Sunday) represents the single largest decrease at the pumps we've seen going back to 2009," he said in an interview.
Global crude oil prices plunged Friday over fears about a new COVID-19 variant called Omicron that prompted Canada to ban entry for foreign nationals who travelled through southern Africa.
The January crude oil contract fell 13.1 per cent or US$10.24 on Friday and currently stands at US$68.15 per barrel.
The decrease came as U.S. stock markets closed early Friday because of the Thanksgiving holiday.
"Sunday and Monday are going to be the best days for Canadians to fill up, including British Columbia," McTeague said
Even residents of flood-ravaged B.C. will save on the province's high gasoline prices despite facing rationing because severe flooding has shut both the Trans Mountain pipeline and the province's lone refinery.
Drivers of non-essential vehicles can only purchase up to 30 litres per visit to a gas station in the Lower Mainland, Sunshine Coast, Sea to Sky area, Gulf Islands and Vancouver Island.
East Coast residents won't reap the immediate benefits of Sunday's price drop because its regulated regional system averages price movements. That provides price predictability but blunts price discounts.
Despite the upcoming decrease, national gasoline prices have surged nearly 43 per cent in the past year as the reopening of the global economy from pandemic lockdowns prompted a recovery in crude prices.
McTeague suggested Canadians shouldn't get too comfortable with the energy savings. He said prices are expectd to increase as OPEC and its allies, who are meeting on Monday, will likely refuse to increase production any further. Energy traders realize that Friday's decrease was overdone and "flies in the face of fundamentals," he added.
"My sense is that the decreases that we saw were a little exaggerated and overbought, and for that reason I think we might see a little bit more balance come back to the markets and fundamentals by Wednesday," McTeague said.
"Unless there's further unsettling news of greater and further lockdowns, I would expect that oil prices are probably going to recover US$3 to US$4 a barrel by Monday or Tuesday, which means by Wednesday or Thursday we could be looking at increases in the order of four or five cents a litre."
McTeague said some gasoline savings will continue for a couple of weeks, but he foresees crude climbing back to about US$90 a barrel, which would translate into prices in Canada exceeding $1.50 per litre.
Impending carbon tax increases will further boost prices.
A tax of 2.5 cents per litre, including HST, will take effect on April 1, 2022. It will be followed in December by the clear fuel standard that will add another 18.1 cents per litre including HST, said McTeague.
Adding to the inflation pressure is the Canadian dollar which is less valuable than when it was at par the last time crude prices were around US$80. That reduces the purchasing power for all kinds of products, including energy and food.
The Canadian Automobile Association said that as of early Saturday morning, Manitoba had the lowest average pump price of $1.35/L, followed closely by Alberta at $1.377, while Newfoundland and Labrador was the highest at $1.583 with British Columbia at $1.558.
This report by The Canadian Press was first published Nov. 27, 2021.
Ross Marowits, The Canadian Press