Backyard BBQ: How Art of BBQ chef and owner Trevor David makes his Big Bang Brisket – Toronto Life
Backyard BBQ: How Art of BBQ chef and owner Trevor David makes his Big Bang Brisket
Now that it's officially barbecue season, we're asking Toronto chefs to show us what summer dishes they're grilling in their own backyards, on their balconies or in their kitchens
Like many of us, Art of BBQ chef and owner Trevor David is at home more than usual these days. We asked the social-distancing chef what summer dishes he's grilling. His recipe: super-tender smoked brisket
Low and slow is the way to go for pitmaster Trevor David's tender brisket, a fan favourite at his new Scarborough restaurant Art of BBQ. "I came up with my Big Bang Brisket after experimenting in my kitchen. I love combining different herbs and sauces to see what I come up with," says David. "Exploring through flavours is integral to the process of pushing the boundaries of our taste buds."
For this particular recipe, inspiration struck when David came across a bottle of oyster sauce in his pantry. "I just had fun with it—added a dash of this and a bit of that—and the brisket came together wonderfully after spending some time in the smoker." Although David says this was a culinary experiment and there were all kinds of things that could go wrong, it worked. The result was an explosion of flavour. "Kind of like the Big Bang that created our universe," he says.
David loves the umami hit the oyster sauce imparts to the brisket. "It's overlaid with the mustardy tang and warmth from the aromatic spices, and then of course you have the crowning glory: the fatty char from the barbecue."
Good brisket needs equally good sides. David recommends cornbread, rice and peas, coleslaw and a fresh garden salad. "And to wash it all down, I love fresh mango juice or a nice cold beer from Left Field Brewery."
No smoker? No problem. Skip to the end of this post for instructions on how to make David's Big Bang Brisket in your oven.
Ingredients
1 five-pound brisket
½ cup oyster sauce
½ cup mustard
½ cup puréed herb paste (equal parts fresh ginger, garlic and cilantro)
½ cup cracked black pepper
¼ cup sea salt
5 tbsp allspice
5 tbsp of cinnamon
Plastic spray bottle (for spritzing the brisket) filled with one to two cups with your choice of water, apple juice or apple cider vinegar.
The recipe
Using your hands, rub the sea salt all over the brisket.
Mix the oyster sauce, mustard and herb paste together in a bowl. Then rub it all over the brisket.
Mix the allspice, cinnamon and pepper in a bowl and then—you guessed it—rub it all over that brisket. It's messy work, but it's worth it.
Now cover the brisket in plastic wrap and let it marinate in the fridge for 48 to 72 hours. Not patient enough? It's totally fine to start smoking it now.
Preheat your smoker to about 300°F and place the brisket in. Lower the temperature to 200°F and smoke for about 7½ to 8 hours (this works out to about 1½ hours per pound).
Meanwhile, fill a heatproof bowl with water and place it in the smoker. This will help generate moisture. Replenish as necessary.
Let the brisket smoke for two to three hours. Then, spritz it with water (or whatever you filled up your spray bottle with) every 30 minutes. This—along with that bowl of water in the smoker—helps ensure that the brisket stays nice and moist.
After smoking, remove the brisket and wrap in tin foil or plastic wrap. Let it rest for 2 hours.
Slice your brisket against the grain and serve.
Enjoy! (And don't forget those sides.)
Oven method
Preheat the oven to 350°F. When it comes to temperature, lower the heat to 300°F.
Pour three cups of water or beef stock into a roasting pan.
Place your brisket in the roasting pan, then cover with tin foil.
Slow-cook for about 6 to 7 hours.
Keep an eye on the water level: if it starts to drop, add another cup of water to the roasting pan. Repeat if necessary.
Mental health art show in Vernon until Aug. 17 – Vernon News – Castanet.net
Photo: Contributed
Christine Schmidt with her COVID-19 art calendar.
The therapeutic power of art is being showcased in Vernon.
The Vernon & District Canadian Mental Health Association's 17th annual Awakening the Spirit art show and sale is on now at the Vernon Community Arts Centre.
More than 20 works are featured, including photography, acrylics, pen and ink, and watercolour.
All the artwork is from those living with mental illness, who have used art to positively improve their mental health.
"Through art and creativity, we hope to break down some of the barriers and stigma surrounding mental health and mental illness," said Julia Payson, CMHA Vernon's executive director.
For the past 20 years, CMHA volunteer Christine Schmidt has been using art to help her express herself and practise self-care.
"It keeps the creative juices going, connects me to nature, and is a way of expressing emotion," she said.
She has been contributing to the show and volunteering at the CMHA's Georgette Thrift Shop for three years.
At the beginning of the pandemic, Schmidt spent her time walking, doing photography, cooking, baking, meditating, and connecting with others over the phone.
She also dedicated herself to drawing a picture every day for six weeks.
"It was neat to have a focus, to have something on the go during that time to commit to. I decided to stay calm and collected when B.C. launched its COVID-19 measures," said Schmidt, who decided to create an art calendar.
"My plan was to take a photo for inspiration and do a drawing each day of the month.
The arts centre donated its gallery for the show, which runs until Friday, Aug. 17, Monday to Wednesday: 9:30 a.m. to 9 p.m. and Thursday to Saturday: 9:30 a.m. to 4:30 p.m.
The show and sale is also being featured online.
Art Gallery of Sudbury back in business – The Sudbury Star
New visiting protocols are in place to keep people safe
The Art Gallery of Sudbury said Friday it has re-opened with a new art exhibition and new visiting protocols to keep people safe during the pandemic.
"We thank all community members for incredible support and patience during the period of mandated temporary closure," the gallery said in a release. "Pre-book for your visit. We can't wait to see you."
Like much of Sudbury, the gallery closed in the spring as COVID-19 reached the area. Sudbury is part of Ontario's Stage 3 reopening plans. As a result, the gallery is complying with safety and health requirements for staff and visitors in public spaces as issued by Public Health Sudbury and Districts. If you are planning a visit, you should:
Book your visit online in advance at artsudbury.org.
Booking times are Tuesdays through Saturdays at 10 a.m., 1 p.m., 2 p.m., or 3 p.m.
Each visit provides visitors with 45 minutes of exclusive access to exhibitions and gift shop.
Each booking time is available to one small group comprising from one to six persons from the same social circle.
Visitor contact information is collected at the time of booking.
Bookings are also available by contacting the gallery at 705-675-4871.
Visits are free but we sure appreciate your donations.
All are required to wear masks and practise social distancing. The Gallery has also implemented enhanced cleaning protocols.
NEW SHOW
The Gallery has re-opened with a new thematic exhibition called Change of State/Altération.
The gallery said Change of State is a meditation on the current moment and our shared experiences of the recent past. It draws together 23 signature art works from the Permanent Collection.
Featured artists include Carl Beam, Mary Green, Suzy Lake, Daphne Odjig, Jane Ash Poitras, Jana Sterbak, and Bill Vazan, among others.
Sudbury artist Pandora Topp has contributed a major new mixed media installation called Imperfect Poetry. Her installation comprises 14 video performances based on a series of creative drawings and texts produced during the unusual circumstances of COVID-19 lockdown.
"This is my process: I decided to work with my elements of emergent drawing, automatic writing, embodied voice and to capture it on camera," Topp said. "It was a clear, sequential process: to proceed forward with presence into the unknown and to capture ephemera, movement, feeling through the four elements of drawing, writing, unrehearsed voicing, all captured and witnessed through the visual recording."
ART EDUCATION ACTIVITIES
Art in the Park
August 12, 13, 19, 20, 26, 27
$5 per participant
Register www.artsudbury.org
Families and individuals ages five years and up are invited to register for inspired and imaginative two-hour outdoor art sessions presented by Gallery educators at Bell Park. Space is very limited and must be booked 24 hrs in advance. All art materials are provided in a sanitized sealed bag. Masks are encouraged and social distancing is mandatory. For more information please email Nancy Gareh ngareh@artsudbury.org or Sarah Blondin education@artsudbury.org.
Online art classes
$40 plus HST
Register www.artsudbury.org
New series underway. Taught by practicing artist Dineen Worth, this introductory course in painting is suitable for the novice painter or as a refresher for those who have not painted for some time. This short series of classes encourages exploration of the medium with emphasis on building a personal style. Classes are presented online on four consecutive Thursday nights from 6:30 to 8:30.
sud.editorial@sunmedia.ca
Twitter: @SudburyStar
Family-friendly activities: Enroll in Surrey Art Gallery's Art Takeout "at leisure" courses – Voiceonline.com
THIS summer, have fun while exploring artistic techniques with Surrey Art Gallery's Art Takeout "at leisure" courses. These hands-on, interactive programs are a wonderful way to try new artistic mediums, build on creative skills, all while working at your own pace from home. Everyone of all ages and abilities are welcome to enroll, and participants pick up the course materials from Surrey Art Gallery. Each box includes the necessary art supplies and links to six video lessons with experienced artist educators.
There are two Art Takeout courses to choose from. Drawing in the Field focuses on learning and practicing drawing skills. Each class builds on the next, and participants will use perspective and composition to look at elements of a landscape – from the natural beauty of plants and flowers, to the bustling energy of city streets and buildings. This at your own pace course, led by artist educator Alexandra Thomson, costs $15.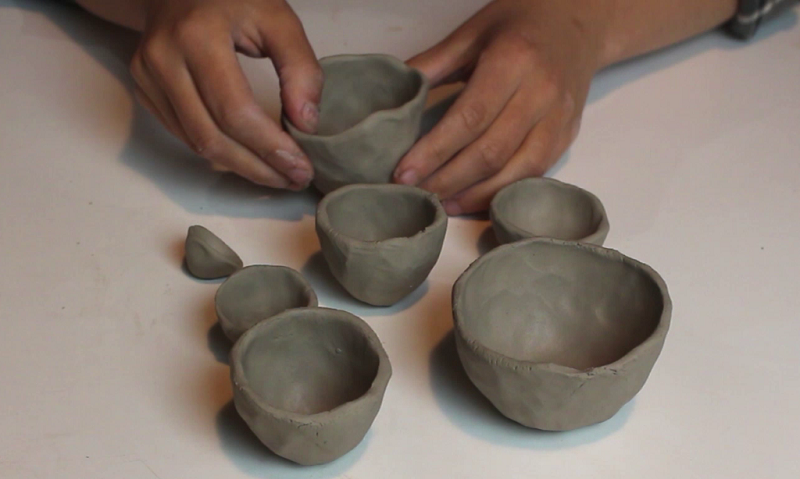 Use your imagination to turn blocks of clay into ceramics in Handbuilding with Clay with artist educator Amelia Butcher. Bring to life coiled pots with animal features, create constructions with clay slabs, experiment with surface and 3D decoration, and more. This at your own pace course is $35 and includes firing and glazing. Register today with Art Takeout materials boxes for both courses available for pick up beginning August 10 at Surrey Art Gallery.
"Ceramics are everywhere, all around us," says Handbuilding with Clay artist educator Amelia Butcher, "clay is a super common, super-human, and a super-global material. We learn a lot about history, archeology, and people through pottery."
"For all ages and abilities, Surrey Art Gallery's Art Takeout "at leisure" courses are a lovely way to spend the summer by doing art with family and friends," says Alanna Edwards, Surrey Art Gallery Engagement Facilitator. "It's a way to still feel connected to each other and the artmaking community during this time."
To register for either program, phone the Call Centre at 604-501-5100, or sign up online at surrey.ca/artgallery.
Handbuilding with Clay with Amelia Butcher Trailer: https://youtu.be/tPDI8340Cbg
Drawing in the Field with Alexandra Thomson Trailer: https://youtu.be/vWY5ndL9eeA