Bank of Canada expected to deliver final quarter-point rate hike as inflation cools
The Bank of Canada is widely expected to deliver a final quarter-point interest rate increase on Wednesday before pausing its historic monetary policy tightening cycle.
Central bank officials signalled in December that they were nearing the end of their inflation-fighting campaign, in which they increased borrowing costs seven consecutive times last year. They said the choice between pressing on with further rate hikes or hitting pause would depend on coming data.
Since then, most economic indicators have come in stronger than expected. Unemployment remains near a record low and consumer spending is holding up relatively well in the face of higher prices and rising borrowing costs. Inflation continues to trend downward, hitting an annual rate of 6.3 per cent in December from a peak of 8.1 per cent in June. But it remains well above the central bank's 2-per-cent target.
The momentum of the Canadian economy through the fourth quarter of 2022 raises the odds of another rate hike this week – although for the first time in nearly a year, another is not guaranteed. Most Bay Street analysts expect a quarter-point move and financial markets are pricing in a roughly 70-per-cent chance of this happening. That would take the bank's benchmark lending rate to 4.5 per cent.
"We're looking for a 25-basis-point hike next Wednesday, but there's two-way risks around that," said Josh Nye, senior economist at Royal Bank of Canada. "We could see them pause, or could even see another 50-basis-point hike. They've kind of left a lot of options on the table." (A basis point is one hundredth of a percentage point.)
Most analysts expect this to be the last push in the current tightening cycle. The Bank of Canada has not yet brought inflation to heel. But interest rate changes work with a considerable lag, often taking six to eight quarters to have a full impact on inflation. In effect, much of the pain from the 2022 rate increases has yet to be felt beyond the housing market.
This could change in the coming months. Consumer spending is expected to contract as more homeowners renew their mortgages at higher rates and nervous shoppers cut back on non-essential purchases. A pair of Bank of Canada surveys published last week found that the majority of businesses and consumers expect a recession in the next year. The central bank itself is forecasting that the economy will stall through the first half of 2023, posting near zero growth.
The bank is intentionally slowing down the economy, raising borrowing costs to curb spending on goods and services and slow the pace of price increases. But it's trying not to overdo it – a difficult task given the lag time between rate hikes and their intended effect.
"We are trying to balance the risks of over- and undertightening monetary policy," Bank of Canada Governor Tiff Macklem said in a December speech.
"If we raise rates too much, we could drive the economy into an unnecessarily painful recession and undershoot the inflation target. If we don't raise them enough, inflation will remain elevated, and households and business will come to expect persistently high inflation."
He added that not doing enough posed the "greater risk."
Other central banks face similar balancing acts as they slow the pace of monetary policy tightening and approach a pivot point. The U.S. Federal Reserve is expected to announce a 25-basis-point rate increase on Feb. 1, bringing the Federal Funds Rate up to a range of 4.5 per cent to 4.75 per cent.
Most Fed officials indicated in December that they expect the policy rate will exceed 5 per cent by the end of 2023. However, traders and investors have begun to doubt the U.S. central bank will get that far. Financial markets are pricing a terminal policy rate of 4.75 per cent to 5 per cent.
Whatever the path forward, don't expect officials at either the Bank of Canada or the Federal Reserve to suddenly sound dovish, said James Orlando, senior economist at Toronto-Dominion Bank. Bond yields have already fallen in recent months, and central bankers may be wary of financial conditions loosening more than they intend if they stop talking tough on inflation.
"They can't just say, 'We're done, set it and forget it.' They're going to have to make sure that everything is moving in the direction that they thought," Mr. Orlando said. "If we keep seeing blowout employment numbers, which is going to lead to greater consumer spending potentially, then maybe they have to hike again."
The strength of the labour market presents a particular challenge for the central bank. Canada added 104,000 jobs in December, and the unemployment rate dropped to 5 per cent, only slightly above a record low of 4.9 per cent reached last summer.
The tight job market is fuelling wage growth. That's good news for Canadian workers, but it makes the central bank's inflation-control job harder, as rising wages feed through to inflation, especially in the service sector. Mr. Macklem argued in a November speech that unemployment would need to rise and job vacancies fall to get inflation back to target.
The latest Consumer Price Index data, published by Statistics Canada last week, suggests inflation is moving in the right direction. The annual rate of CPI growth fell to 6.3 per cent in December, from 6.8 per cent in November, led by a sharp drop in gasoline prices. Core inflation measures, which capture underlying price pressures in the economy, remain stubbornly high, but they have begun to decelerate.
Economists expect inflation to keep moving down. The jump in energy and other commodity prices that occurred in the spring of 2022 will fall out of the annual data in the coming months. Prices for durable goods are already flatlining or even falling, as supply chains improve and demand dips for non-essential products.
The central bank said in October that it expects CPI inflation to be around 3 per cent by the end of 2023, and back at the 2-per-cent target by the end of 2024. The bank will publish new inflation and economic growth forecasts on Wednesday.
School with campuses in Oakville, Mississauga, Brampton tops on Forbes' list of best employers | inHalton – insauga.com
Sheridan College, with campuses in Oakville, Mississauga and Brampton, is the No. 1 ranked employer in Canada according to Forbes' annual list of Canada's Best Employers. SHERIDAN COLLEGE IMAGE
When it comes to the best place to work in the country, Sheridan College, with campuses in Oakville, Brampton and Mississauga, tops the list.
That's according to a Forbes' annual list of Canada's Best Employers released on Thursday (Jan. 25).
Forbes partnered with the market research firm Statista to compile the list of the top 300 employers using ranking based on a survey of more than 12,000 Canadians working for companies and institutions with at least 500 employees.
Participants were asked to rate how likely they were to recommend their current employer, and could recommend employers other than their own.
Founded in 1967, Sheridan College has over 3,380 employees and educates nearly 40,000 students from across the country and world.
The educational facility offers over 130 academic programs and also includes the Sheridan Centre for Elder Research, focused on developing and testing quality of life improvements for senior citizens and their families.
Carlton University, at No. 6, was the only other post-secondary institution to place in the Top 10 on the 2023 Forbes list.
"This is an incredible achievement for Sheridan. We've always been proud to be recognized by Forbes as an employer of choice," said Dr. Janet Morrison, President and Vice Chancellor of Sheridan College. "To finish at the top of the list, in only our second top 10 ranking, confirms that our commitment to developing a work culture where innovative risk-taking, collaboration and life-long learning thrive is the right path forward.
"This honour belongs to our dedicated employees who are one of Sheridan's greatest assets."
This is the second time recently the local college was recognized by Forbes.
In 2022, Sheridan was named to the Forbes' list of Canada's Best Employers For Diversity. It ranked No. 10, highest of any Canadian college.
Placing second behind Sheridan College on the list of Canada's Best Employers was the Canadian Mental Health Association in Toronto with 5,000 employees, while the Keg Steakhouse & Bar, with 10,400 employees and based out of Richmond, British Columbia, was third.
To see the complete Top 300 list of Canada's Best Employers, visit here.

insauga's Editorial Standards and Policies
advertising
Adani Group: Asia's richest man hits back at 'con' allegations – BBC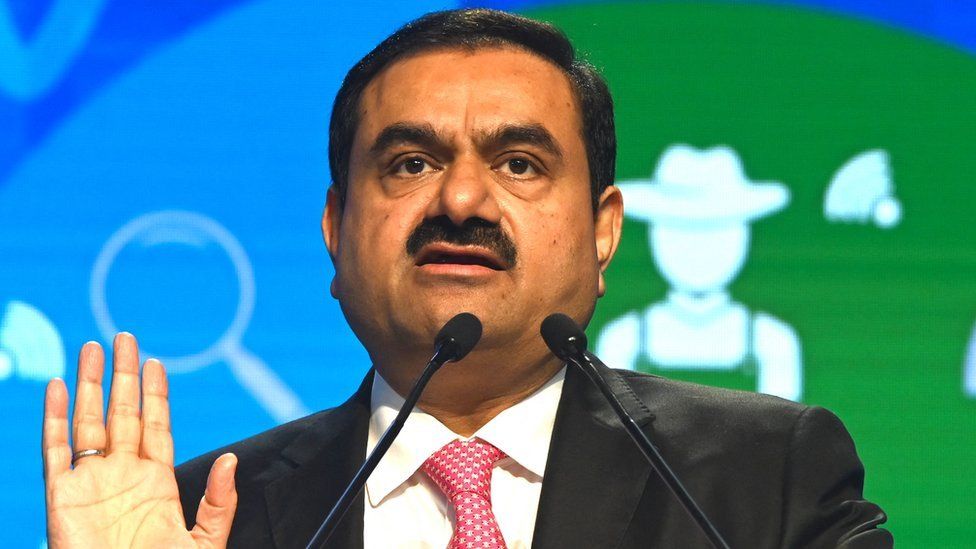 A company owned by Asia's richest man has hit back at a report which accused the firm of "brazen" stock manipulation and accounting fraud.
The Adani Group, founded by Gautam Adani, called the report by a US investment firm "malicious" and "selective misinformation".
It is now considering legal action against New York's Hindenburg Research.
Adani Group is one of India's biggest companies, and has operations in a wide range of industries including commodities trading, airports, utilities and renewable energy. It is led by Indian billionaire Mr Adani who is the world's fourth richest man, according to Forbes magazine.
Hindenburg, meanwhile, specialises in "short-selling", or betting against a company's share price in the expectation that it will fall.
In its report, Hindenburg accused Mr Adani of "pulling the largest con in corporate history". This came days ahead of a planned sale of Adani Group shares to the public.
The report questioned the Adani Group's ownership of companies in offshore tax havens such as Mauritius and the Caribbean. It also claimed Adani companies had "substantial debt" which put the entire group on a "precarious financial footing".
But on Thursday, Adani Group said it was evaluating "remedial and punitive action" against Hindenburg Research in the US and India.
Adani said it had always been "in compliance with all laws".
"The volatility in Indian stock markets created by the report is of great concern and has led to unwanted anguish for Indian citizens," said the group head of Adani's legal team, Jatin Jalundhwala.
"Clearly, the report and its unsubstantiated contents were designed to have a deleterious effect on the share values of Adani Group companies as Hindenburg Research, by their own admission, is positioned to benefit from a slide in Adani shares."
The group's flagship firm, Adani Enterprises, is scheduled to begin selling its shares to the public on Friday.
Opposition politicians who have long alleged that Mr Adani has benefitted because of his proximity to Indian Prime Minister Narendra Modi have been quick to react to the report.
"Considering that detailed research is out in the public domain, it is important that the government of India takes note of the charges made," tweeted Priyanka Chaturvedi, member of parliament and a Shiv Sena party leader.
Another popular South Indian politician, Mr KT Ramarao, called on India's investigative agencies and market regulator to open a probe into the Adani Group's operations.
But regulators are unlikely to initiate any action independently, say experts.
"The Security and Exchange Board of India [which regulates listed companies in India] will act only if there is a specific complaint sent to it. And in this case there isn't," said Shriram Subramaniam, founder and managing director of InGovern Research, a consultancy that advises investors on governance issues.
"There are many allegations in the report that have been the subject of regulatory scrutiny in the past."
The BBC contacted the market regulator but received no response.
While it appears that the decks are clear for Adani Group to proceed with its $2.4bn public share sale on Friday, the allegations in the report could put some investors off, said Ambareesh Baliga, a financial markets analyst.
But the report could have broader consequences that go beyond the Adani Group.
Andy Mukherjee, a columnist at the news service Bloomberg, said there were "many questions about the integrity of the broader Indian market, which is caught between the pressures of financial globalisation and political nationalism".
He added: "Is the Security and Exchange Board of India waiting for a public outcry to go in and clean up the market?"
Bank of Canada predicts further dip in home prices after delivering quarter-point rate hike
The Bank of Canada is predicting home prices will decline further after it raised interest rates Wednesday for the eighth consecutive time, but it expects sales activity to pick up later in the year.
The typical home price across the country is already down 13 per cent from its peak last February amid the bank's attempts to rein in runaway inflation by reducing access to cheap loans.
Now, with mortgage rates at their highest levels in years, many would-be buyers have been shut out of the real estate market.
"The pullback in housing activity that began in 2022 is expected to continue over the near term," the central bank said in the monetary policy report that accompanied its decision to hike the overnight lending rate by 25 basis points, to 4.5 per cent.
"House prices are projected to decline further, particularly in markets that saw significant increases during the pandemic," the report said.
Those areas include the Toronto suburbs, smaller Ontario cities and the Chilliwack region of B.C., where home prices jumped more than 50 per cent over the first two years of the pandemic, when the central bank's overnight rate was near zero. Home prices in some of those markets have fallen more than 20 per cent over the past 10 months.
"The pullback will continue in the first couple of quarters of this year," the bank's senior deputy governor, Carolyn Rogers, said at a news conference. She said it was important to remember that some of those markets have come down from "extreme highs."
The bank's interest rate hike will immediately ratchet up mortgage costs for first-time homebuyers, homeowners whose mortgages are up for renewal and those with variable-rate mortgages, which move in tandem with the Bank of Canada's overnight lending rate.
The latter have experienced the greatest shock with the benchmark rate's 4.25-percentage-point rise in less than a year. Variable-rate mortgage holders with fixed payments have seen more of their monthly payments go toward interest, but now the majority have reached a point where those payments no longer cover the principal portion. Anyone unable to come up with extra cash could be forced to sell.
"We might see some increase in distressed sales, so therefore we might see additional downward pressure on prices before things stabilize later in the year," said Benjamin Tal, deputy chief economist with Canadian Imperial Bank of Commerce.
The real estate industry is also expecting the market to stabilize, especially after the central bank said it could hold rates steady in the future.
"I believe it would be a sign of confidence," said Phil Soper, president of national real estate brokerage Royal LePage. Mr. Soper does not expect a rush of activity but said a large number of would-be homebuyers and sellers have been waiting for a sign that this era of pricing volatility will end.
Tracy Valko, a mortgage broker who has worked in Southern Ontario for 26 years, echoed Mr. Soper, saying she believes a pause in interest rate hikes will encourage buyers and sellers back into the market. "The worst of it is over," she said.
The central bank predicted that activity will start picking up in the latter half of this year, owing to the dearth of homes for sale and the expected influx of immigrants.
Canada has increased immigration levels to compensate for the shortfall during the first year of the pandemic and to help fill holes in the labour market. Last year, the country took in a record number of newcomers, and Ottawa plans to admit an additional 1.45 million new permanent residents over the next three years.
All those people are coming to Canada as the volume of homes for sale has declined. Last year, many prospective sellers postponed putting their properties up for sale because values were plummeting. "Immigration is picking up again, so we do expect housing to come back," the central bank's Ms. Rogers said.