Bank of Canada will maintain current level of policy rate until inflation objective is achieved, recalibrates its quantitative easing program – Bank of Canada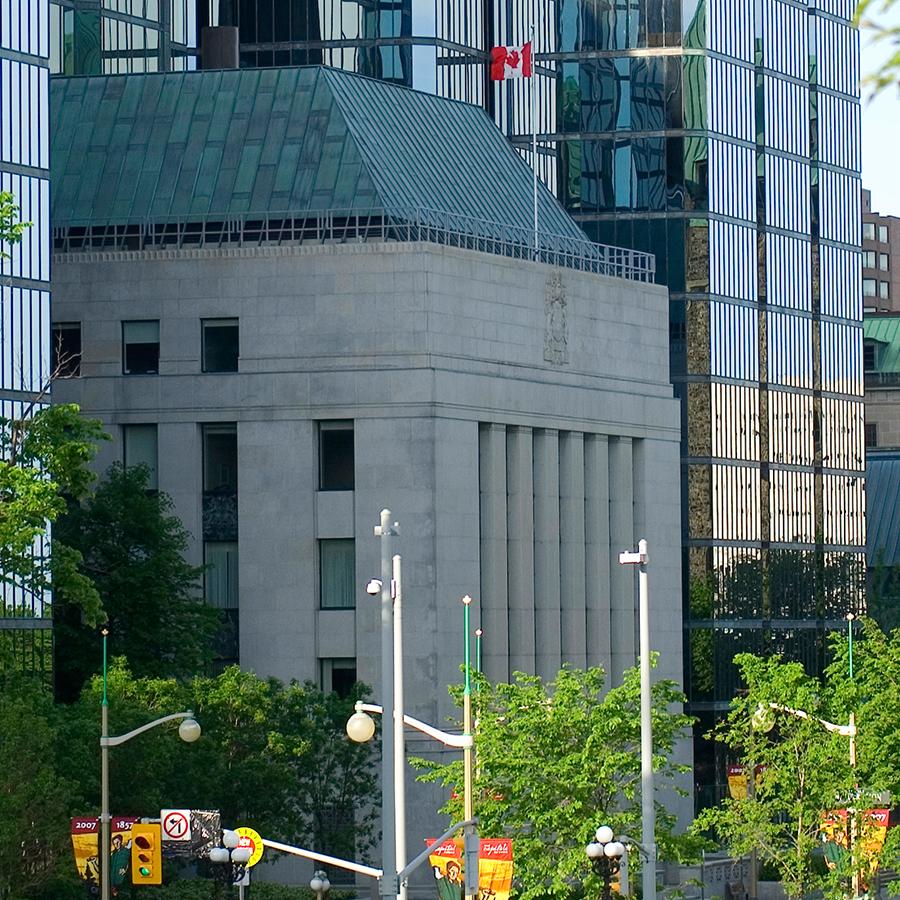 The Bank of Canada today maintained its target for the overnight rate at the effective lower bound of ¼ percent, with the Bank Rate at ½ percent and the deposit rate at ¼ percent. The Bank is maintaining its extraordinary forward guidance, reinforced and supplemented by its quantitative easing (QE) program. The Bank is recalibrating the QE program to shift purchases towards longer-term bonds, which have more direct influence on the borrowing rates that are most important for households and businesses. At the same time, total purchases will be gradually reduced to at least $4 billion a week. The Governing Council judges that, with these combined adjustments, the QE program is providing at least as much monetary stimulus as before.
The global and Canadian economic outlooks have evolved largely as anticipated in the July Monetary Policy Report (MPR), with rapid expansions as economies reopened giving way to slower growth, despite considerable remaining excess capacity. Looking ahead, rising COVID-19 infections are likely to weigh on the economic outlook in many countries, and growth will continue to rely heavily on policy support.
In the United States, GDP growth rebounded strongly but appears to be slowing considerably. China's economic output is back to pre-pandemic levels and its recovery continues to broaden. Emerging-market economies have been hit harder, especially those with severe outbreaks. The recovery in Europe is slowing amid mounting lockdowns. Overall, global GDP is projected to contract by about 4 percent in 2020 before growing by just over 4 ½ percent, on average, in 2021–22.
Oil prices remain about 30 percent below pre-pandemic levels. Meanwhile, non-energy commodity prices, on average, have more than fully recovered. Despite continued low oil prices, the Canadian dollar has appreciated since July, largely reflecting a broad-based depreciation of the US dollar.
In Canada, the rebound in employment and GDP was stronger than expected as the economy reopened through the summer. The economy is now transitioning to a more moderate recuperation phase. In the fourth quarter, growth is expected to slow markedly, due in part to rising COVID-19 case numbers. The economic effects of the pandemic are highly uneven across sectors and are particularly affecting low-income workers. Recognizing these challenges, governments have extended and modified business and income support programs.
After a decline of about 5 ½ percent in 2020, the Bank expects Canada's economy to grow by almost 4 percent on average in 2021 and 2022. Growth will likely be choppy as domestic demand is influenced by the evolution of the virus and its impact on consumer and business confidence. Considering the likely long-lasting effects of the pandemic, the Bank has revised down its estimate of Canada's potential growth over the projection horizon.
CPI inflation was at 0.5 percent in September and is expected to stay below the Bank's target band of 1 to 3 percent until early 2021, largely due to low energy prices. Measures of core inflation are all below 2 percent, consistent with an economy where demand has fallen by more than supply. Inflation is expected to remain below target throughout the projection horizon.
As the economy recuperates, it will continue to require extraordinary monetary policy support. The Governing Council will hold the policy interest rate at the effective lower bound until economic slack is absorbed so that the 2 percent inflation target is sustainably achieved. In our current projection, this does not happen until into 2023. The Bank is continuing its QE program and recalibrating it as described above. The program will continue until the recovery is well underway. We are committed to providing the monetary policy stimulus needed to support the recovery and achieve the inflation objective.
Information note
The next scheduled date for announcing the overnight rate target is December 9, 2020. The next full update of the Bank's outlook for the economy and inflation, including risks to the projection, will be published in the MPR on January 20, 2021.
Halifax police say more fines coming as COVID-19 enforcement ramps up – CBC.ca
Halifax Regional Police are warning people who flout pandemic restrictions they can expect to see more fines given out as the province looks to halt the spread of COVID-19 with tougher measures.
Dr. Robert Strang, Nova Scotia's chief medical officer of health, said earlier this week police will be stepping up enforcement of COVID-19 regulations, especially illegal gatherings.
That means everyone who walks through the door of a party exceeding the maximum number of guests as outlined by the province will be handed a $1,000 fine — not just the host.
Const. John MacLeod, a spokesperson with the Halifax Regional Police, said the force is making sure that message is heard loud and clear.
"We know that people are not following the rules. And it's important for us now to start looking at this and to make sure that people can expect to see more fines and increased enforcement," MacLeod said in a recent interview.
"It's a very serious time right now, and with this spike in COVID, it's important that, you know, we do what we can to curb the spread."
114 active cases in N.S.
Nova Scotia reported 14 new cases of COVID-19 on Thursday, bringing the number of total active cases in the province to 114. Most of those cases are in the Halifax Regional Municipality.
The gathering limit for most of Nova Scotia without social distancing is capped at 10 people.
In the Halifax area and parts of Hants County, households can have no more than five visitors at any time, plus however many people reside in the home. The gathering limit in public for those areas is no more than five people, or up to the number of members of immediate family in a household. Those limits are in place until at least Dec. 9.
The new enforcement direction comes after police broke up a Halifax house party with about 60 people in attendance on Nov. 2. A single $1,000 ticket was issued under the Health Protection Act.
More than 500 calls to police this month
MacLeod said police have gotten 4,640 calls on Public Health restrictions, including physical distancing, failing to isolate, illegal gatherings and mask-wearing, between March and this week.
The majority of those calls to Halifax police were made in April, when 929 were logged. In October, there were 690 calls. As of midweek, 563 calls had been made in November.
Although the volume of calls has gone up and down depending on how strict the restrictions are, MacLeod said police are prepared to handle any spike in complaints and will deploy resources as needed to ensure the safety of the public.
Some people have told CBC News they called police to report infractions and were directed to Public Health instead.
MacLeod said enforcement is collaborative and other agencies have been tapped to handle specific aspects of public health measures.
"It really depends on the specific circumstances as to what resources are required," he said.
Quarantine Act violations
In rural areas of the municipality, RCMP investigate calls regarding COVID-19 regulations and officers determine what actions to follow, said Sgt. Andrew Joyce.
"The new direction has not changed our procedures at this time," he said.
Between March and Nov. 22, Halifax RCMP received 1,506 COVID-19-related calls, including 768 in regard to the Quarantine Act. The federal act states that travellers entering Canada must isolate for 14 days.
In RCMP jurisdictions outside Halifax, Joyce said about 2,400 calls were received between March and October.
Rural police prepared for possible cases
Outside the Halifax area, police forces in rural parts of the province have all been asked to take the new enforcement direction seriously.
Chief Scott Feener of the Bridgewater Police Service said they mostly see complaints about people not self-isolating or physically distancing, but rarely big gatherings.
"Basically since summer … public response has been exceptional," Feener said.
The force has only had about 140 calls come in since March regarding COVID-19 issues.
But if COVID cases spread into rural areas like Bridgewater, Feener said police are prepared to make some internal changes around scheduling and other tactics to ensure there are enough officers to respond to calls and reduce possible exposures.
MORE TOP STORIES
Ottawa outlines its COVID-19 vaccine rollout plan – CBC News: The National
[unable to retrieve full-text content]
How local, online startups are hoping to snatch Black Friday away from the big boys amid COVID-19 – CBC.ca
Black Friday sales on now have traditionally been the domain of big, national chains with beefed-up advertising budgets. But this year, there's a growing push to make sure that the annual bonanza of consumer spending goes as much as possible to the stores that need it most: small, local retailers.
While overall sales have been recovering from spring lows when the pandemic began, retailers continue to be hit hard by COVID-19. And the threat of low sales lingers, particularly as a new round of lockdowns across much of the country have forced the closure of stores that sell anything deemed non-essential.
Small mom and pop shops have always faced an uphill battle competing with the big boys who have the benefit of huge supply chains to squeeze suppliers, but initiatives across the country this year suggest the little guys are not going down without a fight.
A new approach
Ibrahim "Obby" Khan is the co-founder of Goodlocal.ca, a Winnipeg-based web platform that he describes as being like "Amazon and Etsy meet local."
As the owner of a half dozen Winnipeg restaurants, Khan knows just how hard things have been for local vendors lately. That's why he spearheaded a plan to bring together a handful businesses that were doing fine before COVID-19, but found themselves losing sales afterwards because they weren't able to pivot to online selling — or handle delivery, if they could get enough sales to make it worthwhile
WATCH | Ibrahim "Obby" Khan describes how his startup, Goodlocal.ca, has grown quickly:
Ibrahim 'Obby' Khan, founder of Winnipeg's Goodlocal.ca, talks about how his initiative to handle delivery for local small businesses has exploded this month 0:47
Goodlocal has become a sort of middle man for those businesses, connecting retailers with consumers who want to shop from them even amid current COVID restrictions. It's searchable by product and growing by the day.
"If you want it and it's local, you can order it. We will take care of the packaging, getting it from the vendor and we will drop it off at your house," Khan said.
While the initiative started slowly with a few dozen vendors, it now has wares from more than 200 — and a backlog of almost as many, looking to sign up. It's been such a success he hopes to expand across the province and maybe the country, next year.
Khan said the site has grown from just 18 orders on its launch day, a few weeks ago, to hundreds everyday. On Wednesday, the site processed a record 705 orders.
Goodlocal has put $91,000 worth of sales into retailers' pockets in a matter of weeks. Those are real dollars that could be the difference between staying open or shutting down forever for some of them, he said. "You could see tears in some of our vendors eyes … they were saying: 'I've sold more in two weeks than I have sold in the last nine months since COVID started'."
Best of all, he said, 95 per cent of customers end up buying something from more than one vendor, not just the one they sought out in the first place. And vendors say they are booking sales from new customers, not just their existing ones.
"It's really turning into this ecosystem of everything and anything local," he said.
Melissa Zuker's story is similar. In 2014, she co-founded the Toronto Market Co., which works with local restaurants, retailers and artisans to create pop-up shops and markets to sell their wares to the public.
Business was booming and then like everything else, COVID-19 brought things to a standstill in March of this year. As the concept of one-stop-shopping in a physical location became next to impossible to do, Zuker made the same digital pivot to try to recreate that market experience, online.
Growing business
In June, Torontomarketco.com was launched. A few dozen businesses signed up at first, but the response from customers was so encouraging that the site now works with almost 100.
The site offers either delivery, for a small fee, or contactless pickup. The holiday buying season, which starts roughly on Black Friday and goes through to Christmas, is a huge time on the retail calendar, with many businesses making up to half of their annual sales in this period.
Zuker's been pleased with the response from vendors and customers.
"Anything that we can do for anyone … that's been forced to close. I think it's really important to try to support them [because] your favourite bakery on the corner might not be there in the spring," she said.
"I think the concept to support local has always been there, but certainly in the last few weeks, the push to support local has been enormous."
Markus Giesler, a consumer researcher and associate professor of marketing at York University's Schulich School of Business in Toronto, said COVID-19 has fundamentally changed the way retailers sell and consumers buy.
Under normal circumstances, most consumers are very price sensitive and want the best deal, he said.
"And if the best deal means going outside of their community, going to the shopping mall somewhere else, then that goes at the expense of shopping local," he said in an interview.
But that rule of thumb isn't quite as iron clad this year, he said.
Thinking local
"We're a lot more willing to help local businesses and we're trying to do this in an effort to make a difference, you know, almost as a patriotic duty, if you will."
Small retailers still face a major uphill battle in their constant fight against big box sellers who can push prices lower and online behemoths like Amazon, which will always have a leg up in terms of speed and convenience. But initiatives like the ones in Toronto and Winnipeg can be a major weapon in that battle, he said.
"If more and more businesses come together, share logistics, share distribution, make the process easier to manage, make it more scalable, then you have a win-win situation where consumers and businesses work on the same end."
While seemingly overmatched against giants like Walmart, Amazon and others, Khan, a former CFL football player with Ottawa, Winnipeg and Calgary, has first-hand experience of how a focused team of underdogs can rally together to beat a heavy favourite.
"We have a fleet of drivers a lot of them volunteering their time to come in tomorrow and help us deliver," he said, pointing to a stack of more than 700 orders.
"It's rocking and rolling … we just really want to keep this thing going and support local businesses and keep people safe at home."