Beach Guild of Fine Art's winter show and sale to take place virtually this November – Beach Metro Community News – Beach Metro News
Photo above, Usha Kumar's Fascination will be among the works available at this month's virtual art show and sale hosted by the Beach Guild of Fine Art. Inset photo: Trish Cummings' Dusk at the Lake.
By KAI GAMMAGE
The Beach Guild of Fine Art (BGFA) is hosting a virtual art show and sale from Nov. 5 to 28 as a way to highlight the incredible talent the community has to offer and for residents to find a way to enhance their homes with engaging and unique artworks.
For 27 years, the BGFA has supported local artists and given them a place to showcase their work. The Guild has been hosting art shows since 1994 in spaces such as the Gardener's Cottage on Lee Avenue and the Beach United Church on Wineva Avenue.
Due to the ongoing COVID-19 pandemic, the BGFA switched to a virtual format to display its artists' work last year.
This month's show and sale is the fourth iteration of the Guild's online art event. The works that will be exhibited range from acrylic to oil and watercolour paintings, to wooden boxes that are perfect for gifts as they have an original painting on the lid.
"One of our mandates is to promote art within the Beach. We have a range of artists from realism to abstract, and different mediums from watercolour to acrylic, oil, and even sculpture." said Shelley Cinnamon, a member of the Guild and a past president.
"There are a tremendous number of artists in the Beach community, and I know that the community down here loves art. Fostering the arts is important to us."
The BGFA made the switch to a virtual format over the course of the pandemic, and will continue to run the shows this way until restrictions across the province ease further. Though much is lost with the switch to a virtual platform, finding ways to adapt to a changing world is something that makes art as special as it is.
"You have none of the 'oohs' and 'aahs' or even the 'oh don't like that one, wouldn't put that in my house' You don't get the immediate responses in an online show that you would get in-person," said Shelley.
"When you're working the show, you get input from others. Sometimes it's just a little kid running up and saying 'look look!', or sometimes it's more serious talk by possibly other artists. It's the outside voices that give you that validation."
Silver linings, though, can be found throughout this virtual experience as a whole.
For some artists, it gave them time to hone their craft, to stay home and put more energy into their art. According to Shelley, for a few members of the Guild, they looked towards art as their salvation of sorts in helping them overcome the darker days of the pandemic.
There's also a bright side for people looking to buy art at the show. Though you won't have that desired in-person connection with a piece and the artist, buying art has never been easier.
"Shopping is easy. If your kids are asleep and you want to look at art, you can go check it out from the comfort of your living room." said Shelley. "You could look at a painting, and look at the space on your wall right in front of you, and say 'that would look great right there!'"
To view the BGFA's winter art show and sale, please visit the website at https://www.beachartguildshowandsale.ca
For more information, please reach out to info@beachguildoffineart.com
---
Did you enjoy this article? If so, you may consider becoming a Voluntary Subscriber to the Beach Metro Community News and help us continue providing the community with more local content such as this. For over 40 years, our staff have worked hard to be the eyes and ears in your community, inform you of upcoming events, and let you know what and who's making a difference. We cover the big stories as well as the little things that often matter the most. CLICK HERE to support Beach Metro News.
Around Town: Art of Inclusion – Alaska Highway News
Carmella Klassen paints a snowman in the window of the Fort St. John Association for Community Living's Art of Inclusion studio on 100 Avenue.
The art program began earlier this year, and recently moved into a standalone studio down the street from the ACL office, where members show up to sessions on Tuesdays and Thursdays to learn how to work with paints and pastels, linocuts and silkscreens, and other mixed-media techniques.
"I love art," says Klassen, who has been taking part in the program since the beginning. "I make something new every time, and I want to learn how to do different things. Lorna is one of the best teachers I can think of."
Klassen is referring to Montney artist Lorna Penner, who has been helping out with instruction since August. On Tuesday afternoon, Penner was working with Klassen and others on mixed-media self-evaluations and teaching them how to paint with pastels.
"It's talking about how they feel when they do art. They're very determined, they're unique," says Penner.
Penner works with about four students per session, which she says is perfect. "We can really get into things very deep," says Penner.
The studio recently held a printmaking open house for family and friends, and exhibited a COVID-19 show at Peace Gallery North earlier this year.
The program wraps for the holidays next week and will continue in the new year.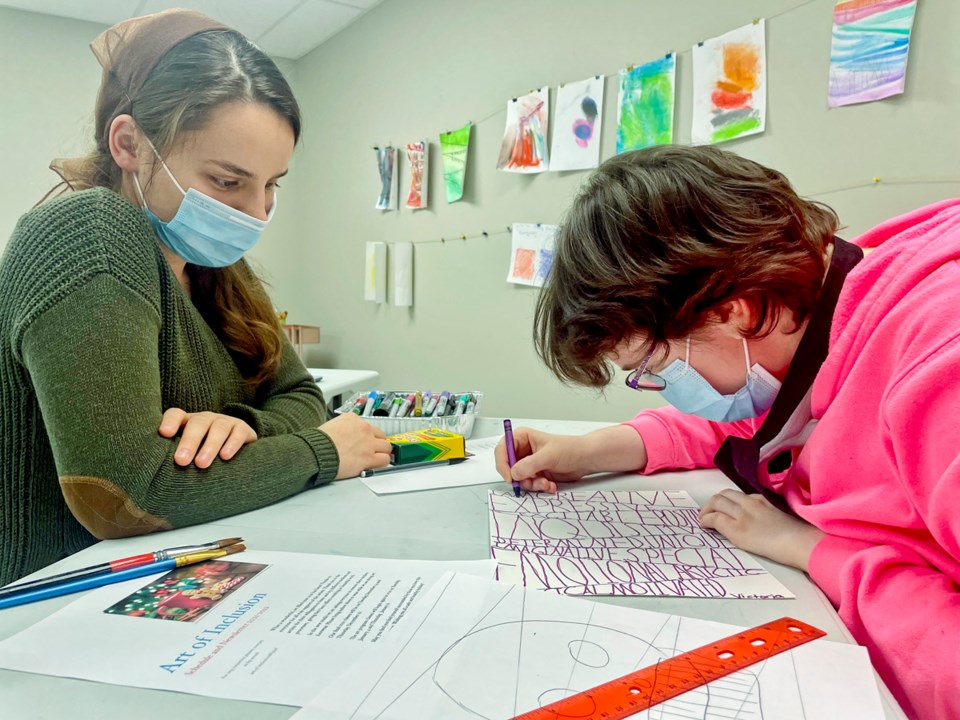 ---
Email Managing Editor Matt Preprost at editor@ahnfsj.ca
New Brunswick Grade 11 student now taking art seriously – Toronto Star
Afton MacDonald has been around art her whole life.
While she began and enjoyed doing art as a small child, the Carleton North High School Grade 11 student said she didn't take it seriously until 12 or 13.
"I remember when I was a young kid that I would watch my dad draw, and later I tried to copy him on my play easel," said MacDonald in her biography as the Creek Village Gallery and Café Young Artist for December and January.
She credited a young, talented artist who moved to her neighbourhood for sparking her interest in taking her artistic efforts to the next level.
"A girl a bit older than I had just moved in down the road, and she was an amazing artist," recalled MacDonald. "I admired her skill, and I made it my mission to become good at art."
While her efforts didn't pay dividends immediately, persistence did.
"It was a rocky start, but all through my middle school years, I drew obsessively, and it paid off," MacDonald said. "I really enjoy drawing because I love the process. I love seeing what beautiful things I can put on paper. I challenge myself to see how accurately I can draw faces or scenes."
This year, MacDonald is studying art at CNHS.
"I'm in Ms. Nickerson's Grade 11 visual arts class this semester," she said.
MacDonald called it a privilege to display her various styles of artwork on the Creek Village Gallery's Young Artist Showcase.
"I am so excited to share it with everyone," she said.
Paul Twyford of the Creek Village Gallery and Café said the Young Artist Showcase, sponsored by Woodstock businessman Greg McPherson, is designed to encourage talented young artists like MacDonald and enhance their exposure.
"It's so encouraging to them to have an opportunity to show and sell their artwork in a gallery," he said.
Twyford said MacDonald's work would remain on display through December and January.
He said MacDonald shared a unique business idea involving personalized art for potential clients, which intrigued him.
Twyford referred to the young artist's creation of an autobiographical piece of artwork, which not only includes a self-portrait but lists her likes, dislikes, friends, interests and other personal details.
For $50, she'll create an art bio for others," said Twyford. "They can contact Afton by email for more information at aftymacdonald@gmail.com
MacDonald said biographical art is one of my favourite things to make.
"I wanted to incorporate it with my display somehow, but I didn't know how to make it relate to others," she said.
MacDonald provided Twyford with her email address, explaining if someone wants their own customized bio, they simply email her.
"From there, I will send them a form to fill out with the information that I would need to complete the bio," MacDonald said. "It'll mostly be things like likes, dislikes, interesting information, age, birthday and so on. They will also provide me with a photo so I can recreate it digitally."
She said a person could also commission a biographical art piece for someone else, perhaps to give as a Christmas gift.
"I'm really hoping that people will be interested in commissioning me to do this for them because I think it would be a really cool experience," said MacDonald.
Lawrence Weiner obituary – The Guardian