Bennu asteroid will come very close to Earth, but scientists say not a reason for concern. – The Washington Post
But not to panic, scientists with NASA said Wednesday. Though Bennu will come within half the distance of the moon, the odds of the asteroid colliding with Earth in the next century and causing Armageddon-type of destruction are still very low.
"Even though there is no possibility whatsoever of in impact during that encounter, Bennu is going to be fairly close to the Earth," said Davide Farnocchia, a scientist with the Center for Near Earth Object Studies, a NASA center that calculates asteroid and comet orbits and their odds of impact at the Jet Propulsion Laboratory in Southern California.
Although researchers believe Bennu will not impact Earth, they now face the challenge of deciphering how our planet's gravity will alter the asteroid's path around the sun, NASA scientists said in a conference call with reporters Wednesday.
Scientists noted there is small possibility that the asteroid could pass through what's known as a "gravitational keyhole" that could put it in en route to Earth at a later date in the 22nd century. A gravitational keyhole is a tiny region in space where a planet's gravity can tweak the trajectory of a passing asteroid and put it on a path to collide with it in the future.
Farnocchia said that although recent findings show the odds of impact have slightly increased — from 1 in 2,700 to 1 in 1,750 over the next century — it "does not represent significant change," or a reason to worry.
Farnocchia explained that scientists now have a much better idea of Bennu's path thanks to data collected by NASA's Origins, Spectral Interpretation, Resource Identification, Security-Regolith Explorer (OSIRIS-REx) spacecraft, which orbited and studied the asteroid for over two years.
"Overall the situation has improved," Farnocchia, the lead author of a study published Wednesday, told reporters in a conference call. "I am not any more concerned about Bennu than I was before; the impact probability remains very small."
In the study, NASA researchers used precision-tracking data from the OSIRIS-REx spacecraft to better understand Bennu's movements through 2300, improving scientists' ability to determine the probability of impacting Earth and predict the orbits of other asteroids.
Using NASA's Deep Space Network of giant radio antennas that support interplanetary spacecraft missions and computer models, scientists were able to determine Bennu's overall probability of striking is about 1 in 1,750 (or 0.057 percent.)
Looking at it from a glass-half-full perspective, it means there is a 99.94 percent probability that Bennu will not hit our planet.
Scientists also calculated the day with the highest risk of collision: Sept. 24, 2182, with a probability of 1 in 2,700 (or about 0.037 percent) — which is still lower that the overall probability of impact through 2300.
The potentially hazardous asteroid was discovered in 1999 by the Lincoln Near-Earth Asteroid Research Team, a program that works on detection and tracking, and has been closely observed with 580 ground-based "astrometric observations," mainly made by optical and radar telescopes through 2018, according to the study published in Icarus Journal.
Since its discovery, Bennu has had three close encounters with Earth, in 1999, 2005 and 2011, during which two radar stations collected data of the asteroid's measurements.
Although the chances of it colliding with Earth are very low, Bennu remains one of the two most hazardous known asteroids in our solar system, along with another called 1950 DA, NASA said in a news release.
Researchers stated that the most pressing threat for Earth from space objects are hazardous asteroids that are undetected. However, they said they have detected about 60 percent of those similar in size to Bennu.
In 2016, NASA launched the OSIRIS-REx spacecraft to fly in close proximity to Bennu to gather information about its size, shape, mass, and composition, while monitoring its spin and orbital trajectory to evaluate its potential danger.
After a 27-month-long journey, OSIRIS-REx arrived in the asteroid's orbit in 2018 and spent two years closely studying the object, before coming back to earth on May 10 of this year.
"The OSIRIS-REx data give us so much more precise information, we can test the limits of our models and calculate the future trajectory of Bennu to a very high degree of certainty through 2135," said Farnocchia. "We've never modeled an asteroid's trajectory to this precision before."
The spacecraft also scooped up a sample of rocks and dust from the asteroid's surface, which it will drop to Earth two years from now, on Sept. 24, 2023, landing in Utah's Great Salt Lake Desert.
"The orbital data from this mission helped us better appreciate Bennu's impact chances over the next couple of centuries and our overall understanding of potentially hazardous asteroids — an incredible result," said Dante Lauretta, OSIRIS-REx principal investigator and professor at the University of Arizona.
"The spacecraft is now returning home, carrying a precious sample from this fascinating ancient object that will help us better understand not only the history of the solar system but also the role of sunlight in altering Bennu's orbit since we will measure the asteroid's thermal properties at unprecedented scales in laboratories on Earth," he said, according to the news release.
A week after the spacecraft entered its first orbit around Bennu, on Dec. 31, 2018, the mission's team came to the surprise realization that the asteroid was releasing small pieces of rock into space.
OSIRIS-REx is not the only spacecraft from Earth exploring an asteroid. Hayabusa2, launched by Japan's space agency in 2014, began orbiting the near-Earth asteroid Ryugu in 2018 and in 2020 successfully completed its mission to collect samples and return them to Earth — according to the Japan Aerospace Exploration Agency.
Traveling at approximately 600 miles per hour, Bennu would unleash the energy of more than a billion tons of TNS if it were to crash into Earth, according to NASA's calculations.
The resulting damage depends on a number of factors and specific circumstances, including location and angle of entry into our atmosphere, but it could create a crater three to six miles in diameter, said Lindley Johnson, NASA's planetary defense officer. The area of devastation would be much bigger: as much as 100 times the size of the crater.
If an object Bennu's size hit the Eastern Seaboard, it "would pretty much devastate things up and down the coast," he told reporters.
Strontium isotopes can map monarch butterfly migrations and help conservation efforts – Yahoo News Canada
The eastern North American population of monarch butterflies are famous for their annual, multi-generational, round-trip migration from the oyamel fir forests of Central Mexico through the United States to Canada and back. Sadly, the population of monarch butterflies is declining, and the future of the monarch migratory phenomenon is uncertain.
Scientists can study migrations by looking at the chemicals stored within the teeth, bones, tusks and wings of animals. In the case of monarch butterflies, the signature contained in its wings reveals where it was a caterpillar, allowing researchers to trace its natal origin, or birthplace.
Isotopes are atoms of the same element that have different masses because they have a different number of neutrons. For some elements, such as hydrogen and strontium, the proportion of heavy versus light isotopes in the environment changes predictably between locations, giving locations unique isotopic signatures. A map of these local isotopic signatures is called an isoscape.
Read more: Explainer: what is an isotope?
Isotopes have informed conservation efforts for decades because they are helpful for identifying where an animal has migrated from.
Strontium (Sr) is an alkaline earth metal with four stable isotopes: 84Sr, 86Sr, 87Sr and 88Sr. Strontium isotopes ratios (the ratio of 87Sr to 86Sr) are a new addition to the ecologist's isotopic toolbox. Strontium isotopes will help ecologists pinpoint the origins of migrating animals more precisely and solve longstanding questions related to the migratory connectivity and migratory patterns of monarch butterflies.
What bodies can reveal
As animals (including humans) feed and drink, they incorporate the local isotopic signature into their bodies. The isotopic signature of animal tissue can then be compared to an isoscape map to find out where the tissue was formed.
For example, the strontium isotope ratio of human teeth can tell you where a person spent their childhood because teeth are formed early in life. Human bones, however, will tell you where they spent the last decade of their life because bone tissue replaces itself every 10 years or so.
Some tissues grow in layers over time, like in tree rings or fish earbones. These layered tissues reveal where an animal was located at different times of its life, as shown with mammoth tusks.
Why do we need isotope geolocation?
Ideally, we would study animal migration by putting tiny radio transmitters on many individuals and tracking them for a long period of time. However, this approach isn't practical in many situations.
For example, we cannot use a radio transmitter to find the origin of poached elephant ivory or the home range size of extinct lemur specimens from a museum. But we can use isotopes to learn something about the lives of these deceased animals.
Some animals, like insects, are too small and numerous to be effectively tracked using tagging methods. Although significant advances have been made in recent years, insects are still too small to be tracked with radio transmitters on a large scale. Therefore, isotopes are one of our best tools for answering questions about insect migratory patterns and connectivity. Given the current context of global climate change and population declines, we urgently need to know more about animal migration so that we can conserve migrations for future generations.
Read more: Monarch butterflies raised in captivity can still join the migration
The case of monarch butterflies
Hydrogen and carbon isotopes have been used for decades to trace the natal origins of monarch butterflies. These studies have helped guide conservation efforts and inform listing decisions.
For example, isotopes have helped researchers figure out which regions of the United States contribute the most monarchs to the overwintering population. Other studies have shown that some monarchs are opting for a non-migratory lifestyle and have shown that an extreme northwestern migration into Canada came from the Midwest.
Strontium isotope ratios and monarch butterflies
My collaborators and I recently demonstrated how strontium isotopes can be used to study animal migration. We found that strontium isotopes, especially when combined with hydrogen isotopes, can estimate the natal origin of a monarch butterfly to a more precise geographic location — about four times better — than using hydrogen alone.
In our study, we created a strontium isoscape map for the breeding range of the monarch butterfly. This means we now have a ready-to-use tool for estimating the natal origin of monarch butterflies using strontium.
We hope that applying strontium isotopes to both new and archived monarch specimens will advance our understanding of how monarch migration patterns and connectivity have changed over time, and ultimately help guide conservation actions to protect this migratory phenomenon.
This article is republished from The Conversation, a nonprofit news site dedicated to sharing ideas from academic experts. It was written by: Megan Reich, L'Université d'Ottawa/University of Ottawa.
Read more:
Megan Reich receives funding from the Ontario Government (OGS and QEII-GSST), the University of Utah SPATIAL group (ORIGIN Graduate Fellowship), and the Entomological Society of Canada.
World's most dangerous bird raised by humans 18000 years ago, study suggests – CTV News
The earliest bird reared by humans may have been a cassowary — often called the world's most dangerous bird because of its long, dagger-like toe.
Territorial, aggressive and often compared to a dinosaur in looks, the bird is a surprising candidate for domestication.
However, a new study of more than 1,000 fossilized eggshell fragments, excavated from two rock shelters used by hunter-gatherers in New Guinea, has suggested early humans may have collected the eggs of the large flightless bird before they hatched and then raised the chicks to adulthood. New Guinea is a large island north of Australia. The eastern half of the island is Papua New Guinea, while the western half forms part of Indonesia.
"This behavior that we are seeing is coming thousands of years before domestication of the chicken," said lead study author Kristina Douglass, an assistant professor of anthropology and African studies at Penn State University.
"And this is not some small fowl, it is a huge, ornery, flightless bird that can eviscerate you," she said in a news statement.
The researchers said that while a cassowary can be aggressive (a man in Florida was killed by one in 2019), it "imprints" easily — it becomes attached to the first thing it sees after hatching. This means it's easy to maintain and raise up to adult size.
Today, the cassowary is New Guinea's largest vertebrate, and its feathers and bones are prized materials for making bodily adornments and ceremonial wear. The bird's meat is considered a delicacy in New Guinea.
There are three species of cassowary, and they are native to parts of northern Queensland, Australia, and New Guinea. Douglass thought our ancient ancestors most likely reared the smallest species, the dwarf cassowary, that weighs around 20 kilograms (44 pounds).
The fossilized eggshells were carbon-dated as part of the study, and their ages ranged from 18,000 to 6,000 years old.
Humans are believed to have first domesticated chickens no earlier than 9,500 years ago.
NOT FOR SNACKING
To reach their conclusions, the researchers first studied the eggshells of living birds, including turkeys, emus and ostriches.
The insides of the eggshells change as the developing chicks get calcium from the eggshell. Using high-resolution 3D images and inspecting the inside of the eggs, the researchers were able to build a model of what the eggs looked like during different stages of incubation.
The scientists tested their model on modern emu and ostrich eggs before applying it to the fossilized eggshell fragments found in New Guinea. The team found that most of the eggshells found at the sites were all near maturity.
"What we found was that a large majority of the eggshells were harvested during late stages," Douglass said. "The eggshells look very late; the pattern is not random."
These late-stage eggshells indicate people living at these two rock shelter sites were harvesting eggs when the cassowary embryos had fully formed limbs, beaks, claws and feathers, the study said.
But were humans purposefully collecting these eggs to allow them to hatch or collecting the eggs to eat? It's possible they were doing both, Douglass said.
Consuming eggs with fully formed embryos is considered a delicacy in some parts of the world, but Douglass said the research team's analysis suggested people were hatching the chicks.
"We also looked at burning on the eggshells," Douglass said in the news release. "There are enough samples of late stage eggshells that do not show burning that we can say they were hatching and not eating them."
BIG BIRD AS VALUABLE RESEARCH
Less mature eggshells showed more signs of burning — suggesting that when cassowary eggs were consumed they were cooked and eaten when their contents were primarily liquid.
"In the highlands today people raise cassowary chicks to adulthood, in order to collect feathers, and consume or trade the birds. It is possible cassowaries were also highly valued in the past, since they are among the largest vertebrate animals on New Guinea. Raising cassowaries from chicks would provide a readily available source of feathers and meat for an animal that is otherwise challenging to hunt in the wild as an adult," she explained via email.
However, there is still much the researchers don't know.
To successfully hatch and raise cassowary chicks, people would need to know where the nests were, know when the eggs were laid and remove them from the nest just before hatching. This is no easy feat as birds don't nest at the same sites each year. Once a female lays the eggs, male birds take over nest duty and don't leave for 50 days while incubating the eggs.
"People may have hunted the male and then collected the eggs. Because males don't leave the nest unattended they also don't feed much during the incubation period making them more vulnerable to predators," she said.
The research was published in the peer-reviewed scientific journal PNAS on Monday.
Atlas V: Rocket launch creates strange lights in UK sky – BBC News
Amateur stargazers in the UK were sent rushing for their cameras by strange cone-shaped lights in the sky created by a US rocket.
Nasa launched the Atlas V, carrying the Landsat 9 satellite, at about 20:00 BST on Monday.
About two hours later it performed a reversing manoeuvre, releasing two glowing clouds of vapour.
Clear skies made for an out-of-this-world view of the stellar spectacle, visible above large parts of UK.
Photographer Simon Woodley "couldn't believe his eyes" when he snapped the launch from South Shields.
Mr Woodley was out taking photos of the moonrise when he saw the unknown bright light for "three or four minutes".
"I went through the possibilities of comet or aircraft or even a laser beam. It was only when I got home I found out what it was," he said.
Education charity UK Astronomy said the light was the rocket's deorbit burn, created as it fires its engines to commence its re-entry into Earth's atmosphere before burning up.
Astronomer and science writer Will Gater said the glowing, tear drop-shaped clouds were a result of sunlight scattering off material released into space.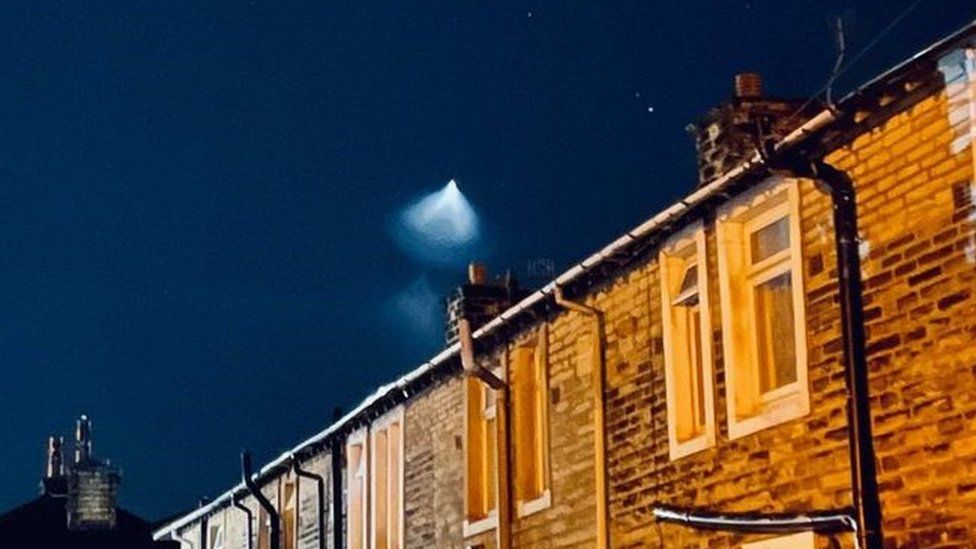 Elliott Stone, who snapped the rocket from his garden in Keighley, West Yorkshire, thought he was seeing a comet at first.
"I noticed it was travelling the wrong way, so I thought it must have been a plane with its light on," Mr Stone said.

What is the Landsat 9 satellite?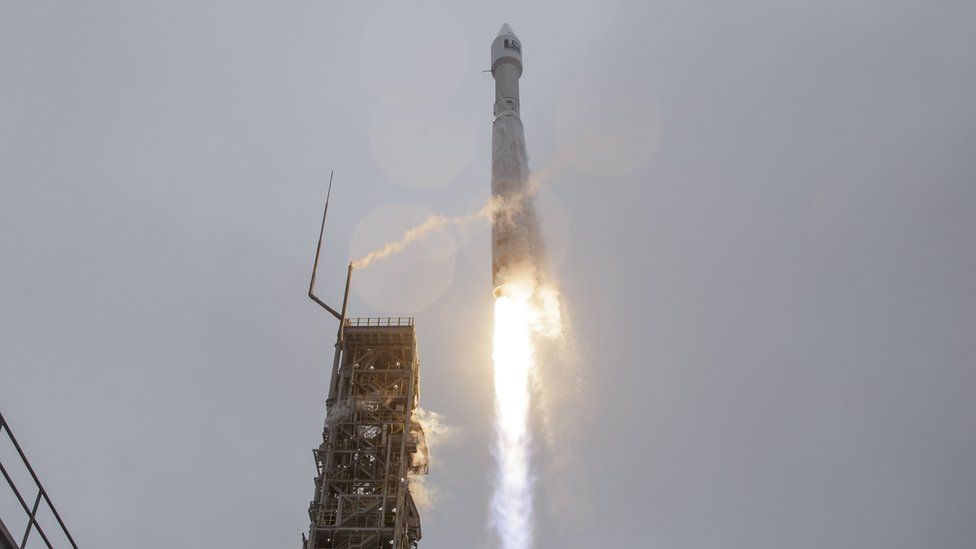 Landsat 9 is part of a satellite array photographing and measuring the Earth's surface
The first Landsat satellite launched in 1972
Designed to measure changes on Earth such as deforestation
Launched into orbit using an Atlas V rocket from Vandenberg Space Force Base in California

In Whitley Bay, Tyne and Wear, Ian Sproat was left "scrambling" to set up his camera when he saw the light above him.
"I was gobsmacked, I honestly thought it was a meteor or a comet, never did I expect to see the Landsat 9," he said.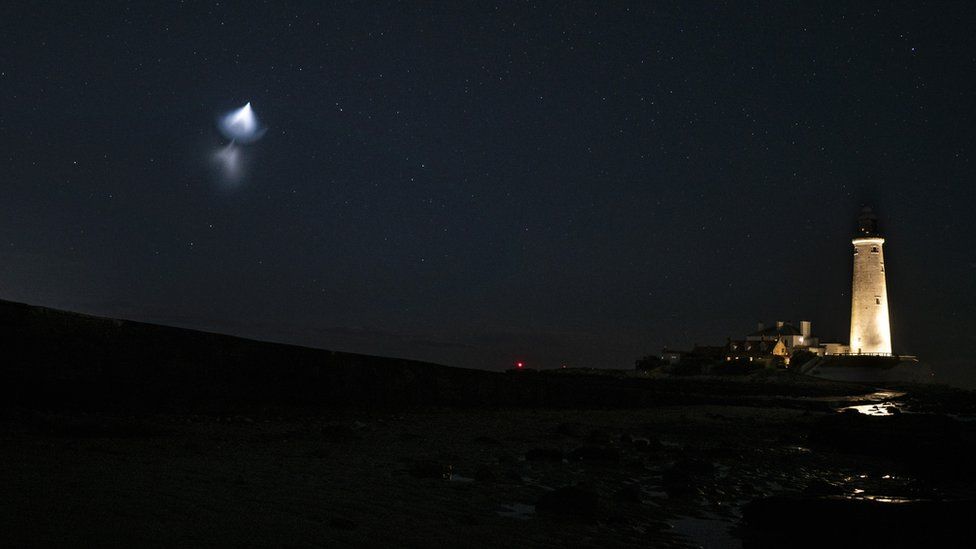 Mr Sproat only went to the spot near St Mary's Lighthouse because he thought he might be able to see the northern lights.
"When I got there and was setting up, a ball of light appeared above me," he said.
He felt "truly blessed to have witnessed this spectacular sight", he added.
Fellow astronomy enthusiast Freddy Lees snapped a photo of the rocket from Nottingham as it climbed above the tree line shortly after 22:00.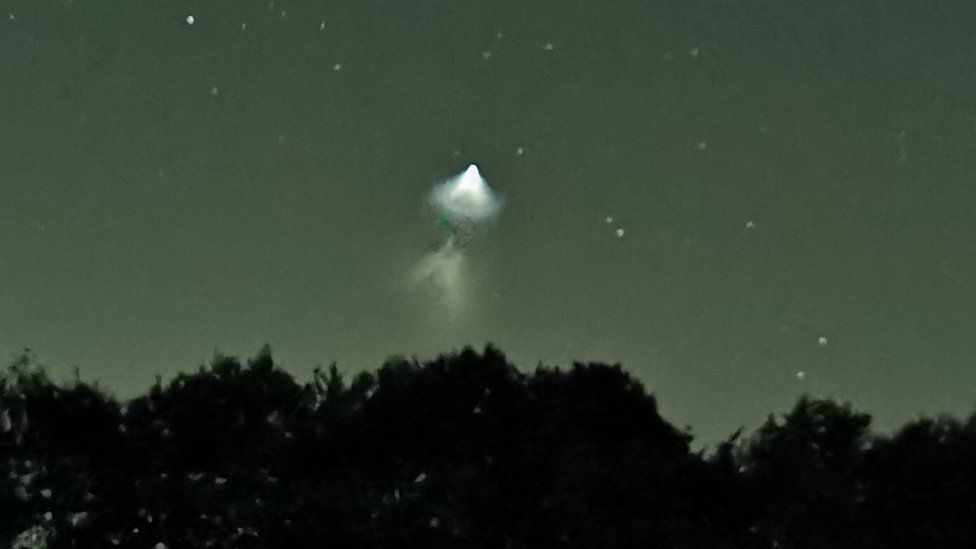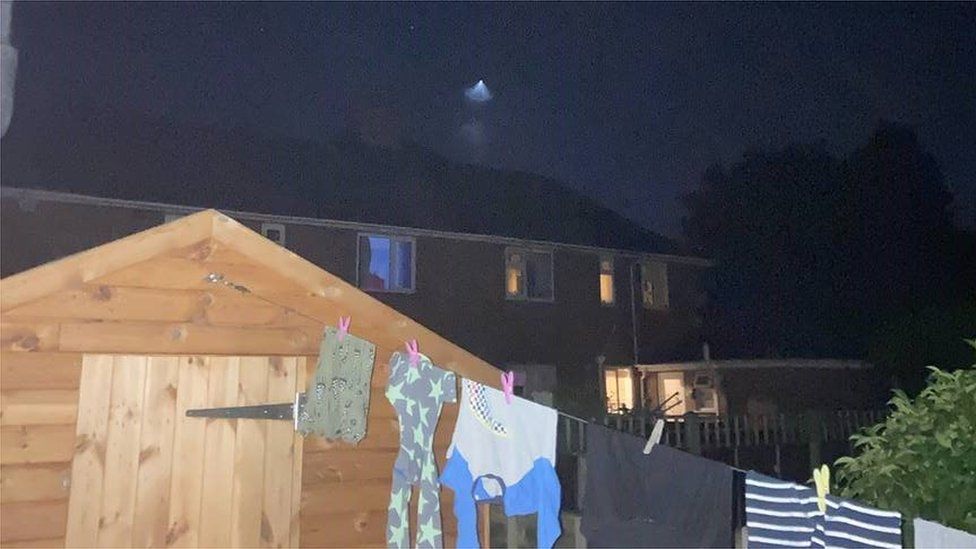 The NASA Atlas V rocket was launched from California's Vandenberg Space Force base 20:11 BST.
Visible rocket burns are rare in European skies and more often seen above Florida or California.