Biden is close to the point of no return with Americans on the economy – CNN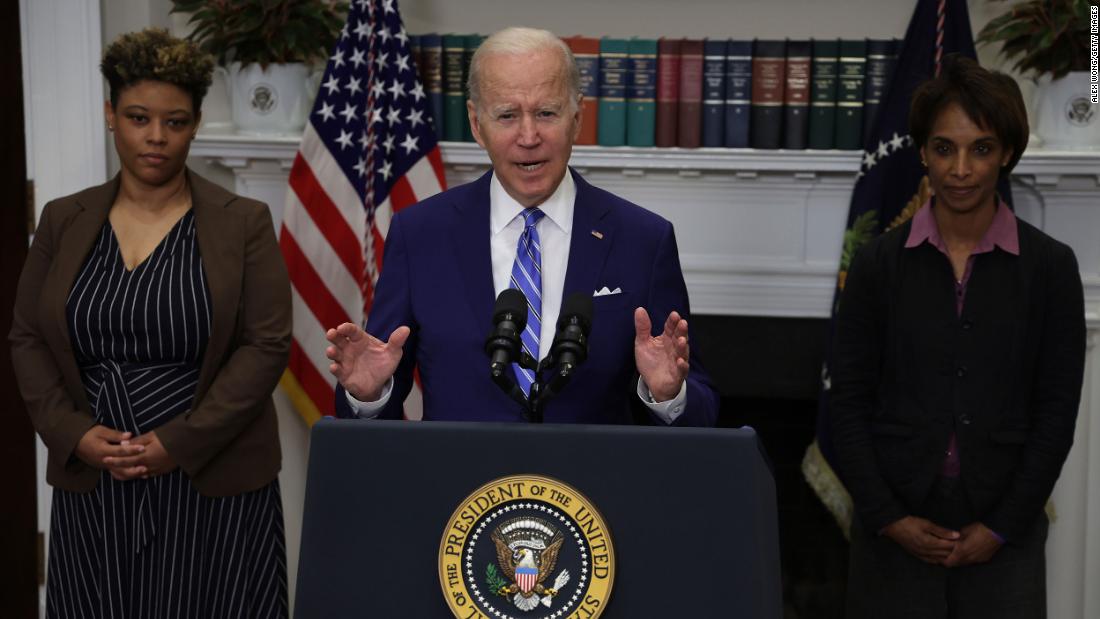 (CNN)President Joe Biden and his administration appear perilously close to an irreversible severing of public confidence in his capacity to deliver prosperity and financial security as stiff economic challenges balloon into huge political liabilities.
The main culprit is
inflation
, a corrosive force that the White House initially underestimated and has failed to tame. It's been decades since Americans have experienced this demoralizing cycle of spiraling costs for basic goods and services. That shock is twinned with punishing gasoline prices that also hammer family budgets and spread pain across the population — in a way that a regular recession, which can destroy millions of jobs but not hurt everyone — may not.
The result is a looming political disaster for Democrats, with voters in a disgruntled mood ahead of
midterm elections
that were already historically tough for a first-term President.
The party seems stuck in a dangerous political position of insisting the economy is doing well while voters think it's in the tank.
The CNN poll, conducted by SSRS from April 28 to May 1, showed that a majority of Americans think Biden's policies have hurt the economy, while 8 in 10 say the government is not doing enough to combat inflation. It was released on the same day
the Federal Reserve made its biggest swing
against the rising cost of living in 22 years. The central bank
raised interest rates
by half a percentage point, but it triggered a stocks rally by indicating that despite adjustments to come, it did not anticipate further huge spikes in the price of borrowing.
"I'd like to take this opportunity to speak directly to the American people," Federal Reserve Chairman Jerome Powell said at the start of a news conference. "Inflation is much too high, and we understand the hardship it is causing. We are moving expeditiously to bring it back down."
Yet the strikingly direct moment may not quell concerns that the Fed and the White House have acted too slowly to tackle inflation, are not using sufficiently aggressive methods to ease it and may still be overtaken by global factors, including the war in Ukraine and the fallout from the Covid-19 pandemic, which clogged supply chains, sent energy prices soaring and triggered other rising prices.
What the interest rate hike means
The rate increase will make new home and car loans and payments on credit card balances more expensive. But in the process, it could cool the housing market, making it easier to buy a home and taking the heat out of rising prices.
Justin Wolfers, a professor of economics at the University of Michigan, explained that Americans could see results from the rate hikes in their daily lives, as inflation simmers at the highest levels since Ronald Reagan's 1980s presidency.
"What the Fed is hoping to do is cool inflation a little so your paycheck will go a little further, although that will mean slowing the economy and that might mean a little less bargaining power for workers and fewer prospects of a wage rise anytime soon," Wolfers said on CNN's "Newsroom."
The White House is showing clear signs of frustration that inflation is overshadowing the strong aspects of an economy that appears in remarkably robust shape — despite
a small contraction of 1.4%
in the first quarter — given the cataclysm of a two-year pandemic and the worst war in Europe since 1945.
Biden, for example, on Wednesday touted cuts in the federal budget deficit and an unemployment rate that is approaching 50-year lows in a speech that appeared to be an attempt to get ahead of the Fed announcement and to signal resolve.
Yet his political plight is underscoring why inflation remains a force that is dreaded by political leaders everywhere.
Despite Republican claims in midterm campaign ads that Biden's public spending policies are the sole cause of inflation, the President is correct to identify outside factors, including the pandemic and the war in Ukraine, as the main drivers of rising prices.
But the reality doesn't mean voters will give Biden a pass. It's the nature of the job that when the country is in a grim mood, the President gets the blame. And when the White House's efforts to explain the problems and fix them have sometimes been muddled and too late, the political damage mounts. Biden may never shake off the initial White House line that high inflation was a "transitory" phase coming out of the pandemic. And while the economy is strong in many areas, voters' perception is often more important politically than the data that tells the real story.
A daunting poll for the White House
The CNN poll, for example, says that only 23% of Americans rate economic conditions as even somewhat good, down from 37% in December. The last time public perception of the economy was this poor in CNN's polling was November 2011. Only 34% approve of Biden's management of the economy. And his approval rating on helping the middle class — 36% — is devastating for a President who has made that issue the foundation of his political career.
The question of public perception versus the true state of the economy is also borne out in the poll. Americans said by nearly 4 to 1 that they were more likely to hear bad news than good news about the economy.
Some 94% of Republicans rate economic conditions as poor. This suggests that views of the economy may be shaped by partisan leanings as much as a neutral judgment of conditions. Conservative news channels keep a constant drumbeat of horror stories about rising prices, and Republicans have made the issue an effective campaign tool while hyping the strength of ex-President Donald Trump's economic performance.
Yet 81% of independents and 54% of Democrats also think the economy is poor, suggesting that Biden has taken a hit among some of the voters who put him in office.
Americans are more positive about their own finances than about the national economic situation, with 53% saying they're satisfied with their personal financial situations. That could again indicate that a wider sense of malaise is coloring views of the economy. Still, that figure is down from 66% in 2016.
Given this catalog of gloom, Biden's tone and topic on Wednesday were a little surprising.
He claimed credit for a $1.5 trillion cut in the federal deficit by the end of the year. This compares with the profligacy of the debt-laden Trump years and exposes the hypocrisy of Republican deficit hawks who forget their supposed principles when one of their own is in the Oval Office.
Yet how many Americans stretching their weekly budgets care that much about deficits — even if, as Biden said, lowering them could bring down inflation in the long term?
The White House event also exposed the President's frustration that he's not getting credit for what's good about the economy.
When a reporter asked him about Ukraine and the Supreme Court's abortion drama, he replied: "No one asked about deficits, huh? … You want to make sure this doesn't get covered."
What happens next
The best hope for Biden, other Democratic politicians and all Americans facing an economic crunch is that the Fed's approach works and prices fall. And some perspective here: The economy isn't facing the full-blown disaster of 2008 or even the inflationary nightmares of 40 years ago.
"I don't think we have the economy of the 1980s or the 1970s," Betsey Stevenson, who was a member of President Barack Obama's Council of Economic Advisers, said on "The Lead with Jake Tapper" on Wednesday.
But it's hard to see how things get better quickly — or anywhere near in time to make a difference to Biden before the midterms.
Even if the war in Ukraine ends soon, the fundamental shifts it has unleashed in the global economy will play out for years. More pressure on food prices is certain if the harvest in Europe's breadbasket — a major source of grain and sunflower oil — is disrupted by the war. New Covid-19 lockdowns in China could revive supply chain chaos that helped push up inflation in the first place. Some observers think the Fed has moved too slowly. Others think that its assault on inflation will cause a recession.
JPMorgan Chase CEO Jamie Dimon
, appearing on Bloomberg TV on Wednesday before the Fed's announcement, said that although the economy is strong and consumers are in good shape, vulnerabilities are everywhere. He sees, for instance, a 1 in 3 chance of a "mild recession" that spans six to nine months but warned there's "a chance it's going to be much harder than that."
So for the country, and for Biden especially, there's more frustration to come.
China's Ailing Pork Demand Another Sign of Economic Distress
(Bloomberg) — The fall holidays in China are usually boom-time for pork consumption, as parties and cooler weather entice households to splurge on the nation's favorite meat.
The Mid-Autumn Festival on Friday typically gathers friends and family over celebratory fare like braised pork belly or sweet and sour ribs. This year, the lunar holiday is followed in short order by the weeklong National Day break, which should extend demand for the more expensive meatier dishes beloved by Chinese.
But consumption is falling flat and supplies are ample. Much of the blame lies with a weak economy and financial uncertainty that to some degree has affected all of China's commodities markets. Prices of hogs and pork, which usually rise in anticipation of shoppers opening their wallets, have actually fallen. It's a troubling sign for an industry that has yet to recover from the constraints imposed by the pandemic.
"Pork is selling poorly," said Yao Shangli, a wholesaler based in Shanghai supplying restaurants in the city. "Look at the economic situation now. The economy is bad. There's no demand. There wasn't a wave of stock-building before the holiday either," he said.
Chinese pork consumption is nearly five times that of 40 years ago, mirroring the rise of the middle classes. But even relatively well-off households are watching the pennies as the economy slows and a protracted property crisis saps confidence.
The impact will be felt as far afield as the Americas, whose farmers supply most of the animal feed for China's vast pig herd. There's also a direct impact on financial markets because of the meat's weighting in the basket of food monitored by China's central bank, with a drop in pork prices contributing to deflationary pressures in the economy.
In the wet markets of Guangdong in southern China, sales of fresh pork have been slow, said Citic Futures Co. Meat that should have sold out in the morning was still sitting on shelves in the afternoon, according to a report from the broker at the weekend.
Slaughter Rates
Hog prices nationwide have dropped over 5% so far this month, and wholesale pork prices have also turned lower. Slaughter rates at abattoirs are flat.
Carcass sales have slowed and slaughterhouses aren't getting many orders, according to commodities consultancy Mysteel, which cited the impact of the sluggish economy.
"This round of restocking for the holidays is basically over and demand didn't really kick off," said Zhu Di, an analyst with GF Futures Co.
Demand for cured pork usually rises toward the end of the year and that could give the market a boost, according to Zhu. "But I'm not sure how much it will be," she said. "There's too much supply. We are quite pessimistic about prices in the fourth quarter."
That puts Chinese farmers in a bind. Profitability is already lagging pre-pandemic levels, due to a combination of oversupply, weak demand, high feed prices and the costs of fending off diseases like African swine fever.
With hopes dashed this time around, the focus will switch to the run up to the next festival period around Lunar New Year — the period of heaviest demand for pork in the Chinese calendar.
The Week's Diary
(All times Beijing unless noted.)
Thursday, Sept. 28
China weekly iron ore port stockpiles
Shanghai exchange weekly commodities inventory, ~15:30
China Intl Aluminum Week in Yinchuan, Ningxia, day 3
Friday, Sept. 29
China's Mid-Autumn Festival holiday
Saturday, Sept. 30
China's official PMIs for September, 09:30
Sunday, Oct. 1
Caixin's China PMIs for September, 09:45
On the Wire
Saudi Aramco will start talks to buy a 10% stake in a Chinese refining and petrochemical company, as it looks to boost its presence in the world's biggest energy importer.
©2023 Bloomberg L.P.
Economy doing better than expected in face of higher interest rates, banking watchdog says – Financial Post
We use cookies and data to
Deliver and maintain Google services
Track outages and protect against spam, fraud, and abuse
Measure audience engagement and site statistics to understand how our services are used and enhance the quality of those services
If you choose to "Accept all," we will also use cookies and data to
Develop and improve new services
Deliver and measure the effectiveness of ads
Show personalized content, depending on your settings
Show personalized ads, depending on your settings
If you choose to "Reject all," we will not use cookies for these additional purposes.
Non-personalized content is influenced by things like the content you're currently viewing, activity in your active Search session, and your location. Non-personalized ads are influenced by the content you're currently viewing and your general location. Personalized content and ads can also include more relevant results, recommendations, and tailored ads based on past activity from this browser, like previous Google searches. We also use cookies and data to tailor the experience to be age-appropriate, if relevant.
Select "More options" to see additional information, including details about managing your privacy settings. You can also visit g.co/privacytools at any time.
Chinese social media censored a top economist for his bearish predictions. He now warns that China's property crisis will take a decade to fix
How long will it take to fix China's flailing real estate sector? One of the country's most prominent economists, who was ejected from its social media platforms for his bearish predictions about the economy, thinks it might take 10 years to fix.
"Fixing the property sector may be a multiyear or even a decade's work in front of us," Hong Hao, chief economist for Shanghai-based hedge fund Grow Investment, said on CNBC Tuesday.
That will mean more pain for China's suffering real estate sector, now two years into its debt crisis. A default in 2021 by China Evergrande Group, one of the country's largest private developers, sparked contagion across the whole sector as financing dried up. Construction stopped, leading to protests as homebuyers realized they might never get the homes they paid for.
Now with China's economy underperforming after the COVID pandemic, Beijing officials are grappling with how to wean the economy from real estate without torpedoing the economy in the short term.
For much of the past decade, Chinese developers like Evergrande went on a debt-fueled construction spree, building millions of new homes throughout the country. That's led to an oversupply, dragging down prices.
"We built way too much housing for Chinese people," Hong said on CNBC.
Demand is also in long-term decline. Investment bank Goldman Sachs estimated in August that China's annual urban housing demand peaked at 18 million units in 2017, and will fall to 11 million units this year and 9 million units by 2030.
On Tuesday, Hong pointed to slowing rates of urbanization, with fewer rural Chinese moving to the cities for work. "Two years ago, we were selling 18 trillion yuan [$2.5 trillion] worth of property," he said. "This year, we'd be lucky to do even [10 trillion yuan], and going down the road, we'd be lucky to do even [5 trillion] or [6 trillion]."
Bearish takes
Hong is an outspoken commentator on China's economy, growing his audience during his tenure as the head of research of BOCOM International, a division of state-owned Bank of Communications.
Yet Hong's takes were censored last year amid China's tough COVID lockdowns in cities like Shanghai. Hong argued that the lockdown, which trapped millions of people to their apartments in a bid to stop an outbreak, would hurt China's economy and would encourage capital flight.
Both WeChat—the ubiquitous messaging platform—and Twitter-like Weibo suspended Hong's accounts in May 2022. Hong soon resigned from BOCOM, which the company said was for personal reasons.
When Hong got a new gig at Grow International a few months later, he warned that those working at state-owned brokerages were starting to face restrictions about what they could say. "Even if you don't speak the truth, market prices will tell the truth," he told Reuters at the time.
Hong's suspension was an early indicator of Beijing's censorship of bad economic news. This year, regulators are asking analysts and economists to stop using negative language to describe China's economy—think "subdued inflation" rather than deflation—and the statistics bureau has stopped releasing some indicators like consumer confidence and youth unemployment.
China's economic recovery has stagnated. Retail sales and manufacturing have grown at lower-than-expected rates for much of the year, and foreign trade has plunged. Still, Chinese economic data beat forecasts last month, suggesting that government support measures may finally be having an effect.
China's property crisis
China's real estate sector contributes as much as a third of the country's GDP. Yet the sector's liquidity crisis shows no signs of ending anytime soon.
China Evergrande, whose default arguably triggered the crisis in the first place, missed a payment on an onshore yuan-denominated bond on Monday. The developer revealed over the weekend that it could not issue new debt. Chinese authorities are also probing the developer's former CEO and CFO, reports Caixin.
The bankrupt developer faces a liquidation petition on Oct. 30.
Another major Chinese developer, Country Garden, is also having debt issues. The developer, which has four times as many projects as Evergrande, recently made a $22.5 million interest payment with just days to spare.
While China has relaxed some real estate policies in a bid to stabilize home prices, analysts think that the glory days of the sector are over.
That may be by design, as officials try to wean China off its real estate sector. On CNBC, Hong suggested that once China's economy relies on other industries rather than the property sector, then "we will have a better, much healthier Chinese economy than before."
"Not having an overbearing Chinese property sector actually is good for the Chinese economy going forward," he said.
This story was originally featured on Fortune.com