Biden says economy 'in strong shape' ahead of holidays – BBC News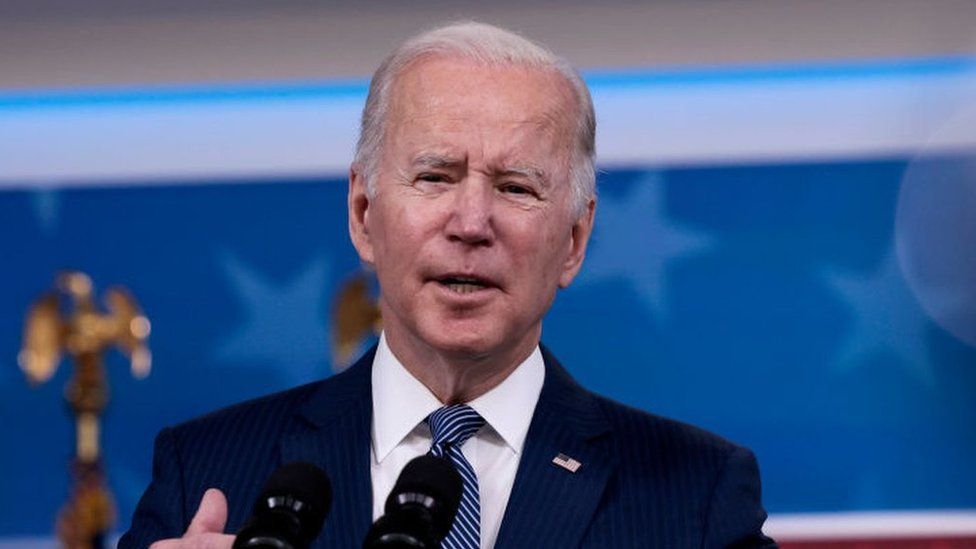 The US economy is in a strong position, President Joe Biden has said, thanks to action taken by the government to free up supply chain blockages and tackle the rising cost of living.
He predicted that prices, which have been rising sharply, would ease.
The president said policies to tackle bottlenecks at ports and lower the price of fuel were working.
"We're heading into a holiday season on very strong shape," he said. "It's not because of luck,"
Asked how supply chains would weather disruption from the new variant of coronavirus, President Biden said he was an "optimist", but that it was too soon to know what the impact might be.
As a result of the economic recovery a typical American family was now better off than before the pandemic struck, the president said, describing a 40% reduction in child poverty as "a moral victory".
"Americans on average have about $100 (£75.33) more in their pockets every month than they did last year [and] about $350 more each month than they did before the pandemic, even after accounting for inflation," the president said.
Since taking office, the Biden administration has pumped billions of dollars of stimulus into the US economy, including direct cheques to households and tax breaks.
Economic growth has rebounded as the impact of the pandemic began to ease, and after shrinking 30% in the first six months of 2020, the economy is now back at the size it was pre-pandemic.
However, higher demand for goods, and on-going disruptions to the supply and delivery of those goods, has helped push inflation up to 6.2% – the highest it has been for 31 years.
"I've used every tool available to address the price increases," President Biden said.
Releasing part of the US's oil reserves last month, in an action coordinated with several other nations, to try to bring down the price of fuel had been "making a difference", he added.
Independent economic analysis indicated his Build Back Better bill would reduce inflationary pressures, he stressed.
The bill was fully paid for, and would contribute to deficit reduction, by "making the largest corporations and the richest Americans pay a little more in taxes".
A change in mindset
The $1.9tn (£1.4tn) Build Back Better bill, which includes social and climate spending, still needs to be voted on in the US Senate.
Asked why he believed he would be able to bring down inflation when previous administrations in the 1970s and 1980s failed, the president said: "This is the first time I've seen labour and business so ready to cooperate.
"People are in a different state of mind than in the Carter and Nixon years."
Earlier this week, President Biden hosted the chief executives of several of the countries' largest manufacturers and retailers, including Walmart and CVS Health, Mattel and Best Buy.
The executives reported that their inventories were up and shelves well-stocked, ready to meet the consumer demand for the holidays, he said.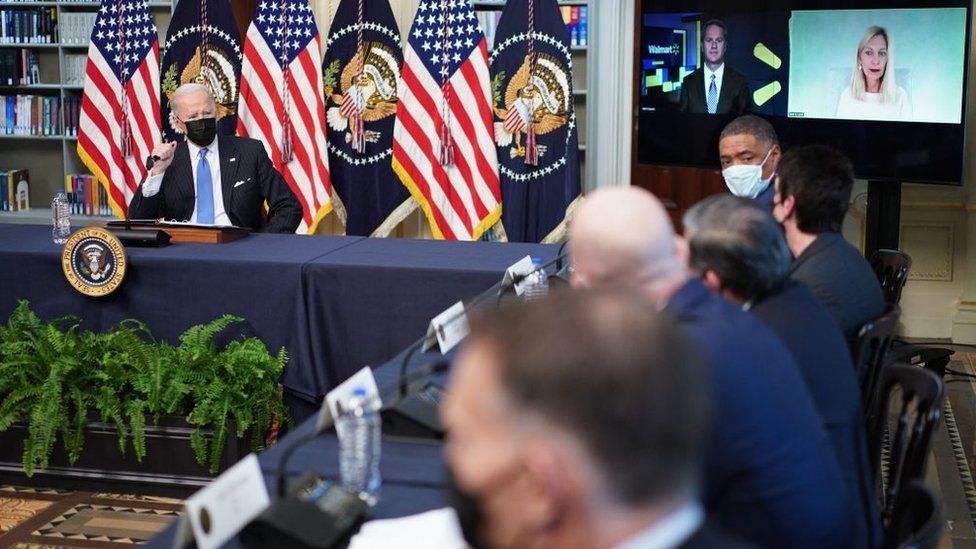 Biden said the administration had "broken up log jams" in the supply chain through various methods, such as by encouraging port operators to work longer hours.
He also pointed to the easing of rules over truck drivers' hours. The measures were working, he said, with the number of containers left sitting on docks for over eight days down by 40%.
Michael Pearce, US economist at Capital Economics, thinks the president was right to suggest that some of the stresses on the economy were starting to ease, but that all the problems wouldn't go away overnight.
"It's still the case that there are very severe supply problems. Even if they're starting to fade, it'll take some time for that to work its way through, especially now that inventory for a lot of goods is so lean," he told the BBC.
Inflation which remained would therefore persist well into next year, he said, in part thanks to the trillions of dollars pumped into the economy through the pandemic.
The Omicron variant, and expectations that it will hurt economic growth, were probably having a greater impact on the price of fuel, than the move to release oil reserves, Mr Pearce added.
Diane Swonk, chief economist at Grant Thornton, thinks Mr Biden's Build Back Better bill could have a pro-inflationary impact in the short term unless it was tweaked further by lawmakers.
She felt Omicron, the easing of supply chain problems, and a reduction in government stimulus over the coming months would "take the steam out of inflation but it won't cool it down enough".
"The risk is until we can really wrestle the virus to its knees we'll continue to see disruption, even as demand starts to slow again," said Ms Swonk.
"We're starting to see more broader based inflation that likely will linger longer."
How China's Economy Grew in 2021 Despite a Property Slump – BNN
(Bloomberg) — China's economy grew at a strong pace of 8.1% in 2021, a number seemingly at odds with headlines about a crashing property market and a crackdown on big technology companies.
Here are five charts, based on the latest official data this week, which give a deeper insight into how the world's second-largest economy changed over the past year.
Property Hit
Output in the real-estate sector shrank in both the third and fourth quarters last year, the longest period of decline since 2008. Construction also fell, as Beijing's efforts to squeeze financing to property companies dragged down the floor area of new buildings started by more than 14% in 2021 from the previous year — the biggest slump in six years.
That was a significant drag on growth. China's property construction, once the production of building materials is added, is estimated to account for between 15-25% of GDP.
The upside of the housing downturn was that the economy likely became less carbon intensive, as the sector is a major driver of greenhouse gas emissions. Steel production, which climbed to more than 1 billion tons for the first time in 2020, declined slightly last year. China's carbon dioxide emissions in the first 11 months of 2021 rose 6.2% year-on-year, below the pace of GDP growth, according to estimates from researchers at Carbon Monitor.
Coronavirus and Consumption
In 2020, Beijing relied on construction to revive the economy, while virus controls caused consumer spending to decline. Those growth drivers flipped around last year, with the property slowdown hitting investment and overall control of the virus allowing for a rebound in consumer spending.
More government spending on services, which are classified as consumption, also meant the latter became the biggest driver of growth last year.
Net exports was another unusually strong factor in driving the economy, with the record trade surplus last year accounting for about a fifth of the country's economic expansion.
That raises questions about what will be the growth driver in 2021: the spread of the omicron variant threatens to stall consumer spending, while export growth is also expected to fade. Beijing has said it wants infrastructure investment to fill much of that gap, although it hasn't increased the amount of bonds government will sell to help pay for that.
Manufacturing Revival
With the threat of trade embargoes of high-tech goods by the U.S. and allies, Beijing has been putting more emphasis on manufacturing. In the new five-year economic plan released last year it vowed to keep that sector's share of the economy constant and avoid the de-industrialization seen in some other countries.
Official data show that effort is bearing fruit, with manufacturing's share of output rising for a second consecutive year, following about a decade of decline.
The trend was supported by the relocation of low-end manufacturing from other parts of Asia as those countries struggled with the pandemic. But more technology intensive sectors also grew rapidly: the production of new energy vehicles grew more than 145%, while the production of microchips rose 33%, according to official data.
Private Enthusiasm
Billions of dollars in market value was lost from some of China's largest privately-owned companies last year as Beijing took heavy-handed measures to rein in tech giants and private tutoring companies.
But looking at industrial manufacturing, private companies had a good year: their output grew 10.2%, faster than the average for the sector. The pace of investment by private companies was more than twice their state peers' in 2021, suggesting optimism about business prospects. Most economists see that as a positive trend for the economy.
Common Prosperity
President Xi Jinping's highest-profile policy initiative in 2021 was the new emphasis on "common prosperity" to try and curb inequality. China didn't make much headway on that last year, according to official data.
A widely used metric of inequality, the gap between the top 20% and bottom 20% of earners expanded slightly, remaining at about twice the level seen in the European Union. The gap between rural and urban incomes narrowed only slightly.
©2022 Bloomberg L.P.
China's economy grows 8.1% in 2021, slows in second half – Yahoo Canada Finance
BEIJING (AP) — Chinese leaders are under pressure to boost slumping economic growth while they try to contain coronavirus outbreaks ahead of next month's Winter Olympics in Beijing.
The world's second-largest economy grew by 8.1% last year, but activity fell abruptly in the second half as the ruling Communist Party forced China's vast real estate industry to cut surging debt, official data showed Monday.
Growth sank to 4% over a year earlier in the final three months of the year, fueling expectations Beijing may need to cut interest rates or stimulate the economy with more spending on public works construction.
That slump is likely to worsen, leading to "more aggressive measures to boost growth," Ting Lu and Jing Wang of Nomura said in a report.
On Monday, the Chinese central bank cut its interest rate for medium-term lending to commercial banks to the lowest level since early 2020, at the start of the coronavirus pandemic.
Asian stock markets ended the day mixed following the dual announcements. China's benchmark Shanghai Composite Index gained 0.6% while the Hang Seng in Hong Kong lost 0.7%. The Nikkei 2225 in Tokyo rose 0.7%.
Lingering Chinese economic weakness has potential global repercussions, depressing demand for steel, consumer goods and other imports.
China rebounded quickly from the pandemic, but activity weakened last year as Beijing tightened controls on borrowing by real estate developers, triggering a slump in construction that supports millions of jobs. That made consumers nervous about spending and investors anxious about possible defaults by developers.
Consumer spending has suffered after authorities responded to virus outbreaks by blocking most access to cities including Tianjin, a port and manufacturing center near Beijing, and imposed travel controls in other areas.
Their "zero-COVID strategy" aims to keep the virus out of China by finding and isolating every infected person. That has helped to keep case numbers low but is depressing consumer activity and causing congestion in some ports.
The ruling party has stepped up enforcement ahead of the Feb. 4 start of the Winter Games, a prestige project. Athletes, reporters and officials at the Games are required to stay in sealed areas and avoid contact with outsiders.
Growth in consumer spending, the biggest driver of economic growth, fell to 1.7% over a year earlier in December from the previous month's 3.9%.
"The prospect this year for consumer spending to rebound back to pre-pandemic levels has certainly dimmed," David Chao of Invesco said in a report. "All eyes are on whether policymakers will evolve their zero-COVID pandemic policies."
Officials have urged the public to stay where they are during the Lunar New Year holiday instead of visiting their hometowns. That will cut spending on travel, gifts and banquets during the country's most important family holiday.
Forecasters have cut this year's growth outlook to as low as 5% due to the debt crackdown and coronavirus.
"Downward pressure on growth will persist in 2022," Tommy Wu of Oxford Economics said in a report.
Compared with the previous quarter, the way other major economies are measured, the Chinese economy grew 1.4% in the final three months of 2021. That was up from the previous quarter's 0.2%.
Chinese exports, reported Friday, surged 29.9% in 2021 over the previous year despite a global shortage of semiconductors needed to make smartphones and other goods and power rationing imposed in major manufacturing areas.
Exporters benefited from reviving global demand while their foreign competitors were hampered by anti-virus controls. But economists say this year's trade growth is likely to be weak and export volumes might shrink due to congestion at ports.
"With supply chains already stretched to capacity, last year's boost from surging exports can't be repeated," Julian Evans-Pritchard of Capital Economics said in a report.
Auto sales fell for a seventh month in November, declining 9.1% from a year earlier, reflecting consumer reluctance to commit to big purchases.
Chinese leaders are trying to steer the economy to more sustainable growth based on domestic consumption instead of exports and investment and to reduce financial risk.
In mid-September, factories in some provinces were ordered to shut down to meet official targets for reducing energy use and energy intensity, or the amount used per unit of output.
One of the country's biggest developers, Evergrande Group, is struggling to avoid defaulting on $310 billion owed to banks and bondholders. Smaller developers have collapsed or defaulted on debts after Beijing reduced the amount of borrowed money they can use.
Chinese officials have tried to reassure investors over the risks of wider problems, saying any impact on lending markets can be contained. Economists say a potential Evergrande default should have little effect on global markets.
___
National Bureau of Statistics (in Chinese): www.stats.gov.cn
Joe Mcdonald, The Associated Press
Omicron no match for US economy: Moody's – Investment Executive
"The backdrop of elevated inflation and a tight labour market strengthens the case for an earlier and faster normalization of monetary policy," Moody's said. "Indeed, notwithstanding the risks to growth posed by the Omicron surge, the Fed is well placed to move to a neutral monetary stance starting in March 2022, and we now expect three U.S. interest rate hikes this year, compared with our November expectation of none until 2023."
Additionally, a recent shift in signals out of the Fed indicate "broad support" for both a rate hike in March and a normalization of its balance sheet soon after the rate increase cycle begins, Moody's noted.
While Covid-19 infections have risen quickly in the U.S., creating added uncertainty, "the economy is on a solid expansionary path that the current virus surge is unlikely to derail," the report noted.
Moody's continues to expect that GDP will grow by 4.4% this year after rising by 5.4% in 2021.
"The surge in virus cases will no doubt dampen economic activity in pandemic-sensitive services industries in January but, as previous virus surges have shown, activity will rebound once the omicron wave begins to subside," Moody's said.
The report noted that latest epidemiological forecasts point to a peak in case counts by the end of the month, with hospitalizations and fatalities peaking in mid-February.
Inflation is expected to moderate this year, but Moody's said there remains a good deal of uncertainty in inflation forecasts.
"We expect that the Fed will provide more concrete guidance at its next January meeting as to when and at what pace it will begin to raise the federal funds rate and reduce the size of its balance sheet," it said.
The rating agency noted that it expects the Fed to take a "measured approach" to withdrawing stimulus and normalizing its balance sheet, given the elevated uncertainty in forecasts and a likely reluctance to move too quickly.
Ultimately though, the prospect of rate hikes and balance sheet normalization "will likely push both short-term rates and long-term yields upward," Moody's said.
"The effect of rising rates is likely to be transmitted to the real sector by curbing new lending for consumer goods, autos and homes. Small and mid-size firms, which tend to have shorter debt maturity profiles, will also be affected," it said. "Lastly, higher interest rates will weigh on the valuations of risky assets."